Fantasy Impact: Cleveland Browns




5/18/09





New Head Coach: Eric Mangini

(NYJ HC: 2006-2008; NE DC: 2005; DB Coach: 2000-2004; NYJ Def Assist: 1997-1999; BAL Assist: 1996; CLE Assist: 1995)



Previous Head Coach:

Romeo Crennel (2005-2008)



New Offensive Coordinator:

Brian Daboll (NYJ QB Coach: 2007-2008; NE WR Coach: 2002-2006; NE Def. Assist: 2000-2001)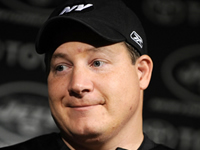 Mangini and offensive coordinator Brian Daboll will try and improve the 31st-ranked offense in 2008.
Mangini comes to Cleveland having spent the last three years as head coach of the New York Jets with mixed results. In his first season with the franchise he helped guide the team to a 10-6 record before suffering a first round playoff loss against nemesis Bill Belichick and the New England Patriots. The success of reaching the postseason in his first year as head coach was short lived however.
With higher expectations placed upon the team the Jets collapsed and fell to a 4-12 mark in 2007. That dismal performance led to the pursuit and acquisition of NFL legend Brett Favre during the offseason. The Jets seemed poised for a return to the playoffs in '08 after posting an 8-4 record through the first 12 games of the year. A 1-3 finish had them looking from the outside in though once the regular season ended and teams began playing more meaningful games in January.
Joining Magini's staff as Cleveland's offensive coordinator is Brian Daboll. Daboll spent the last two years working with Mangini as quarterbacks coach for the New York Jets. The two men had previously worked side-by-side for six years in New England from 2000-2005 under Bill Belichick.

Quarterbacks: Brady Quinn; Derek Anderson
The Browns will have Brady Quinn and Derek Anderson battle it out in the preseason to determine which of the two is named the starter for Opening Day. Considering Cleveland used a first round pick on Quinn, were unwilling to trade him during the offseason, and that he is entering his third year in the league – expect the Notre Dame alumnus to win that duel. Should Anderson come out on top however, expect him to have a short leash and get yanked early in the year if the Browns aren't winning.
From a fantasy standpoint there is little reason to get excited about either quarterback. While the two combined could throw for anywhere from 3200-3400 yards, it's doubtful they would put up more than 20 touchdowns. Whomever Cleveland's starter is may make for a decent back-up in fantasy leagues, but only worth a spot start here and there if you're lacking other options.

Running Backs: Jamal Lewis; Jerome Harrison; Lawrence Vickers (FB); Noah Herron; James Davis (R)
Ideally Mangini and Daboll would probably like to control games with their ground attack, especially if the young and inexperienced Brady Quinn is under center. Their defensive play may dictate otherwise though. Nonetheless it appears Jamal Lewis will once again shoulder a heavy load in the backfield. Back-up Jerome Harrison will spell him every so often, but not enough to warrant a roster spot on your fantasy team.
Noah Herron might prove useful should an injury occur to Lewis, but otherwise it's unlikely he'll get many touches. Rookie James Davis may be worth keeping an eye on during the preseason. If he impresses the coaching staff he could earn a spot in the backfield rotation.
Over the course of a full 16-games Lewis should be able to crank out another 1000-1100 rushing yards on 270-300 carries this year. He isn't much of a receiving threat however and will most likely finish with 5-7 total touchdowns, making him a borderline number two running back in fantasy circles.

Wide Receivers: Braylon Edwards; Mike Furrey; David Patten; Brian Robiskie (R); Joshua Cribbs; Syndric Steptoe; Mohamed Massaquoi (R); Paul Hubbard; Donte' Stallworth
At receiver the Browns have a real playmaker in Braylon Edwards – when he manages to catch the ball that is. Dropped passes have been his most glaring weakness, but when he makes the catch he has registered an impressive 15.6 yards per reception throughout his career. That statistic alone makes Edwards an intriguing acquisition in fantasy leagues annually despite the fact he has only posted more than 900 receiving yards once in the past four seasons. He'll make for a great number three wide out on your roster, but you'll likely have to grab him as your number two and hope he plays to his potential if you make that selection.
With Donte' Stallworth mired in legal troubles there is a good chance free agent signing Mike Furrey will start alongside Edwards this year. If that's the case he could make for a decent fourth wide out in fantasy leagues – more so in leagues that reward points for receptions. David Patten, Joshua Cribbs, and Syndric Steptoe are all capable of producing in the slot, but should be available off the waiver wire most of the year.

Tight Ends: Steve Heiden; Robert Royal; Martin Rucker
With the departure of Kellen Winslow this offseason expect veterans Steve Heiden and Robert Royal to handle the tight end duties for the Browns. Neither is likely to finish among the top 12 fantasy players at the position though. Martin Rucker, a fourth round pick in the '08 draft, has the most long term potential but isn't likely to surpass both Heiden and Royal as the starting tight end in Cleveland. He is worth keeping an eye on in the preseason however.