Every year, rest assured someone at some point during each your draft will utter some variation of the words "value pick." But what exactly is a value pick? What is value? Value is a relative term that changes based on public perception. When I consider value, I'm looking for a positive return on my investment. Just because a player has an a fourth round ADP and is still sitting there in the sixth round does not make him good value. At the same time, taking a player a round or two above his ADP is not necessarily bad value. Again, everything is relative. My goal in every pick I make is to take a player I believe will have a higher ADP the following season. Last season, Melvin Gordon had a fifth round ADP. This year, he has a first round ADP. Gordon gave owners one hell of a positive return on investment. On the flip side, Brandon Marshall had a second round ADP. This year, he has a sixth round ADP. That's the type of pick we all hope to avoid.
We begin this year's value series with a look at which tight ends I expect to outperform their ADPs and which I expect to fail.
Undervalued
C.J. Fiedorowicz, Texans
ADP: 13.12, TE19
The case for Fiedorowicz being undervalued: After barely playing the first three weeks of the season, CJF saw no fewer than five targets in each game from weeks 4-17 (with the exception of the Week 15 game he missed) and had at least seven targets in nine of those games. He was a safe, reliable high floor fantasy option.
The case against Fiedorowicz being undervalued: He only topped 50 yards three times all season and is tied to a low octane offense with a new starting quarterback and a highly questionable rookie waiting in the wings.
Verdict: You shouldn't go into your drafts targeting Fiedorowicz, but rather treat him as a backup plan if you decide to wait on the position. With 18 TEs currently going before him, there's no real risk he won't fall to you nor does his 13th round draft stock present any issues should you need to replace him. He can literally be the last position player you take. In his final 12 games in 2016, CJF was a TE1 averaging a hair under 11 PPR points per game. He did that with Brock Osweiler as his starting quarterback. CJF should be a safety valve for Tom Savage, especially early in the season as Savage gets acclimated to the starting role. If DeShaun Watson ultimately does take over, it's not a death sentence. I view Watson is a low ceiling prospect that doesn't have the tools to succeed at the NFL level, particularly due to his incredibly low throwing velocity. That's bad news for DeAndre Hopkins on the outside, but shouldn't be a problem for Fiedorowicz on check downs over the middle. Fiedorowicz's ceiling is somewhere in the TE 8-12 range, but he is a near lock to outperform his outrageous TE19 ADP and makes for a great, high weekly floor option if you want to wait on the TE position.
Austin Hooper, Falcons
ADP: 14.05, TE24
The case for Hooper being undervalued: He showed flashes as a rookie last year and now enters 2017 as the starting tight end with Jacob Tamme gone.
The case against Hooper being undervalued: He saw just 27 targets last season and it's virtually impossible for the Falcons' offense to repeat its 2016 efficiency.
Verdict: I'm a huge fan of what Hooper brings to the table. He's the starting TE on an elite offense without much competition in the passing game outside of Julio Jones. Devonta Freeman and Tevin Coleman are both outstanding pass catchers out of the backfield, but I imagine if Matt Ryan could throw to receivers a bit more, he'd like to do so. Hooper can be one of those guys. Rookie tight ends are rarely productive but we did see reasons for a bright future. Hooper caught 70.4% of his targets and averaged over 11 PPR points per game in the two games where he was targeted at least five times. His efficiency is likely to take a hit with the increased volume, but the mere fact that he was efficient proves that Hooper is a strong pass catcher capable of making an impact. There's simply no way there are 21 TEs you can justify taking ahead of him. If you want a more volatile weekly option with a higher ceiling than Fiedorowicz, Hooper is your guy.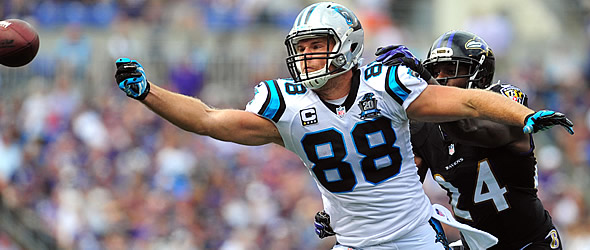 Oslen has been a model of consistency the last 3 years but you're buying high at his current price tag.
Overvalued
Greg Olsen, Panthers
ADP: 5.05, TE4
The case for Olsen being overvalued: Olsen is now 32 years old on a team that appears to be trending downward.
The case against Olsen being overvalued: He's hovered right round 80 receptions and eclipsed 1,000 yards receiving for three straight seasons.
Verdict: Greg Olsen is an excellent football player, but an overvalued fantasy player. A common misconception with the term "overrated" or, in this case, "overvalued," is the implication that it means "bad." Olsen is not bad. He's actually quite good and will be a TE1 this season. He just isn't worth a fifth round pick and likely won't be in the top four at his position. Aside from the fact that I think the Panthers bubble is ready to burst and they are far closer to falling to the bottom than climbing back to the top, Olsen is being drafted before TEs with higher ceilings where his floor cannot justify his draft cost. Kyle Rudolph and Zach Ertz were ever so slightly better in PPR fantasy points per game than Olsen last year. Rudolph is going Round 8 and Ertz is going Round 10.
Here's a fun fact: in his last 22 regular season games, Olsen has scored just four touchdowns. He had three all of last season and he's pretty much been the primary option in the passing game for the majority of his Panthers career. The Panthers added Christian McCaffrey and Curtis Samuel this off-season. If Olsen's volume dips even a little, he doesn't have the touchdown upside to make up for it and certainly won't be able to justify a fifth round price tag. If you're not going after Rob Gronkowski, Jordan Reed, or Travis Kelce, you're far better off waiting as Olsen is closer to the Rudolph's and Ertz'es of the world than he is to the Gronk's and the Reed's.
Hunter Henry, Chargers
ADP: 8.11, TE9
The case for Henry being overvalued: He's talented, but lacks volume in an offense loaded with options.
The case against Henry being overvalued: He's really talented and a huge red zone target coming off a year with incredible efficiency numbers.
Verdict: I absolutely love Hunter Henry the NFL player. I expect him to one day be one of the elite tight ends with a third or fourth round ADP. Here's the problem for 2017: His 2016 performance relied largely on touchdowns. He scored eight of them, which is mighty impressive given he never had a multi-touchdown game and caught three passes or fewer in nine of the 13 games he played. He had 20 receiving yards or fewer in seven games. Do I think Henry should see a significantly increased target share in 2017? Absolutely. But, the biggest obstacle in Henry's way is the surefire future hall of famer that refuses to die - Antonio Gates. The man is now 37 years old, but he and Philip Rivers have a connection and that's not going to change. As long as Gates is a Charger, he will be involved and more specifically, involved on third downs and in the redzone, severely capping Henry's opportunity and target share. It's entirely possible that once Gates breaks the touchdown record, they phase him out, but the more likely outcome is that he's not good enough for consistent standalone value, but is just enough of a nuisance to prevent Henry from truly realizing his potential.
In the ninth round as the TE10, you're drafting Henry to be a TE1. That cost is too high considering the timeshare. Zach Ertz, Jack Doyle, and Eric Ebron have far more secure roles and are all available after Henry is typically drafted. I honestly hope I'm wrong on this one because I like Henry, but I think we're going to have to wait one more year for the breakout.