Nobody needs to be told starting Aaron Rodgers, Arian Foster, or Calvin Johnson is a good idea. Duh, right? You can't have studs at every position, though, unless you're in the shallowest of leagues. This is where the Shot Caller comes in. Need help deciding which bargain basement QB to use and which to ignore on Rodgers' bye week? Let's talk. Looking for solutions at running back because Foster is a game-time decision? Look no further. Need to know which of your unproven targets to start and which to sit since you ignored Megatron and went RB-QB-Gronkowski in your first three rounds? I'm your huckleberry. Past results may not guarantee future success, but I believe ignoring them entirely can ruin your Sundays in a hurry. Read on for a little history and, hopefully, a little sage advice.
Bye Weeks: N/A

Grab a Helmet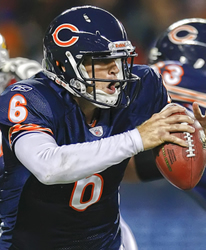 Mr Personality should have a bounce back game against STL.

Jay Cutler vs. STL: Mr. Personality was up to his old tricks last week, taunting a beleaguered but talented Packers secondary on the radio prior to Thursday nightís grudge match at Lambeau. Four picks, seven sacks, 126 measly yards, and one very public temper tantrum later, the churlish Cutler appears to have been properly chastened. Again. Though he hasnít been wholly contrite in the aftermath, there is some good news: In six-plus professional seasons, heís rarely strung together two awful performances in a row. Yes, I actually researched his game logs to make that determination. Hereís something else I always suspected but had been too lazy to confirm: Cutlerís been particularly gruesome against Green Bay (an 8-15 TD-INT ratio), a squad he doesnít face again until December 16th. Donít hesitate to plug him back in against the Rams this Sunday.

Andy Dalton @ WAS: The name ďAndy DaltonĒ doesnít move the needle much for most fantasy GMs. I guess thatís understandable since ďCincinnati BengalsĒ doesnít move the needle a whole lot more. Is it fair, though? Hereís how Daltonís rookie numbers compare with those of two anonymous players (try to guess who):


Mystery QBs
Player
Passer Rating
Yards
Pass TDs
INTs
Rush Yds
Rush TDs
Dalton
80.4
3398
20
13
152
1
Player A
87.7
3440
16
11
104
1
Player B
80.9
2916
22
14
49
1
Give up? Player A is none other than Matt Ryan, the guy everyoneís been gushing about lately and clearly a top 10 QB. Player B? Gotcha. Thatís also Matty Ice, in his second season with Atlanta. Look, Iím not saying Dalton is on the same career trajectory as Atlantaís star signal caller. He is off to a great start, however, and could provide great value by seasonís end. Get him in there against a Redskinsí crew missing crucial defenders (namely, Brian Orakpo) this Sunday.

Matt Cassel @ NO: If Daltonís name doesnít move the needle much, Casselís doesnít move it at all. Iím not sure thereís a quarterback in the league, actually, who receives less attention (of the good or bad variety). Casselís probably used to it, of course, since he spent his entire collegiate career playing bridesmaid to USCís successive Heisman quarterbacks, Carson Palmer and Matt Leinart. Still, the guy probably deserves a little more love since heís, you know, the sixth-ranked QB through the first two weeks (FFToday default scoring system). Donít believe me? Go take a look yourself. Youíll find him sandwiched between Eli Manning and Cam Newton. Cassel probably canít sustain that pace (nor do the Chiefs want him to, most likely) but a leaky defense is giving him plenty of opportunities to throw the rock, and throwing the rock against the Saints has been a pretty lucrative venture lately.
Grab a Clipboard

Christian Ponder vs. SF: Like each of the two guys mentioned above, Ponderís name is rarely on the lips of fantasy GMs. The difference isÖitís usually for good reason. Donít misunderstand me: After a rough rookie season, Ponder has made some obvious strides in his sophomore year. His passer rating through two games is a crisp 110.6, good for sixth in the entire league, and he hasnít thrown a pick yet. Still, heís only thrown a pair of touchdowns, has lost a fumble in each contest, and has also faced two of the leagueís more questionable defenses. No such luck this weekend, as the NFCís current best, San Francisco, visits the Twin Cities. I suspect weíre in for a slugfest, as Ponderís backfield mate, Adrian Peterson, squares off against a rejuvenated Frank Gore.

Carson Palmer vs. PIT: Iíve already gone on record as saying I think Palmer will surprise this season and ultimately end up in the ranks of the Top 10 by the end of the year. What I didnít say is that heíd always be a must-start option. He certainly isnít this week against a Curtain defense that could get back its superstars, Troy Polamalu and James Harrison, in time for Sundayís tilt. Even without those two studs last weekend, the Steelers put the kibosh on Mark Sanchezís early momentum by hounding the other former Trojan into a 10-for-27, 138-yard performance. Palmer should be better, but probably not by much. Heís struggled to produce much yardage in 12 career starts against Pittsburgh (just 200.2 per game) and doesnít have an in-his-prime Chad Johnson or T.J. Houshmandzadeh at his disposal. Iím sitting him this week in favor of Ryan Fitzpatrick or the aforementioned Matt Cassel.

Kevin Kolb vs. PHI: Kolb engineered easily the most stunning upset of this young 2012 season, leading his upstart Cardinals over the big, bad Patriots in Foxboro and killing probably 80 percent of survivor pool participants in the process. OK, so "engineered" is a bit of a stretch. Nonetheless, he was rather efficient in the win and didn't make the killer mistakes to which he's become so susceptible. Heck, he even tallied a rare rushing touchdown (just the second of his career). This week, he draws the team that once considered him its future field general, the Philadelphia Eagles. That would sound a lot more impressive if he hadn't just been beaten out for the Arizona starting gig by John Skelton. Expect Philly's intense pressure to unnerve the shaky Kolb in a game that will most likely remind us why he was considered irrelevant just a few weeks ago.

Running Backs