It's Week 3 of the NFL preseason, featuring so-called "dress rehearsal" games. As such, the once-cloudy picture of who we ought to be targeting in fantasy drafts starts to come into focus. If you're worried about some of the big names underperforming this year…well, you should be. They always do. The best way to ensure you're prepared for this inevitability, however, is to make sure you grab some guys who could end up being next summer's big names. Following are the list of guys I believe we'll all be talking about a year from now.

Note: All rankings are based on FFToday's default standard scoring.

A quick reminder of the Top 10 fantasy RBs from last season...





Running Backs Most Likely to Rise in 2017:



Jay Ajayi, MIA: It's hard to know how the injury to Ryan Tannehill will ultimately affect the Miami offense, but I'm sure I'm not alone in thinking it could actually end up being a better overall unit with Jay Cutler at the helm. Long-time readers know I'm no Cutler apologist (far from it, in fact), so this is strictly an evidence-based opinion. And the evidence suggests Cutler, despite his many faults, is a more accomplished and more capable triggerman than the now-injured Tannehill.

To be fair, Tannehill wasn't terrible last year, but that's mostly because he threw the fewest passes of any full-time starter who played in at least 12 games. Adam Gase is unlikely to alter that pass-second philosophy with Smokin' Jay running the show, even though the last time they worked together (Chicago in 2015) resulted in one of Cutler's most efficient seasons. Like Tannehill, Cutler is better when passing volume goes down, not up. The Dolphins can afford to put a cap on the passing game, moreover, because…

Jay Ajayi is a stud! We couldn't have known this after an injury-riddled rookie campaign in which he never once carried the ball 10 times in a game and only tallied a single touchdown. It got pretty obvious pretty fast, however, when Coach Gase decided to give him the rock 25 times in Week 6 against Pittsburgh last year and was rewarded with 204 yards and two six-pointers. The Week 7 encore was even better (214 yards and another touch) and now the Boise State product is being looked at as one of the safest options at the position. I'm not sure how safe any running back in the NFL is these days, but I have to agree: He's safer than most. Grab this future Top 10 talent now.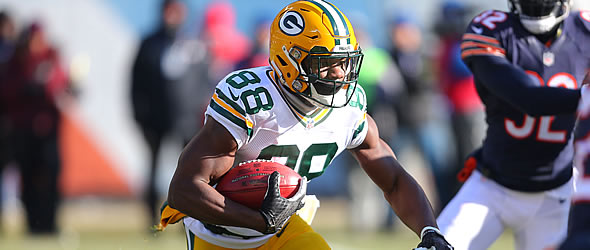 A running back, a wide receiver? It doesn't matter. Ty Montgomery has upside worthy of a 4th Rd pick.



Ty Montgomery, GB: If Ajayi's one of the safest options at the position, Montgomery's (seemingly) one of the riskiest. This has nothing to do with talent (plenty of that) and nothing to do with competition (very little of that as the Pack's rookie runners have been pretty underwhelming so far). It has everything to do with the fact that this time last year, he was a wide receiver!

The Stanford product isn't the first NFL player to switch positions (Kordell Stewart, Terrelle Pryor, etc.), but he's one of only a very few who's done so after entering the league and the only one I can think of who's moved from backup wide receiver to starting running back, specifically. Think about that for a second. Is there anything a prototypical wide receiver has (appropriate size, proper skill set, ruggedness) that would make us think he could thrive full time at the running back position? And yet Montgomery might have all three of those things. He's got great size (6'0", 216), can run and catch (obviously), and…OK, so durability is TBD at this point and probably the number one reason he's so polarizing heading into this season. Many don't believe he can survive the rigors of a life between the tackles for 16 games. Others think he can and that Mike McCarthy's clever enough to keep him mostly in space, anyway, to hedge his sizeable bet.

I guess my challenge to readers would be this: If Jay Ajayi, at 6'0", 220 lbs., is a sure thing, why are we so quick to dismiss Montgomery, just five pounds lighter and possibly more versatile, as legitimate RB1 material? I know I'm going against the grain some here, folks, but I think Ty will thrive as the main rock-toter in Green Bay. Ignore the labels.

Christian McCaffrey, CAR: McCaffrey debuts this season as possibly the first of his kind, a truly position-less, label-less talent. Technically, he was drafted as a running back and that's certainly where he spent most of his time down on The Farm. In reality, the Panthers are intending to use him pretty much everywhere. Put him in the I-formation and hand him the rock? Check. Put him in the wildcat and give him a direct snap? Check. Put him in the slot and throw him a bubble screen? Check. Hey, what about splitting him wide and throwing him a fade route? Yeah, why not? It's easy to get caught up in the silly season hype of training camp, but…man, hearing Panthers players and coaches rave about McCaffrey so far, it's hard not to get excited.

I'm excited, of course, because I'm pretty much all in on Ed McCaffrey's son this season. I snagged him mid-second round in our FF Today staff draft and took some good-natured ribbing right away (though I think it was veiled jealousy). I paid $28 for him in my big money league's auction draft ($200 budget) and instantly got heckled (it was absolutely veiled jealousy). The reality is I've possibly underpaid for a guy who could become the league's most versatile weapon right out of the gate and I'm pretty sure I'm getting the last laugh when all is said and done.

Could injuries derail what looks to be a special rookie season? Sure could. Could Carolina possibly underutilize or even mis-utilize their versatile new weapon? Sure could. There's no sure thing in this game, folks, and especially not at this position. Nevertheless, McCaffrey is a special talent and could very well end up being a guy who decides some fantasy championships in about 3-4 months' time.


Next: Wide Receivers