We're just days away from some honest-to-God NFL football, featuring my beloved Green Bay Packers, and that can only mean one thing: It's time to start reviewing the Top 10 quarterbacks, running backs, and receivers from 2015 with an eye toward identifying potential underachievers when the games start counting for real in about a month. No matter how alluring these players appear when training camps open, history suggests (over and over and over again) that most of them will fail to live up to that Top 10 billing in 2016. Who will it be? I've got a pretty good idea, so read on.

Note: All rankings are based on FFToday's default standard scoring.



Who Missed the Cut in 2015 (6/10): Andrew Luck, Aaron Rodgers, Peyton Manning, Ben Roethlisberger, Matt Ryan, Ryan Tannehill

Top 10 turnover at the game's most important position was very stable from 2010 to 2014, the first five years of this study. No fewer than three and no more than four signal callers fell from the ranks of the elite in any of those seasons. And then 2015 happened: Manning, Rodgers, Roethlisberger, Luck…and others. That's three, possibly four, future Hall of Famers on the outside looking in when the 2015 curtain fell. How did it happen?

Manning's fall was easily the most predictable, albeit shockingly precipitous. He'd only missed the Top 10 once in 15 seasons (2011 when he didn't play), but toppled all the way to No.31 thanks to the league's worst QB rating amongst qualified players. FYI: Nick Foles qualified. Here's how much Peyton probably cared, to be fair, after walking away with a legend-securing second Vince Lombardi trophy: not a lick.

Roethlisberger and Luck were much more effective when they suited up last season, notching impressive per-game splits (23.6 FPts/G and 24.8 FPts/G, respectively). Only problem was, they didn't suit up often enough. Big Ben missed four games, tied for the most in his 12-year career, while Luck missed nine, eight more than he'd missed since starring at Stratford HS in Houston. If only their productivity could have been combined with the health of those aforementioned "others," Ryan Tannehill and Matt Ryan. These latter two missed no action, but slipped enough on a per-game basis to drop into the mid-teens.

As for the curious case of Aaron Rodgers (No.12), the most inexplicable of last year's dropouts? Let's just say he was done in by an unhealthy Jordy Nelson and an all-too-healthy Eddie Lacy. The lack of a deep threat coupled with a punchless/sluggish rushing attack meant A-Rodge spent more time running for his life than making DB lives miserable.



Most Likely Candidates to Fall from the Top 10 This Year:



Tom Brady, NE: The Bachelorette's future brother-in-law is a cinch to return to the Top 10 in 2016 and that means at least one A-list QB will bow out. Unsurprisingly, Mr. Brady is the most likely candidate. The 2nd U.S. Circuit Court of Appeals in Manhattan accomplished something NFL defenders could only dream of, it seems, since Tom Terrific grabbed the Patriots' wheel way back in 2001: It grounded the most decorated quarteback in the biz for four complete games. Done, Kaput. Completely out of commission. That's 25% of his season and, most likely, a bigger chunk of yours (unless you're one of those weirdos who plays through Week 17). Can you really afford to get nothing from one of your draft picks for that long of a stretch?

Don't get me wrong. Part of me believes Brady is still capable of posting top-notch, fork you numbers in 2016, despite the four-game handicap. Hell hath no fury like Tom Brady scorned, right? Here's the thing, though: It doesn't compute. Even if he could match his career-best 28.9 FPts/G mark, he'd only manage 347-odd points. That would have been good enough for 14th overall last season. In fact, since the 2000 season, there's only been one quarterback to achieve Top 10 status despite missing four games (Michael Vick in 2010).

None of this means, BTW, you should ignore Brady completely come draft day. Let's get real. He still holds plenty of value, especially if you can cover yourself through September with a second or even third-tier option. You might even consider trying to work an early-season trade for him a couple weeks in advance of his return when affordability, theoretically, might still be achievable. Just don't expect Top 10 digits if you're thinking of grabbing and stashing on draft day.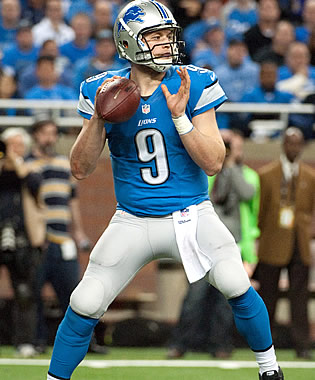 Will the post-Calvin era be kind to Matthew Stafford?

Matthew Stafford, DET: Conventional fantasy wisdom suggests drafting receivers who play catch with the game's best quarterbacks. A little-known and rarely applicable corollary to that little nugget, however, is this: Draft quarterbacks who play catch with the most gifted receiver the game's ever known. We did just that with Matthew Stafford the last several years and the dividends were substantial: 370 fantasy points per season since 2011 and four Top 10 finishes.

Now begins the post-Megatron era in Motown, a period of uncertainty for the long-suffering Lions fans and their strong-armed, but often erratic, field general. Will Stafford continue his productive ways by forging new connections with Golden Tate, Marvin Jones, and Anquan Boldin, overcoming the loss of his singular target by spreading the wealth around? Or will the sudden retirement of Johnson create a passing game vacuum the existing talent on hand can't possibly hope to fill? Like most things in life, the answer probably lies somewhere in between.

Stafford has terrific natural ability (great size, strong arm, underrated legs) and expertly incorporated Tate, a new arrival in 2014, into the passing game mix after years of relying too heavily on 'Tron. Then again, it should be easy to find a Lions receiver not named Johnson all alone in an opposing secondary and we should wonder why he couldn't do it consistently much sooner. Not to mention, we don't really know how Stafford will perform sans his security blanket because, quite frankly, he very rarely has. Johnson missed only seven games the entire time the two played together, or six fewer than his battery mate missed in 2010 alone. Until we know whether Detroit's main man can carve his own path – and I'm not saying he can't – it's safest to assume he'll take a significant step back in 2016.

Kirk Cousins, WAS: When Washington's shot callers selected Cousins in the fourth round of the 2012 draft, the reception from NFL pundits ranged from lukewarm to downright dismissive. Why would a team essentially mortgage its future to move up for a franchise quarterback (RGIII) and then waste a valuable pick just three rounds later on someone they hoped that franchise quarterback would prevent from ever playing? It was a real head-scratcher at the time that, naturally, looks 1000% wiser in hindsight. As we enter the 2016 season, Cousins is the starter in DC and Griffin has been exiled to Cleveland. Call it the first good decision the Dan Snyder-led 'Skins ever made.

Ironically, the second good decision might have been resisting the urge to overpay that same fourth-round steal this summer. Cousins will play for the tidy franchise-tag fee of $19.95 million this coming season and must prove he's worth a "real" payday by continuing where he left off in 2015. Can he? Sure! Will he? I guess you've already guessed I have my doubts. Leading the league in completion percentage and ranking as the fifth most efficient passer are certainly nothing to sneeze at and we shouldn't discount the fact he led a marginally competitive Washington team to the playoffs. Nevertheless, there are definite warning signs.

First, Cousins had the luxury of facing several poor opponents in 2015 and capitalized by posting 30-plus points four times (against TB, NO, BUF, and PHI). The 2016 schedule is nowhere near as friendly (ARZ, GB, CIN, and MIN, for example). Second, he notched five rushing TDs in 2015 despite tallying only 48 total yards via foot. Statistical anomaly, anyone? Cousins might well get paid (Snyder still runs the show, after all), but I'm dubious he'll be able to match his 2015 campaign.


Next: Running Backs