One of the most difficult tasks during your fantasy football draft is trying to decide between two players you essentially see as having identical value. The purpose of this article is to not only identify pairs of players that are considered of equal value in 2018, but also take a look at the process of solving those dilemmas. With that in mind, here are two tight ends whose values look to be nearly, if not totally identical.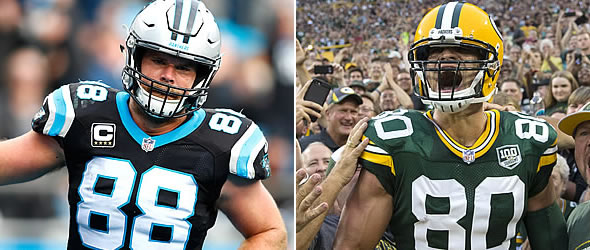 These two veteran TEs are being drafted in the 5th round of PPR leagues. Who should you choose?
Greg Olsen vs. Jimmy Graham

Two veteran tight ends, one of which is playing for a new team and the other coming off a significant injury. Graham is two years younger than Olsen (33 to 31), but in reality, both appear to be heading toward the downside of their career. Still, after the "big three" at the position are taken, these two are likely your next best options.

Olsen played the last three weeks of the regular season after going down early in Week 2 last season and during that time (Weeks 15-17), he was targeted a whopping 27 times by Cam Newton. Graham's numbers from Weeks 14 on weren't nearly as pretty as he 47 yards receiving and only scored one TD. Graham however, has enjoyed five seasons with 9 or more receiving TDs. Granted, his production between the 20s has slowed down but in the red zone, he continues to be a force. Olsen, meanwhile, has never even achieved 9 TDs in a season even once. He did surpass 1,000 receiving yards in each of the three seasons preceding his injury (2014-2016). Decisions, decisions, decisions…

First 4 games for Olsen: DAL, @ATL, CIN, Bye
First 4 games for Graham: CHI, MIN, @WAS, BUF

The Verdict: Fool's gold. That's how I would describe the tight end position in Green Bay over the last decade. Whether it's Jermichael Finley or Martellus Bennett, having Aaron Rodgers at quarterback has not really done much for the value of tight ends playing on the frozen tundra. Here are the top TE finishes in Green Bay the last five years:
2017: Martellus Bennett - TE45
2016: Jared Cook - TE36
2015: Richard Rodgers - TE9
2014: Andrew Quarless - TE26
2013: Jermichael Finley - TE37
While Graham figures to get some looks in the redzone, his effectiveness between the 20s leaves something to be desired as it appears he's lost some of his separation ability. Also, he hasn't topped 100 targets since 2014. Meanwhile, Olsen is in Newton's thoughts about every other time he drops back to pass. Prior to his injury last year, Olsen topped 100 targets his previous five seasons averaging a respectable 5 TDs. Unless you're playing in a TD-only league, I can't recommend taking Graham over Olsen. On a side note, if you're leery of one or both being too far removed from their primes, might I offer up Evan Engram as a fresh alternative. So, the pick is Olsen here… with a hint of reservation.