The term "bounce back" implies at least one of several things when it comes to NFL skill position players and fantasy hopefuls. One: The player was hurt at some point last season and is seeking to regain what he once was when 100 percent healthy. Two: That player didn't perform up to expectations due to other factors including, but not limited to: age, eroding skills, lack of focus/dedication, and/or the performance of the players/coaches around him. Three: The player simply found himself in a situation in which he was not the ideal fit for what a team/coach was trying to accomplish offensively. Bouncing back means a player was once relevant in fantasy football. You can't "bounce back" from obscurity. With that in mind, here are some players I think will return to form this season after a rough 2014, and also a few that will not.

NOTE: You don't come to a fantasy football website to find out if a freakish talent like Adrian Peterson will bounce back from 2014. Of course he's going to bounce back. Instead, let's look at some players with a greater deal of uncertainty surrounding them.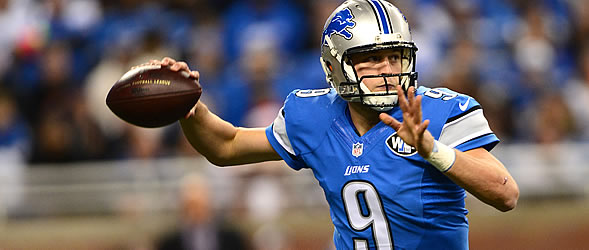 Everything seems to be in place for Stafford to return to being a top-five fantasy quarterback.


QUARTERBACKS:

Springing forward: Matthew Stafford

After breaking out in 2011 with over 5,000 passing yards and 41 touchdowns, it's been an inconsistent ride for Matthew Stafford with respect to fantasy football production. Some of last year's downturn can be traced to the health, or lack thereof, of star wide receiver Calvin Johnson. Johnson officially played in 13 games but was far less than 100 percent in a good portion of those contests. Some think of Stafford and Johnson as "old" at this point, as it seems they've been around forever, but Stafford is only 27 years old and Johnson is 29. Additionally, Golden Tate and Eric Ebron have had a full offseason to digest the offense and get more in sync with Stafford. Tate had an outstanding first campaign in Detroit, and while Ebron was slow to catch on as a rookie, reports on his progress heading into year two have been encouraging. Sprinkle in Ameer Abdullah out of the backfield who can also make plays in the passing game and everything seems to be in place for Stafford to return to being a top-five fantasy quarterback. He's entering the prime years of his career with above-average offensive weapons and a weaker defense in 2015 to support. You can buy low on him this year and bank on a resurgence.

Falling back: Philip Rivers

There are multiple reasons why the Chargers selected Melvin Gordon in the first round of the 2015 NFL Draft. The one that seems most prominent is the need to cut down on Philip Rivers' turnovers with a more conservative ground attack. Rivers committed 26 turnovers in 2014 (18 interceptions, eight fumbles). Those numbers closely mirror another veteran quarterback (Drew Brees) whose passing numbers will also be scaled back this year in an attempt to better prevent turnovers. Rivers will also be without his favorite target, Antonio Gates, for the first four games of the year due to a drug-related suspension. Rivers is in the upper echelon of real-world NFL quarterbacks, but his days of being a viable fantasy starter are over. Draft him as a backup only.

RUNNING BACKS:

Springing forward: LeSean McCoy

LeSean McCoy was certainly not awful in 2014 with respect to statistical output, but he did fall outside of the top ten at his position, despite playing in all 16 games. His yards per carry dropped nearly a full yard, he had only half the receptions and a third of the receiving yards of his previous season. It appears obvious now that Chip Kelly did not see him as a proper fit for the Philadelphia offense. Enter Rex Ryan and the Buffalo Bills. The Bills are paying McCoy big money to be the focal point of their offense, something Kelly was hesitant to do, particularly last season. He'll likely garner 325+ carries and will be a frequent target in the passing game, as the Bills are stocked with "check-down" artists at quarterback. While it's true that McCoy has already logged more than 1,400 carries in his career, he just turned 27 and will be highly motivated to prove the Eagles were wrong about him. I will guarantee you that 16 games played this year will put him well inside the top ten at his position.

Falling back: Giovani Bernard

The Bengals are saying all the right things this offseason about continuing to make Bernard a key component of their offense, but the numbers don't lie. Jeremy Hill averaged more than a full yard-per-carry in 2014 than Bernard (5.1 to 4.0) and is a much better goal-line runner as well. Bernard will be the change-of-pace back in this offense and nothing more – a far cry from what his role was projected to be at the onset of last season. Bernard can still make an explosive play from time to time, but counting on him as an every week starter would be a mistake given how many games he'll likely run for less than 50 yards and stay out of the end zone. Last year, that happened all but four times. You can do much better at the RB2 spot on your roster.

WIDE RECEIVERS:

Springing forward: Michael Floyd

It was all supposed to come together for Floyd in 2014, but what should have been a giant third-year leap turned into a big, fat belly flop. Because Carson Palmer (knee) got hurt and left Arizona with scraps at the QB position, Floyd collected less than 50 percent of his 99 targets on the year. No one could get him the ball deep despite him being frequently open and available for big plays. As is, he still averaged nearly 18 yards a catch. That statistic alone tells you the potential for a breakout year is still very much intact, and I think it's going to happen… albeit a year later than what was initially expected. Floyd will still run the deep routes for this team, limiting the number of receptions he will actually accumulate, but if catches 60 percent of his targets (realistic) again and can add four-to-six touchdowns to his yearly stat line, 80 catches for 1,200 yards and 10 TDs is well within reach. Some will refuse to give Floyd a second chance in 2015, despite the fact that his lack of production was hardly his fault. Don't be that guy.

Falling back: Steve Smith

Smith was one of the season's biggest surprises over the first six weeks of the 2014 campaign. He averaged 95.5 yards and scored 4 TDs over that stretch. Beyond those six games, however, Smith was reduced to 49.2 yards per game and only scored two additional TDs in 10 outings. So, his overall stat line for 2014 looks promising at first glance, but he was easy to take out of the game plan once teams realized he still had gas left in the tank. The Ravens added Breshad Perriman and Maxx Williams this off-season to try to spark the passing attack, and the veteran Smith will almost certainly take a back seat to both as the season progresses. Smith has had a wonderful career, but you should expect his latter season production from 2014 to carry over into 2015.

TIGHT ENDS:

Springing forward: Jordan Cameron

It's easy to forget Jordan Cameron caught 80 passes for nearly 1,000 yards and seven touchdowns in 2013. His injury-riddled 2014 season led him to sign with Miami in the off-season and now he'll have the rising Ryan Tannehill throwing him the ball as opposed to Brian Hoyer and (gulp) Johnny Manziel. Cameron, when healthy, is still the same tight end that appeared uncoverable at times during his breakout 2013 campaign. The departure of Charles Clay means Tannehill will need a tight end to target 100-plus times in the passing game as he did Clay. I won't tell you Cameron will match his 2013 pace stride for stride this year. What I will say is much better numbers are in store for a guy taking a great deal of talent into a situation that is light years better than what he came from. That's a recipe for success.

Falling back: Jason Witten

There's no disputing the Cowboys need Jason Witten as much as ever in 2015, as he provides the team with leadership and plenty of intangibles at tight end. It's the "tangibles" that I'm concerned about. Despite playing a full 16-game slate in 2014, Witten was targeted less than 100 times for the first time since 2006 and averaged only four receptions per game. That means Witten is no longer getting the separation from linebackers that he used to. Again, as was stated earlier in this article, numbers don't always tell the truth, but they rarely lie, either. Witten is a borderline starter at best in 2015, and I would go a step further in saying he's really just a dependable backup at this point in his career. It's simply a case of real-world value and fantasy value no longer running parallel.



.