30-Something RBs: Is It Over For LaDainian Tomlinson, Brian Westbrook And Thomas Jones?

7/31/09



Shuffling Off To Buffalo | Rocky Mountain Are You High? |

30-Something RBs





The Hype



1. LaDainian Tomlinson, SD: LT2 began the deterioration process last year and is now on the backside of his career. Two days into summer, Tomlinson turned 30 years old. He has taken eight years of pounding and has carried the ball over 2,500 times, which only represents 83% of his actual touches since he has over 500 receptions. He's seen almost a 10% reduction in carries in each of the last two years nor has he busted a TD run or catch over 50 yards during the same time span. He was hampered by a toe injury and later a groin injury. Ultimately, if not for the Denver Broncos (who were only ahead of the Lions in rushing touchdowns allowed), Tomlinson would not even have broke double digits in scoring. Most fantasy owners did not even get to enjoy Tomlinson's week 17 three-touchdown performance. Come post-season, Tomlinson succumbed to his groin injury and Darren Sproles shined. Finally, this Spring, there were rumblings that Tomlinson was on his way out of San Diego until he restructured his contract to remain put for the next three years.

2. Brian Westbrook, PHI : Westbrook turns 30 in September. Unlike Tomlinson, Westbrook scored more touchdowns in 2008 than he has in any other year. While he had his third-best rushing performance with 936 yards, Westbrook saw a drastic decline in receptions, receiving yards and dropped nearly 700 total yards from 2007 and 600 total yards from 2006. Westbrook has missed 13 complete games in the last five years and is often listed as "questionable" in weeks he does play. Now, at 30-ish, he comes into 2009 off knee surgery and a June debridement of bone spurs in his ankle. Some suggest the procedure and surgery were more severe and perhaps the Eagles are downplaying the injuries. The Eagles drafted running back LeSean McCoy in the 2nd round and Westbrook will be questionable for the start of training camp.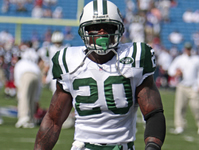 Thomas Jones: Posted a career high 15 TDs at the age of 30.

3. Thomas Jones, NYJ: Thomas Jones turned 30 last August and proceeded to post a career year with 15 touchdowns (14 more than he scored in the prior season) and over 1,500 combined yards. The only sign of wear and tear has nothing to do with his physicality, but with his wallet. Jones comes into the season having held out of the voluntary sessions to express his contract woes. There was some discussion he may hold out of training camp but Jones did report on time. Additionally, there is talk that Rex Ryan, having witnessed the Cam Cameron three-back-system in Baltimore, could employ a similar rotation and give more carries to Washington and rookie Shonn Greene.



Is He or Isn't He a Hall of Famer?



Turning 30 is not an automatic death knell for running backs.


By Walter Payton's 30th birthday, he racked up over 2,500 carries in 10 years. Prior to turning 30, in his seventh season, Payton averaged only 3.6 ypc and in his eighth year had only one touchdown and 596 yards over nine games. The next four years from age 29-32, Payton averaged 1,500 yards and 450 yards receiving and 10 touchdowns.


In years seven and eight, Emmitt Smith saw declining stats, rushing for 3.7 ypc and 4.1 ypc respectively. By the end of year eight, Smith had over 2,500 carries and rushed for 4 touchdowns in 16 starts. But in years nine and ten, at ages 29 and 30, Smith returned to form with 1,300 plus yards and 15 and 14 touchdowns respectively.


Curtis Martin played eight years before he turned 30. At age 29, in year eight, Martin ran for 1,094 yards and 7 touchdowns. He returned at age 30 to rush for over 1,300 yards, but only two touchdowns, and then returned at age 31 for a career year of 1,697 yards and 12 touchdowns.


Barry Sanders almost topped 1,800 combined yards at age 30.

So, when we speak of the four leading running backs in the modern era of football, there is a commonality shared, where they hit a wall in their seventh and/or eighth years, only to return to glory at age 30.



If You Are Buying That 30-Something Is Too Old, Focus on the Understudy



So, you are not buying the Hall of Famer argument and you think that a 30-year-old is someone from whom to shy away. Have faith in your opinion and look to grab the undervalued understudy. In 2008, Ahman Green topped the Houston depth chart. Many people did not buy into Green as a worthy fantasy player, but most shied away from Houston and assumed a clear cut running back by committee. Accordingly, Steve Slaton was available on the waiver wire in many leagues or was swept up late in drafts.

Other 30-year-old and starting/committee running backs in 2008, included Fred Taylor, Thomas Jones and Edgerrin James. Most of us forget that Taylor's presence placed Maurice Jones-Drew as a mid-to-late second round pick and Jones-Drew's touchdowns and number of receptions increased 50% from his 2007 performance. Taylor's departure from Jacksonville has catapulted Jones Drew up to consensus No. 2 status. By game seven, the Arizona Cardinals stripped James of his starting role and tried to hand over the reins to Tim Hightower. Only Thomas Jones fended off the speedster Leon Washington.

Thus, if you are of the opinion that Tomlinson, Westbrook and Jones are too old to hold onto their position, reach a little early to nab their heir apparent. The only trick is establishing the heir to the throne. In San Diego, there will be no dispute. Darren Sproles displayed what he was capable of when given the bulk of the carries in the playoffs. He torched the Colts for 150 combined yards and two touchdowns and while ineffective on the ground against the Super Bowl champions, he totaled 91 yards, most of which came on a 62-yard touchdown pass. With only 90 touches last year, Sproles gained 672 yards and scored 6 times. In leagues rewarding bonuses for long distance touchdowns, Sproles is difficult to beat.

The backups to Westbrook and Jones are not as clear cut as many will have you believe. Lorenzo Booker has impressed the Eagles during OTA's. Andy Reid has stated that Booker has made great strides from last season. While Booker believes he is the number two and took the first team reps during voluntary training camp, head coach Andy Reid has suggested that rookie LeShon McCoy will fill that slot. The offensive line could turn out to be one of the best in 2009 with the additions of pro-bowler Jason Peters, Stacy Andrews, along with Shaun Andrews at right tackle.

In New York, Leon Washington is number two on the depth chart but there are threats of a hold-out. Additionally, Rex Ryan is already talking about Shonn Greene becoming a "fourth quarter weapon." Greene is a strong, powerful back whose not easy to bring down. I tend to devalue hold-outs as being unconditioned and unprepared for the season. If both Jones and Washington hold-out (which I suspect will not happen), then Greene moves up another notch. Finally, if teams will be stacking eight men in the box in an effort to force Mark Sanchez (or Kellen Clemens) to throw, Greene's body type and college experience will have him more prepared to handle the lead running back duties.



Buy or Sell



LaDainian Tomlinson, SD – Buy. Of course I am a Tomlinson fan, but I tend not to be myopic. Tomlinson can and should rank in the top five all-time running backs in both scoring and rushing yards when he leaves the game - he is already number two in scoring. One more 1,000 yard season places him ahead of Tony Dorsett (number seven) and a second year of only 900 yards would bring him in at number five. Assuming he rebounds to 1,400 yard seasons, Tomlinson will be packed in right behind Smith, Payton and Sanders. Tomlinson is that truly exceptional running back. Don't be surprised if he is once again among the league leaders.

Darren Sproles, SD - Sell. If Tomlinson is on your fantasy team Sproles should be too but only as a handcuff, I would be hesitant to spend a mid-round draft pick on him. He appears too small to handle the punishment of being a full-time back. Like Michael Turner before him, there will be discussions of an increased role which will prove to be nothing more than discussions.

Brian Westbrook, PHI – Buy. I like the x-factor of a solid offensive line with new left tackle Jason Peters and the Andrews brothers on the right side. But, Breakable Brian's present injury status raises great concern. His age doesn't worry me since Westbrook does not have substantial tread on his tires (only 1,247 carries). It may be overstated, but Westbrook needs to be handcuffed - the only concern being whether LeSean McCoy is the lone handcuff.

LeSean McCoy, PHI - Buy. Why not take a flyer on this guy? Westbrook's present injury status, his medical history and an upgraded offensive line, make McCoy the undervalued rookie running back. Let Knowshon Moreno, Chris Wells and Donald Brown get the rookie hype... I'll take McCoy as a bargain late in my draft. By year end, his numbers could surpass the first rounders and he could possibly be a top-10 back. Will he be? Doubtful. But for a guy whose average draft position is three to four rounds after Moreno and Wells; McCoy could be a gem.

Lorenzo Booker, PHI - Sell. The Dolphins selected Booker in the third round of the 2007 draft. Less than one year later he was traded to the Eagles for a fourth rounder. Last year Booker did nothing to challenge Correll Buckhalter for playing time. Any hype on Booker should be met with skepticism since he has been overly-hyped each of his first two years in the league.

Thomas Jones, NYJ – Sell. One of these years I will get it right with this guy. While Jones has limited traction with only 1,650 carries, I just don't see him as that special back who at age 31 canl enjoy a return to 15 touchdowns. While I don't buy the hype that Rex Ryan will employ a three running back attack, I am buying that Jones at 31 is not the next Curtis Martin.

Leon Washington, NYJ - Sell. Hold-out from the number two running back? Sure, he is one of the league's top special team returners, but this does not bode well for his prospects as the number one running back. Even if Washington reports to camp soon, the same argument against Sproles would apply here. He is 5'8", and 200 pounds soaking wet. How much durability would he have if thrust into the starting role?

Shonn Greene, NYJ - Buy. As of now, this kid may be had cheap. He is a late-round flyer like Steve Slaton was last year and is situated to takeover. The Jets sport a top-10 offensive line and this brute can run between the tackles becoming a scoring threat and shoulder an immense load.

In closing, please remember that this is not intended to be a prognostication article. The reader should walk away understanding that for every argument, there is an equally good counter-argument. Often "hype" turns into a golden nugget like Matt Forte or a Chris Johnson, but equally misses the mark on a player like DeAngelo Williams, or just calls it flat wrong as we all go reaching for the Wali Lundy's of the NFL. Intangibles as well as statistics play a large role in a fantasy player's success.