MyFantasyLeague.com Users...
Check out the most popular waiver wire pickups this week across thousands of MFL leagues. Also, quickly see who's available on your waiver wire this week by using the MFL Power feature at FF Today. Just input your league's 5-digit ID number away you go!

Targeting weekly waiver picks is a completely subjective business, but this column hopes to point out some obvious and not-so-obvious selections to help your team from week to week while you strive to collect fantasy wins, reach your league playoffs and win the elusive title that your friends say is out of your grasp. While I'm a big proponent of making trades to bolster your roster, the waiver wire can be an almost limitless resource when it comes to discovering fantasy value in strange places. Each week, I'll highlight some of the popular (and not-so-popular) players who can help your squad and may still be available in your league.

Feedback is always welcome, appreciated and encouraged. I'll get to as many e-mails as I can.


---
Quarterbacks
Brian Hoyer, HOU – Hoyer is owned in anywhere from 0-5 percent of fantasy leagues, depending mainly on league waiver wire/free agent pickup rules. He tallied 312-2-1 in relief of sour puss Ryan Mallett during Thursday night's game, and will start in Week 6 against the Jags. With DeAndre Hopkins and emerging WR Jaelen Strong, he's worth a long look as a bye week fill-in.
Colin Kaepernick, SF – The embattled Niners QB finished among the top 12 fantasy QBs in Week 5 and get the Ravens in Week 6 – a team that gave up a monster day to Josh McCown (more on him later). It appears that Kaepernick could be on the upswing after a 262-2-0 day in which he also rushed for 23 yards.
Matt Cassel, DAL – Jason Garrett told reporters there could be a QB change in the way in Big D, and that means Cassel could get the nod when the Cowboys return from their Week 6 bye. He's not worth adding right now, but with Romo expected out until at least Thanksgiving, he should be on radar in deep leagues.
UPDATE: It's now being reported that Cassel will likely be the Week 7 starter versus the Giants. With the Cowboys on a bye and Weeden losing three straight at the helm this season (and 11 in a row as an NFL starter), the change comes at a good time.
QB Updates
Josh McCown, CLE – I'm not going to overanalyze McCown's success in racking up big yardage this season, but he threw for 457-2-0 with a rushing TD against the Ravens, and now has 1,154-6-1 passing over his last three games.
Blake Bortles, JAC – We expected Bortles could have a big day, and he answered with 303-4-1 in the loss to Tampa Bay. He's got a couple of talented wideouts in Allen Robinson and Allen Hurns, and the return of Julius Thomas should only increase his value. He's a viable backup and matchup-dependent QB with plenty of upside, but suffered a Grade 1 AC joint sprain in his shoulder on Sunday. Stay tuned; the Jags' backup QB is Chad Henne.
UPDATE: For now, Bortles should be considered on the 60-40 side of questionable to play against the Texans. Henne is a severe downgrade.
Sam Bradford, PHI – Bradford continues to make stupid mistakes, but his 333-2-2 line was fine enough to pick up a blowout win over the putrid stylings of the New Orleans Saints. If they figure out a way to get Nelson Agholor (shin) the ball, the Eagles' QB would be an even hotter commodity.
Jay Cutler, CHI – Cutler was okay on Sunday with 252-2-0, even though he was without Alshon Jeffrey and Eddie Royal. Martellus Bennett had a few drops and burned fantasy owners in what seemed like a good spot, but Marquess Wilson stepped up with a big game (6-85-1).
Kirk Cousins, WAS – Cousins looked sharp at times on Sunday but threw a pick six in overtime, finishing with 219-1-2 on the day. He's facing a difficult matchup in Week 6 with the Jets coming off their bye.
Nick Foles, STL – Foles had a horrific day, tossing four INTs on 11-for-30 passing and 141 yards (1 TD). He's on a Week 6 bye and gets a better matchup in Week 7 against the Browns.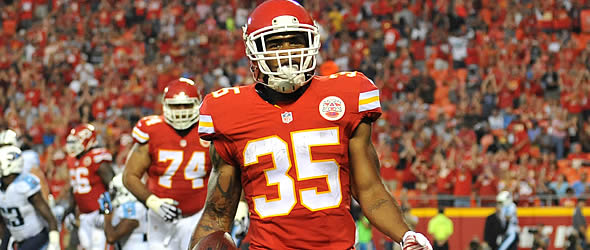 With Charles out for the year, Charcandrick West will see plenty of opportunities in the KC backfield.
Running Backs
Charcandrick West, KC – Jamaal Charles is out for the season with an ACL tear, and RB duties will fall on a committee involving West (0-2 percent owned), Knile Davis (50 percent owned) and WR/RB scatback De'Anthony Thomas. West would probably handle early-down duties, with Davis picking up work on passing downs.
UPDATE: HC Andy Reid reportedly likes West's skill set – one that allows the Chiefs to run the offense similarly to their approach with Charles. Still, we could always see a hot hand situation emerge and Davis log more snaps.
Knile Davis, KC – There's still a lot of shaking out to do, but both backs make sense as waiver wire additions in the wake of the Charles injury. Keep updated on news as it develops, though the picture promises to be murky until we see some more in-game action. My suspicion is that Davis has more big-play value, while West should log most of the standard carries.
UPDATE: It's entirely possible I have this thing wrong, but I still believe West is the higher percentage play, while Davis could offer more big-play capability. Reid has been cryptic thus far: "I'm not saying who is or is not the feature guy, but we need both of them. Both their games are different. We'll just see how that goes. You saw both of them played today, so we'll get back to the drawing board on that and get it right."
Javorius Allen, BAL – Allen, a fourth-round rookie RB filling in for Justin Forsett after the starter left following an ankle injury, rushed for 58 yards on eight carries, mostly by way of a 44-yard run in the third quarter. He'd likely see a heavy workload if Forsett misses any time, especially with Lorenzo Taliaferro struggling to get healthy.
UPDATE: The ankle injury suffered by Forsett is not believed to be of the "high ankle" variety, and he's considered day-to-day. HC John Harbaugh said Monday afternoon there's a "good chance" that Forsett plays at San Francisco.
Denard Robinson, JAC – T.J. Yeldon left Sunday's game with a groin injury, which could mean an increased workload for Denard Robinson, listed as the No. 2 RB on the Jags' depth chart. Robinson is by no means the type of workhorse back that Yeldon is, so it's likely that even if Yeldon can't go, Robinson's value will be limited.
UPDATE: Yeldon doesn't think the groin injury is serious, and Robinson is still nursing a strained MCL, so he's probably not worth a pickup this week. Toby Gerhart hasn't shown much at all since his days in Minnesota. Perhaps this is a good week to steer clear of the Jags running game and hope that Bortles/Robinson/Hurns/Thomas provides all the offense.
Shane Vereen, NYG – Vereen (60-65 percent owned) had 8-86-1 receiving and five carries for 24 yards in the win over San Francisco. He's still a member of the foggiest RB committee in the NFL, though his role as a pass catcher is clearly defined. What makes it difficult to trust Vereen is that in the previous two games, he was held without a catch. He's talented and slippery, but he's far from a workhorse and could be boom-or-bust even in PPR leagues.
UPDATE: Vereen flourished with both Odell Beckham Jr. and Rueben Randle unavailable in the fourth quarter, and remains a solid option if either s forced to miss additional time. Stay tuned.
Charles Sims, TB – He's still playing second fiddle to Doug Martin, who had a monster game in Week 5, but he tallied 51 rushing yards on 12 carries and 4-85-0 receiving, decent numbers in their own right. Sims is more of a slasher and McFadden-type of back, while Martin provides a smaller, bulkier frame with a shiftier type of running style.
Theo Riddick, DET – Riddick is still the Lions' favored option on passing downs and caught 10-53-1 during Sunday's loss to Arizona. Given the state of affairs in Detroit, he could be the only back with guaranteed value in PPR formats.
UPDATE: The more I think about it, the more I'm starting to love Riddick as a flex option against the Bears in Week 6. For me, he's a viable alternative to the popular, priority picks this week.
Marcel Reece, OAK – Another back who flourishes in the passing game, Reece had 7-49-1 in the loss to Denver and is on a bye in Week 6. He's a hit-or-miss deep-league PPR flex option.
RB Updates
Anthony Dixon, BUF – The Bills offense struggled through much of the first three quarters and Dixon finished with just 19 rushing yards and 3-20-0. Assuming Karlos Williams and/or LeSean McCoy are back soon, this may signify the end of Dixon's fantasy relevance.
Josh Robinson, IND – Frank Gore was fine for Thursday night, finishing with 98 rushing yards and a TD on 22 carries. Robinson is a deep-league handcuff without much upside.
Darren McFadden, DAL – As expected, McFadden filled the Lance Dunbar role in the Cowboys offense, and while much of his stats came in garbage time (16 rushing yards on five carries; 9-62-0 receiving), he could be more involved if the Cowboys make a QB switch. Stay tuned.
C.J. Spiller, NO – Spiller actually posted negative yardage (-8) on his three catches Sunday and rushed three times for 10 yards. That's six touches and 2 net yards, though most of the blame here falls on the playcalling and poor play of Drew Brees, who looks surprisingly close to retirement after five weeks.
UPDATE: Spiller can only be counted on for Thursday night in super deep leagues – he's too reliant on the big play and is not integrated in the Saints offense.
Ronnie Hillman, DEN – The Broncos offense is scuffling, and they've yet to find the right chemistry moving forward with the Hillman/C.J. Anderson timeshare. Still – both backs retain modest upside and are worth keeping in 12-team leagues.
Duke Johnson, CLE – Duke didn't have much going in the rushing game 22 yards on nine carries) but contributed 6-55-0 and is a must-own in PPR formats.
UPDATE: The Broncos defense is formidable, but Johnson makes sense as a sneaky PPR option since they'll likely be checking down to him and trying to get the dynamic back in space. Give him a whirl this week.
Terron Ward, ATL – Tevin Coleman returned for a few snaps and Devonta Freeman maintained his stronghold on the workhorse role. Ward is a fantasy afterthought.
Wide Receivers / Tight Ends
Andre Johnson, IND – Johnson is the top scoring WR of Week 5 (in standards scoring, non-PPR leagues), with 6-77-2 on Thursday night. He's owned in about 50-75 percent of leagues but is even sitting on the waiver wire in one of my most competitive 14-team leagues. He's starting to click in the Indy offense, so grab him if he's available.
Jaelen Strong, HOU – Strong's first two receptions in the NFL were touchdowns. Pick him up, as this offense is likely to get more aggressive (more red zone opportunities) with Arian Foster back in the mix. He's nearly universally available in redraft leagues that lock Thursday performers until the next week in waivers.
Anquan Boldin, SF – Boldin (8-107-1 on 12 targets Sunday night) is only available in about 15-25 percent of leagues, but he's been dropped in plenty of 10-team formats, right? Well – if the Niners' offense is really on the upswing, and the RB situation remains this murky, he could be in line for 10-15 targets per week.
Marquess Wilson, CHI – Wilson's 6-85-1 helped the Bears get a tough win, but his value hinges on the availability of the other Bears receivers. He's only about 4-8 percent owned and could be a steal with his size and athletic qualities.
UPDATE: It's very possible that with Jeffery's setback with his injured hamstring (which happened in practice last week), Wilson finds himself in a good spot to produce for a while longer. Chicago heads to Detroit this weekend, and the Lions (0-5) are not very good, folks.
Josh Huff, PHI – He's unlikely to be a high-volume target, but Huff's 4-78-1 included some red zone looks in the unpredictable Eagles offense. Some of Chip Kelly's game plans might just feature the second-year WR more prominently as the season progresses.
UPDATE: Much of Huff's action came with Algholor off the field with an ankle injury. If Agholor can't go this week, it's worth upgrading Huff.
Ty Montgomery, GB – For the second straight week, Montgomery saw five targets with most of the coverage shutting down a less-than-100 percent healthy Randall Cobb. Montgomery hauled in 4-59-1 from Aaron Rodgers on Sunday and is good for about five targets per game – some of them in the red zone.
UPDATE: Davante Adams is still week-to-week and appears like he'll miss more action. Montgomery could be in line for another solid game working out of the slot.
Chris Hogan, BUF – Hogan wasn't the main hero on Sunday – that was dynamic QB Tyrod Taylor, who filled up the fantasy stat sheet quickly by leaning on Hogan with Sammy Watkins out again. There's not a ton of value here, but the third-year WR (3-52-1 on Sunday) is a sure-handed target with moderate flex value.
TE Gary Barnidge, CLE – That Barnidge catch was NUTS, literally! The veteran TE is getting his shot this season and hauled in 8-139-1 in the win over Baltimore. He's a notch below Rob Gronkowski and Tyler Eifert, but just as valuable going forward as many of the other TE1s.
TE Brent Celek, PHI – Celek has TDs in consecutive weeks and could be a factor moving forward, though it's hard to trust any single pass catcher in the Eagles offense aside from Jordan Matthews.
TE Jacob Tamme, ATL – Tamme broke out with 8-94-0 with Julio Jones and Leonard Hankerson nursing injuries during Sunday's game. Expect more targets from Matt Ryan as the Falcons try to keep grinding out victories without overexposing their WRs.
UPDATE: Julio Jones is looking iffy for Thursday night against the struggling Saints, which means Tamme will almost certainly see more targets. He carries lots of risk but has some TE2 upside in this matchup.
WR/TE Updates
Tavon Austin, STL – Austin had three carries for 22 yards and 2-6-1 receiving, enough to make for a decent flex play. He's a game plan-dependent fantasy option.
Allen Hurns, JAC – Hurns' value could take a hit if Bortles misses any time, but the Jags' No. 2 receiver (70-80 percent owned) hauled in 5-116-1 on Sunday.
Mike Wallace, MIN – The Vikings were on a Week 5 bye and return to face the Chiefs in Week 6.
Kamar Aiken, BAL – Aiken got off to a blistering start with several early catches, then cooled off, settling for 4-78-0 on nine targets in the Ravens disappointing loss to Cleveland.
Eddie Royal, CHI – Royal sat out Sunday's game with an ankle injury.
Dwayne Harris, NYG – Harris had two key drops in the win over San Fran, but provides a viable red zone option for the Giants, notching 6-72-0 on Sunday night.
UPDATE: If Randle misses time, Harris could be the Giants No. 2 receiver and will compete for targets with Vereen and (presumably) a slightly hobbled Beckham.
Willie Snead, NO – Snead's 6-141-0 on 11 targets bodes well for his value, but the Saints game plan could be changing with little success coming in the win category. He's a decent 12-team flex option or WR3 moving forward.
Jamison Crowder, WAS – Crowder caught all eight balls thrown his way for 87 yards in the OT game versus the Falcons. He's the clear No. 2 option behind Pierre Garcon with DeSean Jackson and Jordan Reed still out but could run into a roadblock against the Jets next week.
TE Coby Fleener, IND – Fleener caught just two balls for 9 yards on three targets, and is a hit-or-miss option moving forward with Dwayne Allen healthy. He can be safely dropped in shallow leagues, but is worth holding onto in 12-team or deeper leagues.
TE Richard Rodgers, GB – Rodgers had 6-45-0 but no scores in the win over the Rams. He's a low-end TE1.
TE Owen Daniels, DEN – Daniels was targeted five times by Peyton Manning but didn't catch a single pass. He was the ultimate plug-n-play bust facing a Raiders team that had struggled to stop opposing TEs.