MyFantasyLeague.com Users...
Check out the most popular waiver wire pickups this week across thousands of MFL leagues. Also, quickly see who's available on your waiver wire this week by using the MFL Power feature at FF Today. Just input your league's 5-digit ID number away you go!

Targeting weekly waiver picks is a completely subjective business, but this column hopes to point out some obvious and not-so-obvious selections to help your team from week to week while you strive to collect fantasy wins, reach your league playoffs and win the elusive title that your friends say is out of your grasp. While I'm a big proponent of making trades to bolster your roster, the waiver wire can be an almost limitless resource when it comes to discovering fantasy value in strange places. Each week, I'll highlight some of the popular (and not-so-popular) players who can help your squad and may still be available in your league.

Feedback is always welcome, appreciated and encouraged. I'll get to as many e-mails as I can.


---
Note:
This column will be updated tomorrow at the conclusion of Week 1.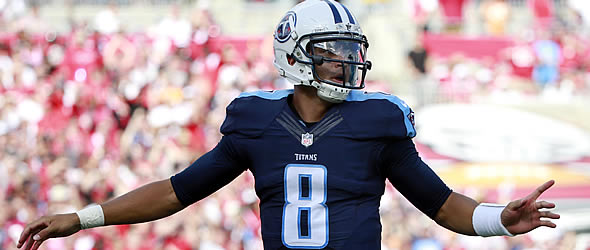 Marcus Mariota's four-TD performance against the Bucs will make him a popular waiver wire add.
Quarterbacks
Marcus Mariota, TEN – The rookie's debut performance was an electrifying one, as he threw for a touchdown on his first pass and tallied 209-4-0 with no turnovers against the Bucs – and rookie counterpart QB Jameis Winston. Mariota's maturity and talent make him a must-add in all fantasy leagues following his Week 1 breakout, and although he completed just 13 (out of 16) passes on the day, he'll be encouraged to throw the ball to his capable group of receivers. He's owned in roughly 30-50 percent of fantasy leagues and will likely be the top QB add following Week 1.

UPDATE: Andy Dalton, CIN – I neglected to include Dalton in my column yesterday because I assumed his ownership was too high, but apparently he's still available in anywhere from 20-50 percent of fantasy leagues, depending on format and platform. Dalton is often overlooked because he can look – well, terrible! He had a down year in 2014, but in 2012 and 2013 he compiled a combined 66 TDs, a figure that should surprise his detractors. He has a bevy of offensive weapons, his schedule is not an oppressive one, and he's both talented and experienced. What else do you need out of a high-upside backup QB?
Alex Smith, KC – The much-maligned Smith, often criticized for not throwing downfield and labeled a "game manager," posted an excellent Week 1 stat line with 243-3-0 (15 rushing yards on nine carries) in the Chiefs' win over Houston. The veteran, in his 11th season and third with Kansas City, connected for 2 TDs with dynamic TE Travis Kelce in the first quarter, including a 42-yard completion, the longest of his career. Smith is owned in about 20-40 percent of fantasy leagues and makes sense as a viable backup.
Nick Foles, STL – There were a lot of questions surrounding Foles heading into Week 1, and he was nearly unplayable facing the stout Seattle defense, but the Rams QB had a solid 2015 debut with 297-1-0 and a 1-yard rushing TD. This will likely be a run-first team (especially once Todd Gurley and Tre Mason are healthy) but Foles could surprise and should be owned in 12-team leagues as a capable backup.
Tyrod Taylor, BUF – A major X-factor heading into the 2015 season, Taylor (10-30 percent owned in fantasy leagues) was impressive in Week 1, throwing for 195-1-0 and rushing for 41 yards on nine carries in the decisive 27-14 win over Indianapolis. Head coach Rex Ryan discussed Taylor's "explosiveness" during the preseason, and the more robust toolbox of offensive weapons the Bills are sporting makes him a decent pickup (with moderate upside) in deeper leagues.
Ryan Fitzpatrick, NYJ – He's not guaranteed to hold onto the starting job all season, but for now, Fitzpatrick is leading the Jets offense and has shown excellent rapport with Brandon Marshall and Eric Decker. His 179-2-1 performance in Week 1 leaves a little to be desired, but there will be games when he racks up over 300 yards and multiple scores, so he must be considered as a deep-league option.
Running Backs
Bishop Sankey, TEN – He's not going to be available in more than 15-25 percent of leagues, but if he's still there in yours, you'll have to run out and get him. Sankey has shaken off the bad vibes of 2014 and his two-TD game (including 74 rushing yards and 2-12-1 receiving line) shows he's an integral part of the Titans game plan with little competition for carries until David Cobb (PUP) makes his return at some point in the second half of the season.

Danny Woodhead, SD – Owned in about 40-70 percent of fantasy leagues, Woodhead is still available in plenty of formats and will be the San Diego running back to own in PPR leagues. The Chargers prefer Woodhead in pass protection and catching the ball over rookie Melvin Gordon. Woodhead had two TDs, 42 rushing yards on 12 carries and 4-20-0 receiving in the Chargers' come-from-behind win over the Lions. He'll have a more difficult time facing the Bengals next week, but he's a must-add in all formats.

David Johnson/Chris Johnson ARI – The rookie from Northern Iowa touched the ball once in his NFL debut, taking a screen pass 55 yards for a TD. An explosive back who can contribute in both the running and passing games, Johnson (25-50 percent owned) should be scooped up in all formats given Andre Ellington's fragility (left Week 1 with PCL injury). Chris Johnson would likely get the bulk of traditional carries and also warrants a pickup with Ellington's status uncertain.

Ronnie Hillman, DEN – Hillman (40-65 percent owned) ran for 41 yards on 12 carries and looked much quicker than C.J. Anderson (toe), whose "bell-cow" status took a bit of a hit with the Broncos riding Hillman's hot hand against the Ravens. Both backs are probably going to see carries moving forward especially on a short week heading to Kansas City.

Marcel Reece, OAK – As a Latavius Murray fan and owner, I hoped I wouldn't have to address Marcel Reece (0-5 percent owned) this season, but the veteran back continues to produce in garbage time for the Raiders, tallying a 3-26-2 receiving line (no carries) in the loss to Cincinnati. The Raiders could face a similar situation against the Ravens in Week 2, and Reece could be a surprise value in deeper PPR leagues.

Dion Lewis, NE – I'm from just south of Albany, NY, where Lewis played high school ball, so I've been hearing about his upside for years from guys familiar with Lewis who rave about his work ethic and ability. The Patriots certainly got a sense for what he could do on Thursday when he rushed for 69 yards on 15 carries and added 4-51-0 receiving in the win over Pittsburgh. Since New England is a fluid RB environment and LeGarrette Blount is on the way back, we can't get too excited about this performance – but the young back should be owned in 12-team leagues.

Karlos Williams, BUF – Aside from LeSean McCoy, Williams has the most upside of any RB in Buffalo, and he showed some spunk on Sunday with a six-carry, 55-yard performance that featured a 26-yard TD run. He's about 10 percent owned, and a great value add in all formats given McCoy's uncertain injury issues and the Bills offensive relevance.

Lance Dunbar, DAL – Dunbar (5-15 percent owned) will likely be a PPR fixture this season after racking up 8-70-0 as a pass catcher in his 2015 debut. And with Dez Bryant out for 4-6 weeks with a broken foot, the Cowboys will be spreading the ball around and utilizing Dunbar extensively in the passing game.

Khiry Robinson, NO – As expected, Mark Ingram (nine carries, 24 yards; 8-98-0 receiving) got the majority of touches out of the Saints backfield, but Robinson (5-15 percent) wasn't far behind, rushing for 19 yards on eight carries and adding 5-51-0 receiving. He's a solid deep-league add with moderate upside and would likely be the feature back if Ingram went down. He's being investigated by NFL (and now the NFLPA) for allegedly striking an intern in the head during training camp, but the team has already fined him and the matter might not result in further discipline.

UPDATE: Jarryd Hayne, SF – The much-ballyhooed rubgy transplant wasn't expected to see much work in the season opener, but a minor injury to Reggie Bush (calf strain) necessitated his involvement when Carlos Hyde wasn't gashing the Vikings' front seven for chunks of yardage. Hayne had an inauspicious beginning when he fumbled a punt, but had four carries for 13 rushing yards and a one catch for 7 yards. He's a project and a longshot, but if Hayne can adapt to the game, he's a special talent who could have some impact as both a runner and receiver on a team devoid of quality offensive options.
Wide Receivers / Tight Ends
Kendall Wright, TEN – Yes, there are leagues where Kendall Wright (65-85 percent owned) went undrafted, and it's because people are silly. The talented wideout hauled in 4-101-1 from his rookie QB on Sunday and is a must-add WR2 in all formats.

James Jones, GB – I added Jones (30-40 percent owned) in the FFToday.com staff league (I got burned by the Kelvin Benjamin injury about 18 hours after I drafted him) but neglected to start the former and current Packer WR because I favored a wait-and-see approach. That was a mistake, as Jones caught 4-51-2 in the win over Chicago, solidifying his status as the likely top WR add following Week 1.

Travis Benjamin, CLE – Dwayne Bowe sat out Week 1 and with Johnny Manziel assuming the reins following Josh McCown's concussion, Benjamin (0-1 percent owned) vaulted into fantasy relevance with 3-89-1, catching all three targets that went his way. He's a big-play receiver with upside but there's just not a lot to get excited about with the Cleveland offense right now.

Percy Harvin, BUF – Harvin is owned in about 50-70 percent of fantasy leagues and looked excellent in his debut as a Bill, catching all five passes thrown his way for 5-79-1. We all know how good he can be, and with Sammy Watkins not registering a catch, there will be a lot of teams scrambling to add Harvin via waivers this week.

Donte Moncrief, IND – With the hype surrounding Phillip Dorsett and the arrival of Andre Johnson, Moncrief (just 10-20 percent owned) became the forgotten man in Indy heading into Week 1, but his 6-46-1 performance (11 targets) eliminated any doubt that he'd be a big part of Andrew Luck's game plan this season. He could be an enormous factor in Week 2 with Darrelle Revis and Buster Skrine (Antonio Cromartie is likely out for the season with knee ligament damage) likely assigned coverage of T.Y. Hilton and Johnson.

UPDATE: Moncrief is expected to be the starter opposite Johnson if T.Y. Hilton (knee bruise) can't play in Week 2.

Brandon Coleman, NO – Coleman (30-40 percent owned) has already earned the trust of Drew Brees and was targeted seven times Sunday during his 4-41-0 performance in the matchup with Arizona. He's a big red zone target and has worked hard to improve his hands and physicality as a receiver. He makes a decent WR4/deep flex play facing the Bucs in Week 2.

Nate Washington, HOU – He didn't catch a TD, but he did see 11 targets and catch 6-105-0 in the loss to Kansas City. Washington is an old man by NFL standards (32 and in his 11th season) but he's still a hardworking contributor and universally available in fantasy leagues. He's not a great play against the Panthers next week, but he's worth looking at with a relatively thin WR group in Houston.

Jerricho Cotchery, CAR – Another veteran WR who just won't go away, Cotchery (5-10 percent owned) hauled in 4-45-1 in the win over Jacksonville and could be a popular Cam Newton target this season if Devin Funchess takes some additional time to develop and defenses clamping down with bracket coverage on Greg Olsen.

Cole Beasley, DAL – Beasley (5-10 percent owned) operates primarily out of the slot and could take on a larger responsibility given the Bryant injury. He caught 4-49-0 but fumbled away the ball as he was going to the turf on a crucial play before the half – allowing the Giants to pick it up and get an easy score. He's a popular player in Dallas and Romo will likely continue to look his way despite the mistake, which ultimately did not cost the Cowboys a win. He's undersized but has that Wes Welker/Julian Edelman speedy makeup which is excellent for PPR leagues.

TE Austin Seferian-Jenkins, TB – Jenkins was largely unheralded as a TE2 heading into the season, but more informed fantasy owners may have drafted him as a high-upside option. Even so, he's currently available in 50-70 percent of leagues and turned in a monster Week 1 with 5-110-2 as the most trusted of Winston's receiving options. He's a low-end TE1 with plenty of big-game upside moving forward.

TE Tyler Eifert, CIN – Eifert's ownership levels (50-60 percent owned) are a bit higher than those of Seferian-Jenkins, and his QB is a lot more polished as well. Injured or overshadowed for much of the past couple seasons, Eifert exploded for 9-104-2 in the win over Oakland Sunday and could be the top overall add this week in fantasy.

TE Darren Fells, ARI – The behemoth Fells (6-7, 289 pounds) is in his second season in the league and saw a ton of action Sunday facing New Orleans. He hauled in 4-81-1 and is the No. 1 TE in Arizona after the retirement of John Carlson this May. He's owned in about 2-3 percent of leagues and is a fine sleeper TE2 with upside.

TE Ladarius Green, SD – With Antonio Gates serving a four-game suspension for a banned substance, Green (10-20 percent owned) is finally getting his shot in San Diego. He caught 5-74-1 in the come-from behind Week 1 win over Detroit and looks to be an integral part of the Chargers passing game. He should be owned in all 12-team leagues, at least until Gates returns in Week 5, and possibly longer as the veteran TE is 35 and has lots of wear and tear.
UPDATE: TE Jared Cook, STL – Another player I left off my Monday column who's just 30-50 percent owned in fantasy leagues despite being one of the premier big-play threats at the position. His numbers have been decent the past few seasons and with tight ends being targeted more and more on seam plays, he's a good bet for a few games of fantasy relevance in the right matchup. He's not the flashiest of selections, but he's worth a look if some of the bigger names are gone and you need a fill-in at the position.