MyFantasyLeague.com Users...
Check out the most popular waiver wire pickups this week across thousands of MFL leagues. Also, quickly see who's available on your waiver wire this week by using the MFL Power feature at FF Today. Just input your league's 5-digit ID number away you go!

Targeting weekly waiver picks is a completely subjective business, but this column hopes to point out some obvious and not-so-obvious selections to help your team from week to week while you strive to collect fantasy wins, reach your league playoffs and win the elusive title that your friends say is out of your grasp. While I'm a big proponent of making trades to bolster your roster, the waiver wire can be an almost limitless resource when it comes to discovering fantasy value in strange places. Each week, I'll target both offensive and defensive players — sometimes breakout stars that eluded your team's draft — as well as players who can help your squad that may still be lurking in deeper leagues. I'll also provide an occasional daily fantasy recommendation, as I'm hopelessly addicted to DFS sites.



Off the Top -

Includes my premier recommendations. These are sometimes players available only in more shallow leagues, and occasionally guys who are more ready but are thrust into the fantasy spotlight because of opportunity or exceptional production. Usually, they are available in at least 25 percent of public leagues.



Digging Deeper -

Covers the next tier of quality waiver wire specimens, usually players available in a majority of online leagues. There are a lot of gems in this range who can be plucked rather easily. Usually, these players are available in at least 50 percent of public leagues.



Scouring the Barrel -

Chronicles the deepest of fantasy adds — and sometimes highlights players being tacked onto fantasy squads who I don't have much confidence in. Make sure you read the fine print because I don't always love them. For the most part, you'll find these players available in about 75-100 percent of fantasy leagues

Each week, I'll also provide a brief update on the players I covered the previous week. It's the most accurate, comprehensive one-stop waiver-wire column available on the Internet, and it's only available here at fftoday.com. Let's get to some of the players who could be still out there on the waiver wire and in the free agent pool as you prepare for Week 1!


Feedback is always welcome, appreciated and encouraged. I'll get to as many e-mails as I can.


---
Note:
Each player's next four matchups are listed in parentheses ( ). Since IDP league composition is so varied, I'll just list defensive players per position and use their Yahoo ownership rates – which due to site ranking anomalies and the high rate of variance in availability, are often much lower than actual ownerships rates.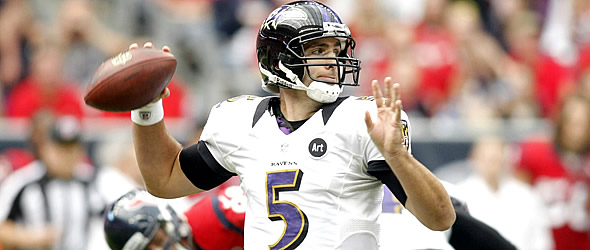 Joe Flacco's five first half TDs will grab your attention but he's just a spot starter moving forward.

Quarterbacks

Off The Top

Joe Flacco, BAL (ATL, @CIN, @PIT, TEN) – Flacco had the best fantasy game of his career Sunday, and the numbers (306-5-0) could have been even more garish had the Bucs stayed competitive. It's hard to define what his value will be this fantasy season, but he clearly has value in daily fantasy contests as a mid-range QB in certain matchups.

Carson Palmer, ARI (@OAK, PHI, @DAL, STL) – Palmer surprised a lot of folks by suiting up and starting on Sunday, throwing for 250-2-0 and helping the Cards to a 30-20 win over Washington. If his shoulder continues to improve, he'll make a fine QB2 this season, with spot-starting upside.

UPDATE: Bruce Arians said Palmer "felt good" on Monday following his first start since Week 1. It appears that his shoulder should be okay heading into Week 7 against the Raiders.

Digging Deeper

Blake Bortles, JAC (CLE, MIA, @CIN, DAL) – Bortles had the best game of his young career, throwing for 336-1-1 with 38 rushing yards. He looked sharper and clearly enjoys having Cecil Shorts back healthy.

Kyle Orton, BUF (MIN, @NYJ, BYE, KC) – Orton was relatively effective on Sunday facing the Patriots, throwing for 299-2-1 on 24-for-38 passing in the loss. He gives the Bills the best chance to win, but won't be of much value to fantasy owners save for two-QB leagues and/or the occasional bye week fill-in.



Scouring The Barrel

Derek Carr, OAK (ARI, @CLE, @SEA, DEN) – Carr (ankle) ended up getting the start and finishing with 282-4-1 on 18-of-34 passing. It wasn't quite enough to notch a win but good for a 107.7 QB Rating and his most impressive performance of his rookie season. He's most definitely earned the starting job and will likely be forced to throw a lot in the coming weeks.


Updates

Ryan Tannehill, MIA (@CHI, @JAC, SD, @DET) – Tannehill is still awaiting his breakout game, but finished Sunday with 244-2-2 and 49 rushing yards – just outside the top 10 fantasy quarterbacks for Week 6.

Austin Davis, STL (SEA, @KC, @SF, @ARI) – Update coming Tuesday.

UPDATE: Davis looked sharp to start the Monday night game, but as the 49ers gained momentum and the defense responded, he started having accuracy problems. Eventually, he turned in a weak fantasy line (236-1-1) and should have similar troubles next week versus Seattle.

Brian Hoyer, CLE (@JAC, OAK, TB, @CIN) – Hoyer had just 217-1-0 in the win over Pittsburgh, but will likely be throwing more in the second half of the season as teams start to crowd the line and stop the run.



Running Backs

Off The Top

Jerick McKinnon, MIN (@BUF, @TB, WAS, BYE) – McKinnon was much more effective than Matt Asiata and finished with an okay fantasy day, tallying 6-42-0 receiving on six targets to go along with 40 rushing yards on 11 carries. He'll provide decent value as a daily fantasy play next week against the Bills and is a high-upside RB4/flex in standard formats with better value in PPR leagues.

Isaiah Crowell, CLE (@JAC, OAK, TB, @CIN) – Crowell continued his impressive running, finishing with 11 carries for 77 yards and a TD against the Steelers. He's clearly a big part of the red zone offense and an effective change-of-pace back to compliment Ben Tate.



Digging Deeper

Antone Smith, ATL (@BAL, DET, BYE, @TB) – Smith (two carries, 5 rushing yards; 4-64-1 receiving on four targets Sunday) now has 346 yards and five TDs on the season despite just 23 total touches. Is anybody else curious what he'd do with 12-15 touches per game?

Tre Mason, STL (SEA, @KC, @SF, @ARI) – UPDATE: Zac Stacy got just eight carries Monday night and looked stiff in the wake of his calf injury, Benny Cunningham had nine touches (seven carries for 21 yards and a TD; 2-12-0) and was the most productive fantasy-wise, and Mason saw his first action and responded with five carries for 40 yards and 1-12-0 receiving. The Rams have never been satisfied with their backs, and Mason (5-10 percent owned) appears to be the latest candidate to lead the committee should Stacy continue to struggle.

Scouring The Barrel

Brandon Bolden / James White, NE (NYJ, CHI, DEN, BYE) - There's some question as to who will pick up the carries in the wake of Stevan Ridley's injury (ACL/MCL tears), but since Shane Vereen is likely unavailable (85-95 percent owned) in your league, owners will be scrambling to pick up either Bolden - a special teams operative who's been unimpressive in limited action, or White - a rookie from Wisconsin who's been a healthy scratch for much of the season but shows a lot more promise as a runner. I'm predicting about a 50-25-25 split among Vereen-Bolden-White in the next week, with the hot hand emerging as the lead back. All three have similar size, with Bolden getting the slight edge on goal line carries - but anything could happen given Belichick's fickle guidance.

Joseph Randle, DAL (NYG, WAS, ARI, @JAC) – Randle (2 percent owned) rushed for 52 yards on just five carries versus the vaunted Seahawks defense, largely because of an offensive line that looked as impressive as ever. He's a must-stash handcuff due to DeMarco Murray's checkered injury history and the Cowboys' mandate to spell their bell cow.

UPDATE: In a bizarre twist, Randle (who's making $495,000 this season) was arrested by police Monday night on shoplifting charges. He was popped for a Class B Misdemeanor Theft $50-$500, at Dillard's. Police say he was arrested for stealing underwear and cologne. He's still Murray's main early-down backup, and while this probably doesn't change that, it's clearly not good news.

Lance Dunbar, DAL (NYG, WAS, ARI, @JAC) – He's not much of a factor in the running game, but Dunbar saw four targets and caught all of them, totaling 48 receiving yards. With the Cowboys making more of an effort to get him and Randle the ball, he should be owned in deeper formats.



Updates

Bobby Rainey, TB (BYE, MIN, @CLE, ATL) – Rainey had 42 rushing yards on seven carries Sunday in the blowout loss to Baltimore. Doug Martin (48 total yards on 12 touches) didn't fare any better.

Ronnie Hillman, DEN (SF, SD, @NE, @OAK) – Despite concerns about carrying the full workload, Hillman was impressive on Sunday, rushing for 100 yards on 14 carries and adding 3-16-0 on five targets in the passing game. With Montee Ball on the shelf, he's the running back to own in Denver, since C.J. Anderson saw three touches in Week 6.

Branden Oliver, SD (KC, @DEN, @MIA, BYE) – Oliver was the most dynamic of the three popular free agent running back adds of Week 6, rushing for 101 yards and a TD on 26 carries and adding 4-23-0 in the win over Oakland.

Benny Cunningham, STL (SEA, @KC, @SF, @ARI) – Update coming Tuesday.

UPDATE: As mentioned previously, Cunningham was productive on Monday night in limited work and projects to be the default passing down back in the St. Louis RB committee.

Justin Forsett, BAL (ATL, @CIN, @PIT, TEN) – Forsett had another nice game, rushing for 111 yards on just 14 carries. He's an RB3 with upside and is averaging 6.38 yards per carry this season through six games.

Bishop Sankey, TEN (@WAS, HOU, BYE, @BAL) – Sankey had 18 carries for 61 yards and 1-7-0 receiving, but Jackie Battle vulture a TD run, killing his fantasy value.

Andre Williams, NYG (@DAL, BYE, IND, @SEA) – The Giants never got a chance to establish the running game, and when they attempted to pound Williams he was corralled shortly after first contact. He'll likely be used more effectively against the Cowboys penetrable defensive line in Week 7.



Wide Receivers/Tight Ends

Off The Top

Cecil Shorts, JAC (CLE, MIA, @CIN, DAL) – Shorts was targeted 16 times by Bortles, hauling in 10-103-0 and losing a fumble. His value is on the rise (especially in PPR formats) and he is a must-own in 12-team leagues.

Malcom Floyd, SD (KC, @DEN, @MIA, BYE) – Floyd is making the most of his limited usage, converting 14 targets into 11-214-2 during the past three weeks. He's re-establishing fantasy relevance with Keenan Allen struggling to make plays.

TE Jordan Reed, WAS (TEN, @DAL, @MIN, BYE) – UPDATE: Reed returned from the hamstring injury that's kept him out since Week 1, playing a little over half of Washington's snaps and reeled in 8-92-0 on a team-high 11 targets. He's owned in just 55-60 percent of fantasy leagues and will be the top TE pickup heading into Week 7.

Digging Deeper

Brandon LaFell, NE (NYJ, CHI, DEN, BYE) – LaFell was Tom Brady's flavor of the week, posting 4-97-2. He now has three TDs over the past three games and remains a boom-or-bust WR4.

Andre Holmes, OAK (ARI, @CLE, @SEA, DEN) – With the return of Derek Carr, Holmes had the best game of his career, hauling in 4-121-2 – the touchdowns coming on the first drive (77) and in the red zone (6) during the fourth quarter.

Louis Murphy, TB (BYE, MIN, @CLE, ATL) – Murphy has 27 targets over his past three games, and while Mike Evans' absence was contributing to that exposure, Murphy still went for 7-72-1 on nine targets in Week 6.



Scouring The Barrel

Robert Woods, BUF (MIN, @NYJ, BYE, KC) – Orton and Woods connected for 7-78-1 on 10 targets Sunday. He's surpassed Mike Williams in value and has almost as much upside as rookie WR Sammy Watkins.

UPDATE: The disgruntled Williams, who is pushing for a trade, may also gain some fantasy value on another squad -- though he's a longshot for redraft relevance.

Jarvis Landry, MIA (@CHI, @JAC, SD, @DET) – The highly touted rookie had a nice breakout performance with 6-75-1 on eight targets from Tannehill. Landry saw increased action with Brandon Gibson (hamstring) sidelined and enters the fantasy fray as a WR4 with moderate upside.

TE Jace Amaro, NYJ (@NE, BUF, @KC, PIT) – UPDATE: The talented but enigmatic rookie out of Texas Tech had a breakout performance Sunday, racking up 10-68-1 on 12 targets from Geno Smith – a sign he'll be seeing more balls thrown his way as the team tries to find some semblance of an offensive identity. He'll make a solid TE2 and should be considered for spot starts in the coming weeks.

Updates

Brian Quick, STL (SEA, @KC, @SF, @ARI) – Update coming Tuesday.

UPDATE: Quick never got going and was hounded by Perrish Cox and the other active 49ers' corners (Chris Culliver, Jimmie Ward and Donate Johnson) did an excellent job shutting down the Rams wide receivers on Monday night. His Week 7, 8 and 9 matchups aren't much better, but he should be back producing by the fantasy playoffs.

Justin Hunter, TEN (@WAS, HOU, BYE, @BAL) – Hunter finished with 3-77-0 on five targets Sunday. He's a big-play threat but needs a better QB to maximize his value. Perhaps we'll see Zach Mettenberger get another crack in 2014.

Mohamed Sanu, CIN (@IND, BAL, JAC, CLE) – Sanu got the start in Week 6 with A.J. Green on the shelf and had a monster day, posting 10-120-1 on 14 targets from Andy Dalton. With the news that Green could miss another week and Marvin Jones (foot/ankle) may need surgery, Sanu could be in line for another huge week on the road against Indy.

UPDATE: Green has a "shot" at playing in Week 7 according to Marvin Lewis, but it's a long shot. I'm not budging on my endorsement of Sanu as one of the best athletes in the AFC and a matchup nightmare for opposing defenses and undersized CBs.

TE Tim Wright, NE (NYJ, CHI, DEN, BYE) – Wright played on just 16 of 74 snaps in Sunday's win at Buffalo, a sign Belichick refuses to help out fantasy owners by game planning around the same receiver in consecutive games. The "move TE" did haul in the only target he saw for a 1-yard TD. For now, he's simply a TE2 with upside.

Travis Benjamin, CLE (@JAC, OAK, TB, @CIN) – Benjamin was targeted just once and caught it – a 31-yard reception. He should be a bigger part of the offense, but the Browns did fine running the ball against the Steelers. Stacked with young talented athletes, this could be an offense to fear once Josh Gordon returns.



IDP

Linebackers

Nigel Bradham, BUF (MIN, @NYJ, BYE, KC) – Bradham returned to action in Week 6 and posted 11 total tackles (seven solos). He's a solid LB2 facing the Vikings in Week 7.

Tahir Whitehead, DET (NO, @ATL, BYE, MIA) – Whitehead has been a pleasant surprise for the Lions since sliding into a starting job following the season-ending injury to Stephen Tulloch. He finished Sunday with seven total tackles, two PD and an INT. He's a high-upside LB2 play against the Saints in Week 7.



Defensive Backs

John Cyprien, JAC (CLE, MIA, @CIN, DAL) – Cyprien had 15 total tackles (12 solos) Sunday, and is becoming a must-play in IDP formats that require two starting DBs. He's got limited upside next week but is a solid tackler with a high floor.

Jason McCourty, TEN (@WAS, HOU, BYE, @BAL) – McCourty is rebounding as a relevant fantasy DB, with 35 total tackles, two INT (both in Week 1) and six PD through six games this season. McCourty, Blidi Wreh-Wilson and Michael Griffin are both poised for big matchup against Washington in Week 7.



Defensive Lineman

Marcell Dareus, BUF (MIN, @NYJ, BYE, KC) – Dareus had a quiet game against the Pats but gets a favorable matchup in Week 7 facing the Vikings – who the Lions defensive line dismantled on Sunday.

Ziggy Ansah, DET (NO, @ATL, BYE, MIA) – Ansah was the main benefactor of the Vikings shoddy O-line play in Week 6, tallying five total tackles, 2.5 sacks and a forced fumble. He'll have a tough matchup against New Orleans, but it's a home game and he's a solid long-term IDP add.



Updates

LB Christian Kirksey, CLE (JAC, OAK, TB, @CIN) – Kirksey had his best game as a pro Sunday, totaling six tackle (three solos) and a PD.

LB Avery Williamson, TEN (@WAS, HOU, BYE, @BAL) – Williamson had three solos and a fumble recovery against the Jaguars, and the rookie appears to be making serious IDP headway in the Titans defense.

DB Kyle Fuller, CHI (MIA, @NE, BYE, @GB) – Fuller had five solos a PD and a forced fumble. I'd consider him a DB2 with upside going forward.

DB Rashad Johnson, ARI (@OAK, PHI, @DAL, STL) – Bada-boom. Johnson filled the stat sheet on Sunday with the best IDP performance of the season (next to J.J. Watt's monster TNF game), making eight total tackles (six solos, two assists), two PD, and two INT, which included a 28-yard TD return.

DB Reshad Jones, MIA (@CHI, @JAC, SD, @DET) – I'm including a Jones update since he was on a bye in Week 5. The veteran safety had nine solos and a PD on Sunday against the Packers. He's a borderline DB1/2.

DL Brian Robison, MIN (@BUF, @TB, WAS, BYE) – Robison didn't go nuts on Sunday, but he did get credit for a half-sack and posted four total tackles.

DL Frostee Rucker, ARI (@OAK, PHI, @DAL, STL) – Rucker was a Week 6 bust, posting just one solo tackle.