MyFantasyLeague.com Users...
Check out the most popular waiver wire pickups this week across thousands of MFL leagues. Also, quickly see who's available on your waiver wire this week by using the MFL Power feature at FF Today. Just input your league's 5-digit ID number away you go!

Targeting weekly waiver picks is a completely subjective business, but this column hopes to point out some obvious and not-so-obvious selections to help your team from week to week while you strive to collect fantasy wins, reach your league playoffs and win the elusive title that your friends say is out of your grasp. While I'm a big proponent of making trades to bolster your roster, the waiver wire can be an almost limitless resource when it comes to discovering fantasy value in strange places. Each week, I'll target both offensive and defensive players — sometimes breakout stars that eluded your team's draft — as well as players who can help your squad that may still be lurking in deeper leagues. I'll also provide an occasional daily fantasy recommendation, as I'm hopelessly addicted to DFS sites.



Off the Top -

Includes my premier recommendations. These are sometimes players available only in more shallow leagues, and occasionally guys who are more ready but are thrust into the fantasy spotlight because of opportunity or exceptional production. Usually, they are available in at least 25 percent of public leagues.



Digging Deeper -

Covers the next tier of quality waiver wire specimens, usually players available in a majority of online leagues. There are a lot of gems in this range who can be plucked rather easily. Usually, these players are available in at least 50 percent of public leagues.



Scouring the Barrel -

Chronicles the deepest of fantasy adds — and sometimes highlights players being tacked onto fantasy squads who I don't have much confidence in. Make sure you read the fine print because I don't always love them. For the most part, you'll find these players available in about 75-100 percent of fantasy leagues

Each week, I'll also provide a brief update on the players I covered the previous week. It's the most accurate, comprehensive one-stop waiver-wire column available on the Internet, and it's only available here at fftoday.com. Let's get to some of the players who could be still out there on the waiver wire and in the free agent pool as you prepare for Week 1!


Feedback is always welcome, appreciated and encouraged. I'll get to as many e-mails as I can.


---
Note:
Each player's next four matchups are listed in parentheses ( ). Since IDP league composition is so varied, I'll just list defensive players per position and use their Yahoo ownership rates – which due to site ranking anomalies and the high rate of variance in availability, are often much lower than actual ownerships rates.
Quarterbacks
Off The Top
Eli Manning, NYG (ARI, HOU, @WAS, ATL) – Manning is still available in over 50 percent of fantasy leagues. He had a poor preseason and expectations are low, but there's a chance he surprises in 2014 and will be worth using in spot starts and two-QB leagues.

UPDATE: Eli looked abysmal in the season debut (163-1-2), but there's still a chance he puts up meaningful fantasy numbers this season. While he should be avoided as a fantasy starter for the near future, I'm not giving up hope.

Digging Deeper
Geno Smith, NYJ (@GB, CHI, DET, @SD) – Smith (10 percent owned in Yahoo leagues) is a beast of an athlete, and while he's probably not going to be a premium quarterback anytime soon, the Jets offense looks much improved this season. He should be owned in deeper leagues as a backup.
Derek Carr, OAK (HOU, @NE, MIA, BYE) – The Raiders wideouts aren't spectacular, but James Jones can make plays and the running backs can still be effective receivers – a recipe for decent production from Carr. He's almost universally available, and while far from elite, he might be serviceable in certain matchups this season.

UPDATE: Though his debut was inauspicious, Carr has value in keeper leagues as a spot-starting backup, and as a second QB.
Scouring The Barrel
Matt Cassel, MIN (NE, @NO, ATL, @GB) – Cassel has held the starting gig for one week, beating up on the punchless Rams in the season opener. The Vikings have some excellent offensive weapons in Cordarrelle Patterson and Adrian Peterson and are capable of putting some big numbers on the board.
Derek Anderson, CAR (DET, PIT, @BAL, CHI) – With Cam Newton out for possibly a few weeks, Anderson (1 percent owned) drew the start and notched a win with a solid performance (230-2-0, 10 rushing yards). He's a journeyman quarterback who's had success in the past.

UPDATE: Cam Newton was named the starter ahead of this week's practice schedule, where he plans on participating in a limited fashion. For now, Anderson has no real fantasy value.
Updates
Carson Palmer, ARI (@NYG, SF, BYE, @DEN) – Update coming Tuesday.

UPDATE: Palmer completed 24 of 37 passes for 304-2-0 in Monday night's win over San Diego. His two fourth-quarter TD drives were the difference, and it appears that he, Michael Floyd and rookie John Brown have a nice thing going to start off 2014. He's an excellent play next week against the Giants.
Ryan Tannehill, MIA (@BUF, KC, @OAK, BYE) – Tannehill wasn't particularly sharp on Sunday (178-2-1), but the underdog Dolphins unveiled a faster-paced offense and got a win over the Patriots, outscoring their division rivals 23-0 in the second half. Tannehill remains a serviceable backup with spot-starting upside.
Alex Smith, KC (@DEN, @MIA, NE, @SF) – Smith had a disaster of a performance, throwing three INTs and managing just 202 passing yards and a score (36 rushing yards). He's not a preferred fantasy option at this point, though his numbers should get better next week in Denver.
Joe Flacco, BAL (PIT, @CLE, CAR, @IND) – Flacco threw for 345 yards and a TD (one INT), utilizing veteran receiver Steve Smith on the 80-yard score, but the Ravens fell short. With the running game in some disarray and a host of decent receivers at his disposal, Flacco might in line for more robust statistical production. He should be owned in all 12-team leagues.
Josh McCown, TB (STL, @ATL, @PIT, @NO) – It was a relatively ugly debut for McCown (183-2-2, 27 rushing yards) and the Bucs. Although this is a talented team with plenty of upside in the receiving corps, McCown's job is far from safe.
Jake Locker, TEN (DAL, @CIN, @IND, CLE) – Locker completed 22 of 33 pass attempts for 266-2-0, adding 14 rushing yards on six carries, in a decisive win over the Chiefs. He could be a worthwhile free agent pickup and should fare well at home versus the Cowboys next week.
EJ Manuel, BUF (MIA, SD, @HOU, @DET) – Manuel turned the ball over just once to the Bears and squeaked out a win in overtime, throwing for 173-1-1 and adding a 19 rushing yards and a TD on the ground.

Running Backs
Off The Top
Mark Ingram, NO (@CLE, MIN, @DAL, TB) – If the Saints are serious about running the ball this season, Ingram (owned in 54 percent of Yahoo leagues) could be in line for a breakout. He tallied 60 yards and 2 TDs on 13 carries Sunday.

Chris Ivory, NYJ (@GB, CHI, DET, @SD) – Chris Johnson looked good Sunday (seeing action on 33 of 70 snaps), but Ivory saw almost an equal workload, rushing for 102 yards on 10 carries and a TD (30 of 70 offensive snaps). He's a bit more durable than Johnson, but expect both backs to share time going forward.

UPDATE: Terrance West, CLE (NO, BAL, BYE, @TEN) – West was the bellcow after Ben Tate went down in the second quarter, but universally available Isaiah Crowell (an undrafted rookie) did vulture a couple touchdowns. The early guess is that West and Crowell will form a committee if Tate can't play in Week 2, but West (39 percent owned in Yahoo leagues) is the better add for now.
Digging Deeper
Khiry Robinson, NO (@CLE, MIN, @DAL, TB) – He's second fiddle to Ingram, but Robinson rushed for 28 yards and a TD on six carries. He's an excellent interior runner and offers limited upside and consistency, but Ingram isn't always healthy and the Saints offense can score a lot of points. Robinson could easily see about 100-125 carries this season.

Bobby Rainey, TB (STL, @ATL, @PIT, @NO) – With Doug Martin (left knee) hobbled, Rainey could be in line for enough touches to make him a viable RB3/4. He's a must-add in all formats.

UPDATE: There's no official word yet on the severity of Martin's injury and we likley won't know much of anything until practice on Wednesday.

UPDATE: James Starks, GB (NYJ, @DET, @CHI, MIN) – If Eddie Lacy misses time, Starks would likely get the majority of touches in the Packers offense and post adequate RB3/flex numbers with some notable upside. He's an experienced player who can run, catch and do everything required of an NFL running back.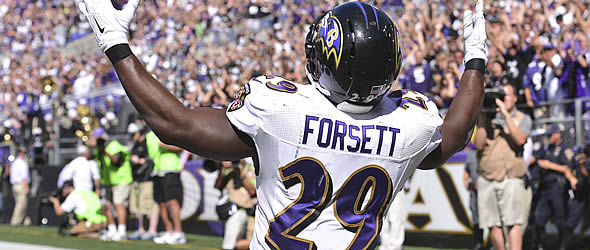 Justin Forsett is inline for more work thanks to a Bernard Pierce fumble and the release of Ray Rice.
Scouring The Barrel
Justin Forsett, BAL (PIT, @CLE, CAR, @IND) – Bernard Pierce was benched early after losing a fumble and Forsett shouldered much of the workload, totaling 84 yards on 16 touches (11 carries for 70 yards and a TD, 5-14-0 receiving). He's likely earned the Week 2 start against Pittsburgh and perhaps more now that Ray Rice has been released. He will be an extremely hot waiver wire pickup this week.

UPDATE: Forsett isn't a long-term solution, though he's a capable back with the ability to post RB3/flex numbers while the Ravens figure things out. Rookie Lorenzo Taliaferro will also get some additional work moving forward, though it appears Forsett is the smart pickup, with Taliafero and Pierce as lottery tickets.

Isaiah Crowell, CLE (NO, BAL, BYE, @TEN) – Brown coach Mike Pettine confirmed after the game that Crowell (five carries for 32 yards and two TD) was not in the game plan until Ben Tate went down with a knee injury. In the wake of Tate's injury, the running back situation remains uncertain. Still, Crowell is worth adding in 12-team leagues until we have a clearer picture emerge.

UPDATE: Tate will probably sit out in Week 2, given the fact that he didn't return to action on Sunday. Crowell could be a sneaky add in deeper leagues.
Updates
Knowshon Moreno, MIA (@BUF, KC, @OAK, BYE) – Moreno was the player of the game on Sunday, rushing for 134 yards and a TD on 24 carries as he got most of the interior running work. Lamar Miller, who will likely get most of the passing down snaps, rushed for 59 yards on 11 carries and adding 4-19-1. This appears to be an offense big enough for both backs to be relevant this season.

Carlos Hyde, SF (CHI, @ARI, PHI, KC) – Hyde had 50 rushing yards and a TD on just seven carries Sunday, as the 49ers defense stepped up and the offense took advantage of excellent field position and red zone opportunities. He's definitely part of San Fran's current offensive playbook and the powerful rookie runner is a must-own in 12-team leagues as it appears he could step into Gore's role should the veteran miss any time this season.

Darren McFadden, OAK (HOU, @NE, MIA, BYE) – Maurice Jones-Drew was ineffective on his nine carries, and McFadden wasn't much better, totaling 25 yards on five touches. Still, McFadden is the more explosive of the two backs and I envision a 50-50 timeshare.

Shonn Greene, TEN (DAL, @CIN, @IND, CLE) – Greene rushed 15 times for 71 yards and was the team's leading rusher in the win over Kansas City. He's a worthy RB3/flex option against the Cowboys next week.

Knile Davis, KC (@DEN, @MIA, NE, @SF) – With Jamaal Charles struggling and not much offense to speak of, Davis was a non-factor (two touches, six total yards) in the loss to Tennessee.

Lance Dunbar, DAL (@TEN, @STL, NO, HOU) – Dunbar didn't get a carry but caught all three balls thrown his way, totaling 21 receiving yards. He's the prime handcuff for DeMarco Murray.


Wide Receivers/Tight Ends
Off The Top
Steve Smith, BAL (PIT, @CLE, CAR, @IND) – Smith and Flacco were locked in on Sunday. Even though he's getting long in the tooth, he's a great possession receiver and the presence of a solid No. 1 in Torrey Smith means Steve could have a big year. He's a must-add in all formats.

Greg Jennings, MIN (NE, @NO, ATL, @GB) – Another veteran receiver with an impressive résumé, Jennings (6-58-1 on seven targets Sunday) still appears to have something left in the tank. His 38 percent ownership rate is going to increase dramatically this week.

UPDATE: Josh Gordon, CLE (NO, BAL, BYE, @TEN) -- If suspended Browns WR Josh Gordon is available in your league, you need to pick him up. There's a chance he gets reinstated as soon as this week (if the players agree to a propose new drug policy) and he's a game-changing fantasy player with nearly unlimited upside.
Digging Deeper
TE Dwayne Allen, IND (PHI, @JAC, TEN, BAL) – The red zone offense will lean heavily on Allen (4-64-1 on Sunday) this season. Owned in just 7 percent of fantasy leagues, he's a great risk-reward backup tight end option and should be owned in all 12-team leagues.

Rod Streater, OAK (HOU, @NE, MIA, BYE) – Streater (5-46-1) may finally have a quarterback he can work with. Still, Streater's production has always been relatively steady – he just doesn't have a ton of upside in the Oakland offense. He's owned in just 5 percent of Yahoo leagues, and is worth adding in 12-teamers.


Scouring The Barrel
Allen Hurns, JAC (@WAS, IND, @SD, PIT) – Cecil Shorts was inactive on Sunday and Hurns filled in admirably, hauling in a pair of TDs and finishing with 4-110-2 on the day. He had a solid preseason, but it remains to be seen if he is a one-week wonder – since he's not going to steal the starting gig from Shorts and Marquise Lee shows so much promise.

UPDATE: Shorts will try to run Tuesday, but that nagging hamstring injury could give Hurns more opportunities than initially expected in 2014.

Brian Quick, STL (@TB, DAL, BYE, @PHI) – The quarterback situation in St. Louis may be hopelessly jacked up, but Quick has received rave reviews from scouts in the past and he caught seven of nine targets for 99 yards in the loss to Minnesota. He's an interesting option in deeper formats.


Updates
Markus Wheaton, PIT (@BAL, @CAR, TB, @JAC) – Wheaton caught six of seven targets for 97 yards on Sunday, solidifying him as the speed counterpart to WR1 Antonio Brown in the Steelers offense. It's a group that could put up big numbers this season.

Brian Hartline, MIA (@BUF, KC, @OAK, BYE) – Hartline had just 2-26-0 on four targets, as the Dolphins found most of their success with the running game and with WR Mike Wallace.

Danny Amendola, NE (@MIN, OAK, @KC, CIN) – Targeted just five times despite the absence of Aaron Dobson, Amendola finished with 3-16-0 in the loss to Miami. His stock is dropping, but he still has some upside.

TE Delanie Walker, TEN (DAL, @CIN, @IND, CLE) – Walker saw just four balls go his way, but he managed 3-37-1 and finished as the eighth highest scoring fantasy TE on Sunday. He could be a busy man next week against the Cowboys, so pick him up right away if he's still out there.

TE Tyler Eifert, CIN (ATL, TEN, BYE, @NE) – Eifert also caught three passes for 37 yards, but didn't find paydirt and suffered dislocated elbow. He could miss a few weeks of action, but when he returns he's worth a look as a starter in deeper formats (14-20 team leagues). He remains a medium-upside backup in 12-team leagues.

Aaron Dobson, NE (@MIN, OAK, @KC, CIN) – Dobson was inactive (technically a healthy scratch since he didn't appear on the injury report) on Sunday but has been dealing with some issues in his surgically repaired foot. He's a stash in 12-team leagues.

Miles Austin, CLE (NO, BAL, BYE, @TEN) – Austin's value takes a hit with the emergence of Andrew Hawkins and news that Josh Gordon's suspension could be reduced or lifted this season. He's safe to drop in most formats.

Steve Johnson, SF (CHI, @ARI, PHI, KC) – Johnson caught just 2-33-0 in the win over Dallas and has moderate upside if Michael Crabtree (calf) misses any time this season.

John Brown, ARI (@NYG, SF, BYE, @DEN) – Update coming Tuesday.

UPDATE: Brown caught a late TD – one of just two catches for 29 yards on the day. Still, the speedy rookie saw a promising five targets and will benefit from heavy coverage on Michael Floyd and Larry Fitzgerald in three-WR sets. He fits the T.Y. Hilton mold that's becoming a staple for up-tempo offenses utilizing quick slot receivers.

Robert Woods, BUF (MIA, SD, @HOU, @DET) – Woods caught 4-78-0 on six targets from Manuel Sunday, and got the start over Mike Williams. He clicks with his quarterback, is a great route runner and is definitely worth adding in 12-team leagues as a WR4.

TE Richard Rodgers, GB (NYJ, @DET, @CHI, MIN) – The rookie suffered a second-quarter neck stinger and wasn't targeted in the loss to Seattle. He's a question mark from both a health and production standpoint heading into Week 2 and qualifies as a safe drop in redrafts.


IDP
Linebackers
LB Emmanuel Lamur, CIN (ATL, TEN, BYE, @NE) – Lamur (2 percent owned in Yahoo IDP leagues) had 11 total tackles and an INT, and an injury to Vontaze Burfict could increase his IDP value dramatically.

UPDATE: Vincent Rey will work the WLB spot if Burfict misses time, and Lamur could benefit as well.

LB Sio Moore, OAK (HOU, @NE, MIA, BYE) – With Nick Roach out, Moore stepped up, recording 11 solos, two assists, a sack and two forced fumbles in the loss to the Jets. He's an LB3 with upside depending on the status of Roach.


Defensive Backs
DB Leodis McKelvin, BUF (MIA, SD, @HOU, @DET) – McKelvin was once an emerging IDP cornerback with big play upside, but injuries and depth chart issues stagnated his development. He got 2014 of on a great foot (13 solo tackles) and could be the star the Buffalo secondary is looking for.

DB Donte Whitner, CLE (NO, BAL, BYE, @TEN) – Whitner (13 total tackles Sunday) may have found a home in Cleveland after his numbers diminished in San Francisco. He's taken over for the departed T.J. Ward and remains a solid IDP safety despite relatively low ownership.


Defensive Lineman
DL Linval Joseph, MIN (NE, @NO, ATL, @GB) – Joseph is poised for a breakout season with the Vikings, and he's making his mark already, posting five solos and a sack in Week 1. He's a great option in leagues where you are required to start a DT.

DL Willie Young, CHI (@SF, @NYJ, GB, @CAR) – Young (1 percent owned) is a solid pass rusher who can make tackles – and he's getting a lot of work among the Chicago front seven. He's worth a look in deeper IDP leagues.


Updates
LB Nick Roach, OAK (HOU, @NE, MIA, BYE) – Roach missed Week 1 with a concussion. Stay tuned.

LB Perry Riley, WAS (JAC, @PHI, NYG, SEA) – Riley totaled six tackles (four solos) in Sunday's loss to Houston. He's an LB2 and should be steady, even if his upside is low.

LB Mason Foster, TB (STL, @ATL, @PIT, @NO) – Foster had nine total tackles (five solos) in the loss to Carolina.

LB Larry Foote, ARI (@NYG, SF, BYE, @DEN) – Update coming Tuesday.

UPDATE: Foote tallied eight solo tackles and a PD in his 2014 debut. He's firmly on the LB2/3 radar and pears poised for another solid fantasy season.

DB Eric Reid, SF (CHI, @ARI, PHI, KC) –Reid had a nice day, notching four solos and intercepting Tony Romo in what was almost a pick-six. He's a big-play ballhawk who should contribute more with the LB corps dealing with injuries and suspensions.

DB William Moore, ATL (@CIN, TB, @MIN, @NYG) – Moore had six total tackles and as forced fumble in the OT win over New Orleans. He's a DB2 with upside.

DB Matt Elam, BAL (PIT, @CLE, CAR, @IND) – Elam was relatively quiet in his first game at strong safety (three total tackles, PD) but should be more busy against the Steelers no-huddle next week.

DL Marcell Dareus, BUF (MIA, SD, @HOU, @DET) – Dareus had an okay game (two solos, two assists) but it was fellow Buffalo DL who made the big play, picking off Jay Cutler for his first career INT.

DL Michael Johnson, TB (STL, @ATL, @PIT, @NO) – Johnson tallied six total tackles (there solos) but didn't get to the quarterback. If he can have these type of productive games without a sack, he'll be a solid DL this season in deeper IDP leagues.

DL Cameron Heyward, PIT (@BAL, @CAR, TB, @JAC) – Heyward picked up right where he left off, registering four total tackles (three solos) and a sack against Cleveland.