QB Jared Goff
(2021 QB Rank - No.24, 17.6 FPts/G)
Stripped of the fancy scheme, talent and coaching in L.A., last season you saw the bare bones of what Goff is able to accomplish in the NFL. His limited skill set, and physical abilities werenít enough to make Detroit very competitive. Before a late season surge that saw the Lions win three out of the final four, Goff and the offense sputtered. A conservative game plan that was limited by receiving talent, and the former Ramsí QB weak right arm, there simply wasnít much fantasy juice to squeeze from this offense.

While the team has infused the offensive side of the ball with additional talent via free agency (Chark, Reynolds) and the draft (Jameson Williams), the team will continue to mirror the hard-nosed, gravel-eating personality of head coach Dan Campbell. This means running the football, playing defense, and winning the game in the 4th quarter. Goff has endeared himself to the Motor City with the right attitude, and a measure of grit, but I just donít see him being able to will this team to the next level. Heíll take the lumps as the franchise wisely builds a solid roster around their next quarterback of the future. A low end QB2 fantasy season is likely the best you can hope for.
RB DíAndre Swift
(2021 RB Rank - No.23, 11.5 FPts/G)
Swift has been one of the most impactful dual threat backs in the NFL when healthy; unfortunately, that hasnít been nearly enough for a Lions offense thatís been light on threats. In his first two pro seasons Swift has piled up a massive 135 receptions and nearly 2,000 total yards. Tack on his 17 total touchdowns, and you can see why fantasy owners have been devilishly teased over the past two years.

In addition to missing 7 games, heís left a few early, and missed a multitude of practice reps, often taking his availability down to the end of week. As a result, Swift has actually started only a handful of games in his first two seasons. Despite the obvious talent, the health conundrum is a major consideration if you are looking to invest in Swift. Even his running backs coach Duce Staley has pointed out the need for Swift to stay on the field. With unproven receivers, and a check-down champion quarterback, Swift should remain a big part of the passing game with an 80-target floor. If he can stay out of the training room, and hold off teammate Jamaal Williams for snaps, he has the talent to enter the standard league RB1 conversation in addition to being a PPR darling.
RB Jamaal Williams
(2021 RB Rank - No.40, 7.2 FPts/G)
Entering his 2nd season with the Lions, Williams showed in 2021 that heís still the effective committee-back slasher he was in Green Bay. Better in a change-of-pace role than as a starter, Williams did set a career high with 601 rushing yards, largely filling in for an injury riddled DíAndre Swift. With a yards-per-carry average of 3.9, which is well within his standard career range, Williams is much more valuable as a Swift handcuff than a stand-alone fantasy asset. His stable play, and veteran leadership give him an important role with Detroit, but heís peaked as an end of the bench stash for your fantasy team.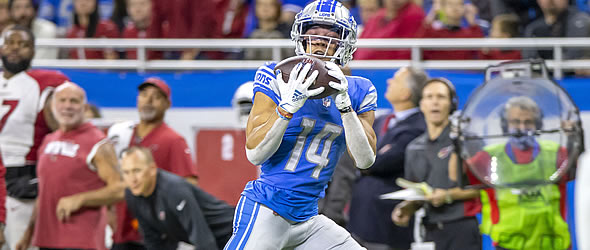 WR Amon-Ra St. Brown
(2021 WR Rank - No.27, 8.3 FPts/G)
The 4th rounder with the name of an Egyptian god, St. Brown took the NFL by storm in his rookie season with a 90-912-5 line on 119 targets. In Week 1, he was buried on fantasy free agent lists, but by Week 16 he was leading franchises to league titles. An afterthought on a bad team during the NFLís first 12 weeks, a Week 13 explosion against Minnesota was the spark that made St. Brown one of the hottest fantasy players down the stretch. He had double digit targets in each of the final six games, and never had fewer than 8 receptions or 73 yards. All five of his scores came during this period as well.
Usually, itís some random running back that gets hot at the end of the season and delivers fantasy glory, but this time it was a 4th rounder with a memorable name on one of the worst franchises in the NFL. While a good story, and an exciting topic around the fantasy table, I just donít see that 6-game stretch translating into continued success in 2022. St. Brown is a smooth route runner with great hands and body control. He reminds me a lot of fellow Southern Cal receiver JuJu Smith-Schuster. Neither guy pops off the page athletically, but can take advantage of volume, and opportunity. And that right there is the concern for the upcoming season. Detroit resigned Josh Reynolds, added D.J. Chark in free agency, drafted Jameson Williams in the 1st round, and will have target hogs T.J. Hockenson and DíAndre Swift healthy and ready to go. I wouldnít be surprised if the 90 receptions he had last year became his career high and he fades back into more of a WR 4/5 for most rosters.
WR D.J. Chark
(2021 WR Rank - No.131, 9.1 FPts/G)
Itís been a few years since his lone impactful season in the NFL, but the Lions adding Chark early in free agency on a one-year deal was a solid move. In 2019, Charkís 2nd season, he flashed elite ball skills and talent for a rising Jags squad. He went over 1,000 yards and scored 8 touchdowns, and looked to be a core piece on offense for years to come. But a down year in 2020, and a broken ankle in Week 3 of 2021 coincided with the implosion of the franchise, and the Jags moved on. The former 2nd rounder joins a receiver room in Detroit thatís certainly gotten bigger, but remains unproven. Chark did score in two of the three games he played in last year, and his size/speed combination is something Detroit sorely lacked last season. In a different situation Iíd be excited about the fantasy value Chark could fetch, but with Detroit likely to be in the bottom half of the league in pass attempts, and suddenly with several mouths to feed, Iím just not sure the volume will be there for consistent production.
Despite suffering a torn ACL in the National Championship game in January, the Lions traded up to select dynamic receiver Jameson Williams in the 1st round. Elite measurables combined with incredible production in his Junior year, Williams will greatly upgrade the talent level at the position when he takes the field. Thatís part of the problem. With his rehab ongoing, itís highly unlikely weíll see Williams on the field much in the first half of the year. Heís a big part of the future in Detroit, and they wonít rush him back. So why even consider him in fantasy? Depending on your league rules, he might be a free stash until there is a clearer indication on his return. His talent is worth sitting on, or at least snatching off the wire a few weeks into the season.

TE T.J. Hockenson
(2021 TE Rank - No.15, 6.9 FPts/G)
Hockenson looked primed for a monster year after starting 2021 off with 19 targets, 16 receptions, 163 yards and two touchdowns in the first two weeks. There just wasn't much meat left on the bone after that, as defenses wisely realized Hock was the only receiving threat on the team. Touchdowns became a mere myth for Hockenson last season, as the inefficiency of the Detroit offense led to only 9 red zone targets for the young tight end.

So, what does 2022 bring? Well first off, the additions at receiver are sure to eat into Hockensonís target numbers, as the ball should be spread around more. At the same time though, his efficiency is sure to improve with theoretically less defensive attention. He enters the prime of his career with several solid, if unspectacular seasons behind him, and is likely going to be one of the team leaders in receptions. With some improved scoring chances, Hockenson could slide into the middle tier of TE1s with a chance to move up.