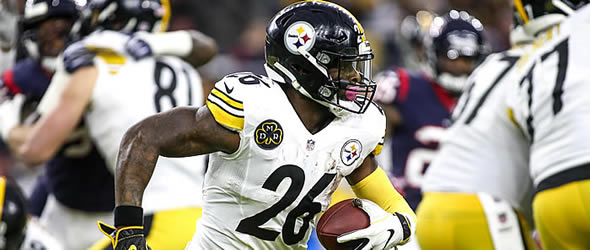 Should we be concerned about Bell's workload? He racked up 406 touches in 15 games last season.

QB Ben Roethlisberger
2017 QB Rank - No.8, 22.0 FPts/G
At this point in his career you know what you're getting with Big Ben. Despite helming one of the best offenses in the league on a yearly basis, Roethlisberger has never really become a consistent front line fantasy quarterback. Sure, every year he has some supernova game, but you can also count on a few weeks where an injury keeps him out of the lineup, or he throws a bunch of interceptions and questions his self-worth.
More retirement talk, and a change in offensive coordinators has put Ben in the spotlight again. I feel like the window on this version of the Steelers is quickly closing. Another early playoff exit (or worse) could be the catalyst for large scale change. On the surface, I don't see the move to Randy Fichtner as offensive coordinator hurting Ben. There had actually been a power struggle in recent years with former coordinator Todd Haley. Roethlisberger seems to have won, as Fichtner has been on the Steelers' staff for a decade, the last eight years of those as quarterback coach. I think this could be a good thing for Ben and this offense, as a new, more trusted voice in his ear could bring some stability.

From line to skill positions, Big Ben is part of the best overall offense in the NFL. With the potential to have the best trio of receivers he's had in years, a sense of urgency, and a better relationship with his coaches, I think Ben puts together a strong season and finishes close to the top-5 in scoring, making him a fantastic value for those owners who typically grab him in that 2nd or 3rd tier of quarterbacks.

RB Le'Veon Bell
2017 RB Rank – No.2, 17.4 FPts/G
As an annual contender for the No.1 overall pick in fantasy drafts, Bell is just another "what you see is what you get" Steelers player. But there are some major red flags with Bell that you need to consider if you have the opportunity select him. First, word hit this week that this will likely be his last season in a Pittsburgh uniform, as he and the team failed to agree on a long-term contract. This means yet another season he misses training camp, but more importantly, this means he has no incentive to sacrifice himself for the Steelers. He has enough good tape and history of production to present to potential suitors next offseason. I could easily envision a scenario where his health takes precedence over his playing time, and he sits games he would have otherwise played in. Imagine how ugly things could get if the Steelers falter and fail to make the playoffs.
Another red flag for me is workload. He's consistently among the league leaders in both rushing attempts and receptions, and 2017 was no different. His 406 touches easily paced the NFL, and his 321 carries and 85 receptions were both career highs. It's a real good thing he kept up this volume, as his yards-per-carry average (4.0) dropped nearly a yard from 2016's 4.9. While Gurley, Hunt, and Kamara were busting off big plays left and right, Bell's longest play from scrimmage was a 42-yard reception. His longest run was a mere 27 yards! Of the top 25 rushers from last year, Bell's long rush of 27 was behind only the ancient Frank Gore's 21 yard carry. In the last two seasons he's only had seven carries of 20+ yards, when in 2014 and 2015 he combined for 16. His patented patient running style only works when you can explode through the hole and get to the next level with momentum, and he didn't do that enough last season. Is this an aberration, have teams caught on, or is it a sign of slippage?
Bell has had it made from the minute he became part of the Steelers. He's enjoyed one of the best offensive lines in the NFL, has never had to face 10-men in the box, and is given boatloads of touches. I think we've already seen the best Bell has to offer, and the red flags are serious issues to consider. This might not be a popular take, but I think Bell has the biggest bust potential of anyone being considered in the top-5, and I would let someone else take him with a high pick. You know what they say about the top of the draft, a good 1st round pick doesn't win you the league title, but it can certainly lose it for you.
RB James Conner
2017 RB Rank – No.101, 1.2 FPts/G
Conner has an amazing story of perseverance, but he'll need more than an inspiring story to help the Steelers in his second season. His rookie campaign was largely a wash, as the 3rd rounder played in 12 games, but had a largely uninspiring 32 carries and zero receptions. A knee injury ended his season early, and he enters 2018 in a big spot. With Bell likely in the final season with the team, Conner has to show the Steelers he has what it takes to be the heir apparent. He's apparently worked extremely hard this offseason to remake his body, and work on the weak spots in his game. By most accounts he was impressive in spring practices, and how he looks in the preseason will go a long way in determining whether he becomes someone to watch in dynasty and redraft leagues alike. He'll get all the reps in camp with Bell holding out, and if he can show he was what it takes, could be a worthy handcuff to Bell owners.

WR Antonio Brown
2017 WR Rank – No.2, 14.8 FPts/G
For my money Brown is still the consensus No.1 receiver off the board. Brown has annually been both one of the most consistent and high impact fantasy players for the past five years, as he's a multi-format all-star, and player that can carry a fantasy team. His receptions have come down a bit from the astronomical numbers of 2014 and 2015, but the yardage and touchdown totals have remained elite. Barring injury to himself or Big Ben, Brown should have no problem meeting expectations in this offense. He has a few other pass catchers that defenses at least have to respect, and continues to use his elite quickness to gain separation at all levels of the field, even if the deep bombs down the field might suffer some regression. I'm not sure how much music is left in the symphony he and Big Ben have created together, but put your trust in Brown while it lasts.

WR JuJu Smith-Schuster
2017 WR Rank – No.17, 10.3 FPts/G

I'm sure there were a few season long league champions that had Smith-Schuster on their roster. Likely a draft flier or free agent add, the wonderkid (he just turned 21) from USC was one of fantasy's biggest surprises in 2017. As long as 3rd or 4th on the receiver depth chart to start the year, JuJu quickly ascended into the starting lineup after injuries and suspensions to those above him. He did what was asked of him and more, showing a polished all-around game, and quickly became a big part of the weekly game plan.

Smith-Schuster won't be sneaking up on anyone in 2018, and that includes the other teams in your league. He'll command a WR2 price tag, as he possesses a fantastic floor. He has the ability to stack yardage and touchdowns, and with Brown on the field, will never see a double team. Putting tons of faith in a young player with only a year's worth of production is risky, but I think he's a perfect fit in this offense, and gives the Steelers insurance as he could step up into the No.1 role should Brown go down. This passing offense has long proven able to sustain multiple fantasy stars, and I think the hyphenated one has what it takes to build off his successful rookie campaign. He's exactly the sort of player I look for in a No.2 WR, and that's what you need to be willing to pay.

WR James Washington
2017 WR Rank - N/A
The 2017 Biletnikoff Winner as the Nation's top receiver, Washington comes to Pittsburg as a 2nd round rookie, and should be ready to contribute right away. Given a starting grade by draft pundits, Washington brings a Martavis Bryant game to the Steelers offense without the baggage. Despite a compact 5'11'' 210 inch frame, Washington was a big play maven for Oklahoma State. During his senior year he averaged a silly 20.9 yards per reception, finding the endzone 13 times. Washington should find his way into 3-receiver sets right from the start, and has enough collegiate experience in a power conference to be trusted. This is one of the few offenses where the 3rd receiver realistically has some fantasy value, so keep a close eye on Washington's progress in the summer. If he can hold off some of the underwhelming veterans on this team, he might be someone to keep an eye on as a late round flier.

TE Vance McDonald
2017 TE Rank - No.31, 3.2 FPts/G
This offense hasn't gotten much fantasy production from the tight end since the heyday of Heath Miller, but Vance McDonald could be the one to change that in 2018. Acquired from the 49ers late last summer, McDonald had a very slow start to his Pittsburgh career. Injuries and adjustments kept him off the field, but as the season winded up he seemed to overtake Jessie James as the Steelers' move tight end of choice, culminating in a 10-112 line in a playoff loss to Jacksonville. With a year to get comfortable with his offensive system, and quarterback, McDonald looks poised to make some noise at a difficult to predict position. While he displayed great athleticism during his time in San Fran, injuries have knocked him off track before. If your strategy is to let the top tier tight ends go off the board early, McDonald makes for an intriguing sleeper option capable of a 50-catch, 5 touchdown season.