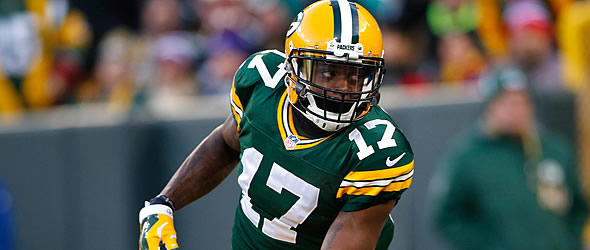 The loss of Nelson and back-to-back double digit TD seasons have fantasy owners drooling over Adams.

QB Aaron Rodgers
2017 QB Rank - No.31, 22.9 FPts/G

The consensus No.1 fantasy quarterback heading into the 2017 season, Aaron Rodgers certainly looked the part over the first five contests, but a devastating shoulder injury torpedoed the season for Rodgers, the Packers, and any fantasy owners caught in the aftermath.
Green Bay's gunslinger returns with a healthy wing, but comes back to a bit of a turnover in the receiver room (as well as at quarterback coach). Much to the chagrin of Rodgers, Jordy Nelson is gone, and although a talented group remains, Nelson and Rodgers had an uncanny connection during their career together, especially in the red zone. The Pack signed Jimmy Graham to fill that void, but this offense has struggled to really get the tight end involved in recent years, and nothing can replace the chemistry Nelson had with his QB, as they often used improvisation and line of scrimmage adjustments to score inside the 10.

All in all I think there's enough talent on this offense to make Rodgers a lock for top-3 status. How well he meshes with Graham, and how well a suspect right side of the line blocks will go a long way to determine just how high the quarterback's ceiling is. I think this will be one of the most improved divisions in the NFL, and the fantasy quarterback pool is deep enough where I'm not sure Rodgers will be the weekly advantage he has in the past, but make no mistake, this #12 in green and gold is still the best in the league.

RB Ty Montgomery
2017 RB Rank - No.55, 8.6 FPts/G
The Ty Montgomery experiment had some high moments (Weeks 1 and 2) but mostly gets an incomplete for the season. With 18 receptions over the first three weeks it was abundantly clear Montgomery retained the ability to catch the ball after his transition from receiver. He even found the endzone twice, but from Week 4 on injuries to himself and his quarterback killed any fantasy value he may have had. Montgomeryís biggest knock is his ability to prove he could handle the rigors of a starting running back, and that question mark certainly remains, as he missed a total of 11 games over the last two seasons. It looks like heís spent the offseason in Green Bay trying to build his body, but with both Jamaal Williams and Aaron Jones back, and proving they have the talent to produce in the NFL, Montgomery finds himself smack dab in the middle of a muddled backfield. Itís tough to gauge how this backfield shakes out, but itís clear Montgomeryís best usage will come as a chess piece the Packers can move around. They are fully committed to this experiment, and if he can stay healthy he should catch 40+ passes, and his best returns should come as a strong FLEX play in PPR leagues, or in the RB3 area in standard leagues.
RB Jamaal Williams
2017 RB Rank - No.28, 8.4 FPts/G
After being totally invisible for the first 9 weeks of the season, Williams turned it on after injuries to Montgomery and Jones. While the yardage numbers donít jump off the page and the average was well under 4 yards per carry, Williams proved to be a chain mover and a guy who had a nose for the endzone, as he tallied 6 total scores over the final 9 weeks of the season. He more than held his own in the passing game, picking up 25 receptions for 262 yards. Considering how long it took him to earn meaningful snaps his 800+ total yards is fairly impressive. The biggest problem I have with Williams is he lacks the speed and elusiveness to generate yardage on his own, and that was evident last year when the Packer passing game imploded without A-Rod. Williams should have many more running lanes with his QB back under center, and is the Packers running back with the best overall skill-set. With all three guys healthy I think Williams settles in as the most consistent fantasy prospect, especially in standard leagues where he has a chance at low-end RB2 value.

RB Aaron Jones
2017 RB Rank - No.53, 7.1 FPts/G
As Iíve dug deeper into this Packers backfield the more I realize that it really was an overall effective unit. Sure, it wasnít good enough to carry the Packers after losing Rodgers, but the trio of Montgomery-Williams-Jones combined for 1734 total yards and 14 touchdowns. The main problem with those numbers is they are spread over three players, and when healthy, I doní t know that any one of them will be the main man. Jones was easily the most dynamic, if one dimensional (he only tallied 22 yards on 9 receptions). The former Texas-El Paso star didnít see the field until Week 4, but flashed from Weeks 5-7, showing a penchant for big plays. His lack of polish as a receiver and pass blocker and a knee injury in Week 10 basically made his second half of the season a washout. I really think this Packer running game has a chance to be very strong, and although Jones is the back with the biggest upside, heís got to prove to be more than a big play in a bottle. Until he improves his fundamentals (and donít forget an October arrest that might draw a response from the league), Jones is best viewed as a late-round flyer with upside.

WR Davante Adams
2017 WR Rank Ė No.13, 10.6 FPts/G
It took some time, but after two top-15 fantasy seasons, Davante Adams has arrived as a legit fantasy star. It gets better in 2018, as Adams ascends to the de facto No.1 receiver as Jordy Nelson moves on to the Raiders. The biggest positive I can glean from his 2017 season is he was able to produce even with Brett Hundley leading the offense (Adams had four games of 80+ yards and 4 of his 10 touchdowns after Aaron Rodgers went down). Adams is young (25) coming off two great seasons, and has the leagueís best pure passer back healthy. He showed extreme toughness last year coming off a devastating hit against Pittsburgh that almost killed him. Heís got size, speed, and most importantly, the trust of his QB. I think a career year is on tap for Adams (1200 yards and 10 touchdowns?), with a legit chance to finish as a top-5 fantasy receiver.
WR Randall Cobb
2017 WR Rank Ė No.42, 6.5 FPts/G
Overpaid for his production the last few seasons, itís frankly a miracle that Cobb is still a Packer. Iím going to assume that ditching Cobb in the face of cutting Jordy Nelson was probably a no-go with Aaron Rodgers, but the fact remains that Cobb has settled as a mediocre slot reciever that needs a high volume of targets to have consistent fantasy production. A real asset in the red zone early in his career, Cobb has back-to-back 4 touchdown seasons, and has failed to top 655 yards since 2015. The Packers running game is greatly improved, and the red zone scores are going to be funneled to Graham and Adams. Barely a fantasy starter on a good day, Cobb should see a slight uptick in his numbers with A-Rod back, but ultimately Cobb is a back-end, uninspiring WR3.

WR Geronimo Allison
2017 WR Rank Ė No.119, 2.3 FPts/G
Other than a monster Week 3 (6-122), Allison was mostly invisible for the bulk of 2017. Brett Hundley wasnít good enough to elevate the play of the offense, but the guy throwing to him in that big Week 3 game is. With the loss of Nelson, Allison slides in as the potential starter outside opposite Adams. Allison is tall and rangy, and gives the Pack another option in the red zone. He isnít going to be gifted the starting role outside, especially with a few rookies added via the draft, but if he does win the job, a starting receiver in this offense is always worth a look in fantasy.

TE Jimmy Graham
2017 TE Rank – No.4, 7.0 FPts/G
Despite finishing as the 4th ranked standard league tight end, Jimmy Graham looked terrible at times last year. In a Seattle offense that couldn't run the ball, Graham was the goal line back, racking up 10 touchdowns, most of which came inside the 5-yard line. Impressive as 10 scores is, that's about all that Graham provided his fantasy owners last year. He failed to top 72 yards in any game, and was truly dismal from Weeks 14-16 where he totaled 2 yards. His 9.1 yards per reception was by far the lowest of his career, and it seems his speed and separation ability has been totally sapped by age and injury. Graham provides very little outside the 20-yard line, and will again be severely touchdown dependent. By the simple fact he's playing with yet another Hall of Fame level quarterback, Graham is a pretty good bet for a top-10 finish at his position, but after having to endure his maddening production last year myself, I'd personally look for tight end options with more upside/consistency.