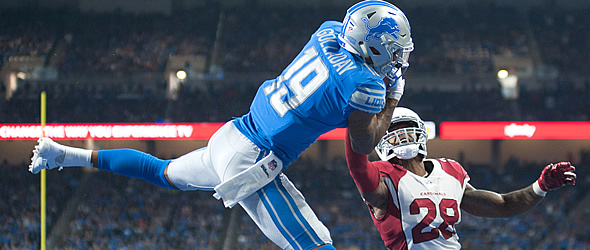 Golladay displayed talent and ability in Year 1. Can he be counted on as a fantasy assett in Year 2?

QB Matthew Stafford
(2017 QB Rank - No.5, 21.8 FPts/G)
As consistent of a fantasy player as they come, Stafford has been one of the better value picks at the position for several years now. Heís been well over 4,000 yards and has accounted for 24+ touchdowns in four straight seasons. He has also become a true asset for the Lions franchise, willing them to come from behind victories, and although heís still failed to win a playoff game, heís severely cut down on his turnovers. He plays in a small market, and doesnít get adequate respect from his own fanbase, but those in fantasy football know that Stafford is a lock for production year after year.
There has been some big coaching and personnel changes that need to be considered when taking a look at Stafford in 2018. In comes defensive minded Matt Patricia from New England. A very good sign for Staffordís continued development, and offensive continuity is the fact theyíve kept Jim Bob Cooter on as the offensive coordinator. Since taking over the position several seasons ago, Cooter has helped the Detroit gunslinger stay upright, teaching him to get rid of the ball more quickly. The offense thrives on crossing and rub routes, and best of all, neither coach nor quarterback is afraid to take calculated deep shots. Stafford led the NFL in 2017 with 16 completions of 40 yards or more.
It helps tremendously that heís got a versatile group of receivers in Tate, Jones and Galladay who can get open at all levels of the defense. What I donít think bodes well for Staffordís overall fantasy production is the additions of LeGarrette Blount and Kerryon Johnson at running back. I feel like the Lions finally have the tools on the line and in the backfield to making running the ball more than a theory. Blount is the best bet Detroit has had on the goaline in a decade, and Johnson has the tools to be a workhorse between the 20ís.
Ultimately I still think this offense runs through #9, but I wouldnít be surprised if Stafford came up short in the touchdown department. Still, when itís all said and done, Stafford has the best overall offensive personnel grouping heís had in his career, and should be a shoe in for QB1 status.
RB LeGarrette Blount
(2017 RB Rank - No.40, 6.2 FPts/G)
Approaching his age 32 season, Blount, the hired gun (on his 3rd team in the last three years) gives the Lions the short yardage battering ram theyíve lacked for a long time. Despite his size, he can ďget skinnyĒ when he needs to and move the chains. Now his final numbers look incredibly poor after winning a ring with the Eagles last year, (766 yards, 2 touchdowns, a 16 touchdown regression from 2016 in New England) but this is a player is familiar to the coaching staff, has a high football IQ and will give Detroit quality snaps and carries, as he owned a respectable 4.4 yards-per-carry average for the Eagles last year. Unfortunately for fantasy purposes heís incredibly one-dimensional, and likely situational as well, especially if rookie teammate Kerryon Johnson develops as the team expects.
The bottom line here is that Detroit brought Blount in to be a veteran presence from winning organizations in a backfield thatís frankly stunk for a long time. Heíll be a great short yardage option and a fallback workhorse if necessary, but a few hundred yards and half a dozen touchdowns is about the most you can expect, making him an end of the roster RB5.

RB Kerryon Johnson
(2017 RB Rank - N/A)
Iím going to go on record and state that Johnson is going to be the first Detroit running back to rush for 100 yards in a game since 2013. The ultra-productive (led the SEC in rushing last season) 2nd round pick from Auburn is an athletic (all-state basketball player in high school) and versatile addition to the Detroit backfield. He doesnít have elite quickness or speed, but he plays fast, hitting the hole and getting to the next level of the defense quickly. Some scouts have likened his running style to Le'Veon Bell, and he has shown the ability to be a three-down player at the pro level. Basically, he has everything coaches and scouts need from a productive starting NFL back. He can generate yardage in many ways, from sheer will, elusiveness and reading the defense. But how exactly does all this translate into fantasy relevance?
Iíll put it simply, I really like Johnsonís outlook this year. Now some scouts were turned off by his combination of frame and running style, being concerned that he might have trouble holding up to big workloads in the NFL. Well, I donít think thatís a problem in Detroit. Even though he CAN play on all three downs, he wonít HAVE to with Riddick and Blount to pick up some of the dirty work. What Johnson WILL do is have the opportunity to run behind a greatly improved offensive line and a defense that will be spread out trying to stop the pass. The offensive scheme will be a lot like his college offense, and he has the intangibles to get on and stay on the field. His 20 touchdowns last season prove he has a nose for the endzone, and his 55 receptions in three years at Auburn show heís a quality receiver as well. Riddick and Blount are complementary players in this backfield, and Johnson should lead this team in rushing by a significant margin if he stays healthy. Being the 6th back taken in the draft, and playing for a team thatís been the worst at running the football for years means Johnson could be a steal in early drafts. I like him as an RB3 that has RB2 upside.
RB Theo Riddick
(2017 RB Rank - No.37, 6.4 FPts/G)
Back to playing in 16 games last season after an injury riddled 2016, Riddick did his thing, catching 53 passes and being the Lions pseudo running game with his short route running. The 53 grabs were a far cry from his last healthy season in 2015 when he caught 80. Entering his 6th season in Detroit, Riddick will be called on far more infrequently as heís been in the past. With the additions of Blount and Johnson, and the current existence of Abdullah, Zenner and Washington, Riddick can settle back into his 3rd down/hurry up role on the offense as a reliable outlet for Stafford. He holds very little value in standard leagues and end of the roster depth in PPR leagues.

WR Marvin Jones
(2017 WR Rank Ė No.5, 10.3 FPts/G)
In a battle of Jones receivers, it was Marvin who got the best of Julio in last seasonís standard scoring rankings. He also bested my personal projects by a ton, finishing as a solid and fairly consistent WR1. So what the heck exactly happened last season? Touchdowns and big plays, the two things really lacking in his first season with the Lions in 2016. His 61 receptions were good for only 29th in the league, but his 1,101 yards (9th) and 9 touchdowns (tied for 3rd) boosted his value into the stratosphere. The biggest benefit to having Jones on your fantasy team last year was that these numbers were spread out over 16 games fairly evenly, making him a rare consistent big play threat. But there are a few reasons why I think this big finish is an aberration. First, the offense in general is more balanced, and has a wider array of playmakers. Backfield additions and the health and development of Golladay should keep Jonesís target and reception totals fairly muted. Heís been between 103-107 targets and 55-65 catches for three straight seasons, and I donít expect a deviation from those numbers in either direction. What I do expect a drop off is in touchdowns. Despite elite body control and hands, there will be other red zone options this time around, and I think he settles into the 5-6 score range. If you are careful not to chase his 2017 numbers and overdraft him, Marvin Jones should provide some decent WR2 value for your team.

WR Golden Tate
(2017 WR Rank - No. 19, 8.3 FPts/G)
Handicapping the Lions passing game for fantasy purposes has frankly been a dream. The trio of Stafford-Jones-Tate have put up nearly identical stats for the two seasons theyíve played together. Tate, despite some bumps and bruises played 16 games yet again, and reached the 90-catch plateau for a fourth straight time. Heís been so darn consistent that his 8.3 fantasy points per game from 2017 is IDENTICAL to 2016! This offense plays perfectly to his run-after-the-catch skillset. He gets open where he needs to be (he caught 77% of the passes thrown his way), and while he might not find the endzone often, he racks up catches and yards in bunches. Itís not really complicated. In PPR leagues heís an easy WR1. In standard leagues heís a plug and forget WR2. Not exciting, but the kind of receiver that helps fantasy teams string wins together and stay afloat during tough times.

WR Kenny Golladay
(2017 WR Rank - No. 64, 6.1 FPts/G)
Ah, the one true wildcard in this Detroit passing game! Golladay, the 3rd round rookie burst onto the scene in the 2017 preseason, showing dominate ball skills. He instantly went from no-name to hot pick in drafts last year, and it looked like he was off to something special when his play continued into the season opener, where he put up a 4-69-2 line in a win against Arizona. A bad hamstring injury hampered his development, so we only got to see glimpses of potential during his remaining 10 games, but Iíve seen enough to declare him something special.
First, he has elite size at 6í4íí 218. He uses every bit of that frame to high point the football and is a big play waiting to happen. He had 17 yards per reception on limited snaps, highlighted by a four-game stretch during the middle of the season where he averaged 27 yards-per-reception.
With a healthy offseason, Golladayís upside is through the roof. Scouts and NFL people are talking him up this offseason. He has tremendous upside in this offense, as the Detroit passing game was close to perfect when Golladay joined Jones and Tate in their ď11Ē personnel package. (3 WR, 1 TE, 1 RB). With the loss of move tight end Eric Ebron, there are a bunch of targets available for the taking. With no significant pass catching tight end currently on the roster, the Lions can and will make 3-WR their base offense. Despite the high praise, I still think Golladay is a year away from being a true difference maker in fantasy (Tate is in the final year of his contract). With Jones and Tate ahead of him in the pecking order, there wonít be a weekly deluge of targets available, but I can foresee KG having a handful of big weeks. Iíll be trying to add him in every league I can as a stash with tremendous upside.
TE Luke Willson
(2017 TE Rank – No.35, 3.0 FPts/G)
Unless your fantasy league gets points for blocking, I'd steer clear of any tight end on this team. After cutting Eric Ebron and failing to resign Daniel Fells, Detroit turned to career back-up Luke Willson to fill their void. (Yes, it's spelled with two Ls, I'm afraid to admit how long it took me to realize that) Willson carved out a nice niche during his career in Seattle, but has a career high of 22 receptions in a season, and although this offense made Ebron a top 10 fantasy tight end, Willson has far less athleticism and draft pedigree. He's another solid veteran signing from a winning organization that can help shape the culture of Detroit. He'll be in the right place at the right time, catch a few passes here and there and be nothing more than a fantasy afterthought.