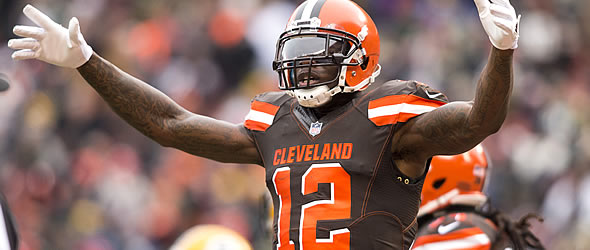 Josh Gordon possesses league winning talent, but do you trust him as your fantasy WR2?

QB Tyrod Taylor
2017 QB Rank - No. 20, 17.5 FPts/G
With good reason Cleveland went nuclear on its quarterback room this offseason, jettisoning all-three players who made starts last year, replacing them with the trio of Taylor, Baker Mayfield, and Drew Stanton. Despite being handcuffed with a conservative offense, and absolutely no playmakers at receiver, Taylor has put up respectable fantasy stats the last three seasons as Buffaloís starter, finishing as the No.18, No.19 and No.20 scoring quarterback, making him a decent option in 2 QB leagues, or bye week fill in for standard leagues. Obviously the biggest draws for Cleveland was Taylorís dual-threat game, accuracy, and veteran leadership. Taylor gives Cleveland the luxury of taking it slow with Mayfield, as his touchdown to interception ratio (65 total touchdowns to 16 interceptions in three seasons as a starter) will at least keep Cleveland in most of the games they play. Make no mistake; this team needs to win some games.

Taylor is going to end up giving Cleveland chances to win, but like your fantasy team, he isnít capable of bringing them over the top. This franchise has gotten dismal fantasy play from its quarterbacks for literally decades, and thereís no doubt that Taylor is an upgrade on most of them, but he also isnít suddenly going to become a fantasy priority. Heíll enjoy a much better set of pass catchers than he had in Eastern New York, but this is still a team that went 0-16 last year, and with the 1st overall pick sitting behind him, probably wonít play 16 games this year. If he does end up playing in most of the games I do think heís capable of having a really solid year in Cleveland, but even that wonít be good for anything other than a middling QB2 rating.

QB Baker Mayfield
2018 QB Rank - N/A
Say what you will about his on and off the field antics, but Baker Mayfield was a heck of a productive football player. Bucking the analytics, Cleveland made Mayfield the 1st overall pick in the 2018 draft, but if itís up to them, he wonít see the field this season. Mayfield brings a fire and brimstone approach to the game, lifting the players around him. Should he get the chance to become the starter, heís definitely worth a look. His accuracy and playmaking ability in and out of the pocket would give him tremendous upside. Heíll have a talented and experienced core of receivers (hopefully!) to throw to, and could be another ďlightning in a bottleĒ addition to fantasy squads at some point this season. Weíve seen a string of rookie quarterbacks flash the past several years, and Mayfield has what it takes to be another one. I do believe Cleveland that they will wait as long as possible to showcase Mayfield, but when given the chance should garner roster consideration, even if it comes later in the year.
RB Carlos Hyde
2017 RB Rank Ė No.11, 11.1 FPts/G

Walk into my living room on a random evening and thereís sure to be a home improvement show on in the background. At the pace they worked in the offseason, Clevelandís offense could be featured on any one of them. Theyíve basically remade the personnel from top to bottom, and Hyde, the former 49er, is one of the fancy new additions. Hyde, the touchdown scoring dual threat, has long been a top flight asset for fantasy teams. Staying on the field has generally been his only problem, as heís produced for some bad teams when given the opportunity. He was the lone threat for a team that started 0-10 last year, compiling 8 touchdowns and over 1,400 total yards over the course of his first 16-game season. Yup, entering his 6th season in the NFL, 2017 was only the 1st heís been healthy enough to play a full 16 games. Unfortunately health, the 2nd round selection of Nick Chubb, and the presence of Duke Johnson has greatly devalued Hyde for 2018, as this has the makings of a full blown RBBC.
The Browns coaches have already talked up the dreaded ďhot handĒ situation, meaning that the value of all three guys could fluctuate on a weekly basis. If it means anything, I do think Hyde has the best overall game of the bunch, and when things equally shake out, should lead the backfield in touches. Chubb figures to be the banger, and Johnson the receiver, but Hyde is the vet, and thus is the current leader with the coaching staff. Marrying yourself to any of these guys is probably a mistake, but Hyde could return some serious value should health and opportunity stay consistent. Hyde has produced for some far worse offensive teams, and Cleveland didnít give him a chest of cash to ride the pine. At his current mid-round price I donít like the value, but should his ADP continue to fall into the summer, I wouldnít hesitate to snap him up him up as my RB4 and pray he pulls away from the pack.

RB Duke Johnson
2017 RB Rank - No.19, 5.9 FPts/G
One of fantasyís most underrated backs put together a fantastic overall season on an 0-16 team. Compiling a career high 1,041 total yards and 7 touchdowns, Johnson also led the team in receptions with 74 and yards with 693. Johnson has been the most consistent offensive threat on this team for several seasons, but the Browns donít seem to view him as anything more than a plus passing down back. The additions of Hyde and Chubb mean heís third in line for carries at best. Jarvis Landry, and the development of 2nd year tight end David Njoku mean even Johnsonís short routes could be eaten into. Cleveland certainly showed how much they value Johnsonís versatility by signing him to a good money extension, but their personnel decisions say otherwise. I canít envision a non-injury scenario where Johnson leaps both Chubb and Hyde for carries, but he still garners plenty of value in the passing game. The season he put together last year made him a solid RB2 in standard leagues, but itís going to be close to impossible to beat that in 2018. With Cleveland hopefully in more positive game scripts, he could lose passing game work. I think he drops down a few pegs and falls in as a low-end RB3, with RB2 upside in PPR leagues.

RB Nick Chubb
2017 RB Rank - N/A
Of all the 1st or 2nd round runners selected in this yearís draft, Chubb has the hardest value to determine. An ultra-talented battering ram type runner, Chubb offers great touchdown upside, but his extremely limited passing game chops (13 receptions in his final three years at Georgia) mean heíll need a significant injury to Carlos Hyde to see enough volume to make a real fantasy impact. While Hyde might have the leg up in versatility, Chubb possesses superior power, vision, and speed, and will undoubtedly push Hyde for carries inside the redzone. I do think this coaching regime is very interesting in leaning on the veterans to get this season off to a positive start, so Chubb is best viewed for his late season potential. As we know, players who float under the radar for most of the season before getting a chance to shine can sometimes be league winners, so donít be afraid to take a late round flyer on Chubb and hope he returns value sooner than later. Remember, Carlos Hyde hasnít been the picture of health, and Chubb is an injury away from being a force on this team.
WR Josh Gordon
2017 WR Rank - No. 98, 6.9 FPts/G
It seems like every season thereís a guy (maybe itís you!) in your fantasy league who drafts Josh Gordon hoping this will be the year Christmas finally comes and theyíll get a gift. By some miracle, this actually happened last year, when Gordon returned after a 2+ year absence to show flashes of brilliance. Everything seemed to finally line up for the ultra-talented, baggage laden star receiver. Coming off a five-game stretch to end the season that saw him average 7.9 points per game and 18.6 yards-per-reception, Gordon seemed poised to lead the new look Browns back to the promised land. But the more things change, the more they stay the same, as word came out that Gordon would miss the start of camp for personal health reasons. No one knows exactly what this means, and it seems to change on a daily basis, but itís certainly not good news.
The conundrum with Gordon is that he possesses league winning talent, but you just canít trust him enough to pick him in the upper rounds. I sincerely hope heís back in camp quickly, and if his situation is figured out by the time you draft, go ahead a feel free to invest in him as a WR2. Anything out of the normal with Gordon is going to raise eyebrows, so I donít behoove anyone for being risk averse. But understand this. This guy still has a job because heís an elite talent, and it would be smart to figure out a round you feel comfortable pulling the trigger. Tyrod Taylor is an underrated deep ball thrower and wonít do anything to hinder Gordon and before this latest bizarre news I would have been happy to take a risk on his talent, but this recent news is a reminder that Gordonís ceiling is as high as his floor is low, so proceed with caution.

WR Jarvis Landry
2017 WR Rank - No. 11, 9.5 FPts/G

Buoyed by a flood of targets during his first four years in the league with Miami, Landry joins a Cleveland team that pays well, but plays like garbage. He wonít see anything like the 161 looks he got last year on a team that hopes to run the ball more as much as it throws. The plan is to play Landy more on the outside, but letís not kid ourselves; he has a slot receivers skillset. WIth the decreased volume, Landry would have to repeat the career high 9 touchdowns he scored last year to hope to even crack the top 25. The murky Josh Gordon situation certainly could change the outlook for Landry, and I do think heíll easily lead the team in receptions, but unless he runs his routes farther than 5 yards downfield on a more consistent basis, heíll struggle to pile up yardage. (He actually had the 2nd most yards-after-catch of all receivers, yet finished 15th in total receiving yards). On the flip side, I do think his value jumps significantly should Mayfield get the call. The rookie signal callerís quick release and accuracy on short to intermediate throws plays perfectly into Landryís game. With Gordon in the lineup, Landry is a WR3. Should that situation change, Landry would be amazing value with WR2 upside.
TE David Njoku
2017 TE Rank - No. 21, 3.9 FPts/G
Raw as a 20 year-old rookie, Njoku spent much of the season splitting snaps with the more trusted Seth Devalve. On the surface the 32-386-4 line doesn't look impressive, but the fact he compiled those numbers while splitting time, as a rookie, on an 0-16 team, means there's nowhere to go but up for second year tight end. It sounds like the Browns are committing to Njoku as their primary tight end, and that should lead to more opportunities for the ultra-athletic former Hurricane to flash his ability. Tyrod Taylor worked magic with Charles Clay during his years in Buffalo, and Baker Mayfield could be an even bigger boon for his production. The combination of talent and opportunity makes Njoku one of my favorite late round picks at tight end. Don't be surprised to see Njoku take a step into the top-10 this year, and make a major fantasy splash.