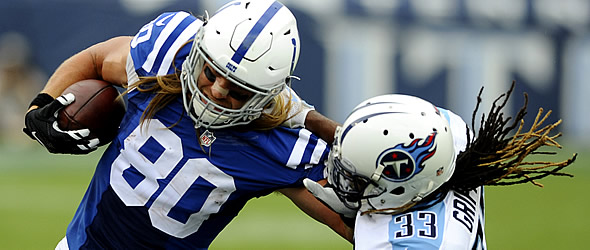 Coby Fleener will be a low-end TE1 and weapon for Drew Brees but be careful not to overdraft him.


Since Jimmy Grahamís breakout 2011 season, the tight end position in the Saints offense has been clearly in the crosshairs of fantasy owners. Naturally, when Graham was sent packing to Seattle last off-season, we all wondered if Sean Peytonís secret man-crush Josh Hill would step into Grahamís role and blast off to fantasy stardom. Someone sure stepped up to slide into the top 10 at the position, but it wasnít Hill, it was 12-year veteran Ben Watson. Watson, and his 74-835-6 line headed northeast to Baltimore, so Coby Fleener was signed away from Indianapolis to fill the playmaking gap in the New Orleans offense. Can the former second rounder, who has annually been a fantasy mirage, finally materialize into a fantasy asset after years of mediocrity?

Fleener is one lucky dude. After catching passes from Andrew Luck for several years at Stanford and then for four more years in the pros, he heads off to New Orleans to catch passes from future Hall of Famer Drew Brees. The guys throwing him the ball have never been a problem, so why hasnít Fleener ever become more than a role player? Aside from his 51-catch, 8-touchdown season of 2014, Fleener hasnít produced enough to be considered on a fantasy roster. Most will say his one-dimensional game, and presence of Dwayne Allen were the reasons for the muted statistics in Indy. I think heís just a very inefficient player, and his statistics bear that out. Fleener has only caught 58 percent of the targets in his career, a number well below the tight ends in the top 10 who catch 70 percent-plus of their targets. Chemistry certainly isnít the culprit, as Fleener was catching passes from the same guy for almost 10 years. Heck, he even had his college offensive coordinator for a few seasons too!

The pass catcher market was very lean this off-season and it was inevitable that players were going to be paid for their potential rather than production. The Saints, with the loss of Watson to the Ravens and the release of Marques Colston, nabbed Fleener for 5-years, 36 million the first week of free agency. Back on a pass heavy offense, and out of the shadow of Allen, Fleener should absolutely be a big part of the weekly game plan for New Orleans. He is coming off three straight 50-plus catch seasons so heís at least demonstrated upside. But there is something gnawing at me forcing me to temper my expectations. Maybe itís the fact Indy seemed to make very little effort to resign Fleener, and instead signed an injury prone teammate to a more lucrative contract. Fleener also made waves with some comments about ex-teammates in his introductory press conference with New Orleans giving some creeping doubt to his mental game as well.

Fleener reminds me a lot of Ladarius Green, a player I profiled a couple weeks ago; young, athletic, and finally sprung loose from the various shackles of their former team. But one thing Iíve learned from listening, following, and observing the NFL, is that good players find a way to get on the field and make an impact. Fleener is well worth consideration, especially at wide open fantasy position like tight end, but Iím more inclined to wait, than overdraft a player like this. Find a round youíd be comfortable drafting him for value, and let someone else overdraft for potential.