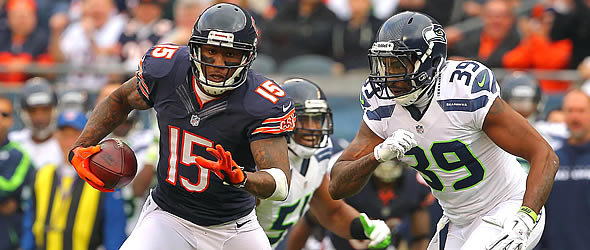 Marshall will need Chan Gailey to work his magic if he's going to be a productive fantasy WR in 2015.


Just prior to the start of the free agency period, the mercurial Brandon Marshall was dealt to the Jets for a fifth-round pick. Going from the Midway to Broadway is going to have wide reaching fantasy impacts, especially for Marshall. So how big of a dip in production will the top-flight receiver take? Itís important to evaluate a few factors before we know for sure.



Fantasy Impact



First and foremost is the trigger-man change. Before their bromance collapse last season, Jay Cutler and Marshall made beautiful music together. Targeted relentlessly by his quarterback, Marshall amassed 100-catch seasons with regularity when Cutler was at the command. Plagued by erratic play since being drafted, Geno Smith has a chance to become Marshallís new quarterback, and a seemingly instant downgrade from Cutler. Smith has a horrid 25-34 touchdown to interception rate during his first two seasons, and yo-yoed his way from the starting line-up to the bench a few times last season. Should Marcus Mariota fall to the Jetís in the draft, Smithís days in New York may be numbered. So essentially, Marshallís fantasy stock depends on a thin ice surfing Geno Smith or a rookie from a college spread offense? Nope, it actually falls on a 63-year-old offensive coordinator and the recently acquired Ryan Fitzpatrick.

Running the spread before it became in vogue, Gailey coaxed three straight 3,000+ yard, 24-touchdown seasons from Fitzpatrick from 2010-2012. That is impressive enough, but it pales in comparison to the 18-touchdown 2,600-plus-yard season he got out of Tyler Thigpen in 11 starts during the 2010 season in Kansas City. Talking about squeezing water from a stone! Clearly, Gailey has the impressive track record of getting production from mediocre talents at the position. But even though Marshallís fantasy value is tied to his quarterback, itís important to note that Gailey knows how to utilize No.1 receivers. The Bills main wide receiver during the Fitzpartick/Gailey era, was the very fantasy relevant Steve Johnson who tallied 75-plus catches, 1,000-plus yards and 5-plus touchdowns from 2010-2012. Keep in mind, those are far and away his best seasons as a pro.

Another positive for Marshall is the presence of Eric Decker, and the potential emergence of second-year tight end Jace Amaro. Decker and potentially Amaro, need to be respected by defenses, and this means Marshall should be able to avoid a barrage of coverage shifts, and double-teams.

A change of scenery could do wonders for Marshallís attitude, and he should be able to fall back on his intelligence and personality to adjust to life in the Big Apple. His size, and red-zone game should help offset his age, and his offensive scheme should help balance the drop-off in quarterback talent. All in all, donít be too quick to signal the death knell on Marshallís fantasy value. While his days of being a sure-fire No.1 wide receiver with 100-plus catches and 10-plus touchdowns are probably over, a season like he had his final year in Miami (81-1200-6) is certainly within reason, putting him solidly in the WR2 conversation.