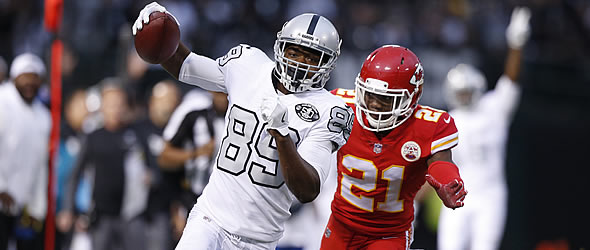 Amari Cooper's dismal performance last season included five games under 10 receiving yards.
QB Derek Carr
(2017 QB Rank – No. 19, 18.0 FPts/G)
Many were predicting a breakout season for Raiders quarterback Derek Carr heading into the 2017 season, as the young passer was coming off of the best season of his career in 2016. Four weeks into the season, however, that breakout season fell apart as Carr suffered a transverse process fracture in his back, which Carr later said was actually three broken bones. While he played through the pain and discomfort, Carr hurt fantasy owners badly as back spasms caused erratic play, causing him to barely finish as even a QB2 despite having one of the league's best wide receiver tandems in Michael Crabtree and Amari Cooper.
While he should be much healthier after a full offseason to heal, back injuries often creep back up on athletes and can cause problems. What's worse is, NFL teams often mask those injuries on the injury report by being vague about the location and severity. This can be difficult on fantasy owners as we don't have a good idea whether or not the player is dealing with an injury or if he simply had a bad string of games. Additionally, Carr will now be without his favorite target Michael Crabtree and will be learning a completely new offensive system, making it easy to see why Carr is going undrafted in many standard formats.
Oakland did add Jordy Nelson and Martavis Bryant, along with Doug Martin who has made an impact in the passing game in the past, but it's hard to argue that those players will make a significant enough impact on Carr to make him anything more than a streaming option at the quarterback position this season.
RB Marshawn Lynch
(2017 RB Rank – No.18, 9.8 FPts/G)
"Beast Mode" disappointed fantasy owners last season as the entire Raiders, and specifically their offensive line took a gigantic step back in 2017. Lynch accumulated just 891 yards on the ground, but did score nine touchdowns, for a pace of 4.3 yards per carry in what was a truly ugly offense.
One of the most underreported realities about Lynch's 2017 season is that he was actually excellent at eluding defenders both by juking and by running through them. Advanced metrics show that while his final totals left a lot to be desired, Lynch was actually way better than he should have been given the abysmal situation he was given. By comparison, Doug Martin - Lynch's new backfield-mate - was one of the least-efficient backs in the league by these same metrics. Unless there was some sort of monumental shift in the abilities of one or both of these players, it would stand to reason that Lynch should have no real concerns about being the primary back in Oakland this season.
The new Jon Gruden offense in Oakland figures to feature more west coast concepts, including passes to the running back, but those might not necessarily go Lynch's way. Lynch hasn't caught more than 36 passes in a season since 2008 and his yards per reception are often mediocre on the opportunities he does get. That does hurt his draft stock in PPR formats, but Lynch is one of the few backs in the league who has produced multiple double-digit touchdown seasons throughout his career, and there's a real chance that he does it again if the Oakland offense is even just a bit better than it was in 2017.
Lynch fights through a lot of injuries which is good for availability but can be unfortunate for fantasy purposes as he is often unproductive in the games he plays while injured. With just a bit of improvement in the offensive line, as many predict will happen, and a healthy Carr, Lynch could be a big time value this season, especially given the lack of serious competition behind him. He should be in line for around 250 total touches, which should make him a solid RB2 most weeks.
RB Doug Martin
(2017 RB Rank – No.57, 6.1 FPts/G)
Young backs Jalen Richard and DeAndre Washington have both been relatively productive when given opportunities but the new coaching staff in Oakland has no allegiance to them and seemingly didn't believe they were a good enough tandem behind starter Marshawn Lynch. To fill that void, the Raiders opted to bring in another veteran back, Doug Martin, who had spent the previous six seasons in Tampa Bay.
One of the league's least consistent producers, Martin has posted sub-3.0 yards per carry numbers in back-to-back seasons heading into 2018, but also had a monster 2015 where he went off for 1,402 rushing yards at nearly 5.0 yards per carry. There are times when Martin looks like a top-10 back in the league and other times when he looks like he should probably be hanging up the cleats. While he won't likely battle Lynch for starter snaps, Martin does figure to be involved in the offense this season - the question is where and when. Martin does have a 49-catch season on his resume and a does average 8.4 yards per reception over the course of his career, which is a great number for a running back. He's actually been over nine yards per reception in each of his past two seasons, but the sample size is low as he's caught just 23 total passes over that two-year span. Still, the per-touch numbers look good in the passing game and that could allow him to be the primary receiving back on the team as backups Jalen Richard and DeAndre Washington have failed to do much in that role and Lynch himself has never been much of a pass catcher.
Martin is a low-cost option that does have upside as a potential bell-cow back if Lynch gets hurt, especially given coach Gruden's adoration for him. However, after a four-game suspension to start the 2017 season due to a PED violation, Martin does bring fantasy owners additional risk of a long suspension if he failed another test, but it seems likely that he was using those PEDs to recover from injury during rather than that he has a serious problem.
WR Amari Cooper
(2017 WR Rank – No. 30, 7.9 FPts/G)
The top-drafted fantasy asset in Oakland is once again wide receiver Amari Cooper despite him being among the biggest busts in fantasy this past season. Cooper was almost astonishingly unproductive on a per-target basis in 2017 as he caught just 50 percent of the passes that came his way, which put him among the very worst receivers in the league. It's worth noting that Cooper might have not been healthy at all in 2017, as he started the season on the injury report for the first six weeks with a knee sprain, then suffered a sprained ankle and a concussion in Week 12. Cooper also has earned the label as a pass dropper and there's really no denying that he's had a ton of drops in his young career, but that can statistic also be a bit misleading. Cooper actually dropped four passes in one game (Week 1) in 2017, but he ended up getting targeted 13 times, which still allowed him to produce a quality fantasy day with five catches for 62 yards and a touchdown.
With 2017 in the rear-view mirror, we now look forward to 2018 where Cooper has serious potential to lead all NFL players in targets. Coach Gruden has made it well known that he is planning to use Cooper as the "main vein" of the Oakland passing game. With outside receivers Jordy Nelson and Martavis Bryant joining the team, the Raiders could also end up utilizing Cooper more in the slot on three-receiver sets. He's produced some of his biggest games when he's seen increased snaps out of the slot, and research shows that targets out of the slot are actually substantially more effective than those out wide throughout the league, so Cooper could be in for a big jump in efficiency this season. Even if he's still subpar in catch rate, though, target volume alone could lead to Cooper being a high-end WR2 or even a low-end WR1 this season.
His draft cost is substantially lower this season than it has been in either of his past two seasons, so there is some upside in taking Cooper where he's currently going in fantasy drafts and there really shouldn't be much downside, provided that he stays healthy. After turning 24 years old this past June, Cooper is still not even near his prime as an NFL wide receiver. He's only six months older than rookie Calvin Ridley but he already has two 1000-yard NFL seasons under his belt. He struggled this past season, but so did the entire Raiders offense, including QB Derek Carr who himself dealt with a back injury throughout the season. Don't let an injury-plagued 2017 change your perception of this talented young playmaker who could break out as an elite fantasy WR1 this season if everything clicks in Oakland.
WR Jordy Nelson
(2017 WR Rank – No.50, 6.0 FPts/G)
Perhaps the most underappreciated elite-level-producer in fantasy over the past decade, Jordy Nelson only saw a low-ball option from Green Bay this offseason and ended up signing a relatively low-risk, two-year, $15 Million contract in Oakland. After being one of the league's top pass catchers throughout his run in Green Bay, one has to wonder - did the Packers cut the cord after realizing that Nelson simply doesn't have anything left?
While he was a bust for fantasy purposes on the season, Nelson was leading the league in receiving touchdowns prior to Rodgers' injury in 2017. From that point on, however, Nelson fell far behind Davante Adams on the Packers pecking order and became completely unusable for fantasy purposes by end the season. Nelson struggled to generate separation in 2017 and that showed in the box scores. Even if you remove the games with Brett Hundley behind center, Nelson accumulated just 318 yards in the seven games that Aaron Rodgers started for the Packers. If you extrapolate that out over a 16-game season, that'd be a pace of just 727 yards for the season. While he was a big time touchdown producer, we know that touchdowns can often be fluky and he was doing that with a one-in-a-generational-type quarterback in Rodgers. Now that he's in Oakland, there has to be serious questions as to whether or not Nelson still has enough left in the gas tank to produce without one of the greatest players of all-time throwing him the ball. Derek Carr is good, but he's not Aaron Rodgers good.
The bright side of things is that with Amari Cooper having some of the ugliest red zone numbers in football since coming into the league and Martavis Bryant potentially facing a suspension, there's a great change that Nelson sees a huge chunk of the red zone targets, and specifically the end zone targets in the Oakland passing game. Even if he's lost a step in terms of route-running and speed, Nelson still has great size and strength, which makes him a nightmare to defend for smaller defensive backs. His days of 15-touchdown seasons are probably in the past, but Nelson could still put up eight to 10 touchdowns this season, which would certainly put him in consideration as a weekly starter for fantasy purposes.

WR Martavis Bryant
(2017 WR Rank – No.52, 5.4 FPts/G)
Rumors of a pending suspension for another substance-abuse policy violation cloud the fantasy prospects of the Raiders' newly-acquired receiver Martavis Bryant. The Raiders declined to comment about the rumors which broke in mid-June, but admitted that they are waiting from the league regarding potential disciplinary action for Bryant. The team traded a third-round 2018 NFL Draft pick to the Steelers in exchange for the controversial, yet highly talented pass catcher this offseason. Bryant has a long history of off-field substance abuse issues which led to him missing the entire 2016 season due to a suspension. A repeat violation would seemingly mean another lost season for the 26-year-old. It's rare that rumors like this surface without any substance behind them, but there's always the possibility that Bryant will get through this situation without any further problems.
Still, concerns about Bryant don't stop simply at substance abuse. He was rumored to be a locker room distraction in Pittsburgh after falling behind rookie JuJu Smith-Schuster in the target totem pole in 2017. Not only that, but his productivity dipped greatly in his return to the NFL this past season. Bryant had scored a touchdown at a pace of once every 14 targets that he saw through his first two seasons in the league - a rate of 7.1 percent. That number fell to just 3.6 percent in 2017 as he scored just three times in 15 games. Bryant's yards per reception also fell from 17.3 yards per reception in 2014 and 2015 to just 12.1 yards per reception in 2017.
There's no question that Bryant possesses unbelievable athleticism and he could end up being the No.2 target in this Oakland offense, but there are enough questions as to his availability, mental state and overall production that avoiding him in fantasy is probably the right move this draft season.
TE Jared Cook
(2017 TE Rank – No.15, 5.0 FPts/G)
Raiders tight end Jared Cook saw 86 targets in 2017 (tied for ninth-most), which he converted for a career-high 54 receptions, and that was with Michael Crabtree still on the roster. With serious questions at wide receiver heading into the season, Cook could very well end up second on the roster in targets in 2018. Raiders coach Jon Gruden raved at OTAs about Cook's speed and the team has been experimenting moving him around the field to create mismatches. Utilizing Cook's speed and athleticism could be a way to stretch defenses, which is an important part of what the Raiders will need to do to improve as an offense this season.
Tight end as a whole is very weak this season and there aren't many players at the position who figure to see 80-plus targets. Many of the tight ends who did see 80 targets in 2017 are not likely to repeat that number, including Jason Witten, who is now retired; Jimmy Graham, who is on a new team; Evan Engram, who has to deal with the return of Odell Beckham Jr and the addition of Saquon Barkley in the passing game; as well as both Eric Ebron and Jack Doyle who are now battling one another for targets in the same offense. If he stays healthy, Cook figures to improve on the 86 targets he saw this past season, which could see him finish in the top five at the position in that ever-important opportunity-based statistic.
On the downside, at 6'5" and 250-plus pounds, Cook has not proven to be the red zone threat that one might expect. He's scored just 19 touchdowns in his nine-year NFL career, including just three total touchdowns over his past three seasons. Cook can be very streaky and difficult to predict from a fantasy standpoint, but that does make him an ideal candidate for best-ball formats where you can take the highs and not worry so much about the lows.
His current ADP sees him going extremely late or even undrafted in many leagues, so there's not much opportunity cost here. He's probably worth a shot to roster in deep leagues or teams with questions at the position given his high floor.