8/8/11



Without fail, each year several wide receivers take the fantasy football world by storm with surprisingly stellar play. Last year's group, which included Hakeem Nicks, Mike Wallace, Dwayne Bowe, Brandon Lloyd, both Mike Williamses, and others, all played well beyond their draft spot—if they were drafted at all, as in the case of either Mike Williams. Obviously, the task at hand on draft day is trying to get as many breakout candidates as possible on your team—not only at the WR position, but up and down your roster. But for purposes of this piece, we'll try to make a case for why each of the following WRs should be looked at as a breakout candidate for 2011; and by "breakout," I'm referring to unforeseen and consistent production that's worthy of a start each week, not necessarily someone who is going to break Randy Moss's single-season TD reception record.

Note: ADP based on a 12-team league.

Percy Harvin, MIN
ADP: 6.03

Percy Harvin played Robin to Sidney Rice's Batman for most of the last two seasons, but with Rice now in the Great Northwest of Seattle, Harvin takes over the No. 1 wide receiver spot in Minnesota. With Rice out for the first 10 games last season, Harvin responded by scoring double-digit fantasy points in eight of those games. While he doesn't have the size of Rice to take advantage of jump balls deep downfield, Harvin does have the superb athleticism, speed, and quickness to get away from defenders. Plus his after-the-catch ability makes him a unique weapon in the West Coast offense the Vikings are looking to employ. Expect new quarterback Donovan McNabb to utilize the multi-faceted Harvin, and expect to be rewarded with a nice 2011 season from this solid WR2.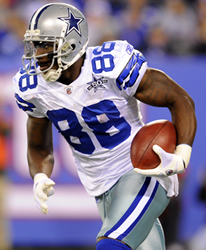 Bryant could be the number one wideout by season's end.
Dez Bryant, DAL
ADP: 4.07
I had Dez Bryant in this section last season, and while he wasn't a disappointment, he should have done more. Indeed, the injury he sustained stunted his growth a bit as a player, but he did show the ability to become a dynamic NFL receiver. The second year WR takes over the No. 2 spot formerly occupied by big mouth Roy Williams. Sure, Bryant may be classified as the Cowboys' No. 2 wideout, but I strongly believe he will flirt with being their No. 1 by year's end. Miles Austin is good, certainly, but Bryant is more talented, and that talent will shine through in 2011. Keep this in mind, too: the Cowboys will rely heavily on Tony Romo and the passing game, in spite of what many consider a leaky Dallas offensive line. On the ground, Felix Jones and Tashard Choice have each averaged less than three total TDs per year through their careers. So if Dallas is going to score, it will be through the air, and Bryant will be the recipient of many of Romo's scoring tosses. Don't forget that Bryant may return punts, too. Either way you look at it, the planets are aligning for him to break out big-time this season.
Danny Amendola, STL
ADP: 11.03
Only Drew Brees and Peyton Manning had more pass attempts than Sam Bradford last year. And even with Steven Jackson serving as the team's workhorse, the Rams will lean heavily on the once-fragile shoulder of their young quarterback. With so many footballs flying through the air, somebody has to catch 'em, right? That somebody will be Danny Amendola. The poor man's Wes Welker had 32 more receptions last year than any other Ram, but his TD total (3) and his average yards per reception (8.1) left much to be desired. Amendola, however, is just the kind of receiver Bradford needs as he develops as an NFL signal-caller. He's a reliable route-runner with good hands who's always where he needs to be. Considering that Bradford may have 600 attempts in 2011, expect Amendola to flirt with 90 catches again while doubling his scoring total. He will be a must-have in PPR leagues.
Mike Thomas, JAX
ADP: 9.05
With one-year wonder Mike Sims-Walker out of the picture, Jacksonville's No. 1 wideout spot should go to Mike Thomas. Besides tight end Marcedes Lewis, there are no other reliable receivers on the roster. One could look at that development and say that Thomas will match up against his opponents' top cornerbacks, and that he may have difficulty with that. While that may have some validity, Thomas will still have his share of productive games. He doesn't have the speed to get deep, but he should be money on underneath routes—further increasing his stock in PPR leagues. Thomas's impact this year hinges on the productivity of quarterback David Garrard. If Garrard comes out slow, calls for bringing in rookie quarterback Blaine Gabbert could commence, thus throwing the entire Jags offense in a tailspin. But as it currently stands, Garrard will get the nod at quarterback and will definitely use Thomas as his possession receiver.
Jacoby Ford, OAK
ADP: 10.03
Since tight end Zach Miller bolted for Seattle, what's left in Oakland is a receiving group that stars laughably horrible Darrius Heyward-Bey and Viagra-toting Louis Murphy. Jacoby Ford will start and be the deep threat the Raiders have seemingly always desired. A hand injury will lower his stock heading into fantasy draft season, but Ford appears to be the most reliable target for quarterback Jason Campbell. His small physical stature, shifty moves, unique elusiveness, and ability as a punt returner conjure comparisons to DeSean Jackson. Ford is far from matching the dynamic Philly receiver, but the situation in Oakland sets him up for some nice production. If Murphy gets suspended for his offseason transgressions, Ford will certainly draw the majority of looks in the passing game. The Raiders will indeed attempt to run the football, but at some point they will revert to what Al Davis has wanted in his offense forever: a deep threat at wide receiver with tons of speed. Jacoby Ford fits that profile.