Everyone knows to start Peyton Manning every week, regardless of the match-up. But not all decisions are as easy at that one. So to help you decide who you should start and who you should bench I have identified the players at the QB, RB and WR positions that should excel this week and should be started, as well as the players who will struggle this week and should be benched.

Quarterbacks
Bye Weeks: Miami, New England, Pittsburgh, and Seattle; so that means Chad Henne, Tom Brady, Ben Roethlisberger (he's eligible this week), and Matt Hasselbeck are all benched.

Always start your studs: Peyton Manning, Tom Brady, Drew Brees, Aaron Rodgers, Matt Schaub, Tony Romo and Philip Rivers. Now onto the question marks…

Start 'Em:
Quarterbacks Who Will Outperform Relative To Their Draft Position And Recent Hype

Sam Bradford @ DET
Detroit is playing a lot better than most people thought they would, but they're still giving up an average of 241 yards and 2 passing TDs per game, not to mention their defense is allowing 27 points per game and ranking fourth in big plays given up. Clearly there is room here for the blossoming rookie-of-the-year favorite to continue his hot hand and keep piling on the fantasy points for you. Bradford's currently ranked 11th in the league, with 944 passing yards; he's ranked sixth in pass attempts, with just fewer than 40 per game; and he's evened out his TD-to-INT ratio with six apiece.

Eli Manning @ HOU
Eli is one of just seven quarterbacks with 1,000 or more passing yards so far, and this week he'll get to add to that yardage as he takes on the worst pass defense in the league. The Texans are giving up 337 yards per game and the second-highest yards per completion average at 8.7 yards. They have given up the second-most big plays and the second-most passing TDs; they are also allowing a rating of 107.8 to opposing quarterbacks, which is second-worst in the league. Eli should actually be registering better stats than he is, and he needs to take advantage of rising star Hakeem Nicks—something I think he'll do this week.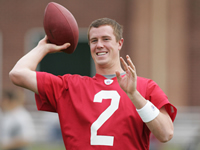 Ryan is currently the 9th-rated fantasy QB.

Matt Ryan @ CLE
Ryan is averaging 245 yards per game passing, and the Browns defense is allowing 236 yards passing per game, so this looks like a perfect match—for Ryan owners at least. Atlanta has had some close games and this could be another one, but regardless of the outcome, Ryan should live up to his top 10 QB ranking while Cleveland lives up to its 24th-ranked pass defense.

Ryan Fitzpatrick vs. JAX
Jacksonville is one of only two teams in the NFL giving up over 300 yards per game while allowing a QB rating of over 100. They lead the league in passing TDs allowed (9), big plays allowed (26), and average yards per completion allowed (9.2). Plus, their defense as a whole allows 28 points per game, so expect lots of yards and lots of scoring this week. Since Fitzpatrick took over as the Bills starting quarterback in Week 3, he's thrown for 375 yards, 4 TDs, and 2 INTs and has a passer rating of 88.1. He lit up the Patriots in Week 3 before coming back to earth last week against the Jets. But with the lack of defense exhibited by the Jaguars, I expect a big game for Fitzpatrick.


Bench 'Em:
Quarterbacks Who Will Under Perform Relative To Their Draft Position And Recent Hype

Kyle Orton @ BAL
Okay, this is my last time not giving Orton credit for his performance so far this year. If he does well this week, I'm sold. The reason I'm not sold on him yet is because he and Denver started out hot last season before collapsing. This year the Broncos have the league's top passing offense, and Orton leads the league in passing yards with 1,419. But he has only 6 TDs and has been sacked second-most in the NFL (he'd be leading in that category if Jay Cutler hadn't flopped around like a rag doll last week against the Giants, getting sacked 9 times). Orton leads the league with 44 pass attempts per game, but to me that just gives the Ravens and their league-leading pass defense more chances at sacks and turnovers. Last year against the Ravens, Orton threw for 152 yards with no TDs, and he was sacked twice. This year the Ravens have allowed just one touchdown through the air. They have also given up the fewest yards (averaging 119 per game) and have allowed the fewest big plays—in fact, nobody has gone deeper than 34 yards against them yet this season. So I think this is the week to let the Denver running game pick up the slack, especially since the Ravens haven't been able to stop the run as well as usual.

Alex Smith vs. PHI
The Eagles defense is second-best in the league against opposing quarterbacks, allowing them a low 63.9 QB rating. This is not good news for a struggling quarterback whose own passer rating is the fourth-worst at a mere 66.1. In addition, Philly is allowing just 168 passing yards per game, good for fifth in the league. Now, Smith is averaging a respectable 230 yards per game, but he has just 3 TDs against 7 INTs, and the Eagles have the third-most INTs at this point. They rank fifth in sacks as well. This looks to be an ugly sack- and turnover-fest, so keep the struggling Smith on the bench.

Bruce Gradkowski vs. SD
Gradkowski may have taken over the starting role in Oakland from Jason Campbell, but he should not be starting on your fantasy team, especially not this week. The Chargers are allowing quarterbacks to complete only 57% of their passes—that's ninth-best in the league. But even more impressive is their league-leading QB rating of just 58.1. Nobody else is under 60! They also have the fourth-most sacks and give up very few big plays in holding teams to just 155 passing yards per game. They are second in the league in INTs with 7 and have given up just 3 TDs. Although Gradkowski is averaging 231 yards per game, he is completing fewer than 55% of his passes and has just 4 TDs in four weeks, which matches his number of INTs. Gradkowski needs to stay benched this week.

Jimmy Clausen vs. CHI
The Bears pass defense is actually one of the worst in the league this season. They have given up 255 yards per game and are one of only five teams to have allowed over 1,000 yards passing this year. They have the second-fewest sacks with 4 and have only 4 INTs— but they have only allowed 2 TDs and face a rookie quarterback on a struggling team whose best wideout is hurting. Clausen is completing fewer than 50% of his passes (the only starting quarterback in the league doing that) and has a QB rating of just 59.6, also the lowest of any starting quarterback. He has 1 TD and 2 INTs, but most importantly he's averaging a league-worst 98 passing yards per game. Forget about how below-average the Bears pass defense is—they are still way better than the Carolina passing game.

Running Backs