With the proliferation of NFL teams utilizing time-shares and running backs-by-committee, there are now fewer teams than ever before employing a single workhorse running back.
In fact, there are now only 13 teams likely to employ a single player for a healthy majority of their team's plays on first and second down. Of those 13, only Baltimore's Ray Rice is unlikely to take the goal line responsibilities.
With committees being the norm, finding a productive workhorse running back is a key factor in achieving success in your fantasy football league, especially in non-PPR leagues and in leagues that don't utilize a flex position player.
Let's analyze the backfields and rank the workhorses and the committees.
The Workhorses I Like
1. Chris Johnson, Tennessee – Javon Ringer and undrafted rookie free agents Stafon Johnson and LaGarrette Blount are no threat to fantasy football's top 2009 performer.
2. Adrian Peterson, Minnesota – Rookie second round pick Toby Gerhart has some ability, but he is a similar player to Peterson, which makes him no threat to earn significant playing time.
3. Maurice Jones-Drew, Jacksonville – The Jaguars like second-year player Rashad Jennings, but MJD proved in 2009 that he is well suited to carry a big load despite his 5'7" height.
4. Ray Rice, Baltimore – While the Ravens have three quality running backs in Rice, Willis McGahee, and Le'Ron McClain, Rice is clearly the top dog. If only he were to get more of the goal-line work.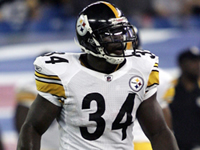 The Steelers will run plenty in 2010.
5. Rashard Mendenhall, Pittsburgh – With Ben Roethlisberger facing a four to six game suspension and Santonio Holmes now in New York, the Steelers will run plenty in 2010—and there isn't much talent on the roster behind Mendenhall. Mewelde Moore is a decent receiver, but Frank Summers and 2010 sixth-round pick Jonathan Dwyer are no threat to Mendenhall.
6. Ryan Mathews, San Diego – You can debate Mathews' presence on this list, but the fact is the Chargers don't view Darren Sproles as a lead back, which is the reason they traded up to get Mathews.
7. Steven Jackson, St. Louis – The good news is that the Rams have the worst collection of backup running backs in the league. The bad news is that the Rams offense is putrid.
8. Frank Gore, San Francisco – Glen Coffee looked like a future stud in the preseason, but he completely disappeared once the season started. Gore is the lead back in a San Francisco offense loaded with young studs, which means he could have a monster year in 2010.
9. Michael Turner, Atlanta – While Jason Snelling and Jerious Norwood each bring different attributes to the Falcons rushing attack, Turner is a true workhorse back capable of close to 400 touches a year.
10. Ryan Grant, Green Bay – While Grant has proven to be a solid performer for the Packers, it is somewhat surprising that the team has never brought in much competition for him. He is a solid player but is no threat to be considered among the upper echelon of the league's top running backs.
11. Cedric Benson, Cincinnati – Benson had a huge year in 2009, but his past deficiencies are certainly cause for concern. His situation helps matters, however, since Bernard Scott is unlikely to take carries away from Benson and is not an accomplished receiver.
The Workhorses I'm Afraid Of
12. Cadillac Williams, Tampa Bay – While Williams was clearly the lead dog in Tampa last year, he managed a pedestrian 1,035 total yards to go along with seven touchdowns. Although improved play at quarterback from Josh Freeman is likely, the team's group of receivers is raw, so there are no guarantees the offense will be much better in 2010.
13. Clinton Portis, Washington – The Redskins situation is unique in that none of the three players fighting for the starting job have the ability to assume a third-down, pass-catching role. Portis will likely beat out Larry Johnson and Willie Parker to earn the starting job, but LJ and Parker are hardly excellent third-down options.
The Committees I Like
While it's easy to rank the workhorses because there is only a single player to look at, the task is a little more difficult for the committees. Backfields that feature stronger rushing attacks with clearly defined roles are ranked ahead of those that are weak and have uncertainty regarding roles.
1. DeAngelo Williams / Jonathan Stewart, Carolina – The Panthers have proven over the last two years that it is possible to have two quality fantasy running backs in one backfield.
2. Shonn Greene / LaDainian Tomlinson, New York Jets – Greene's play as a rookie down the stretch of the 2009 season was good enough to allow the team's management to release Thomas Jones . LT comes on board to provide a steady presence, and both players benefit from outstanding blocking up front.
3. Ronnie Brown / Ricky Williams, Miami – There are plenty enough carries to go around in Miami that Brown and Williams should both be useful fantasy options this year. With Brandon Marshall on board, the team's running backs should get more goal-line opportunities in 2010.
4. Jamaal Charles / Thomas Jones, Kansas City – Heading into the offseason, Charles looked like a potential top 10 running back in 2010. However, the Chiefs signed Jones, and all indications are that he will get plenty of carries as a change-of-pace and goal-line option.
5. Beanie Wells / Tim Hightower, Arizona – This might be the ultimate backfield in PPR leagues. Wells gets the rushing yards and likely the goal-line work, whereas Hightower is an excellent pass catcher who should get 50 receptions in a backup role.
6. Joseph Addai / Donald Brown, Indianapolis – While the Colts offense is consistently among the league's best, the same can't be said for their rushing attack. Brown was a disappointment as a rookie and Addai is hurt too much, as well as underutilized.
7. Marion Barber / Felix Jones / Tashard Choice, Dallas – The Cowboys featured a strong rushing attack in 2009, but there are concerns the loss of Flozell Adams will impact that negatively. It also doesn't help that neither Barber nor Jones can stay healthy.
8. Brandon Jacobs / Ahmad Bradshaw / Andre Brown, New York Giants – Ditto for the Giants—minus the Flozell Adams factor, of course.
9. Pierre Thomas / Reggie Bush, New Orleans – Thomas is more of a rushing threat while Bush is more of a receiving threat. Lynell Hamilton could steal some goal-line carries, but if Thomas assumes that role, he is a breakout candidate for 2010.
10. Knowshon Moreno / Correll Buckhalter, Denver – Moreno showed glimpses of his talent last year but not enough to satisfy Broncos fans or his fantasy football owners. With uncertainty at quarterback and a collection of aging and young, unproven wide receivers, the Broncos offense could struggle in 2010.
11. LeSean McCoy / Mike Bell, Philadelphia – McCoy played reasonably well as a rookie, but he may not have the speed or ability to make tacklers miss to become a top-tier running back. Look for Bell to get the goal-line and short-yardage work.
12. Matt Forte / Chester Taylor, Chicago – Taylor's signing by the Bears was certainly curious given that he is a carbon copy of Forte, only older. Both players are slightly above-average runners who are also solid receivers. Forte will likely win the starting job, and his value increases if he gets the goal line work.
13. Jahvid Best / Kevin Smith, Detroit – Smith failed to provide enough big plays over his first two years in Detroit, and, with his coming off a torn ACL, the team traded up to get the electrifying Best at the end of the first round of the draft. The Lions have gained some young talent on offense, solidified the second receiver position with the signing of Nate Burleson, and—dare I say it—may be decent offensively in 2010.
The Committees to Stay Away From
14. Ben Tate / Steve Slaton / Arian Foster, Houston – The Texans backfield was looking like a fantasy mess before Tate missed organized team activities with hamstring issues. Here's the situation: a rookie quickly finding his way to the dog house, a player who excelled as a rookie but had the dreaded sophomore jinx and is coming off a neck injury, and an unheralded player who played reasonably well as a rookie. Might be a good idea to move on from this mess.
15. Darren McFadden / Michael Bush, Oakland – McFadden was supposed to be the big stud, but he has been mostly a bust for two years while Bush has consistently performed better—though he is used in a maddeningly inconsistent manner. Sounds like Raiderland to me.
16. C.J. Spiller / Fred Jackson / Marshawn Lynch, Buffalo – I expect Lynch will open the season elsewhere, but even if that transpires, the Bills offense is unlikely to perform well in 2010 given its numerous holes. With Spiller and Jackson likely to split the job, neither player's fantasy prospects are good for 2010.
17. Montario Hardesty / Jerome Harrison, Cleveland – First off, I was never sold on Harrison entering the season as the undisputed starter. It says here that the job is Hardesty's either on opening day or early in the season if he remains healthy, with Harrison assuming the pass-catching role. But we're talking about the Browns offense with Jake Delhomme at quarterback, so whoever wins the job won't be useful anyways.
18. Justin Forsett / Leon Washington / Julius Jones, Seattle – One is too small, one is coming off a devastating leg injury, and the other has been a non-factor for two consecutive years. And they all play in an offense that may feature by midseason (if not earlier) a quarterback in his first year as a starter. Oh, did I mention the offensive line has some major question marks?
19. Laurence Maroney / Sammy Morris / Fred Taylor, New England – If you can gaze into your crystal ball each week and figure out who is going to get the running back work, then you are better at this than I am. Of course, you're probably using that ability to win the lottery rather than for fantasy football purposes.