Nobody needs to be told starting Tom Brady, Ezekiel Elliott, or Antonio Brown is a good idea. Duh, right? You can't have studs at every position, though, unless you're in the shallowest of leagues. This is where the Shot Caller comes in. Need help deciding which bargain basement QB to use and which to ignore on Brady's bye week? Let's talk. Looking for solutions at running back because Zeke is a game-time decision? Look no further. Need to know which of your unproven targets to start and which to sit since you ignored Brown and went RB-QB-Gronk in your first three rounds? You get the idea. Past results may not guarantee future success, but ignoring them entirely can ruin your Sundays in a hurry (maybe even your Mondays and Thursdays). Read on for a little history and, hopefully, a little sage advice.

Note: Fantasy points based on FF Today's standard scoring system.
Bye Weeks: Chicago, Cleveland, LA Chargers, Minnesota, New England, Pittsburgh

With the current group of team on bye, the non-obvious quarterback plays are a bit riskier. DO NOT SIT DESHAUN WATSON FOR ANYONE. Ok, great! Now that we're clear on that, let's look at some more available QBs to start in Week 9.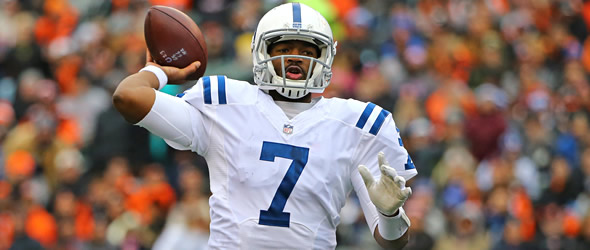 Jacoby Brissett is a bit risky but the Texans have allowed the 2nd most fantasy points to quarterbacks.




Grab a Helmet



Dak Prescott vs. Kansas City: Dak is undoubtedly the highest-owned player I'll mention, but he has a misleadingly positive matchup against the Chiefs. He currently ranks sixth in standard scoring points per game and plays against the defense allowing the seventh most points per game to opposing QBs. No QB has failed to exceed 10 fantasy points against the Chiefs and three have surpassed 30 points. Look for Dak to be among the top three scoring quarterbacks on the week.

Jameis Winston @ New Orleans: Oh Mr. Winston. How I wish you were more accurate, but for the purposes of fantasy scoring, you'll do just fine. Winston currently stands as the 14th best scoring QB on a points per game basis, averaging 19.6 per game and ranking just ahead of Matt Ryan. And despite their new interest in playing effective team defense, the Saints still rank as a below average defense for opposing fantasy QBs. Allowing 20.9 points per game, the Saints become a positive enough matchup to push Winston to a low-end QB1 play for the week.

Jacoby Brissett @ Houston: So here's where it gets a little bit risky. The Texans defense allows the second most fantasy points to opposing QBs. End of analysis. Ok, I'll add a little more to give you some additional confidence. Brissett is averaging just over four rush attempts per game and fifth most yards per QB rush attempt. Four of the seven starting QBs to face the Texans have exceeded 20 fantasy points including Tom Brady, Marcus Mariota, Alex Smith and Russell Wilson. Brissett is still a risky play, but his positive matchup places him around QB15 for the week with a higher ceiling than many of the other QB2s.

Grab a Clipboard

Andy Dalton @ Jacksonville: Dalton has seemingly bounced back from his rough start, scoring more than 20 fantasy points in three out his last starts. Unfortunately, he's matched up against the 32nd-ranked defense in QB fantasy points allowed per game. Jacksonville leads the league in sacks and is tied for third in interceptions. With questions still remaining about the pass protection in Cincinnati, Jacksonville's pass rush and propensity to create turnovers makes this a matchup to completely avoid. Dalton is a low-end QB2 on the week and should be a complete stay-away in non-Superflex leagues.

Marcus Mariota vs. Baltimore: Mariota ranks 20th in points per game among QBs which makes him a questionable play from the start, but in this particular game, he's a must bench. The Ravens allow the third fewest fantasy points to opposing quarterbacks. No QB has exceeded 15 points against the Ravens this season on American soil (Only Blake Bortles scored more than 15, amassing just over 30 in London). The Ravens are tied for the lead in turnovers caused and lead the league in interceptions. Unless Mariota can score significant points with his legs, he's a dangerous play for the week.

Josh McCown vs. Buffalo (Thu): This one might seem a little obvious based on name value alone, but McCown ranks 13th in points per game and has scored over 20 points in each of his last three starts. But the Bills held McCown to his second lowest scoring performance of the year with 15.4 points in a game that was largely bailed out by McCown's only TD run of the season. The Bills forced two interceptions in their Week 1 game and now rank second in the league in interceptions. Despite currently being a high end QB2, McCown is on my bench for the week.


Quarterbacks | Running Backs | Wide Receivers