2008 Rookie Impact
Running Backs
7/23/08



Note: This series contains excerpts and sample profiles from my 2008 Rookie Scouting Portfolio, an FFToday.com publication available for purchase here. The RSP provides play-by-play examples that back up my observations of each prospect's performance. For my takes on previous rookie impact quarterback classes check here for impact articles from 2006 and 2007.
Running back is easily the position with the greatest opportunity for a rookie to make an immediate impact on a fantasy owner's roster. The list of the best all-time rookie fantasy performances for tailbacks clearly illustrates this fact:


Rookie RBs At Their Best
Last
First
Fpts
Rookie Year
Round
#
Ranking
Dickerson
Eric
341.2
1983
1
5
1st
James
Edgerrin
315.9
1999
1
2
1st
Portis
Clinton
289.2
2002
2
19
4th
Sims
Billy
288.4
1980
1
5
1st
Taylor
Fred
266.4
1998
1
4
4th
Martin
Curtis
264.8
1995
3
4
2nd
Warner
Curt
261.4
1983
1
5
4th
Sanders
Barry
259.2
1989
1
5
4th
Rogers
George
258.0
1981
1
6
4th
Anderson
Mike
256.9
2000
6
3
4th
Faulk
Marshall
252.4
1994
1
2
4th
Anderson
Ottis
251.3
1979
1
5
4th
Walker
Herschel
241.4
1986
N/A
N/A
4th
Peterson
Adrian
238.9
2007
1
7
3rd
Cribbs
Joe
232.0
1980
2
1
3rd
Campbell
Earl
227.8
1978
1
3
2nd
Jones-Drew
Maurice
227.7
2006
2
28
8th
Tomlinson
LaDainian
220.3
2001
1
3
7th
Edwards
Robert
216.6
1998
1
4
8th
Woods
Ickey
216.5
1988
2
4
6th
Woods
Don
211.1
1974
6
8
3rd
Average
254.9
4th

For nine of the past thirteen seasons, a rookie runner ended the season no lower than eighth overall for fantasy RBs. Since rookie runners are rarely taken in the first two rounds of re-draft leagues, it remains a potential bargain for the discerning owner. Here are five, top-twenty backs who were far from top-twenty picks in the fantasy drafts of their rookie years.

None of these runners had an ADP of 5 or higher with the exceptions of Bush and possibly Peterson. Add Selvin Young in 2007 and Laurence Maroney, Jerious Norwood, and Wali Lundy in 2006 as rookies that made a significant fantasy impact and you have 9 rookies who were within the top 48 fantasy runners during the past two seasons.

As I have mentioned for the past three seasons, the key is how many carries or targets the rookie will see. Will the rookie be the feature back from day one, or will he at least be the sure-fire backup to the starter? Neither Dominic Davis nor Corey Dillon were on this list, but their rookie stretch runs as injury substitutes for Edgerrin James and Kijana Carter, helped many owners win championships.

Three years ago I provided a historical analysis based on 54 years of rookie production tiered by rushing attempts. The result was the same as with any NFL RB: A rookie that earns 300 or more carries in a season is going to put up fantasy quality numbers equivalent to a #1 RB in an owner's starting lineup. Most of the rookies accomplishing this feat were highly touted starters from opening day.

Rookies earning 250-299 carries are generally starters from opening day or prospects who gradually earn more time as the season progresses. Although the fantasy totals aren't as impressive as the 300+ carry workhorses, the production is still worthy of a starting roster spot to an owner. In some cases, these backs assume the workhorse role at mid-season and carry fantasy owners down the stretch. Peterson, MJD, Addai, and Bush were more in line with seeing increasing opportunities from mid-season, on. Both Bush and Drew also had receiving yardage within the top 30 all-time rookie performances in this area.
Top 30 Receiving Performances (Yardage) For Rookies
Last
First
Year
FPts
Rec Yds
Rec TDs
Kirby
Terry
1993
162.4
874
3
Walker
Herschel
1986
241.4
837
2
Bush
Reggie
2006
178.7
742
2
Sims
Billy
1980
288.4
621
3
Davis
Glenn
1950
142.8
592
4
James
Edgerrin
1999
315.9
586
4
Haynes
Abner
1960
217.1
576
3
Cooper
Earl
1980
182.7
567
4
Alstott
Mike
1996
129.4
557
3
Podoley
Jim
1957
135.6
554
4
Walker
Doak
1950
158.0
534
6
Meggett
David
1989
88.8
531
4
Faulk
Marshall
1994
252.4
522
1
Wilder
James
1981
117.7
507
1
Sayers
Gale
1965
257.4
507
6
Blanks
Sid
1964
167.3
497
1
Ellis
Gerry
1980
152.1
496
3
Thomas
Mike
1975
182.2
483
3
Carlton
Wray
1960
167.0
477
4
Jones
James
1983
136.2
467
1
McMillan
Randy
1981
130.3
466
1
Dunn
Warrick
1997
186.0
462
3
Jones
Dub
1950
150.2
458
5
Stradford
Troy
1987
149.6
457
1
Bryant
Kelvin
1986
112.7
449
3
Jones-Drew
Maurice
2006
227.7
436
2
Craig
Roger
1983
187.2
427
4
Kiick
Jim
1968
128.3
422
0
Anderson
Gary
1985
121.1
422
2
Four of these top performances have come in the past decade. Still, only seven of the runners on this list compiled fantasy totals over 200 points. If two of the seven on the list made it happen just last year, you know that it's not likely you should count on an RB to be highly involved in both dimensions of offensive production during his rookie season.

Of course you can't really factor this 200-point barrier into some of the players on this list because they performed in an era prior to 1978. But 20 of the 30 backs on this list performed in the 16-game era and 13 of them did not earn at least 200 fantasy points.

Jones-Drew and Bush are very similar backs in terms of their talents. Both are excellent return specialists because they are uncommonly gifted open-field runners with more than enough skill to be good between the tackles, tailbacks. I would say they fall into the Gale Sayers School of backs. Herschel Walker, although not even close to Sayers in terms of his style as a runner, also fits due to his multi-dimensional talents as runner, receiver, and return specialist.

Marshall Faulk could have been a star pupil in this aforementioned school of backs, but he wasn't given return duties. Faulk, James, and Sims carried the load from Day One. There are some decent receivers in the 2008 class or rookie runners and they are already getting projected as slot receivers in their respective offenses. Even so, don't expect more than 250-350 yards from them.

Talent and opportunity are the keys for a rookie runner to have an immediate impact. The 2008 class appears to have as deep a pool of talent as the group from 2006, but I'm skeptical it will turn out this good. This year's class was the most difficult group of backs I have evaluated because several of these backs have blue chip athleticism, but have significant holes in their game. In addition there are some small-school prospects I like to eventually make an impact a few seasons from now.

In the months leading up to the draft, many touted Darren McFadden as the next Adrian Peterson. Some even thing he'll be better. The arguments I hear are based on McFadden's favorable stats and performance in the SEC. What rarely comes up is the success of a two-back system in a gimmick offense.

Since late last fall, I have believed McFadden is nothing like Peterson as a runner. In fact he has enough deficiencies in his game that he will disappoint owners expecting him to be a top tier back. This is not something I say flippantly; McFadden might have been the most difficult player I've had to evaluate. His speed, acceleration, and ability to play hurt makes him a prospect who just might prove the theory that speed covers up a variety of ills in a football player. Unfortunately, as much I as I hope McFadden, who demonstrates a good work ethic, succeeds, I'm too skeptical to rate him anywhere near the top of the rookie class. I will explain later.

Here are my RB rankings from the RSP. The listed score is the best of any evaluation I did on each player. The comparisons are my way of summing up a prospect because I believe all players are stylistically influenced by a number of different players who came before them. The order in which I list them is how I rank them (best to worst) on a spectrum of stylistic similarities. The "x" is where I believe the prospect will eventually fall along this spectrum if he fulfills his potential as a pro. The dashes indicate an approximate skill gap between the players in terms of where they fall and a slash indicates these players will likely be the same in skill set.

Pre-Draft Ranking - Based On Talent
Rank
Name
Score
Height
Weight
Best Skills
Player Comparison
1
Jonathan Stewart
99
5-10
235
Balance; Vision; Elusiveness; Plays Hurt
L. Tomlinson--

X

/Ricky Williams--Dorsey Levens--LaMont Jordan
2
Ray Rice
95
5-8
199
Vision; Stamina; Burst; Leverage
Emmitt Smith--Tony Dorsett--

X

-------Karim Abdul Jabar
3
Rashard Mendenhall
93
5-10
225
Balance; Power; Burst
Terrell Davis---Ottis Anderson--

X

---Mike Anderson
4
Kevin Smith
96
6-1
217
Change of direction; Vision; Speed
Marcus Allen--

X

---Curt Warner---Cadillac Williams
5
Matt Forte
88
6-1
217
Vision; Change Direction; Acceleration
Ricky Watters--

X

-Chris Warren---DeShaun Foster
6
Xavier Omon
92
5-10
228
Vision; Balance; Elusiveness
William Andrews-Jamal Anderson---

X

/Earnest Byner---Lamar Smith/Gary Brown-Leroy Hoard
7
Felix Jones
89
5-10
207
Speed; Cuts; Receiving
Tiki Barber---Thomas Jones-

X

---Michael Bennett
8
Jamaal Charles
85
5-11
200
Speed; Elusiveness
Marshall Faulk--

X

-Domanick Davis--Byron Hanspard
9
Tashard Choice
88
5-10
215
Vision; Balance
Curtis Martin--Garrison Hearst--Terry Allen-

X

-Chester Taylor
10
Cory Boyd
88
6-1
217
Power; Balance
Corey Dillon-Robert Edwards---

X

/James Stewart--Raymont Harris
11
Darren McFadden
79
6-1
211
Speed; Acceleration
Ahman Green--Robert Smith--

X

/Tatum Bell-
12
Chris Johnson
82
5-11
197
Speed; Acceleration
Charlie Garner--Reggie Bush---

X

---Leeland McElroy
13
Jalen Parmele
86
6-0
221
Power; Vision;
Stephen Davis--Rudi Johnson----

X

-Antowain Smith--Correll Buckhalter
14
Dontrell Savage
89
5-8
187
Vision; Receiving; Balance
Thurman Thomas--Warrick Dunn--

X

--Napoleon Kaufman
15
Kregg Lumpkin
87
5-11
226
Power; Vision; Balance
Jamal Lewis--Deuce McAllister---

X

---Marcel Shipp
16
Thomas Brown
80
5-8
204
Burst; Balance; Elusiveness
Priest Holmes-Brian Westbrook--

X

-Dominic Rhodes
17
Jehuu Caulcrick
87
6-0
254
Power; Balance; Footwork
Jerome Bettis---Brandon Jacobs--Najeh Davneport-

X

-T.J. Duckett
18
Ryan Torain
86
6-0
222
Power; Balance; Lateral Cuts
Corey Dillon-Robert Edwards---Cory Boyd/James Stewart--

X

/Raymont Harris
19
Rafael Little
86
5-8
195
Receiving; Elusiveness; Balance
Kevin Faulk--

X

-Amp Lee---Terrell Fletcher
20
Steve Slaton
84
5-9
197
Speed; Elusiveness
Charlie Garner--Reggie Bush---Chris Johnson-

X

-Leeland McElroy
Understand that this ranking is a pre-draft ranking based on talent. My fantasy ranking for them in 2008 is what I will list momentarily. Here's quick recap of my impact rankings from 2007. The notes in bold are my updated thoughts on what happened.
Recap - 2007 Impact Rookie RB Rankings
Rank
Name
Score
Height
1
Marshawn Lynch
93
Lynch gets the nod over Peterson because he is the better all around player at the position, runs with more discipline, and plays well even when he's hurt. He's a load carrier and a game breaker in the sense of what Jacksonville hoped from Fred Taylor long ago.

Update: Lynch was a borderline starter last year and never dropped below 8 fantasy points in any start. Peterson outshined him, but Lynch proved he was a starting-caliber talent.

2
Adrian Peterson
92
Raw talent alone, Peterson is one of the top two players in this entire draft. If he can be more disciplined as a runner—choices and ball protection—he has the type of rare power-speed-balance combos shared among the all-time great backs of the Brown-Dickerson-Campbell lineage.

Update: AD's highs were much higher than I could have imagined. He definitely proved he is a rare player on the rise.

3
Brian Leonard
91
Yes, the Rutgers fullback ceded time to Ray Rice, but it's because he knew he could make the team better with two great options on the field rather than one. He's highly versatile as a runner, blocker, and receiver. He has excellent power and 4.5-speed. He also leaps tall defenders in a single bound—seriously. Leonard was one of the best players I graded LAST YEAR. He's still one of the best in 2007.

Update: He struggled behind a banged up line, but was workman like as a substitute for an injured Steven Jackson. In other words, he wasn't a world-beater at RB. He'll be a full-time FB this year.

4
Ahmad Bradshaw
88
Bradshaw has the best vision of any back in this draft and runs with a sound combination of power and elusiveness. A sleeper.

Update: He awoke the fantasy world late in '07

5
Kenny Irons
88
Not extremely powerful, but hits the hole like bullet train. Very strong finisher that should develop into a decent option.

Update: Missed the year with an injury.

6
Lorenzo Booker
88
Dynamic 3rd down back that could be a lot more if he either adds weight without losing speed, or proves he can gain yardage after contact at the line of scrimmage. Underutilized in college and could surprise as a pro.

Update: He is impressing his new team in Philly and could see significant time as Westbrook's understudy.

7
Selvin Young
88
Runs with the vision and movement of a back like Emmitt Smith, but holds onto the ball like Tiki Barber—early in Barber's career.

Update: The undrafted rookie is now the incumbent starter in Denver. Anyone draft him even in a dynasty league last year? (I did…)

8
Darius Walker
85
A solid player that can do everything, but lacks an elite characteristic to his game that makes him a game breaking weapon.

Update: Walker is still hanging around in Houston, but he'll have to fight of Steve Slaton this year unless Green and/or Brown get injured putting on their equipment…
Overall, not a bad top eight, including three players picked late on the second day in 2007 or not at all. Here are my 2008 Impact Rookie RBs:
Instant Impact
Kevin Smith, Lions: I think Kevin Smith not only has the most upside of any runner this year and has enough untapped potential to become an pro bowl runner if he continues to develop. Smith has his detractors, but his issues are minor compared to some of those backs touted higher.
There are several things I like about Kevin Smith. First is his vision. Some evaluators I highly respect believe Smith dances too much, but far more often than not I saw Smith make quick decisions at the line of scrimmage and hit the hole hard. When he danced, he was generally trying to avoid penetration deep into the backfield. Remember, Smith was the Central Florida offense after Brandon Marshall and Mike Walker left in consecutive seasons.
Smith has the rare ability to change direction due with the quick turn of his hips. This trait is commonly associated with good cornerback prospects when they are required to change direction from a back pedal to a full-out sprint with a receiver. The reason Smith enrolled at UCF was the fact more prominent programs recruited him as a corner rather than a runner. Sounds a lot like former UGA CB-turned RB, Robert Edwards.
George O'Leary promised Smith he would use him as a running back and Smith didn't disappoint. It's the ability Smith has to turn his hips with a quick snap that allows him to change direction on the run or by planting his feet. This is a talent that Marcus Allen had as a back. Another thing these two college greats share is deceiving speed. Both possessed gliding speed the casual observer mistakes them for being slower than average. This is far from the case. Smith won't outrun half the corners in the NFL on a breakaway run, but he'll still be fully capable of having more big-play runs than the average pro.
Where Smith gets a bad wrap is his supposed lack of power. More observant people bring up the runner's tendency for his legs to go dead when a defender wraps him up. First, let's all thank Mike Mayock of NFL.com for giving the average fan a new term to use on message boards across the country. I should note Mayock used this term in his on-air, pre-draft analysis of Darren McFadden, but it also accurately applies to Smith.
The difference between Smith and McFadden as power runners is that Smith has the fundamental body lean most runners possess when encountering contact at the line of scrimmage. Smith may not churn his legs effectively on a consistent basis, but he does lean forward and gain extra yardage as a result. This is something I'll discuss as a key reason why McFadden is a back I have issue with as an instant impact prospect.
Since Smith demonstrates good fundamental skills as an inside runner and has natural strength in the core areas of his body, he will become a more effective tackle breaker as the years pass and he gains more upper body strength—something early reports out of camp say he's already working on. One of the crazier criticisms I heard about Smith was he wasn't big enough a 6-1, 217. I guess they saw him as a small school runner and assumed he was a small runner. Maybe it was the fact he has the face of a 16-year old. All I know is it's an ignorant viewpoint.
He also carried the ball a ton at UCF against defenses loaded up to stop him. Against a strong Mississippi State defense last fall, Smith was nicked up a few times at different points of the game, but still managed to come back to carry the load and be productive. Several fantasy owners rightly question whether Smith's workload will cause him to break down prematurely in the pros. Sure, 450 carries in a season is the NCAA record, but Barry Sanders, Marcus Allen, and Herschel Walker didn't break down in their careers and they had high carry rates in their collegiate careers.
The area Smith needs the most work is as a receiver out of the backfield. He's inconsistent in this area, but he arrives to an offensive system in Detroit similar to the one he ran in college except the Lions have a strong receiving corps and veteran quarterback. Tatum Bell may not even beat out Wisconsin alum, Brian Calhoun, who may not have the physical skills of Bell, but has excellent vision and receiving skills. I fully expect Smith to be the starter and have a season on par with Cadillac Williams' rookie year of 1178 yards, 4 scores and 81 yards receiving. If Williams could have these numbers with an offensive line that was also regarded as a lackluster unit, but with a worse QB and receiving corps, I think Smith's chances are good.
Certain Future; Uncertain Present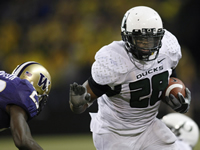 Stewart has the skills but will share the ball with Williams in CAR.
Jonathan Stewart, Panthers: The Oregon runner earned the highest score I've ever given a player on my Rookie Scouting Portfolio evaluation system and his grades were consistently franchise player level. He's not the force of nature that we see from Adrian Peterson, but if Dr. Frankenstein combined the vision, toughness, and lateral quickness of Emmitt Smith with the size, speed, and receiving skills of LaMont Jordan you would have a player like Stewart.
You would also have players like LaDainian Tomlinson and Ricky Williams at his best. Although he didn't have the kind of career Tomlinson and Williams had in college, Jonathan Stewart is this kind of player. What impresses me most about him in addition to the physical skills that earned him freakish scores in Nike's SPARQ training while a prep athlete is his ability to play with injury. The knock on Stewart is his durability, but he gutted out a toe injury at the end of the 2007 season and produced against one of the best defenses in college football in the process while star QB Dennis Dixon was gone for the year.
What complicates matters for Stewart is landing on the same team as DeAngelo Williams. The third year vet out of Memphis was a solid #2 fantasy RB for the last five weeks of the 2007 season. Williams catches the ball well, has better than advertised strength and could be a slid starter in his own right. I won't be surprised if Carolina utilizes this talented duo in an committee situation along the lines of Fred Taylor and Maurice Jones Drew who were 13th and 18th last year in fantasy points per game.
The fact he opted for toe surgery after the combine should encourage fantasy owners that we haven't seen him at his physical best, but leave them to pause about his opportunity to gain the confidence of the Carolina coaching staff due to missed practice time. Fortunately running back is the one position where it is generally easiest to pick up the offensive system. Edgerrin James had a rookie season to end all rookie seasons and if you recall, he learned the offense away from the Colts complex and the team praised him for his preparation when he did get into training camp. I believe Jonathan Stewart is the best back in this draft class, but I'm not sure he'll have an opportunity to prove it to fantasy owners on a weekly basis in 2008. His upside and the return of Jake Delhomme make Stewart a reasonable mid-round selection in re-drafts, but he's not a lock to be the force in which he's capable.
Rashard Mendenhall, Steelers: I was slow to warm up to Mendenhall because of the spread offense at Illinois and the fact he had trouble beating out competition for the starting job prior to 2007. It turns out that competition, Saints undrafted rookie Pierre Thomas, was a pretty good player who outplayed Ohio State alum Antonio Pittman for a position on the New Orleans depth chart.
Mendenhall is an economical runner with a good power-speed combo. He won't string a lot of moves together, but he has a talent for being a physical, yards after contact runner. He also catches the ball proficiently, which is a good thing considering his blocking in college was shaky. The problem was his body positioning and gauging the speed in which defenders came off the line of scrimmage. I can see Mendenhall eventually becoming a factor as a first and second down back in the Pittsburgh offense and relegating Parker to third down situations. If he can develop his pass protection skills, he could produce as a starting quality runner down the stretch in 2008.

Big Man In A Little Coat (Good player; bad team)
Matt Forte, Bears: Kevin Jones just signed with Chicago, but I'm not sure he was ever as talented as Forte when fully healthy. Based on early reports out of Chicago, I seriously doubt that Jones is anything more than insurance after cutting Cedric Benson. Jones is a nice option for the Bears to wait upon in case Forte doesn't work out or he works out as a solid complement with more upside than Adrian Peterson or Garrett Wolfe.
Forte, like Smith, is accustomed to being the marked man in an offense that was even more overmatched than UCF's unit. One of the advantages of my Rookie Scouting Portfolio evaluation system is a player's performance is not dependent upon his statistical production. Case and point are my evaluations of Joseph Addai and Trent Edwards in 2006 and 2007, respectively. Neither performer had great statistical efforts against top competition, but they demonstrated the necessarily skills to project as impact players.
I saw quality skills from Forte against LSU that convinced me that Forte has NFL starter talent. Not only did the Tulane runner demonstrate the kind of vision, first step, and instincts he'll need against pro defenses, but he also won the MVP award of the Senior Bowl. This is not to say top tier college talent is on the same level of pro talent, but when you watch a college back playing behind an offensive line that only had two lineman strong enough to bench press the weight that 80% of the LSU squad was capable of lift, you get the sense that Forte had to do more with less just to perform on par with more highly-touted backs.
I also believe Tulane head coach Bob Toledo—UCLA's former head coach—when he said last season that Forte will be a good NFL starter due to his skills as a runner and receiver. So far, offensive coordinator Ron Turner has nothing but great things to say about Forte:
I love Matt Forte. He will definitely be an every-down back. He's got the size; he's got the hands. He's smooth as an athlete, very smooth. After nine practices, I'm not afraid to call anything in the offense with him. He's made a couple of mental mistakes, but not very many. He's handling it very well. How many touches do I see him getting? A lot. I can't answer that as far as a number, but a lot. I'm excited about him.
Before we all get too excited about Forte's impact this year, remember that Cedric Benson and Adrian Peterson averaged 3.4 and 3.3 yards per carry in 2007. To make matters worse, Muhsin Muhammad and Bernard Berrian are no longer with the team. If there is a worse looking offense in the league, you'll have to look hard. This is definitely a situation where the player's skills don't match his surrounding talent. If Forte averages 3.7-4 yards per carry I would consider his rookie year a success and if he's even more productive, expect great things from this runner because he'll have to be a miracle worker.
Just One Chance…
Ray Rice, Ravens: The Ravens made an excellent pick here. Rice is a compact, hard-nosed runner with vision. What I love about Rice is his stamina. He had several 20- and 30-carry games. I even watched him come off a 36-carry game five days prior to posting 39-carries for 181-yards against a South Florida team that had only allowed a 100-yard rusher once in the equivalent of a season and that one other back was none other than Rice the year before.
Early reports out of Ravens camp are that Rice has learned the offense quickly and is getting opportunities as a slot receiver. The Rutgers star is a player in the mold of John Harbaugh's personality as a coach and I believe he'll win over his teammates quickly with his toughness and talent.
Willis McGahee had a fine season last year, but I think he's on a shorter leash than it appears. For starters, McGahee had to be taken out of games in the fourth quarter due to lack of conditioning. He has also rankled the new coaching staff for being one of the players not working out with the team this spring. Ray Rice is the type of player that will either light a fire under McGahee's behind or it won't be long before McGahee is playing for his third team in his career. If you're a dynasty league owner, I'd be all over Ray Rice in a rookie draft.
Spot Time With A Future
Darren McFadden, Raiders: McFadden might be the most difficult player I have evaluated for the RSP. His speed and acceleration are better than all but one back in this class. He also played productively during his career while coming off toe surgery and dealing with bruised ribs. When McFadden can run a play as designed, he can break it open for huge gains because of his elite speed. Although he doesn't make strong lateral moves, he has the ability to bend a run in a direction while running at a high speed. This is a rare ability, but it is still not as effective against a defense as a runner with sharp changes of direction.
The problem is this former QB repeatedly demonstrated noticeable deficiencies that I believe will prevent him from making a consistent impact as an NFL runner: falling backward when making direct contact against first and second level defenders because he runs with poor leverage; the tendency for his legs to go dead upon the initial wrap-up; lacking the ability to change direction with a hard plant and cut; impatience with his blockers; and poor ball protection techniques. Many people have compared McFadden to Eric Dickerson or Adrian
Peterson, but the only thing McFadden currently shares with these two backs is his speed.
McFadden's power is actually something worth calling into question. I am not skeptical of his strength and athleticism. He has plenty of both to be an elite NFL running back. The problem is his knowledge of how to use it. Any type of power you generate when it comes to delivering or deflecting a blow comes from the legs and hips. Not only do these body parts have to be strong, but they also need to be positioned well to transfer energy from your body to your target. They explain this in more detail on shows that study the physics of martial arts—for example, National Geographic did a special where they hooked up UFC fighters like Randy Couture to sensors that measure force and flow of energy throughout the body.
I know it seems a bit like a jump to apply this to a running back, but its not. Think about a runner heading through the line of scrimmage and they are come face to face with a DT, LB, or DB greeting them head-on. If the runner's hips and knees are bent then his shoulders will have to be leaning forward so he can explode into the contact. When he makes contact, the energy transfers from his legs in the ground, up his hips, and to the point of contact with the defender. A great runner has learned through a combination of repetition and intuitive assimilation of practice and game situations (natural talent) how to subtly change the angle of contact in close quarters and deliver enough of a blow to at least "shed" the tackle, if not just knock guy on his butt. This is why a back such as Eddie George who "ran too high" coming out of college actually was a good NFL player. He was taller than the average back, but he knew how to lower his shoulders and bend his knees and hips so more times than not he exploded into contact.
The same can be said with Eric Dickerson. Most people remember his "upright" running style, but if you watch highlights that don't involve him running through creases untouched for 40- 60 yards and looking like Carl Lewis in pads, you'll see a guy who could get low very quick and deliver a blow with his shoulders into contact. Adrian Peterson is capable of the same thing. I never once worried about his upright running style. The guy has monstrously great balance. When I first thought about comparisons to Peterson vs. McFadden I would watch how McFadden would get yanked out of bounds by the arm a hit to the hips, or a horse collar and see right away from the standpoint of balance Peterson is uniquely different--he stayed in bounds on plays like this all the time (which is what is one of quite a few things special about his skills). But this also has to do with hip and leg alignment and good use of his strength.
When I see McFadden in the hole he gets yanked backwards more than many backs (even compared to 6-0, 200-lb Felix Smith) in the hole or knocked down on is butt from head-on hits because his knee bend and hip bend is just not there. How can you tell? Look at his shoulders. A back like George or Dickerson often ran as if their shoulders were a big hand on a clock pointed to the number 2 or at worst between the number 1 and number 2. A back like McFadden is somewhere between the 12 and 1 and never quite at 1. It's why when he gets hit in the hole he'll fall backwards more than the average NFL-quality prospect. A back like Edgerrin James, who is unbelievably good at getting low, often gets closer to the number 3 position with his shoulder lean as he is still running forward. You can't do this unless your hips and knees are bent.
It is not to say that McFadden never lowered his shoulders, but it was generally done in the open field with a significant running start against a defensive back. To his credit, he will break some long runs as a situational back because he showed the ability to run the designed offensive plays at Arkansas to perfection. Arkansas did a terrific job tailoring an offense around McFadden and Felix Jones by forcing defenses to overplay one and get burned by the other. SEC defenses have some of the best athletes in the country, especially on defense. But these fast athletes are used in highly aggressive defenses and they are susceptible to a glorified counter play with play action that will force them out of position when that play fake goes to an elite athlete in Jones.
The problems with McFadden show up when he had a reasonably normal freelance opportunity and he didn't possess the vision or patience to allow these normal alternatives to develop. I've heard McFadden can catch, but after watching six games over a two-year period, I saw a runner who dropped easy passes on a consistent basis. Robert Meachem caught a lot of passes in workouts last year with his hands, but struggled as a rookie in game situations. Once again, this is why game film is invaluable in telling how a player does when the pads come on, the fans are screaming, and the veterans are playing with a speed an intensity they've never seen before.
Like Reggie Bush, McFadden will learn that his speed isn't as much of an advantage in the NFL as it is in college football. Speaking of Bush, I was very high on the USC back and still believe he has the skills to live up to the hype if he can stay healthy and stop pressing so hard to make the big play. In contrast, I think McFadden is more of a project that can develop into a franchise back if he corrects some serious deficiencies and works his butt off to do so. Unfortunately, he hasn't shown the maturity off the field and football has come rather easy to him. Having kids out of wedlock or some college bar fights doesn't make him a hardened criminal, but I believe the odds are against him to take his work ethic to the level of a LaDainian Tomlinson or Peyton Manning. And McFadden needs to work this hard to make the jump or he will most likely disappoint. The one way I could see how his evaluation is off base is if McFadden's injuries severely altered his running style and he was generally cruising off his incredible speed, but I'm skeptical this is the case. My best overall grade of McFadden indicates he clearly has the talent to contribute in the NFL, but needs a lot of work to be the primary offensive weapon.
Felix Jones, Cowboys: Jones' presence in the Arkansas offense did wonders for Darren McFadden's production and I wouldn't at all be surprised if becomes a viable situational back in the NFL, but to rate him a top five back in this draft is a big leap of faith in a player who only carried the football 20 times once in his college career. Nearly two-thirds of Jones' carries were as a receiver on the end around with McFadden as the quarterback. Linebackers and defensive ends won't be as concerned about most NFL quarterbacks as college defenders were with McFadden's blazing speed. The Wild Hog formation at Arkansas was mutually beneficial to both players.
I think Jones has the skills to develop into a productive contributor based on a game where he ran primarily out of the I-formation as the RB, but there are several other backs that proved they could produce without a decoy that runs a 4.33 40-yard dash. Jones will contribute in the NFL as a kick return specialist and change of pace runner, but I'm not as convinced he'll be the lock as a future starter as others. I have no qualms about drafting him because he has some Clinton Portis potential, but even Portis splitting time with Edgerrin James and Najeh Davenport showed much more on film than Jones.
Jones stock could go up rapidly if he shows anything in training camp that signals he'll play the Julius Jones role to Marion Barber. Right now it appears his greatest impact will be on special teams. I do anticipate he'll get the first shot as first back off the bench to give Barber a rest. Consider Jones a late round handcuff.
Jamaal Charles, Chiefs: The rookie out of Texas has breathtaking skills. He's light on his feet, strings moves together effectively in the open field, and gains yardage after contact better than one would imagine from a 5-11, 200-lb., runner. He also possesses amazing vision, spotting holes at the line of scrimmage that many pro starters don't anticipate.
He doesn't lack confidence, either. He told the media when he arrived at Texas that he would make people forget Adrian Peterson. While he didn't come close to achieving that feat, Charles acquitted himself well for the Longhorns. Sometimes I wonder if his cocksure nature didn't impact his choices on the playing field. Charles had the tendency to go for the big play when the read in front of him would have yielded a productive result. He also has lapses with ball protection.
If Charles' approach to pro football is right then he is perfectly capable of backing up Larry Johnson without a great drop-off in production if he see extended time.
Chris Johnson, Titans: Chris Johnson's speed makes Darren McFadden look like a dump truck. The East Carolina product is even lighter on his feet than Jamaal Charles and he hits the hole hard. He is a former receiver and the Pirates had a difficult time initially finding Johnson a position where they could capitalize on his skills other than special teams.
I think Johnson has potential to be an every down back, but it will take a ton of work on his part to develop into a between the tackles runner. His vision is unproven when the hole in front of him isn't huge. He is far from being an after contact runner and his pass protection skills are what one would expect from a former slot receiver.
At this point, expect Johnson as a situational back lined up in the slot in Mike Heimerdinger's offense in Tennessee. The rookie has proven to be a faster study than the Titans initially expected and I do believe he'll provide some big plays this year.
Sleepers
Ryan Torain, Broncos: I was highly impressed with Torain's ability to gain yardage after contact. Broncos head coach Mike Shanahan says Torain reminds him of Terrell Davis and draft analyst Mel Kiper had the Arizona State product as his second-rated back before he suffered a season-ending Lis franc injury. He's a determined runner with the size be effective between the tackles. I'm just not sure he has the speed to get into the second level of the defense on a consistent basis. While he accelerates well out of his cuts, he doesn't possess the initial burst of the higher profile prospects. He's also an upright runner that takes as much punishment as he dishes out. Regardless of his deficiencies, Torain has enough talent to be selected as a late round back up that can surprise if called upon to play.
Xavier Omon, Bills: My favorite sleeper this year is the sixth round pick out of NW Missouri State who was the first RB in the history of the NCAA to have four straight 1500-yard seasons. Omon reminds me a lot of Earnest Byner, the Titans RB coach who starred for the Cleveland Browns in the 1980s and carried the Redskins to a Super Bowl victory in the 1990s. Like Byner, Omon is a big runner with vision, balance, quickness, and receiving skills. What I watched this guy do on an ice-covered field in the semifinal game was a demonstration of exceptional balance and determination. Although he possesses average speed at best for a pro runner, I think he's quick enough to produce if given the opportunity.
Tashard Choice, Cowboys: Count me as a fan of the Georgia Tech star that originally backed up Adrian Peterson at Oklahoma, but knew he would have to transfer to get a shot at playing time. Choice, like Omon, lacks top end speed, but his vision, patience, and power make him a better than average runner. The Cowboys will likely have Barber and Jones ahead of Choice, but look for the rookie to put up a good fight in training camp. If there's an injury to either back ahead of him, Choice will make the most of his opportunity.
Late Round Gambles and Long Shots-Dynasty Only
Cory Boyd, Buccaneers: Boyd runs with excellent power and he really catches the football well. Tampa's backfield is filled with veterans, so Boyd will need to have a great training camp to stick with the roster. Still, it's worth remember that Andre hall was cut from the Bucs and turned up with the Broncos the next year, performing well enough to in the mix in 2008.
Kregg Lumpkin, Packers: Lumpkin could end up a fullback if he doesn't regain his speed after dealing with multiple injuries during his college career. He was never an inordinately fast runner, but his overall skills have always been impressive. He's probably the best blocking RB in this class, runs with exceptional patience, and will gain yardage after contact. He's a smart player that produced whenever he got a chance to start at Georgia and put up some strong games against top competition. The former prep All-American was only second to Reggie Bush in terms of how recruiters regarded him as a runner. If Lumpkin can regain and maintain his healthy, I think he could do what Ryan Grant did in 2007 when given the opportunity.
Thomas Brown, Falcons: Lumpkin's backfield mate at Georgia is a tough, quick back with good balance. Brown also suffered a major injury during his college career, but recovered quicker than Lumpkin. He's not a big runner, but he's more difficult to knock down than one might expect. What Atlanta will like about Brown is his intensity. He's high effort player much like Tashard Choice. I don't think he'll see the field as a runner once the season begins, but I wouldn't be surprised if he keeps working at his craft to the point that he'll push for a roster spot this year.