Running Backs
7/30/07
Note:
This series contains excerpts and sample profiles from my 2007 Rookie Scouting Portfolio, an FFToday.com publication available for purchase. For details, sample material, and testimonials for this compendium of game film study and dynasty league reports, go here.
Running back is easily the position with the greatest opportunity for a rookie to make an immediate impact on a fantasy owner's roster. The list of the best all-time rookie fantasy performances for tailbacks clearly illustrates this fact:

Rookie RBs At Their Best
Last Name
First Name
FF Pts
Rookie Year
Rd
#
Ranking
Dickerson
Eric
341.2
1983
1
5
1st
James
Edgerrin
315.9
1999
1
2
1st
Portis
Clinton
289.2
2002
2
19
4th
Sims
Billy
288.4
1980
1
5
1st
Taylor
Fred
266.4
1998
1
4
4th
Martin
Curtis
264.8
1995
3
4
2nd
Warner
Curt
261.4
1983
1
5
4th
Sanders
Barry
259.2
1989
1
5
4th
Rogers
George
258.0
1981
1
6
4th
Anderson
Mike
256.9
2000
6
3
4th
Faulk
Marshall
252.4
1994
1
2
4th
Anderson
Ottis
251.3
1979
1
5
4th
Walker
Herschel
241.4
1986
N/A
N/A
4th
Cribbs
Joe
232.0
1980
2
1
3rd
Campbell
Earl
227.8
1978
1
3
2nd
Jones-Drew
Maurice
227.7
2006
2
28
8th
Tomlinson
LaDainian
220.3
2001
1
3
7th
Edwards
Robert
216.6
1998
1
4
8th
Woods
Ickey
216.5
1988
2
4
6th
Woods
Don
211.1
1974
6
8
3rd
Bettis
Jerome
209.3
1993
1
3
2nd
Average
254.9
4th

For eight of the past twelve seasons, a rookie runner ended the season no lower than 8th overall for fantasy RBs. Since rookie RBs are rarely taken in the first two rounds of re-draft leagues, that's potentially quite a bargain for the discerning owner. Joseph Addai (10th last year), Reggie Bush (17th in non-ppr), and Maurice Jones Drew (8th) produced a top-20 fantasy backs last year and neither had an ADP of 5 or higher with the exception of the 2006 Heisman Trophy Winner. Add Laurence Maroney (28th), Wali Lundy, and Jerious Norwood to the list (who were productive enough times to consider as bye week starters) and you have six rookies who were within the top 48 fantasy runners last season.
Generally, the key is how many carries or targets the rookie will see. Will the rookie be the feature back from day one, or will he at least be the sure-fire backup to the starter? Neither Dominic Davis nor Corey Dillon were on this list, but their rookie stretch runs as injury substitutes for Edgerrin James and Ki-Jana Carter, helped many owners win championships.
Two years ago I provided a historical analysis based on 54 years of rookie production tiered by rushing attempts. The result was the same as with any NFL RB: A rookie that earns 300 or more carries in a season is going to put up fantasy quality numbers equivalent to a #1 RB in an owner's starting lineup. Most of the rookies accomplishing this feat were highly touted starters from opening day.
Rookies earning 250-299 carries are generally starters from opening day or prospects who gradually earn more time as the season progresses. Although the fantasy totals aren't as impressive as the 300+ carry workhorses, the production is still worthy of a starting roster spot to an owner. In some cases, these backs assume the workhorse role at mid-season and carry fantasy owners down the stretch. MJD, Addai, and Bush were more in line with seeing increasing opportunities from mid-season, on. Both Bush and Drew also had receiving yardage within the top 30 all-time rookie performances in this area.

Top 30 Rookie Receiving Performances
Last
First
Year
FPts
Rec Yd
Rec TD
Kirby
Terry
1993
162.4
874
3
Walker
Herschel
1986
241.4
837
2
Bush
Reggie
2006
178.7
742
2
Sims
Billy
1980
288.4
621
3
Davis
Glenn
1950
142.8
592
4
James
Edgerrin
1999
315.9
586
4
Haynes
Abner
1960
217.1
576
3
Cooper
Earl
1980
182.7
567
4
Alstott
Mike
1996
129.4
557
3
Podoley
Jim
1957
135.6
554
4
Walker
Doak
1950
158
534
6
Meggett
David
1989
88.8
531
4
Faulk
Marshall
1994
252.4
522
1
Wilder
James
1981
117.7
507
1
Sayers
Gale
1965
257.4
507
6
Blanks
Sid
1964
167.3
497
1
Ellis
Gerry
1980
152.1
496
3
Thomas
Mike
1975
182.2
483
3
Carlton
Wray
1960
167
477
4
Jones
James
1983
136.2
467
1
McMillan
Randy
1981
130.3
466
1
Dunn
Warrick
1997
186
462
3
Jones
Dub
1950
150.2
458
5
Stradford
Troy
1987
149.6
457
1
Bryant
Kelvin
1986
112.7
449
3
Jones-Drew
Maurice
2006
227.7
436
2
Craig
Roger
1983
187.2
427
4
Kiick
Jim
1968
128.3
422
0
Anderson
Gary
1985
121.1
422
2
Four of these top performances have come in the past decade. Still, only seven of the runners on this list compiled fantasy totals over 200 points. If two of the seven on the list made it happen just last year, you know that it's not likely you should count on an RB to be highly involved in both dimensions of offensive production during his rookie season.
Of course you can't really factor this 200-point barrier into some of the players on this list because they performed in an era prior to 1978. But 20 of the 30 backs on this list performed in the 16-game era and 13 of them did not earn at least 200 fantasy points.
Jones-Drew and Bush are very similar backs in terms of their talents. Both are excellent return specialists because they are uncommonly gifted open-field runners with more than enough skill to be good between the tackles, tailbacks. I would say they fall into the Gale Sayers School of backs. Herschel Walker, although not even close to Sayers in terms of his style as a runner, also fits due to his multi-dimensional talents as runner, receiver, and return specialist.
Marshall Faulk could have been a star pupil in this aforementioned school of backs, but he wasn't given return duties. Faulk, James, and Sims carried the load from Day One.
Talent and opportunity are the keys for a rookie runner to have an immediate impact. The 2007 class lacks the deep pool of talent of 2006, but there are two excellent runners who would have been blue-chippers in any class. The first is Adrian Peterson. From the standpoint of natural talent, there aren't many backs that come along with his power, speed, and balance. Peterson has moments where he looks like he's a man among boys. However, the Vikings rookie is raw in key skill sets and he might be up and down as a fantasy performer as a rookie. The more polished rookie is the Bills Marshawn Lynch out of California. Lynch may not produce as many eye-popping highlight plays as Peterson, but he is a more multi-dimensional threat along the lines of an Edgerrin James.
Here are the best backs according to each skill set for the 2007:

The Best And Worst By Category
Category
Player
Comment
Power
Adrian Peterson
Brian Leonard
Tyrone Moss

Three extremely strong runners that can move a pile and get the better end of a collision with a front-line defender. These players will wear out a defense. Peterson is the most dynamic and Leonard is the most versatile. All three are excellent after contact runners.
Balance
Adrian Peterson
Garrett Wolfe

Both players are extremely difficult to knock off their feet without wrapping up and they can spin away from a tackle for quick, six. Eugene Gross receives an honorable mention.
Ball Handling
Garrett Wolfe
Darius Walker

He runs with the ball against his body like Tiki Barber did when he improved his technique. Walker switches the ball to the proper arm and consistently keeps it close to his body.
Speed
Adrian Peterson
Kenny Irons
Marshawn Lynch

While Pittman timed as well or better, Peterson, Irons, and Lynch have an excellent burst through the hole and attack the opening with more functional speed than Pittman.
Vision
Ahmad Bradshaw
Selvin Young

Both can spot the cutback and also set up openings in the open field.
Elusiveness
Marshawn Lynch
Selvin Young
Ahmad Bradshaw

All three can make a great variety of moves, but are disciplined with the intent to run downhill.
Blocking
Kolby Smith
Stevie Hicks

Smith has decent technique and makes the effort downfield. Hicks is also a good blocker in the running game.
Receiving
Brian Leonard
Lorenzo Booker

These two players will at least be excellent contributors on third down because the consistently catch the football with their hands on with a variety of routes.

Obviously Lynch and Peterson appear frequently on the Category Bests, but check out Brian Leonard and Garrett Wolfe. There's a reason these two are considered decent, dynasty sleepers. Neither may do a lot in a 2007 re-draft league unless there's an injury to the incumbent starters on their respective teams.

The table below lists my top-15 backs based on film study. I am leaving out players I did not study. My rankings are based a combination of collected data in the Rookie Scouting Portfolio, my view of their potential fit with any offensive system, and their potential for growth based on the film study. The score on these rankings is the highest raw checklist score performed on this player.

Since this publication was written prior to the NFL draft, the rankings are a reflection of players with the greatest chance to make a positive impact with their overall skill sets, and how flexible their skill sets are to the widest varieties of offensive systems. In any dynasty league setting, I would be comfortable drafting the first four running backs on this list. After that, it depends on the size of the league but I think the top prospects all have potential to be worthwhile fantasy players within a three-year period.

The Top 15
Rank
Player
Score
Notes
1.
Marshawn Lynch
93
Lynch gets the nod over Peterson because he is the better all around player at the position, runs with more discipline, and plays well even when he's hurt. He's a load carrier and a game breaker in the sense of what Jacksonville hoped from Fred Taylor long ago.
2.
Adrian Peterson
92
Raw talent alone, Peterson is one of the top two players in this entire draft. If he can be more disciplined as a runner—choices and ball protection—he has the type of rare power-speed-balance combos shared among the all-time great backs of the Brown-Dickerson-Campbell lineage.
3.
Brian Leonard
91
Yes, the Rutgers fullback ceded time to Ray Rice, but it's because he knew he could make the team better with two great options on the field rather than one. He's highly versatile as a runner, blocker, and receiver. He has excellent power and 4.5-speed. He also leaps tall defenders in a single bound—seriously. Leonard was one of the best players I graded LAST YEAR. He's still one of the best in 2007.
4.
Ahmad Bradshaw
88
Bradshaw has the best vision of any back in this draft and runs with a sound combination of power and elusiveness. A sleeper.
5.
Kenny Irons
88
Not extremely powerful, but hits the hole like bullet train. Very strong finisher that should develop into a decent option.
6.
Lorenzo Booker
88
Dynamic 3rd down back that could be a lot more if he either adds weight without losing speed, or proves he can gain yardage after contact at the line of scrimmage. Underutilized in college and could surprise as a pro.
7.
Selvin Young
88
Runs with the vision and movement of a back like Emmitt Smith, but holds onto the ball like Tiki Barber—early in Barber's career.
8.
Darius Walker
85
A solid player that can do everything, but lacks an elite characteristic to his game that makes him a game breaking weapon.
9.
Justin Vincent
84
A healthy Justin Vincent could be a top five back in this class based on his power-speed combo, but it's the elusiveness he has lacked in his return. An intriguing prospect to monitor as a possible steal.
10.
Kenneth Darby
86
Had a poor senior year and a slow combine time, but he's a great slasher in the mold of Curtis Martin or Curt Warner when healthy and playing at his best.
11.
Gary Russell
83
Excellent power runner with questionable speed and commitment after leaving school due to an academic violation.
12.
Tyrone Moss
82
Another strong back with questionable speed. He also has multiple injury concerns. Think Justin Vincent's situation with less speed and more power.
13.
Tony Hunt
83
If he can run with as much abandon in a game as he did in Senior Bowl practices, he might be more than a situational player.
14.
Stevie Hicks
81
A physically strong runner that needs to learn good techniques to do more than serve as backfield depth chart fodder.
15.
Garrett Wolfe
85
Pound for pound the best back in this draft—just extremely questionable whether he has enough pounds to dominate in the pros. He still has skills to make a situational impact.


This list above should give you an idea of a player's long-term talents regardless of their match with a system. The profiles and rankings below are my take on each player's fit with their offensive system and their prospects for 2007 with a brief viewpoint beyond this year.

Front And Center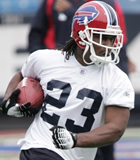 Marshawn Lynch, Bills: While I believe Adrian Peterson is the most physically talented back in this draft, Lynch is no slouch. The former California Bear is at this point the best bet to produce as a featured back in 2007. I remember first seeing Lynch in 2005. At that time I thought he was an impressive, breakaway threat out of the backfield. But it was his ability to produce despite playing with injures in 2006 that really caught my attention.
Running backs take so much punishment during their careers. It requires a certain level of toughness to perform with an injury because of the number of touches they receive combined with their position's much higher rate of collisions in comparison to other skill position players. Lynch performed much of last year with both ankles sprained and a sore back. He was unable to demonstrate the acceleration he had when fully healthy, but he consistently showed the ability to wait for blocks to develop and gain yards after contact—two excellent traits necessary for an NFL back.
The Bills offense showed some signs of life last year in the passing game. Lee Evans is one of the best young receivers in the NFL and J.P. Losman had some solid, if not excellent, outings at various points of the season. The problem is Losman's tendency to throw interceptions. Part of the reason for Losman's mistakes is a reckless approach, but he often winds up in more difficult situations because the running game was unable to bail out Losman on first and second down. The Bills tandem of McGahee and Thomas scored 32.8% fewer fantasy points than other team RBs in 2006 and were ranked 26th in total rushing yards.
If Lynch stays healthy, he could take over the starting job and provide a spark to the Buffalo offense. He's also a decent pass blocker, so he should be able to work is way into a multi-faceted role that keeps the rookie on the field. At worst, I believe Lynch will get eased into the offense as the Colts did with Joseph Addai. But I believe the higher tendency for Peyton Manning to call plays at the line of scrimmage makes the Colts offense more difficult to master than the Bills. Count on Lynch to be the favorite to start for Buffalo from the first game and serve as a solid #2 RB for your fantasy league during much of the year.
Anticipation…It's Making Me Wait
Adrian Peterson, Vikings: Let me cut to the chase about Peterson. The reasons he might not start right away have to do with his ability to protect the football, protect the passer, and run with discipline in situations where freelancing will kill his team's chances from making first downs. Watch the film and you will see a runner who does not keep the ball close to his body in the open field. You will also see a player who was a liability in pass protection on the perimeter of the defense. And you will see a runner who made some of the most exciting minimal gains, and 5-yard losses you've seen since Walter Payton. Except Oklahoma had a decent offensive line.
But you will also see a runner with amazing balance that is extremely difficult to knock off his feet; a runner with the rare agility to successfully put spin moves on linebackers and safeties for a man of his size and strength; and a runner, when determined, has the sheer will to make yardage when nothing seems available for him to gain any. Adrian Peterson is gifted. When it comes to purely running the football and not getting tackled, I'm not sure there is a back in football I'd rather have.
Peterson needs to harness his tremendous gifts into becoming a complete football player. When he does, he has the offensive line and complementing defense to help the Minnesota Vikings become a playoff team. I just don't believe Peterson will put it all together in time to make it happen this year. Chester Taylor may not have the natural gifts of Peterson, but he is a smart runner and veteran football player who was the Vikings offense.
Look for Peterson to excite fantasy owners throughout the season with some highlight plays and big games, but provide almost equal doses of frustration as he adjusts to the pace, intensity, and rigors of the pro game. The Vikings will feel compelled to get their big-time talent into the backfield, but don't expect more than a situational role for Peterson in 2007. Averaging anything more than 10 carries a contest will be a bonus for the Vikings rookie—it's good enough to consider him as 5th or 6th round pick with upside in a rookie draft in case he works his way into a full-time role by season's end.
Brandon Jackson, Packers: There was a time where it was out of the question to second-guess Green Bays draft day selections. Even prior to Aaron Rodgers that day has passed. It sure sounds like I am down on Brandon Jackson. I'd rather say I'm just not as high on him as others. Is there a difference? Allow me to explain.
Jackson catches the ball well and has tree trunks for thighs. He looks like a powerful back with good quickness. I just don't believe he's as good as Vernand Morency, which for the price of a 2nd round pick, I'm second-guessing the Packers. Morency has speed to burn and I think he has more potential than Tatum Bell, but toiled on a slower learning curve due to the fact he started with the Texans. Jackson is not a speedster, and I believe the Nebraska alum and Morency will split time, at best.
The reason is Jackson looks the part more than he plays the part. What I saw on film was a back who went down easily in comparison to other backs in similar situations. Jackson is like a few backs from big-time programs where the offensive linemen are massive (hint: Ohio State and Penn State) and many of their "impressive" runs are products of huge gashes in the defensive line. I think he's actually the best of the big-time university backs that I'll profile later, but it doesn't mean he's the automatic starter for the Packers. He's worth selecting late in a re-draft, but I wouldn't overspend. In fact, I'd rather avoid what I see as imminent frustration with the Green Bay backfield and pick a player like Brian Leonard as a quality handcuff at a cheaper price.
Kenny Irons, Bengals: Rudi Johnson has been a model of consistency with three consecutive 12-touchdown, 1300-yard seasons. Can you guess how many backs have had three consecutive seasons of this caliber? Including Johnson and combining receiving yardage and touchdowns? Seven.

The Top 15
Last Name
First Name
FPts
Year
Rush Yds
Rush Tds
Rec
Rec Yd
Rec Td
Rush Att
Alexander
Shaun
363.8
2005
1880
27
15
78
1
370
Alexander
Shaun
306.6
2004
1696
16
23
170
4
353
Alexander
Shaun
269
2003
1435
14
42
295
2
326
Davis
Terrell
360.5
1998
2008
21
25
217
2
392
Davis
Terrell
293.7
1997
1750
15
42
287
0
369
Davis
Terrell
274.8
1996
1538
13
36
310
2
345
Faulk
Marshall
340.7
2001
1382
12
83
765
9
260
Faulk
Marshall
374.9
2000
1359
18
81
830
8
253
Faulk
Marshall
314.9
1999
1381
7
87
1048
5
253
Johnson
Rudi
215.3
2006
1309
12
23
124
0
341
Johnson
Rudi
226.8
2005
1458
12
23
90
0
337
Johnson
Rudi
225.8
2004
1454
12
15
84
0
361
Sanders
Barry
287.5
1991
1548
16
41
307
1
342
Sanders
Barry
274.4
1990
1304
13
36
480
3
255
Sanders
Barry
259.2
1989
1470
14
24
282
0
280
Thomas
Thurman
275.8
1991
1407
7
62
631
5
288
Thomas
Thurman
260.9
1990
1297
11
49
532
2
271
Thomas
Thurman
263.3
1989
1244
6
60
669
6
298
Tomlinson
LaDainian
418.3
2006
1815
28
56
508
3
348
Tomlinson
LaDainian
303.2
2005
1462
18
51
370
2
339
Tomlinson
LaDainian
285.6
2004
1335
17
53
441
1
339
Tomlinson
LaDainian
339
2003
1645
13
100
725
4
313
Tomlinson
LaDainian
307.2
2002
1683
14
79
489
1
372
And how many backs did it four times? Just Tomlinson. He was the only back from 4650 seasons of games to have four seasons with at least 1300 yards and 12 scores. Not Emmitt. Not Walter. Not Dickerson. Not Holmes. They didn't even make this preliminary list.
It is possible Johnson could make it a fourth season in a row, or as with many great backs have a one-year downturn and resume his run of good fantasy production. My point is Rudi Johnson may be in select company, but the chances this six-year veteran from Auburn University matches a feat only Ladainian Tomlinson has met is slim and this brings us to Kenny Irons. Odds are in the rookie's favor that he will see the field early than the Bengals hope because Johnson has taken a tremendous amount of punishment at this stage of his career and his likelihood of injury increases with every year.
A fellow Auburn Tiger, Irons is a slashing back who hits the hole hard and finishes strong. He has good vision and patience, but I wasn't impressed with his skills as a short-yardage back. He also lacked some skills that separate the serviceable NFL backs with top-notch starters: making defenders miss in the backfield and maximizing space for positive yardage. What this means to me is if Irons starts any games in 2007 he will look very exciting to fantasy owners against a soft run defense, but will likely disappoint against the Ravens and Steelers of the division.
Talent-wise, Irons may not be as good as Chris Perry. But the Bengals multi-skilled backup from Michigan has spent more time on the disabled list than the football field and this prompted to Cincinnati to address their depth chart at the position. Irons is a tough player who has a tendency to come up big against tough competition. I think he's a lesser talent than a back he resembles physically and a bit sylistically—Cadillac Williams. Fortunately for Irons, he has found himself among one of the better offenses in the NFL. If you draft Rudi Johnson, Irons is a good late-round handcuff for 2007. He could be serviceable for a year or two as a starter, but I wouldn't lock him into your dynasty roster.
Spot Time With A Future
Brian Leonard, Rams: Leonard is one of the best football players to come out of college in the last 2-3 seasons. Whether this will make him a fantasy-worthy option for your squad is another subject altogether. Steven Jackson is coming off a great season and most fantasy owners see the Rams' starter as a bona fide top-three pick in summer drafts. If you have Jackson, I implore you to get Leonard—especially in a dynasty league.
Keep in mind that Jackson just came off a season with a huge workload and he is a punishing power back who plays on artificial turf. If you have read Tony San Nicolas' RB Workloads articles, then you know Jackson qualifies as a higher risk player in 2007. Brian Leonard is most likely to be that player who takes over for Jackson if the Oregon State alum finds his way onto IR.
Leonard was actually a dark horse candidate for the Heisman until fellow Rutgers back Ray Rice began his Emmitt Smith imitation and the unselfish Leonard moved from halfback to fullback during his senior season to help the Scarlet Knights finish with one of their best seasons in recent memory. Leonard has quick feet, excellent power, and demonstrates third and fourth effort with the ball in his hands. He also has excellent agility and receiving skills. What I find most impressive about Leonard is that he does everything well. If you have him run routes from the backfield he reminds you of Larry Centers. When he's asked to block as a fullback he's unsung and consistently good in the way you think of Seahawk, Mack Strong. And when you hand Leonard the football, he runs a bit like John Riggins.
Rams coach Scott Linehan must be happy about his selection of Leonard. The rookie reportedly performed extremely well in mini-camp—scarcely missing an assignment—and the coaching staff anticipates he'll see the field 15-20 plays a game and touch the ball maybe half the time to keep Jackson fresh. I don't know about you, but 7-10 touches over a 16-game period equates to potential bye-week material for your starting lineup if really in a pinch. Because of the fact Leonard is the odds-on favorite to back up Jackson, I'd suggest making the rookie a late pick rather than rely upon snagging him off the waiver wire. If Jackson remains healthy, you may see a Lamont Jordan-esque free agency scenario for Leonard down the line. Re-draft or dynasty, I believe he's a solid investment.
Lorenzo Booker, Dolphins: Is Cam Cameron a genius or just another coach who believes he has to reinvent everything in his image? We're going to find out in the next three seasons and part of that reinvention will be the addition of John Beck, Ted Ginn, Jr., and FSU-alum, Lorenzo Booker. This runner came to Tallahassee has the top-rated prep runner in the nation. Then he promptly sat behind Greg Jones and split time with Leon Washington.
Is he Warrick Dunn material at 5-11 and 187 lbs.? Well, he is elusive, a good receiver, and courageous in traffic. He's tougher to bring down than one might anticipate. This is why Booker impressed several observers on the college all-star circuit during Senior Bowl practices. He reportedly was one of the stars of the event. He faced quality competition as a player and performed admirably well, but the question will remain until proven otherwise: can he withstand the pounding of the NFL.
Personally, I can buy into the idea that Booker toiled on some disappointing FSU squad where the offense underachieved, because that's what the Seminoles have done recently. I can also parallel Booker's potential entry to the NFL with Dunn's. Both players were behind established backs on the depth chart. Unless Ronnie Brown gets hurt or Cameron's ego runs amok, Booker will be a situational back to begin his career.
But I don't buy into the Warrick Dunn talk. I see a back who could potential be more Clinton Portis-like. Portis is 5-11 and entered the NFL at 190 lbs. I believe if given the opportunity Booker could evolve into a starter. I'm not so impressed with Booker that I would brand him the next Portis, but he hasn't had enough carries to prove my wrong, either.
Depth With Upside
Ahmad Bradshaw, Giants: I have talked enough about this guy in a previous column.
Garrett Wolfe, Bears: If there is a Warrick Dunn-type back in this draft class, Wolfe fits the part the best. I sincerely believe if the Northern Illinois star were 5-10 and 205 pounds, he'd be a first round pick and maybe the best back in this class. Wolfe possesses excellent balance, vision, and practices great ball protection. He's like a smaller, Tiki Barber.
Did you see what Wolfe did to Ohio State on opening day? What about Michigan? While I didn't get to break down these games—and if someone has a DVD of either of these contests they'd like to send me (for educational purposes, of course) of Garrett Wolfe running wild, I'll give you a free copy of my 2007 RSP (or 2006 publication if you have one, but not the other).
Despite missing these contests, I did see enough of Wolfe to believe he at least has a shot as a 3rd down contributor in the mold of a Kevin Faulk or Amp Lee. But I do think he has potential to be even more productive between the tackles than these two. Interestingly enough the Bears also seem optimistic about Wolfe's chances to supplant Adrian Peterson (of Georgia Southern fame) as Benson's backup. I'd keep an eye on Wolfe to see if he performs anywhere near expectation—not the stats, Wolfe—watch the games to see how he performs between the tackles, finishing runs, and understanding his assignments. He may be worth a late pick.
Sleepers
Kenneth Darby, Buccaneers: When he was a junior, I thought Ken Darby was a surefire, first day pick. But the Buccaneers 7th round selection dropped due to an unimpressive senior year and poor showing at the Senior Bowl. Now Darby is no guarantee to even make the Tampa roster as he competes with Earnest Graham and Michael Pittman for a spot on the depth chart.
But I think Darby is a much better back than what we saw from him as a senior at Alabama. I believe that's definitely what John Gruden thinks as well. Darby's father passed away last year and the rookie's head and heart were temporarily missing from the game. If you have ever had someone close to you die, you know how hard it can be to function for a while. Now imagine feeling depressed and trying to perform at the highest level in a sport that requires a great deal of emotional energy. If you see where I'm heading, then you'd just forget about Darby's senior campaign and focus more on his junior year. If you can't imagine, it write Darby off and go to the next player, although I think you're making a big mistake.
As a sophomore and junior I watched Darby run aggressively and with emotion. He has very good performances against top-notch, SEC defenses like Tennessee and Florida. What impressed me the most about Darby was his ability to make sharp cuts in traffic and finish runs. He's a downhill runner and slasher with enough of a burst to get into the secondary. He reminded me of two backs—Curtis Martin and former Seahawk star from the 70s and 80s, Curt Warner.
The early reports about Darby from Tampa are they got themselves a better than advertised player who they think could evolve into an every-down back. That's at least what Running Backs Coach Art Valero has told the media. Even so, they believe Darby has a good shot to make the roster as a third down back because of his ability to catch the football. I honestly would be surprised if Darby doesn't easily beat out Earnest Graham. Two years ago, I thought Mike Bell was a starting quality back and he didn't get drafted. Last year, I thought Wali Lundy was a better back than his 4th round status and he did more than expected. Add Darby to this list for 2007.
Selvin Young, Broncos: Selvin Young has two ifs attached to his reputation as a football player. If #1: Injury concerns—he tore his ACL in 2005. If #2: He has shown repeated difficult protecting the football. These were enough for Young to go undrafted, but the Denver Broncos thought enough of Young to sign him as a free agent and let go of journeyman Cedric Cobbs—a player who actually looked good enough at times last preseason to warrant a serious look at starting in 2006.
I liked Young's quickness, elusiveness, and receiving skills. I watched the Texas Longhorn runner make some impressive catches in coverage—even on a deep, wheel route 20-30 yards downfield. Young split time with Jamaal Charles, a player I believe is one of the better runners in college football, at Texas and still acquitted himself well.
Young will be competing with Cecil Sapp and Andre Hall for a post on the Broncos active roster and as the third string back to Travis Henry and Mike Bell. Sapp is a lock because of his proven performance in spot duty and skills as a fullback. That leaves Hall and Young and I believe one—if not both—will see time on the practice squad in 2007. But I believe Young has enough talent to start in the NFL one day and he's not a guy to sleep on.
Late Round Gambles and Long Shots-Dynasty Only
Antonio Pittman, Saints: Yes, I know that Pittman is a higher pick than many of these players I already listed. I just don't believe Pittman is anything more than an average back that will disappoint owners who believe he'll be the replacement for Deuce McAllister in a year or two. I believe Reggie Bush will eventually be the main back—likely by fall of 2008. And, Pittman did not show the ability to break tackles and finish runs with the skill expected from an NFL back. Speed is a nice trait, but it doesn't compensate for excellent vision and finishing power. LeShon Johnson, Brent Fullwood, and Leeland McElroy had excellent speed, but they lacked the extra skills necessary to be successful NFL backs. I see Pittman as a player who may give you a few good games in the next 2-3 years if he gets to see the field, but think of him as a Derrick Blaylock type of player. He's over valued in dynasty drafts in my opinion.
Tony Hunt, Eagles: I believe Hunt falls down too easily when he gets hit, but other analysts talk about him as a great power back. All I see is a big kid who gained a lot of yardage in front of a Penn State line that opened large holes. But once Hunt got into closed space, he was much easier to tackle. Brian Westbrook is the man in Philly. Correll Buckhalter has experienced multiple injuries in his career and although he gives workmanlike performances, he's a big step down from Westbrook. Ryan Moats is a terrific talent with the ball in his hands, but he has somehow alienated himself from this team due to reputedly having difficulty learning the offense.
What Hunt has is size and this gives him the chance to be the Eagles Brandon Jacobs to Westbrook's Tiki Barber. I just don't buy the idea of Hunt being the right guy for the job. At the price he's going in dynasty leagues, I'd rather have several other backs, a quarterback, or a receiver.