11/6/07
As we all know Hindsight is 20/20. This weekly column is devoted to learning from common mistakes and serves as FFToday's "Fantasy Football Confessional."
---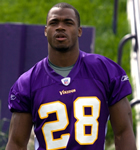 296 yards on 30 carries—9.86 yards a carry against the Chargers defense—for Adrian Peterson. What is there to say? When television anchors are calling Clinton Portis' hard-running performance almost "Adrian Peterson-like," you understand how fast Peterson has shot up the rankings. Regardless of the fact that he's running behind a great line, his balance in the open field is extraordinary. Peterson is still shedding DBs without losing a step just like he did at Oklahoma. Can Peterson be one the handful of NFL greats to break the 2000-yard mark?
Well, I said in the beginning of the season that I would have rather had Marshawn Lynch due to the fact that I felt Lynch came out of college with better skills as a pass blocker, receiver, and protector of the football. All those things about Lynch are still true, but Peterson turned out to be what I also said best about him in July:
But you will also see a runner with amazing balance that is extremely difficult to knock off his feet; a runner with the rare agility to successfully put spin moves on linebackers and safeties for a man of his size and strength; and a runner, when determined, has the sheer will to make yardage when nothing seems available for him to gain any. Adrian Peterson is gifted. When it comes to purely running the football and not getting tackled, I'm not sure there is a back in football I'd rather have.
Too bad I didn't recognize Peterson as that "play to win" pick when it came to making an aggressive move in my drafts.

Despite my scoring tailing off in the FFTOC recent weeks, I entered week 9 still #17 overall. But this week could be a killer.

FFTOC Update
Pos
Player
Pts
Comments
QB
P. Rivers
6.86
Remind me to veer in the opposite direction when Matthew Berry, D.J. Nestrick, and I agree on the same "good play."
RB
C. Portis
25.6
Finally hit big on a back this season. Not A.D., but not too shabby.
RB
K. Jones
7.6
And he was off to such a good start in the first half…
WR
C. Chambers
5.9
…And he saved some face in the second half.
WR
J. Jones
3.2
I was considering him or Jennings—oops!
WR
R. Curry
1.2
Yuck
TE
D. Clark
1.5
Had Kellen Winslow here…first guess is best!
K
O. Mare
11.0
And he missed two FGs!!!
DEF
Redskins
4.0
Playing a good young QB they don't have much tape on…bad idea that I decided to start this defense. Imagine if I used Detroit!
Total
66.86

I'm about at my limit with poor outings after this clunker. If there were enough decent teams with Brees and/or Peterson in their lineup, I could tumble down the rankings quite a ways.

Let's move on to the week one files of 20/20 Hindsight.


Greg Jennings Would Become Favre's Big Play Guy: In less than a week Greg Jennings has caught three bombs for scores. Jennings demonstrated in spurts as a rookie that he had a knack for getting deep. Favre actually was quoted last year as saying Jennings had the potential to be the best receiver he's ever had (check and find). The reason Jennings is coming to life has as much to do with the presence of Donald Driver and James Jones as it does his full recovery from an injury sustained early in the season. Favre now has three receivers with the speed to go deep, but the hands and toughness to go across the middle.

Certain types of receivers can make a passing offense more rigid than others. A perfect example is the Jacksonville Jaguars. Dennis Northcutt is a great underneath option, but his effectiveness is generally within 20 yards of the line of scrimmage. If Northcutt gets open deep, it's the occasional great route/blown coverage/opposing DB slipped situation. Earnest Wilford is the same kind of player, but has enough height to be a redzone threat—although the Jags no longer utilize him this way. He also doesn't play enough to be considered a starter. John Broussard is a burner, but he's a rookie and a vast majority of his targets are deep routes. Reggie Williams has decent build-up speed, but he's not sudden. He also seems content with his being below average as a pro. I bet he doesn't realize that's what he is—he probably blames his lack of playing time and looks on the QB and coaching staff—but his lack of opportunities comes from his inconsistency of performance and remaining professional. In other words, he's been in the league 4 years and he's still immature.
And I can't even begin to tell you about Matt Jones because as a rookie he appeared to have the skills to become a multi-dimensional receiver. Is he injury prone? Is the reason he's in the doghouse warranted or not?

What this means is Jacksonville better have a lead for be facing a lesser team because defenses really don't have to pick their poison. They can dare the Jags to throw because they know who the dangerous deep guy is. The Jags are an extreme example, but you can also see the same thing with a team like the Bears—Berrian is the one multi-purpose guy and the rest are either underneath possession players or strictly deep threats. The Giants (until Steve Smith gets healthy and more experienced) and Bills are the same type of team. This is a bit better situation to have, but still allows defenses some ability to strategize effectively. But teams such as New England, Indy, and Green Bay have 2-3 receivers with the speed to get deep, but the ability to make catches anywhere on the field. This poses way more issues for a defense.

Lesson Learned: The more big play receivers there are on the same team, the more likely each of those receivers will be on the receiving end of a big play.

Priest Holmes Might Be Starting In Week 10: Jeffrey Chahida of ESPN reported that Larry Johnson was carted off the field with an ankle injury late in yesterday's game. If the injury proves serious, Holmes might be starting next week against the Broncos. Is Holmes ready to go? My inclination is yes—for the short term. I believe Holmes has enough gas in the tank for a few, high-carry games—just enough for Johnson to recuperate. The Chiefs wouldn't have traded Michael Bennett if they didn't believe they had enough depth in case Johnson wore down. Regardless of what NFL teams say, you know they are well aware of the subsequent history of 400-carry backs.

The other possibility to consider is Kolby Smith, the rookie from Louisville who impressed Kansas City in training camp. He has good vision and enough of a burst to at least keep the chains moving. The big question will be how much action does Smith get? Will the backfield situation become a committee or will Holmes and Smith have their on defined situational roles? My guess is they will try to put the load on Holmes for the short term and then

Lessons Learned: Nearly anything might happen in an NFL season and what a difference a year makes…



Detroit's Defense Could Outscore The Bronco's Offense: 5 sacks, 3 forced fumbles, 2 scores, and 1 int. Heck, the Lions were almost as good as the Steeler's James Harrison, who scored 43.5 points in one of my fantasy leagues (nearly enough to beat my squad)!

Lesson Learned: Anything did happen in an NFL season!



Known Ben Roethlisberger Is Fantasy Money In The Bank: His great year isn't quiet anymore—although his apparent hip pointer sidelined him temporarily in the 3rd quarter. Five touchdown passes for a Pittsburgh quarterback? Running team? Yeah, I said it in my bold predictions (at this rate this and Stephen Jackson might be the only ones that happen) that Roethlisberger would throw for 4000 yards and 25 scores. So far, over 1700 yards and 20 scores—he'll need to average nearly 290 yards per game to get to 4000, but the touchdown mark is well within reach—he could wind up with 35 at this rate!

Lesson Learned: Just look at the receivers on this team and tell me this team will only run the football???? Heath Miller is a quality tight end. Hines Ward is potentially a Hall of Fame receiver. Santonio Holmes is a season or two away from performing like an all-star.

Lee Evans Would Catch Fire With Losman In The Lineup: Did you see Losman target Evans in double coverage? Did you see Evans snag balls while getting his facemask ripped skyward? If you did, then you know the lesson…

Lesson Learned: Lee Evans is one of the best receivers in football—he just needs a quarterback who will throw him the ball. Forget Keyshawn Johnson—get Evans the damn ball!



Nagging Feelings—Week 10

Steve McNair is done. Yep, I said it. His career is over. The guy can't move around any more. I don't know if it's the suit of armor that looks like he's now encased before games that he didn't have to wear 5 years ago or all the injuries that have robbed him of his agility. Watching McNair and his toughness outlast his physical skills only makes you appreciate a player like Brett Favre.

Randy Moss is the anti-T.O.? Well my pen pal who isn't buying it will love this quote from Tom Brady to ESPN's John Clayton…"He's a great player," Brady said of Moss. "I think everything that's been written about him is the complete opposite. He's a great teammate. He's a great player. He's very coachable. He's very selfless. He's a great worker. He leads by example." I have a nagging feeling I'm going to get an e-mail very soon…
Why is Fred Taylor the starting runner for the Jaguars? I know I keep picking on Jacksonville, but the team is such an easy target. Every week Jones-Drew averages more yards per carry and he makes bigger plays than Taylor, too. Fred Taylor was an incredible runner and if he were one of 16 other teams I'd say he should be the starter. But Jones-Drew could break a big one at any time with enough opportunities. Am I the only one who sees this? As Titans fan, I'm hoping no one feeds this section of my column to Del Rio this week—he might get smart. Then again, he's an USC-alum who can't seem to use his UCLA star to his fullest.
You know Jack, unemployment is a growing problem in this country—do you want to go on a winning streak and save your job? Give the ball to Jones-Drew the same amount the Vikings are giving it to Peterson. You may not get 296 yards, but you'll likely get 180 and more big plays than your passing game can ever dream of. If you don't listen to me, at least get someone to show you a recording of Bill Parcells pointing out Jones-Drew hammering Jason David at the end of the game on an interception return—Parcells was ready to get out of his chair in ESPN's studios to coach again after talking about how much he'd want a Jones-Drew on his team. You want to see a small market town increase its ticket sales Jack? Keep leading the charge with inept decisions and losing games, because Bill Parcels, Bill Cowher, or even Marty Shottenheimer will know what to do with all that offensive talent you've wasted.