10/23/07
As we all know Hindsight is 20/20. This weekly column is devoted to learning from common mistakes and serves as FFToday's "Fantasy Football Confessional."
---
I moved up to 10th out of 594 FFTOC entries for the $60 tournament so I have a bit of room to take some risks. Since we're in the thick of the bye weeks, I really had no choice.


FFTOC Update
Pos
Player
Pts
Comments
QB
J. Garcia
25.64
It wasn't Tom Brady-like, but it was definitely a good choice.
RB
T. Jones
6.7
And to think Kenny Watson was the real stud RB for this NYJ-CIN contest!
RB
W. Parker
12.7
Not bad, but shut out of the end zone.
WR
Cal. Johnson
12.9
That impressive end around for a touchdown made him a respectable pick.
WR
D. Stallworth
11.1
Stallworth looked like he had the same catch and this versus Dallas, didn't he?
WR
P. Crayton
1.9
What a miserable week to start this WR surprise…
TE
H. Miller
17.0
Miller saved my week with this performance.
K
A. Viniatieri
9.0
Would have been a terrific week to use Bironas, but I used him 2 weeks ago.
DEF
Eagles
1.0
I don't know what to make of Chicago or Philly as this point—yuck!
Total
97.94
Looks like this is my worst week thus far. At 7 weeks in, that's not bad…

While this wasn't a total bust of a week, I can only afford 3-4 of these games to make the cut.

Let's move on to the week one files of 20/20 Hindsight.

Tom Brady Would Have 27 Touchdowns After Week 7: Seriously, did you think the Pats quarterback would even have 30 scores for the entire season? He'll beat that mark in week eight if he continues to produce to his current season average, although Washington's defense is probably the best unit New England has faced—or will face—all year. True, they'll face Baltimore, Pittsburgh, and Philly, but each unit has had their share of ups and downs this season. Washington has been the most consistent unit.
I had someone ask me if they should trade Brady while his value is sky high. To be fair, the owner could use a second running back and he has Jon Kitna on the bench, but he's also 5-2 with a decent enough roster to ride the Pats quarterback for all its worth. But to play devil's advocate, maybe this is the perfect time to trade Brady. The Jets, Bills, Bengals, Browns, and Dolphins defensive units have allowed prolific performances from offenses that aren't even in the same hemisphere as New England. Both San Diego and Dallas are weak against the pass. So I'm thinking this week's game will be a telling match up for Brady. If the Pats QB has less than 2 scores in this game, it might be a sign that Brady and the New England offense have been beneficiaries of a confluence of factors going in their favor—a "cake" schedule to start the year being one of them. But if he slumps, how bad will he need to go down the tubes for you to have felt good about dealing him?
I think Major Tom will have to average 1 score or less per contest for you to feel good about giving him away. For Peyton Manning to reach 28 scores—a typical total for the Colts QB—he'll need to average 1.8 touchdown passes per contest from last until the end of the season. Even if Brady's 3.85 passing scores per game rate drops by 2 scores per contest for the rest of the year, he's still performing like an elite signal caller.
Lesson Learned: In my opinion, you better get Tomlinson and a solid starting QB or WR if you're going to deal away the most valuable player in fantasy football. Unless you are psychic and know Brady's going to miss time, ride the hot hand and stop over analyzing your success!
Lee Evans Would Come To Life Against The Ravens With A Rookie Starting QB: D.J. Nestrick got the right result, but not by the correct means: Evans and a good week, but not according to Mr. Expert Debunker's theory. According to our resident Hugh Grant impersonator (if you saw his pic—you'd understand), Evans was unhappy about J.P. Losman losing his job due to injury and the Bills coaching staff made it a point to feed the Bills receiver to avoid alienating him further. It's good logic from a Hollywood Actor, but Evans has been the primary guy in this offense in every game. In fact, Evans has had a consistent number of targets per game for most of the year.
Lesson Learned: It's more likely rookie Trent Edwards is just improving to the point that he's anticipating Evans' routes and developing a greater rapport. The Buffalo QB converted on a deep throw versus the Ravens early in the game, which requires the two things from Edwards that I must mentioned above. This tells me the Bills rookie QB is headed in the right direction as a football player. From a fantasy perspective, Edwards won't be starter material this year, but look for Evans to return to the ranks of fantasy starters down the stretch and Marshawn Lynch to continue performing as a solid #2 RB.


Kenny Watson Would Have 130 Yards And 3 Scores: Please email a link or clip of a fantasy writer who predicted a great game from the journeyman running back. I won't believe it until I see it. Although he averaged a little over 4 yards per carry, his three scores were in goal line situations from no further than the 3, so this made his production look less efficient on the surface.
Lesson Learned: Only the Lions allow more fantasy points per game on the ground than the Jets. Ronnie Brown and Brian Westbrook are certainly excellent runners, but Maroney, McGahee, and Lynch are a notch below, and not runners you'd compare favorably to a healthy Rudi Johnson. Kenny Watson proved a point this weekend—if in doubt, pick a back facing the Jets defense.
Rob Bironas Would Kick 8 FGs: I was fortunate enough to get 21 points from Chris Boniol of the Cowboys in a Monday Night game several years ago and it "earned" me a victory. Bironas owners were fortunate enough to have their kicker involved in a crazy contest.
Lesson Learned: Every dog has their day…if you lost to someone because their kicker scored more points than most backs, receivers, and QBs in a typical scoring system, you can rightfully call it a fluke.
Kevin Walter Would Have Two Good Weeks In A Row: Six grabs for 97 yards and a score, with a long reception of 40 yards.
Lesson Learned: What can I say? I was wrong. Who knew this Bengals also ran could follow up with respectable production? It was garbage time…still, Walter earned his production and you should consider him if Johnson doesn't make it back soon.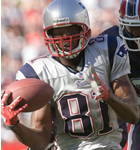 Randy Moss Would Look As Good As He Ever Has: Did you see him make those grabs in double coverage? Did you? He looks unstoppable. Everyone keeps saying Tom Brady "put the ball in the perfect spot" for Moss. That analysis is a joke. Brady will be the first to tell you that he puts the ball in the general area and Moss comes up with it.
Do you see him throwing the ball fifty yards down field in tight double coverage to Wes Welker? Donte Stallworth? Nope. He's pitching them to the receiver many former NFL players, coaches, and analysts who said he lost a step. Did you see him outrun three Jets in week one? If he lost a step, then it's going to take him losing another 2-3 steps before a secondary in the NFL catches up with him. And who cares when you can make catches in traffic or at full-speed with the ball 40 yards in the air that look like you just caught a Nerf on a 10-yard toss over two 8-year olds?
Okay Pats fan, the one who emailed me 6 weeks ago that Moss was a team cancer and crook just waiting to happen. You know who you are. How ya like Moss now? Considering this guy seemed to have some stones, I bet he maintains his stance. But I better hear from him again and I want a full name this time because if he's celebrating Moss touchdowns, he's got some 'splaining to do…
Lesson Learned: Moss was a player folks completely overanalyzed. It's clear now that Brady and Moss were the pivotal players you chose if you played to win rather than tried not to lose. These guys on the same team were just too obvious a pick. No one wanted to believe they'd be as good on the field as they looked on paper. Exactly how good do Al Davis, Tom Walsh, and Art Shell feel right now? I would imagine Coach Kiffin would have enjoyed a Culpepper to Moss reunion, but that was never going to happen.
Roydell Williams Was A Good Choice This Week: I've been saying this for weeks, if not for two years now, Williams is the best receiver in this young, Titans corps. He finally had a complete, regular season game where he showcased his skills. Williams grabbed 5 catches for 124 yards, including a 46-yard grab and a nice sideline catch in tight coverage where he exhibited the type of concentration that caught the eye of anyone who watched him closely.

Lesson Learned: Kerry Collins was the reason Williams played to his potential. This will happen again, but when it does, it will mean that Vince Young is developing into the passer he and the Titans want him to be.
Byron Leftwich Couldn't Last A Game Behind The Falcons' Decimated Line: What a nice start for Leftwich, but he had less time to throw in Atlanta than he did in his worst days in Jacksonville. An injury was almost inevitable for the statue with a rifle for an arm.

Lesson Learned: Leftwich truly is an anachronism at the position. If he were playing anytime prior to the late part of the Lawrence Taylor era (where every team had acquired an edge rusher with blinding speed off the corner), Leftwich had pro bowl skills. The problem is not that he can't run like Vince Young or Vick, it's that he can't slide in the pocket like Favre, Romo, or even Manning and Brady. It's a shame, because Leftwich is the example of a talent with great toughness, but lacks that one component that will make him successful in all but a few offensive systems.

Nagging Feelings—Week 8
Mike Ditka was absolutely right on Monday Night Countdown, Vikings Coach Brad Childress is out of his mind. The Vikings were ahead 14-7 at the half and Childress only gave Adrian Peterson 12 carries for the entire game? Here's my total D.J. "Hugh Grant/Divine Brown" Nestrick take on Childress: the coach is so intent on proving to the world that QB Tarvaris Jackson was worth a second round pick that he'd rather put the ballgame in his prodigy's hands than feed Peterson the ball. What other reason could there be? Was Peterson hurt? No. Did he make mistakes as a runner? No. Was Chester Taylor the hot hand? No. Was Peterson missing blocks in pass coverage? Maybe he's suspect here, but if you're handing him the ball out of the I-formation with a 7-point lead in the second half, you probably don't need to worry about throwing the football!!! Especially when that 7-point lead turns into a 14-point margin after Peterson chews up the Dallas defense.
When are we going to see the other Adrian Peterson start in the NFC North? The Bears second stringer was on the field in the 4th quarter and Cedric Benson has shown little. You may want to search your waiver wire for the bargain model of the Vikings version of AD.
I don't get the Jaguars offensive play calling in the 1st quarter of last night's game. They did a nice job throwing passes to make Bob Sanders think twice about crowding the box. But, when it was time to use their power running game they punked out. You don't get cute on 4th and short when you risk giving the ball to the most aggressive QB in the NFL. How many times have we seen Peyton Manning go for the kill shot after a big defensive play? Although this didn't happen last night, the Colts did drive down the field for a score—not in the typical, devastating one-play-and-done fashion, but good enough.
How far the might have fallen. As a football fan, nothing is sadder than to see Marc Bulger and the Rams offense suffer this meltdown. Add this team to your weekly waiver wire merry-go-round of team defenses.