10/2/07
As we all know Hindsight is 20/20. This weekly column is devoted to learning from common mistakes and serves as FFToday's "Fantasy Football Confessional."
---
Did you zig when you should have zagged? If you're not paying attention, fantasy football will leave you feeling like a Ravens cornerback seeing the wrong end of a Browns receiver in a game you were supposed to win. Or like a practice dummy for Osi Umenyiora.


FFTOC Update
Pos
Player
Pts
Comments
QB
Tom Brady
27.04
C'mon, they were playing the Bengals!
RB
L. Tomlinson
21.4
LT was due for a good game after his "warm up" carries from weeks 1-3.
RB
M. Barber
7.2
Typical day if it weren't for the missing touchdown.
WR
R. Moss
22.2
Play him while he's hot…
WR
L. Coles
12.5
The Bills defense was better this week, but I still got a td out of the deal.
WR
B. Berrian
9.9
Better with Griese…
TE
A. Crumpler
3.4
A good day for the Atlanta QB, but bad for Crumpler. Times have changed…
K
M. Crosby
11.0
My logic: no GB ground game + decent Vikes Def = stalled in redzone.
DEF
Cowboys
13.0
Changing times part two—starting a defense against the Rams offense!
Total
127.64
Brady, Tomlinson, and Moss did their duty this week.

Some of these plays are a good reflection of understanding how the league looks now; not the league based on someone's preseason strength of schedule. The Rams offense was in sorry shape heading into this game and didn't have enough firepower up front to expose the vulnerable Cowboys pass defense for big plays. Tomlinson was a good choice against a division rival in what had to be a must-win game they ended up losing. Alge Crumpler is not a top tight end this year, due to Harrington's higher comfort level with WR Roddy White.

Let's move on to the week one files of 20/20 Hindsight.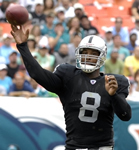 Daunte Culpepper Would Light Up Miami For Five Scores: Whether you believe in Divine Justice or Hellish Retribution (depending on your status as a Dolphins fan), Daunte Culpepper got his Sunday afternoon—two by air and three by ground en route to a 37-17 victory. The signature moment came after Culpepper beat the Miami defense to the corner and dove into the end zone for his second rushing touchdown. The former Dolphin quarterback looked into the stands and pointed repeatedly at his knee, indicating he was ready to resume his career as the prime time signal caller Miami thought they had, but weren't patient enough to see through fruition.
But Culpepper's numbers looked more like the quarterback version of one of Jerome Bettis' late-career stat-lines: 5/12 for 75 yards passing with 2 scores in the air and 7 attempts for 28 rushing yards and 3 touchdowns. This isn't quite the statement game fantasy owners can look to as a sign of Culpepper's revival. Miami's defense has been a disappointment and for the second straight week, they were without linebacker and captain, Zach Thomas.
Lesson Learned: Some situations in life seem specifically meant for the individual to prove himself. Culpepper's chance against the Dolphins was definitely one of these moments. Although this makes a great Monday morning story, you would be best served to remember that Culpepper only attempted 12 passes, the opposing defense was very weak, and the Raiders were running at will. If anything, the lesson here is that Oakland's offensive line is looking better than expected and the Dolphins front seven on defense has been a disappointment despite the addition of Joey Porter. Still, a good offensive line helps all the skill players, so Culpepper deserves serious consideration for as long as he starts in Oakland.
Trent Edwards Would Perform Well In His First Rookie Start: The rookie out of Stanford made his first start in place of an injured J.P. Losman and beat the Jets with a performance where he completed 22 of 28 passes for 234 yards with a touchdown and a pick. Edwards did a nice job distributing the football, completing at least 3 passes to five different Bills receivers. Whether by an improved design or just better recognition on Edwards' part, Lee Evans also got more involved this week—a good sign for Buffalo and their lone game breaker.
I'm a big fan of the Bills rookie quarterback, who quietly performed well enough this off-season to assume the back up spot on the depth chart. I honestly believe Edwards and John Beck are the top two rookies at the quarterback position. If you haven't read my analysis of Edwards' game, check it out here. As I mentioned in the 2007 Rookie Impact Series, I think the Bills knew they got a quarterback who could lead this team and his former Stanford teammates swore Edwards was the most competitive athlete they ever saw. According to a report from the Associated Press, Edwards showed the presence and leadership of a veteran from the onset of his first practice as the starting quarterback and this transferred to the field on Sunday afternoon.
Lesson Learned: It's only one game, so Edwards is likely to have some really bad games down the line. But you can't help but notice that the Bills rookie was poised, accurate, and in control during a game that could have gone to either team. The lesson here about rookies is there are often really great prospects that play on squads with inferior talent. The best way to discover these players is to watch them against superior talent. I watched Edwards do an amazing job versus a USC squad that overwhelmed his supporting cast. His stats weren't amazing, but his mechanics, consistency of play, and toughness in a difficult situation were highly telling of his potential. I think J.P. Losman will be elsewhere within 2 seasons.


Patrick Crayton Would Have Such A Huge Game: It's expected for T.O. to catch 7 balls for 184 yards and two scores, but not former college QB, Patrick Crayton who is starting in the place of the injured Terry Glenn. The first of Crayton's scores was a 59-yard catch and run where he covered ¾ of the distance after the reception, outrunning the secondary down the sideline. The second touchdown grab was an over the shoulder reception where he soundly beat his man by a step.
Lesson Learned: When an overmatched defense such as the Rams has to devote so much attention to Terrell Owens and Jason Witten, a good quarterback will spot the single coverage opportunities very quickly. That receiver with the single coverage in Dallas was Crayton. You should expect the same from receivers such as Donte Stallworth or Wes Welker, Chris Henry when he returns to Cincinnati, Shaun McDonald or Mike Furrey, Anthony Gonzalez, and Bryant Johnson. The problem is predicting when these receivers will have this kind of game.
Justin Fargas Would Riddle The Dolphins Defense For 179 Yards On 22 Carries: What's more impressive is this included 100 yards in the 4th quarter alone—if you don't think the absence of Zach Thomas made a difference, here's exhibit A folks. Fargas has always been an explosive back with a fearless running style. With a better offensive line, the Michigan alumnus took over for an injured Lamont Jordan, who was having a good day, and guaranteed Daunte Culpepper an easy opportunity to look good.
Lesson Learned: Although Fargas was impressive the Raiders offensive line deserves the credit. If Jordan can't return soon, look for Dominic Rhodes and/or Fargas to continue having nice days against all but the toughest defensive fronts in football. If you really need a back in the coming weeks and Rhodes is on your waiver wire, Oakland just demonstrated the prowess of their offensive line for you to seriously consider the former Colt coming off suspension.
Baltimore's Defense Would Look Pedestrian Versus Cleveland (Or How Braylon Edwards Kicked Them In The Groin): I'd say Edwards kicked my analysis of his future '07 performance in the groin, but it wasn't like his long td came on a reception in tight coverage. Nor did he tear through the field on a great run after the catch; the Ravens had an involuntary BM (Bengals moment, which guess could be synonymous with an involuntary bowel movement) and blew a coverage scheme.
Lesson Learned: Others may tell you Braylon Edwards will be a top tier receiver for the rest of the year. He has top tier talent, but I'm still not convinced he's been the beneficiary of poor defensive play more than offensive excellence. It seems Cleveland's offensive line is improving, which is affording the skill players better opportunities. Stay tuned on this front. I'd still consider trading away Edwards, but that could change if he keeps this up.


There's A Factory Recall On The #24 Cadillac: The injury Williams sustained Sunday afternoon looked painful and if early reports are true, the Buccaneers leading ball carrier is done for the season. Looks like Earnest Graham, Michael Pittman, and possibly Ken Darby—if they promote him from the practice squad—will take his place.
Lesson Learned: Some players are just more injury prone that others. Cadillac Williams reminds me of Greg Pruitt, the former Oklahoma star running back that the Browns drafted in the 70s. Pruitt was the runner up for the Heisman and he had terrific vision, cutting ability, and elusive moves in the open field. Although Pruitt had a lengthy career as a part-time runner and return specialist for the Browns and Raiders, he couldn't stay healthy enough to fulfill his extraordinary talent.
Unfortunately, Cadillac can't seem to avoid the injury bug. I don't think he's more brittle than other players, but he does seem to get into more contact in an unprotected state than his peers. At this point, I think Cadillac's future days as a fantasy starter are remote.
Chicago's Defense Was Vulnerable This Week: This was a game ready made for the Detroit offense. They took advantage of an injury-riddled, Chicago defense en route to a division win.
Lesson Learned: The Bears had six starters on the training table heading into the weekend. If you don't think the absence of more than 50% of your starting defensive line up won't change the balance of a match up, look at the Rams offense without Orlando Pace and Steven Jackson. Missing two players has been a huge blow for them and the Bears are in three times more trouble. Throwing on Chicago won't be too difficult if they don't get these players back soon.
Arizona Could Beat Pittsburgh: The Steelers entered this match up looking like one of the elite teams in the league. Arizona dominated this game from the second quarter through the fourth quarter and despite a Pittsburgh comeback, held on for the win despite the absence of Anquan Boldin.
Lesson Learned: Former members of a team's coaching staff often play their previous squad tough, at least for the year after leaving the original team. Eric Mangini's Jets played New England hard. This time we saw the same from Ken Whisenhunt and Russ Grimm, two viable candidates to replace Bill Cowher in Pittsburgh, but wound up in Arizona. Mike Tomlin's decision to keep the 3-4 defense and Dick LeBeau in charge actually made it easier for the Cardinals to game plan, considering how much they faced this defense in practice for years as a part of the Steelers offensive coaching staff.


Nagging Feelings—Week 5
It is almost a shame that Dallas Clark doesn't play for the Chargers, Chiefs, or Ravens. The Colts tight end is such a good receiver but if it weren't for Marvin Harrison bruising his knee this weekend, we wouldn't have the pleasure of watching Clark score two touchdowns and work with Peyton Manning to make all-world corner, Champ Bailey, to bite on a route. He also came out of his breaks like a wide receiver—just ask Domonique Foxworth. If Marvin Harrison has any lingering effects with his injury yesterday, Clark could become a more central figure in the Colts aerial attack.
Every year there are teams off to poor starts that rebound after the bye week. Candidates include the Saints, 49ers, and Chargers.
Where does Ricky Williams go if he's granted reinstatement? One guess is the Bucs, but I think they would shy away from Williams after giving David Boston another chance. They just saw the former Cardinals receiver self-destruct just as he was on the verge of breaking into the starting lineup. Chris Mortensen also mentioned the Saints, but I think that idea is preposterous. Williams wore out his welcome long ago in the Crescent City. I know there is a different coaching staff and player personnel crew in place, but I believe they give Reggie Bush a true shot before adding another veteran of Williams' caliber of talent. The team that really is in the best situation to play for his year is Green Bay. If the Packers could generate a ground game, they could play with just about anyone.
This week, the FFToday squad dominated week four with the help of Osi Umenyiora's gem of a game. Although it is the first win of the season for this squad, the general feeling among the members of this coaching staff is the team is beginning to hit its stride. The problem is we're 0-3 in the division—a huge hole. But with Clinton Portis(bye) and Daunte Culpepper (lack of foresight) on the bench this week, there is promise for a mid-season run.


FFToday
NFLFreaks
Player
Pts
Player
Pts
Garcia, Jeff TBB QB
7.85
Roethlisberger, Ben PIT QB
26.8
Brown, Chris TEN RB
9.6
Jones, Kevin DET RB
12.4
Portis, Clinton WAS RB
21.7
Galloway, Joey TBB WR
1.7
Branch, Deion SEA WR
19.7
Walker, Javon DEN WR
0.0
Driver, Donald GBP WR
29.6
Williams, Roy DET WR
11.3
Gates, Antonio SDC TE
27.3
Clark, Desmond CHI TE
17.4
Nedney, Joe SFO PK
11.0
Brown, Kris HOU PK
11.0
Turk, Matt HOU PN
9.67
Jones, Donnie STL PN
41.3
Dockett, Darnell ARI DT
17.0
Freeney, Dwight IND DE
14.0
Young, Bryant SFO DE
1.0
Schobel, Aaron BUF DE
9.0
Fujita, Scott NOS LB
17.0
Brooks, Derrick TBB LB
6.0
Morgan, Dan CAR LB
20.0
Colvin, Rosevelt NEP LB
0.0
Williams, DJ DEN LB
17.0
June, Cato TBB LB
1.0
Huff, Michael OAK S
14.0
Hobbs, Ellis NEP CB
8.95
Wilson, Adrian ARI S
25.0
Taylor, Ike PIT CB
21.0
Total
263.0
Total:
182.0