12/25/07
As we all know Hindsight is 20/20. This weekly column is devoted to learning from common mistakes and serves as FFToday's "Fantasy Football Confessional."
---
Two rough weeks and forgetting I had Anthony Gonzalez in my available player pool dropped me from 1st to 27th in the FFTOC, but in this league it's still possible to make up a 40-point deficit with a strong weekend.


FFTOC Update
Pos
Player
Pts
Comments
QB
D. Garrard
27.86
Two by air and one by ground against Oakland was what I expected. If only the Raiders kept it closer, I needed every point I could get.
RB
M. Drew
20.0
He was very close to two scores. Too bad, he was pulled in the 4th QTR.
RB
E. Graham
3.2
Originally had Maroney, but several factors scared me off—too bad, the stats told the truth, I just refused to listen.
WR
D. Bowe
15.7
Excellent day that almost wasn't with the TD reviewed on replay.
WR
A. Gonzalez
2.2
That's what I get for forgetting I had him when he was playing well.
WR
J. Cotchery
21.2
This was just an obvious play with what I had left at the receiver spot.
TE
D. Lee
0.7
Same for ignoring Lee all this time.
K
N. Keading
11.0
Divisional rivalries spawn field goals…look it up.
DEF
Bucs
6.0
Total
107.82
Just what a few different moves in 3 weeks could have meant!

Any shot at the big bucks went out the window when I inserted Graham in place of Maroney and this total may not even keep me in the money. It was a good season overall, but when you can count the moves on one hand that could have meant the difference between placing in the top 30 and winning the tourney, it's a more difficult pill to swallow.

A Player Could Make $48,235 For Getting Added From Waivers Prior To The Weekend And Released Afterwards: That's FB Zack Crockett's story. Waived by the Bucs he was added to the Cowboy's roster for the weekend while Roy Williams served his suspension. You can own a house, car, and support two kids relatively well on that kind of change for a year in many parts of this country. Don't you wish you could get laid off from your job, take a job where you are handed a playbook, a ticket to Charlotte, and a uniform so you can sit on the sideline and earn nearly 50 grand for the weekend? Where do I sign up? Talk about fantasy football…that's it!!!

Lesson Learned: Crockett has been playing for 14 years. I hope he had the wherewithal to live on a third to half his salary…Because he won't be picking up that kind of weekend money in the real world.

Laurence Maroney Would Save His Best For Last: The thing that blows for fantasy owners like me who were leery Maroney would get enough touches was the guy gained 74% of his yardage on five touches—including the touchdown! How do you account for five touches? Of course, I played Earnest Graham how wound up with five touches all game. We all knew Maroney was a good runner and the Dolphins defense was a great match up. What we second-guessed was whether the Richard Nixon of the NFL would pull his henchmen in the 3rd quarter or if the predicted storms for the second half would make offense more difficult to execute.

Lesson Learned: Sometimes fantasy football is as crazy as the weather.

The Brady And Moss Couldn't Beat The Records Of Manning And Rice Despite Running Up The Score Of Games All Year Long: There were at least 3 passes where Brady threw the ball in triple coverage to Moss as the duo attempted to break the individual records they have been chasing. The results were penalties, interceptions, and nearly a knee injury for Moss.

Lesson Learned: Personally, I think it would be divine justice if Brady and Moss didn't get the individual records they were so clearly pressing to achieve in the second half of the Miami game. Brady is always telling the media that this is a team game and no one cares about records. Bill Belicheck looks like he's in a room with a bunch of continuously flatulent, old, and white men as he answers every question in the weekly press conferences—okay, maybe this is true. Still, Belicheck knows that we know his intentions: he wants dictate his will upon the league although he plays dumb about it in his petulant and smug manner. This is a team game and what we saw in the second half was not team football. As much as I like Randy Moss, Jerry Rice's 22 scores in a strike-shortened season is still a phenomenal achievement beyond what Moss may surpass in week 17. Maybe both of these guys know they won't be playing much next week, so they were trying to get theirs early. Bill, Tom and Randy, Merry Christmas and congratulations on your impending regular season record—may justice be divine.



Who Would Have Known The Longest TD Run Of The NFL Season Came From… Not Adrian Peterson. Not Reggie Bush. LT? Nope. Brian Westbrook. Nada. Maroney? It probably feels that way for most of us who didn't start him. Frank Gore? Okay, sorry I'm getting carried away. How about a 7th round pick, I profiled as a long shot in June? Bingo. No one in his right mind would have started Bradshaw on Sunday, but if you are looking for a potential dynasty bargain, look no further.

Lesson Learned: The best players aren't always on the field right away. Look at David Garrard toiling behind Byron Leftwich until Del Rio had the guts to make the move. I think the same can be said about Bradshaw behind Jacobs and Droughns except that Bradshaw really hasn't toiled much. Seriously, he's had issues with fumbling kickoffs while showing flashes of excellence. I'm sure Droughns, Jacobs, and even Ward also knew the pass protection schemes better than Bradshaw. But as a runner, he might be the best of the three in terms of vision and elusiveness.



David Garrard Would Be Money: Did you learn your lesson about the Raiders' misleadingly lofty pass defense stats and start Garrard in a game the Jags needed to win in order to clinch a playoff spot? If you did, you were rewarded with three scores in three and a half quarters of work. If you didn't, I hope you didn't use one of these guys over Garrard: Romo, Favre, Anderson, Palmer, or even Brady (in leagues with penalties for turnovers).

Lesson Learned: He may not be a big name, but he's had big game in 2007. If you had not realized the Raiders were a great match up through the air as well as on the ground, then you aren't looking at stats—and you probably aren't reading this column with a week 16 match up in the books.


Nagging Feelings—Week 17

The fantasy season is over, but here's my chance to get back on my soapbox for a holiday sermon on judgment. Specifically, the media's thoughts on when a player should retire from the game of football. I just listened to ESPN's Dana Jacobson and another commentator—whose name I didn't catch (an African American female, not Bayless)—explain why they admired Barry Sanders. One of the reasons was the fact he retired while still at his athletic best. Jacobson talked about him leaving because he was tired of playing on a team that wasn't a winner. Then they compared him favorably to someone like Brett Favre, who, they predict won't know when to leave.

Athletes are admired throughout their careers for their determination and grit. Football players in particular play through injury and get unfairly praised and criticized for events that often occur with the influence of 21 other teammates. The best don't give up when play after play nothing goes right, but they still find a way to make something turn their way and come out victorious. So why am I going to expect a pro football player - trained to overcome physical, psychological, and mental obstacles to know when to quit?

I admit, it's ugly to watch those great players trying to keep alive the magic that has clearly faded. Ever see Joe Namath and Johnny Unitas trying to eke out those last years when their body's betrayed them? How about Dan Marino in the Jimmy Johnson era or Emmitt Smith with the Cardinals? Not pretty. What about Terrell Davis after multiple surgeries or Priest Holmes coming back in 2007? Pitiful, right…but let's consider a few things.

If Brett Favre quit last year or two years ago, would we have seen the Packers win the NFC North and have a strong chance to return to the Super Bowl? Maybe Aaron Rodgers will be a good player, but whether he could do the same things Favre can is irrelevant. The fact Favre can still do it is the point.

If Gale Sayers quit after shredding his knee rather than return in record time to rush for 1000 yards he wouldn't have inspired other athletes to fight through injury to get back on the field. What about Jack Youngblood playing the NFC Conference Title game with a broken leg? What bout T.O. playing, and playing well, in the SB on a still-healing leg? What about Ronnie Lott having part of his finger amputated to keep playing in a game? Or Emmitt Smith and gutting it out against the Giants with a shoulder separation and Marino still contending despite his Achilles-shorn leg looking more like a baby's arm in subsequent seasons. It's the same mentality that allowed these players to excel that prevents many of them from knowing when to give up.

I'm not saying Barry Sanders or Jim Brown weren't wise to leave at their best. These were incredible well made decisions, but why should you stop admiring a player who continues to try to help his team win if the team is still going to let him start? Blame the teams not the player. San Francisco let Joe Montana go when they felt they had a better (because he was good and younger) option in Steve Young. Montana nearly led the Chiefs to a Super Bowl, but the Niners made a good decision.

So when you see an aging player still giving his all, but looking all too human, try admiring him for his will to win and criticizing management and coaches for not recognizing the problem. It is their job to evaluate talent, not the player.

I don't believe Peyton Manning will play more than a series or two, next week. Tony Dungy knows the Titans play the Colts tougher than most teams and will be particularly concerned with Tennessee's front four versus the Colts offensive line. If you can keep Manning healthy in a game that has no implications for the Colts, he's not going to see much time.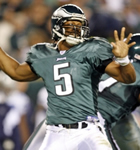 I think as much as the Bears want Donovan McNabb to be in Chicago in 2008, he'll remain in Philly. Although McNabb has been inconsistent this year and has experienced difficulties remaining health, he is still good enough lead Philly to a Super Bowl. The key reason I think he stays is Brian Westbrook. The Eagles' runner is in the prime of his career and Philly's front office will likely realize that pairing the RB with a healthy McNabb gives this team the best chance to keep the window open for the next few seasons. If McNabb and his receivers had two better performances, they would be a playoff team. If McNabb were healthy enough to go, he might have been the reason the Eagles beat the Patriots. If McNabb is sent packing, Kevin Kolb better be a quick study…The Vikings have the best combination of need and match for his skills, but its clear Brad Childress has anchored his coaching career in Minnesota to their titanic talent, Tarvaris Jackson. If McNabb goes to Chicago, the Bears could easily challenge the Packers for the NFC North title.