12/4/07
As we all know Hindsight is 20/20. This weekly column is devoted to learning from common mistakes and serves as FFToday's "Fantasy Football Confessional."
---
The FFTOC Finals have begun and Hindsight wasn't dogging me at all as I posted the top-scoring team to begin the postseason. There are two teams in the top 25 that are starting Brady or Moss have a chance to overtake my early lead, but this week played out as well as I could have expected:


FFTOC Update
Pos
Player
Pts
Comments
QB
P. Manning
35.72
The Jags allow a ton of yards through the air, the Colts were at home, and Ugoh was back in the lineup. It was worth the wait to use Peyton.
RB
S. Jackson
22.7
I live 55 miles from Atlanta and grew up there, I knew this was the week Jackson would be a good play.
RB
B. Westbrook
19.9
Westbrook has had bigger games, but he was the safest play with Denver's uncertainty between Henry and Young.
WR
A. Johnson
17.6
The Titans secondary is no match for Johnson this weekend. He fit the mold of the player on a team trying to stay alive for a wildcard.
WR
H. Ward
21.0
Another throwback game this weekend—this was a no-brainer.
WR
B. Marshall
6.7
If this is my worst performance, I'll take it!
TE
C. Cooley
8.9
No score, but I'm happy with this production from a TE.
K
N. Folk
13.0
Folk has become a scoring machine with this Cowboy offense.
DEF
Panthers
17.0
I talked a lot about Dilfer making this 49er offense better, but I didn't have many defensive choices here, so I hedged by bets!
Total
145.69
One of my three best weeks of the year, and when it counts most. Going into Monday night, it was the best FFTOC performance of the week!

The worst pick was Brandon Marshall, considering that Roy Williams was a consideration and his last game turned out to be Sunday (sprained knee), but I'm still looking good with three weeks left.

QB (Need 3) — D. Anderson; D. Garrard; J. Kitna; M. Bulger; E. Manning; J. Cutler; M. Schaub; J. Campbell

It couldn't be better for me that the referees didn't call a force out on the last play of the Browns-Cardinals game, because it means Cleveland has to play lights out football to hold off the Titans for the final playoff spot in the AFC. So as tempted I was to play Derek Anderson this week, I still had Peyton Manning and his final regular season, must-win game. If Kitna and Bulger can regroup from lackluster play and injuries, respectively, I like my remaining choices

RBs (Need 6) — J. Addai; F. Gore; Peterson (Minnesota); Peterson (Chicago); R. Grant; E. Graham; R. Droughns; F. Jackson; T. Henry/S. Young/A.Hall; J. Fargas; D. Foster; L. Maroney; J. Chatman; K. Smith; M. Morris; D. Williams

The Colts face Baltimore this week, but half Oakland in week 15. It's a bit of a dilemma with Addai, considering the Colts strengthened their lead in the division and may consider resting players by the time they face Oakland. I don't think Addai will be on the bench against Oakland, but there's a chance. Gore faces Cincinnati, Minnesota, and Cleveland in two of the next three weeks and A.D. and his broken-in brace take on San Francisco this week with the playoffs in the balance. I may not have all the marquee names, but I do have 8-10 runners playing very well lately.

WR (Need 9) — L. Fitzgerald; L. Evans; D. Driver; J. Cotchery; D. Bowe; R. White; A. Gonzalez; J. Gage; M. Jenkins; I. Hilliard; S. Moss; D. Mason; B. Engram; J. Porter; M. Muhammad; M. Furrey; S. McDonald; N. Burleson; A. Toomer; E. Wilford; K. Robinson; J. Jurevicius; K. McCardell; J. Reed; D.J. Hackett; D Henderson; A. Davis; B. Wade; S. Rice; D. Northcutt; V. Jackson; M. Booker; T. Ginn; S. Morey;

This is my weakest position on paper, but I'm confident I can get enough production from nine of these players.

TE (Need 3) — A. Gates; J. Shockey; D. Lee; J. King; G. Olsen; B. Watson; T. Scheffler; L.J. Smith; Z. Miller; M. Lewis.

Gates, Shockey, and Lee aren't bad remaining options.

Let's move on to the week thirteen files of 20/20 Hindsight.


Rex Ryan Would Beat The Ravens: Willis McGahee and the offensive line pounded the Patriots all night. The wind prevented Brady from beating New England deep, although Randy Moss got open—Moss even dropped two touchdown passes. Kyle Boller played one of the best games of his career. But who would have thought on 4th and 1 on the last drive of the game, Rex Ryan would call a time out just as the Ravens defense stuffed a Tom Brady sneak to end the game and upset the undefeated Pats?

Lesson Learned: I didn't know whom to cheer in this game. I needed Moss to catch one of those two touchdown passes, but the Ravens defense played great and I like that they confused Brady when Peyton Manning dissected them twice in two seasons (yes, another reason why Manning is better than Brady) with greater ease. Still I had to cheer for Brady so Moss could get more chances. But next thing I know, I'm cheering for the Ravens offense to tie the game and they nearly did with that Hail Mary throw. If they only had enough seconds on the clock to call a timeout. My lesson learned? The great thing about fantasy football is that you can appreciate good football and cheer for both teams in a game you otherwise wouldn't have more than a passing interest because you're not a fan of either team.

Adrian Peterson Would Play This Well With A Knee Brace: I'm sure Kenoy Kennedy didn't imagine he'd be on the receiving end of the NFL equivalent of getting posterized by a runner with a brace the size of a shark cage attached to his knee. Can you imagine what A.D. might do without a knee brace? If you saw him against Chicago and San Diego in November, yes you can.

Lesson Learned: Seems like paralysis by analysis can occur when the media has a coach they have had an easy time second-guessing. I've been critical of Brad Childress repeatedly this year, but when the Vikings staff came under fire for potentially rushing Peterson back to the field, they apparently knew what they were talking about.

Josh Mccown Would Have 3 Scores And A 66% Completion Percentage: If anything, we thought Culpepper bought one more week of play before JaMarcus Russell saw time. Instead, McCown put them ahead early and they never trailed against the Broncos. Russell did see time and went 4/7 for 56 yards with 3 rushing attempt for 4 yards.

Lesson Learned: "Seeing time," is a relative term for a rookie quarterback. If we heard the phase, "Get his first start," then we're talking something different.


The Rules Would Have A Huge Impact On The Last Play Of A Game, Part I: Kellen Winslow catches a last-second pass, but has two defensive backs push him out of bounds and the Browns lose. The refs could have changed the outcome of this game by calling a push out and awarding the touchdown to Winslow and Cleveland. Winslow made an incredible catch, but not an incredible completion due to the way the rules are currently written.

Lesson Learned: In my opinion, there is no controversy here. As I watched this game, I personally wanted to see Winslow be rewarded for an incredible, clutch-grab—the kind of plays he made on 4th downs as a Miami Hurricane—but I understand the logic of the NFL's rule for push outs. If the on-field refs at the University of Phoenix Stadium called a push out, the ref in the booth could not review the play because it was a judgment call. Remember, if there is not clear evidence to overturn the play, the booth cannot overrule it. Unfortunately, everyone is looking at the great play Winslow made and wants to see him rewarded despite the fact the booth does not have enough hard evidence to overturn the call. We really don't know whether Winslow would have gotten both feet in bounds. I want to believe he would. I would have even placed money on it, but it doesn't mean it clearly would have happened. There's too much speculation involved in this play and all the critics are overly emotional about the would've, could've, should've involved with the outcome and standings if catch were ruled a completion.

The Rules Would Have A Huge Impact On The Last Play Of A Game, Part II: Joe Gibbs calls a time out to ice the Bills' Ryan Lindell on a 51-yard field goal attempt that he follows through and makes as the refs blow the whistle. This was his second straight time out before the same play—a penalty that allowed Lindell to win the game from a much closer range.

Lesson Learned: I'm a critic who only knows what he observes. I admit it. I wish the rest of the critics on television would admit it, too. Joe Gibbs is the manager of 53 players and 15-20 assistant coaches and trainers. Should a manager of a 73-person team know the moves of every employee at every moment during work hours? In theory yes, but it's not likely in reality. Should a CEO know the decisions of all 10,000 of his employees at every moment at work? I don't think so and most business analysts would give you the same answer.

I'd consider Gibbs and other NFL coaches more akin to a high-level executive. They have as much, if not more media exposure and pressure as executives. NFL coaches get paid like high-level managers. Heck, they even get hired to speak to executives when their careers are over (or at least have some CEO quoting him at motivational meeting)! Cut Gibbs some slack. He lost one of the best two players on his squad in a tragic shooting and his team still played well enough to make the game close.

They also talk about Gibbs not knowing about Greg Williams' plan to start the first defensive series with 10 players on the field and pair it with the fact he's lost this team and lost touch with the game. Does Tony Korhneiser, Bob Ryan, or any other columnist have a clue what their spouses and children are doing every moment while they are on TV talking about this stuff? Does it make them bad parents if they don't? Should we judge them? I'm just not buying it.

Gibbs is a Hall of Fame coach who took responsibility for his mistake. He's a leader with accountability and players have sworn by him as a coach and human being. The media likes to set up heroes and goats. They did this conveniently with Gibbs and the Redskins. You could almost hear them all week long, saying things with the same subtext of Lou Holtz talking up a division-II opponent: The Redskins aren't going to be anywhere ready to play this game (But we're setting them up so we can cover this great story about them heroically winning one for Sean Taylor) and Joe Gibbs is a great leader and will rally this team (But we're setting him up to fail if he or his team makes a mistake). No leader is previously equipped to handle a situation as unique as what happened with Sean Taylor's shooting. Admire the Redskins for playing as well as they did. It's just a game—not a war against world tyranny. If the media really wants to pay respects to Taylor, show some class and don't overanalyze the team's actions in the wake of his death when no one committed a crime, cheated, or behaved poorly.



Hines Ward Would Come Up Big In The Rain Against Cincinnati: With 8 catches for 90 yards and two scores in a sloppy game against the divisional rival Bengals, Ward surpassed John Stallworth's touchdown record.
Lesson Learned: Hines Ward + Bad Weather vs. Bad Pass Defense = Fantasy Points. Drill it into your head.

Joey Galloway Would Come Up Big Versus The Saints: Although Galloway's route adjustment on a blitz that resulted on a Mike McKenzie interception return for a score and nearly cost them the game, the Bucs receiver continued his dominance of the Saints secondary.

Lesson Learned: Pay attention to history. It would have told you Galloway is a good play versus New Orleans regardless of who is throwing the ball to him.


Nagging Feelings—Week 14

Justin Fargas may seriously have a shot to start next year. Lamont Jordan is trying to talk his way out of town after losing his starting job and Michael Bush is a runner Oakland will evaluate in the off season. Don't be surprised if they draft a back, but Fargas is averaging 4.8 yards per carry and could surpass 1000 yards rushing (he already has 1000 total from scrimmage) with only five starts in 2007. Don't look now but Fargas could be that #3-#4 RB you draft next year between rounds 5-8 who becomes a strong starter. We're talking about a 6-1, 220-lb back with speed. He's the size of Edgerrin James with great speed! He doesn't have James' vision, but he's a hard-nosed player. I like Fargas and he's a runner I'd consider acquiring either in the mid-rounds of a re-draft or a draft day trade in a dynasty league. I know a 4-8 record isn't impressive, but Lane Kiffin has done a good job in his first season with the Raiders and Fargas will only be entering his 6th season. He's a low risk, high reward option if you head into a negotiation for him if you understand the landscape of his competition.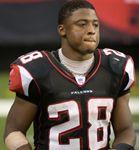 Why isn't Jerious Norwood starting for the Falcons? No disrespect to Warrick Dunn, who has had a great career, but I thought it was no coincidence Atlanta seemed to throw better after Norwood saw more time. When an opposing team such as the Bucs said the player they feared the most was Atlanta's second-string halfback, you understand something is fundamentally wrong about the team. Bobby Petrino's party line argument is that Norwood isn't starting due to his lack of patience as a runner, but doesn't one learn a lot more—and a lot faster—from game experience? It's a different arena, but one of the greatest improvisational musicians of our time, saxophonist Sonny Rollins, said in the December 2007 issue of Downbeat Magazine that "You can learn more in two minutes on the stage than from practicing maybe five weeks; in a subliminal way, all these things happen, and you learn." The Falcons are now officially out of contention, this is the time to give Norwood the bulk of the carries and let him learn from doing rather than the slow motion pace of practice. The great backs have linked running the football to an intuitive-improvisatory act and from what I've seen of Norwood, he's about 150 regularly fed carries from becoming a top-flight back.