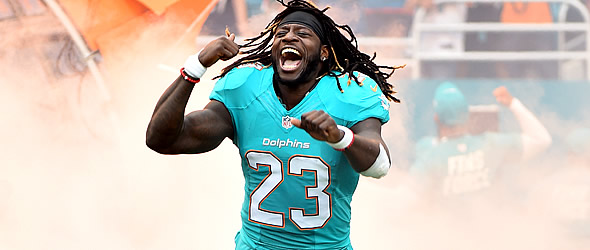 Fantasy owners don't seem too concerned that 46% of Jay Ajayi's fantasy pts came in three games.
QB Ryan Tannehill
(2016 QB Rank - No. 22, 19.1 FPts/G)
A knee injury in Week 14 against the Arizona Cardinals ended a disappointing 2016 season for Ryan Tannehill and the Dolphins, in what many predicted to be Tannehillís breakout year with highly touted QB guru Adam Gase taking over the head coaching job in Miami.
Tannehill posted his second-worst season in fantasy points per game, despite logging a career-best 67.1 completion percentage. Perhaps the regression in fantasy production, mainly attributed to the fact that he was on pace to throw 16 interceptions, can be linked to growing pains associated with learning a new offensive system.
On a positive note, the Dolphins finished with the 9th-best rushing attack in the NFL last season and will likely continue a balanced philosophy for Tannehill and the passing game in 2017, assuming Jay Ajayi and the offensive line can stay healthy. Also, Tannehill will benefit from the return of all his skill position players, and the addition of tight end Julius Thomas. Thomas was a high-priced free agent bust in Jacksonville but could return to form when reunited with Gase in Miami.
With the amount of depth at the quarterback position, mixed with the fact that he has yet to throw for more than 27 touchdowns in a season, Tannehill should be considered only a streamer or second QB in two-quarterback leagues.
RB Jay Ajayi
(2016 RB Rank - No. 12, 12.7 FPts/G)
The sophomore season for running back Jay Ajayi was one of the more bizarre storylines of the 2016 season, with the Dolphins doing everything in their power to not play the former Boise State Bronco. The Miami front office tried unsuccessfully to bring in C.J. Anderson from Denver, and then settled on an aging Arian Foster to start the season. Instead of using Ajayi as a backup in Week 1 against the Seahawks, the Dolphins front office deactivated the second-year player, citing attitude issues as the reason for the move.
A career-ending injury to Foster forced the staff to give Ajayi the start Week 5 against the Titans. Although the former fifth round pick struggled with only 42 yards on 13 carries, he did manage to find the end zone and post double-digit fantasy points. Ajayi would then follow with consecutive 200-yard performances against Pittsburgh and Buffalo, before posting 111 yards and a touchdown at home against the Jets Week 9.
Ajayi enters 2017 as the clear lead back for an offense that finished 2016 as the 9th best rushing attack in the league. He is a lock for 250 carries, assuming that he can stay healthy and does not lose the favor of the coaching staff. The health of center Mike Pouncey and the Dolphins offensive line is critical to the success of the rushing game - all but one of Ajayiís big games occurred when the O-line was active.
On a negative note, Ajayiís fantasy production was not consistent in 2016, with 57% of his yardage coming in a quarter of his games. Although he delivered two 27-point performances and a whopping 32.7 points against the Steelers Week 6, he failed to post double-digit fantasy points in nine of his 16 games.
WR Jarvis Landry
(2016 WR Rank - No. 22, 8.7 FPts/G)
A valuable PPR asset as a target hog in the Miami passing game, Jarvis Landry finished 2016 with 94 catches for 1,138 yards and four touchdowns. Although the former LSU Tiger finished with fewer targets (131) and receptions compared to 2015, he posted nearly identical yardage because he saw an impressive two-yard increase in his average yards per reception.
A favorite third-year breakout candidate for many fantasy owners last season, Landry continued to disappoint in touchdown production for standard league owners, with only four TDís on nine red zone targets.
Landryís role is clear in the offense, and the addition of red zone threat Julius Thomas and the likely improvement of DeVante Parker will continue to limit Landryís role regarding touchdown production. Despite this fact, his volume and yardage, especially in PPR and half-point PPR formats, makes him an attractive No. 2 wide receiver to target in the in the fifth and sixth rounds of fantasy drafts.
WR DeVante Parker
(2016 WR Rank - No. 59, 6.6 FPts/G)
After a disappointing sophomore campaign in which he finished with fewer fantasy points per game than fantasy stalwarts Dontrelle Inman and Quincy Enunwa, former first round pick DeVante Parker has reportedly changed his workout, eating, and sleeping habits over the off-season with the hope of living up to his vast potential.
At 6í2Ē, 209 pounds, Parker has the size and atheism to be a downfield and red zone beast for quarterback Ryan Tannehill. But a lack of focus and dedication, with even his head coach calling him out last season for poor toughness and professionalism, leaves many wondering if Parker will go down as a bust.
Despite the negatives surrounding Parkerís off-field behavior, he did see an increase in targets (87), receptions (56), yards (744), touchdowns (4), and catch percentage (64%) from his rookie season to last year. If he can continue to improve across the board, a 70/900/7 season is not out of the question, making him a viable No.3 wide receiver in 12-team formats.
WR Kenny Stills
(2016 WR Rank - No. 36, 7.9 FPts/G)
With nine touchdowns on 42 catches for 726 yards, Stills emerged as the favorite deep threat for quarterback Ryan Tannehill in 2016, with the two finally developing chemistry after a disappointing first season for Stills as a Dolphin in 2015.
Although he is considered a boom-or-bust wide receiver by many, Stills posted a high consistency score on our FFToday Wide Receiver Consistency Rankings. In fact, Stillsí 15.42 score was better than highly coveted wide receivers Amari Cooper, Doug Baldwin, and Brandon Cooks.
Stills will continue to be the vertical option in the passing game, and his volume will likely continue to be low. But at his current ADP as a bench wide receiver in most formats, there are few wide receivers with more upside in 2017 than Kenny Stills.

TE Julius Thomas
(2016 TE Rank - No. 21, 5.8 FPts/G)
Thomas failed to live up to lofty expectations and his sizeable contract in two seasons in Jacksonville, as the oft-injured former Bronco managed to play in only 21 games for the Jags. Still just 29 years old, Thomas has a fresh start in Miami with his former offensive coordinator that helped him become a star in Denver.
But Thomas does not have Peyton Manning throwing him the ball, and it remains to be seen how well he and quarterback Ryan Tannehill will gel on the field. Also, Thomas has yet to play a full 16 games in his six NFL seasons, as leg and hand injuries have plagued him over the years.
Despite the many questions surrounding Thomas, his late-round ADP and his ability to score touchdowns make him a desirable option for owners looking for a second tight end with top-10 upside. Just be sure to have another viable option at the position, as Thomas will likely miss more than a few games due to injury.