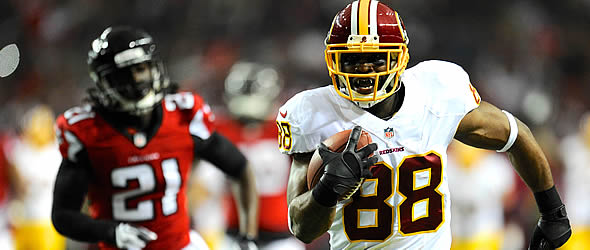 Pierre Garcon's best fantasy season (113-1346-5) came in 2013 with Kyle Shanahan as OC.


I recently spent an afternoon reviewing the last five years of data for my league of record, looking for trends and outliers with the hope of identifying something that could help me continue my recent string of success as the two-time defending champion. In both of my championship seasons, I did not have the most points at the end of the regular season, and I certainly did not have the best team. What I did have is a playoff caliber team that fared well in the playoffs, which is what all redraft owners should strive to achieve when drafting their team this summer.

A closer look at the last five years showed that in my particular league (of course all leagues differ based on size and scoring metrics), a team made the playoffs if they were able to finish with a minimum of eight wins. Any more and you were guaranteed a spot in the top four; any less you were destined for the consolation bracket and another frustrating finish out of the money.

An even closer examination of the data showed that the magic number of average points per game to win the required eight games was 87 points. If an owner managed to reach the magic number of 87 fantasy points per game, they would typically win enough weeks to make the playoffs. There were a few outliers where Rule 87 did not apply to owners who were significantly more unlucky than others, but for the overwhelming majority of weeks, 87 points per game equaled a trip to the playoffs.

To reach the magic number of 87 points per game, I plan on building a diversified roster of players with high ceilings and high floors, mixed with safe players that can help balance out my risk. Adding a Martavis Byrant is great in that he is amazing at home with Big Ben and could give me double-digit points in each of the Steelers home games, but the data shows that he and Ben struggle on the road and could limit my ability to reach 87 points in half of my matchups. To counteract this problem, I like to target less sexy players like Donte Moncrief and Eric Decker - players who may not give me monster weeks but have the ability to give me 65 yards and a touchdown on a relatively regular basis.

Diversification is key for rule 87 (Not to be confused with Mike Wrightís rule 86 of the Fantasy Footballers Podcast - without a doubt the best FF podcast on the market), and my safe target that I want to own on all of my rosters in 2017 is Pierre Garcon of the San Francisco 49ers.

Over the past four seasons, only ten wide receivers have posted more targets than Garcon, and only three of those wide receivers have finished with more fantasy points in each of those four seasons (Demaryius Thomas, T.Y. Hilton, and Antonio Brown). Sure, the fact that Garcon has been able to stay healthy and play in all 64 games during that span while more prolific wideouts have not skewed the numbers in Garconís favor, but it adds to my argument that he is a reliable producer because he is always on the field.

Playing under Kyle Shanahan is the second reason why I want to own Garcon in 2017, as the two have a history of solid production working together. No. 1 wide receivers under Shanahan have a history of producing near top-12 fantasy production (Andre Johnson, Julio Jones, Josh Gordon, etc.) and Garcon had a career year of 113/1346/5 in 2013 with Shanahan in Washington.

Garcon delivered those stout numbers with an inefficient and inaccurate Robert Griffin III throwing him the ball. Bryan Hoyer is certainly no Peyton Manning or Aaron Rodgers, but he has proven over the past few years with his play in Houston and Chicago that he can support a viable fantasy wide receiver, and is not at all a downgrade from 2013 RG3.

Another reason why I am high on Garcon is the fact that the 49ers have a favorable schedule for outside receivers in 2017. According to Scott Barrett of ProFootballFocus, one of the most accurate and highly respected strength-of-schedule analysts in the industry, Garcon has a top-5 favorable matchup for outside receivers this season, making Garcon even more attractive at his current ADP of 85th overall and the 36th wide receiver off the board.

Lastly, the roster construction of the 49ers and the lack of viable passing options for Hoyer leads me to believe that he will look to Garcon early and often in the potent Shanahan passing offense. Bruce Ellington, Marquise Goodwin, and Jeremy Kerley are not exactly go-to wide receivers and should be more complimentary pieces for Hoyer this year.

Despite the fact that Garcon has never been a high TD guy (He tied his career high with six in 2015), his volume is too attractive to pass up and his consistency as a low-end No. 2 or high-end No. 3 WR is fantasy gold. I donít think he has the ceiling to be a top 12 wide receiver, but if he is able to play all 16 games and the 49ers have the positive game script of playing behind often, I can see Garcon posting 100 catches, making him a steal at his Round-9 ADP.