This year's Wild Card weekend should live up to its name with four of the NFL's top six scoring offenses playing, including the Rams and Todd Gurley, the league's top scoring offense and fantasy MVP taking on the Falcons.

Blake Bortles and the fifth-ranked Jacksonville Jaguar offense host the Buffalo Bills, a team that allowed the most fantasy points to opposing running backs and the most running touchdowns in the league (18). A monster game by rookie Leonard Fournette on national television could be in play on Sunday as the Jags look to impose their will on the Bills with their punishing ground game.

The top-ranked New Orleans running game that produced two top-six fantasy running backs in Alvin Kamara and Mark Ingram take on the No.3 ranked rush defense of the Carolina Panthers. Although Carolina allowed only seven rushing touchdowns on the year, the tandem of Kamara and Ingram torched the Panthers for nearly 70 combined fantasy points in their two showdowns in the regular season.

Here are a few DFS plays that I will target in the four Wild Card games this weekend, including a possible breakout game for rookie Corey Davis against the Chiefs.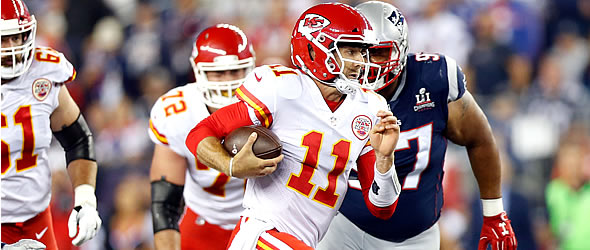 Attractive cash game QBs are hard to find this week. Alex Smith represents the best of the bunch.
Quarterbacks
H2H/Cash - Alex Smith vs. Tennessee ($6,300 on DraftKings)
There are a surprisingly low number of attractive cash game quarterbacks this week considering the number of top 10 offenses in play. Of the eight quarterbacks, Alex Smith at home against the Titans provides the safest floor for cash game owners. The Titans are far more skilled at limiting the run than the pass, which could force Andy Reid and Smith to use a pass-heavy offensive scheme.
Other options to consider - Cam Newton @ New Orleans & Jared Goff vs. Atlanta
GPP - Blake Bortles vs. Buffalo ($6,000 on DraftKings)
The way to beat Buffalo this season is by running the ball and limiting the ground game of LeSean McCoy and the Bills. Although I anticipate Fournette will have a big showing on Sunday, don't be surprised to see Bortles score a rushing touchdown to go along with a pair of passing TDs.
Other options to consider - Marcus Mariota @ Kansas City
Fade - Matt Ryan @ Los Angeles ($6,100 on DraftKings)
Fading Matt Ryan has been a theme this season, as the reigning MVP has come crashing down to Earth with just a meager 4095/20/12 stat line. The Falcons will look to run the ball extensively, and the Rams will force Ryan into making bad decisions with their 4th-ranked pass rush.
Running Backs
H2H/Cash - Leonard Fournette vs. Buffalo ($7,400 on DraftKings)
There are a ton of running backs to target in both cash and GPP games this weekend. Fournette playing at home against a Bills defense that allowed 18 rushing touchdowns in 16 games is too attractive to pass up.
Other options to consider - Todd Gurley vs. Atlanta & Alvin Kamara vs. Carolina
GPP - Derrick Henry @ Kansas City ($6,000 on DraftKings)
Henry posted his second-best game of the year last week with 18.7 points on 111 total yards and a touchdown, including a 66-yard touchdown reception to help seal the victory over Jacksonville. With DeMarco Murray out again with a knee injury, Henry is a nice inexpensive option for 25 touches against the Chiefs.
Other options to consider - Tevin Coleman @ L.A. Rams & Christian McCaffrey @ New Orleans
Fade - LeSean McCoy @ Jacksonville ($7,500 on DraftKings)
Running the ball is the best way to beat the top-rated Jacksonville defense, and Shady McCoy averaged 20 points in each of his previous three games before leaving with an injury against Miami. It is possible that he could have a significant day against the Jags, but his lingering ankle injury makes me too nervous to invest in him when there are so many other attractive options.
Wide Receivers
H2H/Cash - Cooper Kupp vs. Atlanta ($5,800 on DraftKings)
With very few high-end wide receivers worth targeting this week, I am planning on investing heavily in running backs and cheap volume receivers like Kupp. With double-digit games in six of his last seven games, including 7/118/1 against Philly in Week 14, Kupp is an undervalued wideout who is perfect to pair with an expensive RB in cash games.
Other options to consider - Michael Thomas vs. Carolina & Robert Woods vs. Atlanta
GPP - Corey Davis @ Kansas City ($3,600 on DraftKings)
For some reason, DraftKings has Davis as a 3.6k wide receiver this week, despite the fact that he was the recipient of 20 targets in his previous three games before Week 17 against the Jags. Throw out the numbers against the Jags, as the Titans played a conservative game against the league's top pass defense. Davis is an excellent GPP play who could post a career day against the league's worst pass defense in terms of fantasy points allowed to wide receivers.
Other options to consider - Rishard Matthews @ Kansas City & Keelan Cole vs. Buffalo
Fade - Devin Funchess @ New Orleans ($5,900 on DraftKings)
Two-time defensive rookie of the month Marshon Lattimore will not have difficulty shutting down a hobbled Devin Funchess. I'd much rather save $100 and go with Kupp against the Falcons.
Tight End
H2H/Cash - Travis Kelce vs. Tennessee ($7,100 on DraftKings)
There are slim pickings at tight end most weeks of the season, especially this week with eight teams playing and only a few viable fantasy options to choose from in the player pool. In cash games, paying up for Kelce makes sense, as his matchup at home against the Titans is the best among the possible options. Pair him with Smith for a nice cash game stack.
Other option to consider - Greg Olsen @ New Orleans
GPP - Delanie Walker @ Kansas City ($4,700 on DraftKings)
The Chiefs have been strong against opposing tight ends, but you have to like the volume Walker will receive (no fewer than five targets in a game dating back to Week 4) and the upside for a touchdown.
Other option to consider - Charles Clay @ Jacksonville
Fade - Austin Hooper @ L.A. Rams ($2,900 on DraftKings)
I suspect that the Rams will force a game script on the Falcons that will force Matt Ryan to pass heavily in the second half. This should bolster the outlook of the receiving options on Atlanta, including tight end Austin Hooper. But Hooper's lack of volume makes me too worried to play him in any lineup.