My season-long experiment of entering the weekly millionaire contest on DraftKings ended with a dud, as I chose the wrong wide receiver in Jacksonville as part of my Blake Bortles stack against the Texans.
It wasn't a smashing success, but I did walk away with just under $200 of profit from 15 entries. I averaged 135 points with a high score of 197.6, and I was able to cash nearly half the time. I had fun this season chasing that life-altering win, but I feel even stronger in my conviction that cash games and multipliers are the way to go in the future.
Here is a review of my final GPP lineup, including a disappointing one-catch performance by Devin Funchess in a favorable home game against the Packers.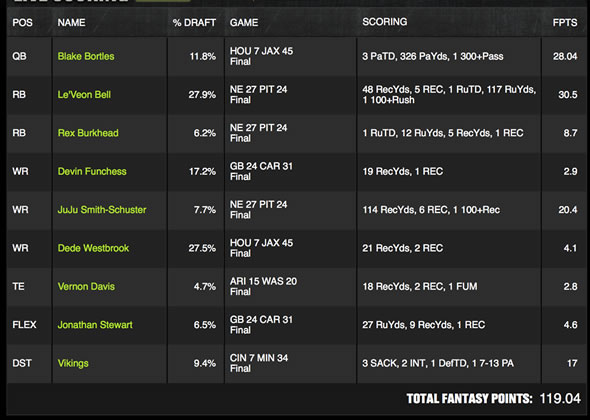 Quarterback: Blake Bortles
Points: 28.04
Grade: A
Bortles was my favorite sub-6k quarterback in all formats based on his strong play over the past three games, with an average of 24 points against the Cardinals, Colts, and Seahawks. I felt if Bortles could score nearly 20 points at home against Seattle, the probability of him scoring 20 or more against a poor Texans pass defense seemed high. The former first-round pick was nearly flawless on the day, completing 21 of 29 passes for 326 yards and three scores. I paired Bortles with Dede Westbrook for what I thought would be an excellent, inexpensive stack. I was correct in my logic that this game would present one of the better stack opportunities, but unfortunately, Keelan Cole, and not Westbrook, came through with seven catches for 186 yards and a score.
Running Backs: Le'Veon Bell & Rex Burkhead
Combined Points: 39.2
Grade: B
Going with Bortles over more expensive quarterbacks gave me the ability to spend the premium on Bell. I wanted as much action in the Steelers/Patriots game as possible, and Bell was the surest bet to score at least 20 points.
Burkhead scored an early rushing touchdown and appeared to be on pace for a solid game, but a knee injury derailed what could have been an "A" performance from my running back tandem.
Wide Receivers: Devin Funchess, JuJu Smith-Schuster, Dede Westbrook
Combined Points: 27.4
Grade: F
My wide receiving corps scored a combined total of what I was hoping for from just Funchess in his choice matchup against the Packers. Perhaps Funchess is still limited by a leg injury, and the Panther staff felt that attacking the Packers with Olsen and McCaffrey was the better strategy.
Smith-Schuster led the group with 114 yards on six catches, bolstered by his long reception late in the fourth quarter. I believe the injury to Antonio Brown hurt Smith-Schuster in that the defense was able to shut him down without the threat of Brown running free in the secondary.
There is not much to say about Westbrook. The big game I predicted went to another Jags wide receiver. I will say that I am not shying away from Westbrook next week against the 49ers, as I think he might bounce back in a big way.

Tight End: Vernon Davis
Points: 2.8
Grade: F
I will file this one away in the "overthought it" drawer, as I put too much stock in the Redskins needing to rely on Davis and Crowder over the middle instead of outside wide receivers against Patrick Peterson. Not only did Davis disappoint with two catches, but he also managed to fumble one of his receptions for a turnover and negative points.
Flex: Jonathan Stewart
Points 4.6
Grade: F
In a classic case of chasing points, I thought Stewart had one more week of scoring a rushing touchdown against a team that allows the 7th-most points to opposing RBs. Stewart scored a rushing TD in each of his last three games, including a three-touchdown game last week against the Vikings. I jumped off the Stewart train one stop too late and got burned to the tune of 4.6 points on 11 carries.
Defense: Vikings
Points: 17
Grade: A
The Vikings at home against a Bengals team that quit on their fans and head coach seemed like a no-brainer. The floor appeared to be seven to ten points, with the upside of closer to 20 with a defensive score. Minnesota tormented Andy Dalton for three sacks, two interceptions, and a defensive TD.