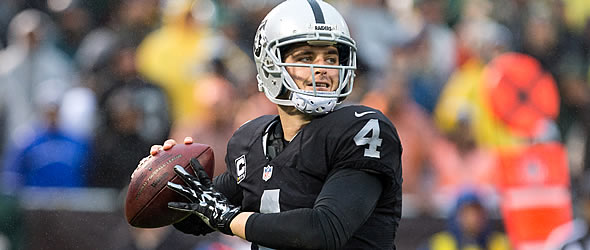 Fantasy owners are overvaluing Derek Carr, Cam Newton, Adrian Peterson and other "popular" players.


There is a "cost" for everything in this world.

I paid a little over a dollar for my coffee at McDonalds this morning. Starbucks charges $4.15 for their Caffe Latte Venti. That's a lot more for essentially the same thing. And fantasy owners, who love to own marquee players pay a premium price as well. It shows up in the form of a higher ADP.

You'll pay a premium for these six marquee players.

Why?

Because many fantasy owners love to watch and talk about "their" guy. That only happens when "their" guy is on national TV games and only the elite players, on winning teams, get frequent national exposure. It's why you will never get Aaron Rodgers, Tom Brady or any Dallas Cowboys/Pittsburgh Steelers star at a discount. They are elite players and teams with a "national" following.

Even the advent of the Internet and the NFL's "Red Zone" channel can't completely negate the fun of watching your quarterback play on a Monday night in front of the entire nation.
Listed below are six players who come with the "popularity" tax.

ADP values from FantasyFootballCalculator
# - of players who played at least six games

Quarterback

Derek Carr – (2017 ADP Position Rank – 6, 2016 Production – 17#)

The Oakland (soon-to-be Las Vegas) Raiders have always been a "national" team with followers around the country even when they were terrible. Now that they are good, fans and fantasy owners want to get in on the fun and Carr is the leader of a potent offense. Unfortunately, the numbers don't equal the hype. His 2016 production (21.0 FPts/G) was just 17th-best, yet he is the sixth quarterback off the board in 2017. The issue is that he's struggled within the division. He owns a career 73.5 rating against Denver and an even worse 68.1 rating against the Chiefs. Those numbers don't compare well to his career 87.9 rating. Until he solves both those defenses, you won't be getting fair-market-value. Mike Krueger has projected him as the No. 15 QB posting 4,120 passing yards, 28 TDs and 10 INTs.

Russell Wilson – (2017 ADP Position Rank – 7, 2016 Production – 19#)

From the moment rookie Russell Wilson grabbed the starting spotlight from Matt Flynn, he's been a celebrity. His Seahawks have posted double-digit wins in all five seasons and he led them to two Super Bowls appearances and one championship. He even married a celebrity. Everyone knows who he is, even the occasional fan, so to get him on your roster means taking him a little early. Wilson didn't produce in 2016, finishing 19th in FPts/G (20.4), but he's going off the board at No. 7. There are multiple questions to answer before selecting him that high. Is his line improved? Can he play all 16 games? Will head coach Pete Carroll let him run like he did when he was a 24-year-old? If he's healthy and running again, he could certainly get you those numbers, but it's a risk. At FFToday we think he'll get you the production you are seeking – 4,122 passing yards, 27 TDs, 10 INTs, 367 yards rushing, 2 TDs.

Cam Newton – (2017 ADP Position Rank – 8, 2016 Production – 16#)

Newton has been in the national spotlight since choosing a college and he's still there. A trip to the Super Bowl in 2015, a charismatic smile and seemingly unlimited talent is the reason he's going No. 8 in mock drafts despite posting just No. 16-level statistics in 2016. His talent at wide receiver is limited to whether Kelvin Benjamin is ready to mature into a star. The team did add a running back who can catch the ball (Christian McCaffrey), but to this point, Newton has failed to use his running backs as receivers. If that changes, if Benjamin matures, if Devin Funchess progresses, if the OL improves, then Newton will have more options than just throwing to tight end Greg Olsen. However, I think it's going to be a struggle for the Panther's quarterback and he likely won't produce up to his drafted level. FFToday is projecting 3,626 passing yards, 23 TDs, 12 INTs, 316 rushing yards, 4 TDs.

Running Back

Todd Gurley – (2017 ADP Position Rank - 10, 2016 Production – 27#)

I'm not sure why Gurley continues to be picked this high. He's the same player, his quarterback is the same and his top receiver from a year ago is now playing in Cleveland. Unless Robert Woods and Tavon Austin become receiving threats, defensive coordinators will continue to load up in the box, stop Gurley and dare Jared Goff to beat them with his arm. After ranking fourth at the position in 2015 (14.6 FPts/G), Gurley's production took a nose dive last season to 9.8 FPts/G. I can only assume that since new head coach Sean McVay comes from the offensive side of the ball that owners believe he can help Goff and in turn take pressure off of Gurley. Hopefully the improvement to the offensive line and a solid defense will keep the Rams in ball games and allow the running game to mature, but I'm not sold.

Adrian Peterson – (2017 ADP Position Rank - 20, 2016 Production – played just three games producing 2.7 FPts/G)

Peterson has led the league in rushing three times (2008, 12, 15), been to seven Pro Bowls and even changed the time frame we now think of for the return from knee injuries. But he played just three games last season and has missed 18 games in the last three seasons. Now he joins a passing team which already had a top-10 fantasy running back (Mark Ingram) and drafted a back in the third round (Alvin Kamara). If that doesn't say RBBC I don't know what would. Yet he's being selected as an RB2 as the 20th back off the board. If AP were to get 275 attempts he could produce top-10 results, but on a team with Drew Brees that seems unlikely. In fact, no back has had even 230 attempts under the Brees/Sean Payton combination. At FFToday we believe it will be a full-blown RBBC and have Peterson at just 139 attempts for 582 rushing yards and five TDs. Those are not RB2 statistics.

Wide Receiver

Demaryius Thomas – (2017 ADP Position Rank -15, 2016 Production – 23#)

The good news - Thomas posted his fifth consecutive 1,000-yard receiving season and continues to see plenty of targets. The bad news – despite his 1,083 yards, he produced just five touchdowns and his lowest production since 2011 (8.6 FPts/G). More bad news – the Denver Broncos' quarterback situation remains unsettled with Trevor Siemian and Paxton Lynch battling for the starting role. Their OL is ranked just 25th by PFF, down one spot from 2016. This is not Peyton Manning-to-Thomas anymore. In fact, Emmanuel Sanders saw almost as many targets as Thomas (137-144), produced similar yards (1,032) and just as many touchdowns. Until the QB situation is settled we really don't know which receiver is No. 1 and which one is 1A. In the meantime, Thomas is going off the wide receiver board at No. 15 and Sanders at No. 34. Seems like with Sanders you are getting more bang for your buck.

DeAndre Hopkins – (2017 ADP Position Rank – 12, 2016 Production – 44#)

We all know Hopkins has the talent to be a fantasy stud and remember his 1,521-yard season in 2015, but he produced WR4 numbers last season. Why is he going off the board at No. 12? Is Tony Romo out of the broadcast booth and someone didn't tell me? Is the change to Tom Savage/Deshaun Watson/Brandon Weeden going to help Hopkins back to his 2015 production (13.6 FPts/G)? Yes, I believe when Watson finally starts it will be an improvement over last season, but I'm not ready to declare Hopkins a WR1. The Texans have two tight ends who can catch the ball (C.J. Fiedorowicz and Ryan Griffin), along with second-year speedster, Will Fuller, and converted QB Braxton Miller, who might also be a factor in 2017. All told, I think Hopkins will certainly be improved, but I don't think he will see the volume of targets needed to be a full-blown WR1. That will come in 2018.

---
Steve Schwarz served as the fantasy sports editor of The Sports Network and is the 2014 FSWA Football Writer of the Year.