While that headline probably doesn't seem to make much sense, or have any relevance in a fantasy football analysis piece, hear me out.

As a veteran fantasy owner in many sports, including baseball, I know to always start any healthy hitters when their team travels to Colorado. The thin air in Denver and the Rockies' traditionally underperforming pitching staff makes it a great place for hitters to post big numbers.

Although the field size is the same in every NFL city, quarterbacks also play better in different stadiums.

This fantasy analysis is going to look at the most obvious split – home/away to help you determine which quarterbacks you should start each week. Certainly, some quarterbacks are "stadium proof," (think Tom Brady), but for most mere mortals that's not the case.

Evaluating all quarterbacks with at least 10 decisions in 2016, home quarterbacks averaged 263 passing yards, 1.71 TD passes, .74 interceptions and 1.97 sacks while away quarterbacks average 251 yards, 1.47 TDs, .77 interceptions and 2.13 sacks.

However, wouldn't it be valuable to know which "big name" quarterbacks didn't play well on the road last season and therefore you might need to select a better backup on Draft Day?

Conversely, it would be a great advantage to know which quarterbacks actually played better away from the pressure of the rabid hometown crowd.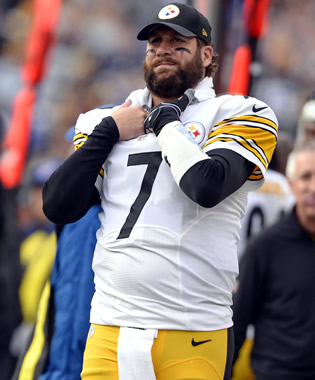 Big Ben is famous for his performances at home.

Better at home



Ben Roethlisberger, Pittsburgh – He may be a two-time Super Bowl winner and throw to the best receiver in the game, but Big Ben has struggled away from Heinz Field. Look at the splits last season. In Pittsburgh he was 5-1 with a 70.8 completion percentage, averaged 319.1 passing ypg and owned a 20-5 TD-INT ratio. On the road he completed just 59 percent of his passes for 238 yards (a 25.4% reduction) and nine touchdowns against eight interceptions. It's the second consecutive season with a dramatic dip in road performance. In 2015 the home numbers were 5-1, 348 ypg, 16-7 TD-INT and away 3-3, 308 ypg, 5-9 TD-INT ratio. If you spend a pick on Ben, better plan on a second quarterback earlier than expected. Even he knows the numbers. "Usually when we lose a game it is because we turn the ball over ... We have to take care of the ball. It starts with me and not turning it over," said Roethlisberger.

Carson Palmer, Arizona – Palmer's history hasn't been as a "homer," but 2016 wasn't good away from University of Phoenix Stadium. His passing yardage dropped by 50 yards on the road (301.5 to 260.1) and his home 13-3 TD-INT ratio fell to 13-11 when he left the state of Arizona. Palmer completed 63 percent at home and just 57.9 percent on the road. Now he'll also be looking over his shoulder at the new rookie quarterback in town. At 38-years-old it might just be better to stay away completely, but if you still want him, keep in mind that five of the Cardinals first eight games are on the road.

Russell Wilson, Seattle – In 2014 Wilson was a road warrior 64.9%, 241 ypg, 14-1 TD-INT ratio vs 61%, 193 ypg and 6-6. In 2015 he was about even home and road (65.7%, 268.2 ypg, 17-2 TD-INT ratio at home and 70.6, 234.7, 17-6), but last season the numbers went in the opposite direction (67%, 272.5 ypg, 13-3 TD-INT ratio at home and 62.3, 254.7, 8-8. In this business we call that a trend.

Joe Flacco, Baltimore – Flacco was 6-2 at home last season averaging 265.5 ypg with 14 TDs and 10 INTs while going 2-6 on the road, passing for 241.1 and 6-9. That was similar to 2015 when he threw for 301.2 ypg at home with 8-5 TD-INT ratio in five games and 257 yards with a 6-7 TD-INT ratio on the road. Unless the Ravens can find him a couple of more reliable targets in 2017, Flacco might be struggling both home and away.

Eli Manning, New York Giants – Manning averaged 56 passing yards less on the road than in the friendly confines of MetLife Stadium. Like Roethlisberger, Manning has an elite receiver to target, Odell Beckham Jr., but that didn't prevent a 20-percent drop in passing yardage and six less touchdowns. This isn't a one-year thing either. In 2015 he threw 42 fewer yards per game and had a 16-3 TD-INT ratio at home versus 19-11 on the road. Perhaps the addition of Brandon Marshall, who plays equally well on the road vs. home (5.5 rec, 71.3 yards, .45 TDs vs. 5.7, 73.1 yards, .53 TDs) will help.



Better on the road



Kirk Cousins, Washington – Management refused to offer Cousins a long-term deal after last season and maybe part of the reason is he was a better QB away from Washington. He was 4-4 at home last season with a 65.7 completion rate, 297.2 ypg and a 12-8 ratio versus 4-3-1 with a 68.2 completion rate, averaging 317.1 ypg with 13 TDs and four INTs.

Trevor Siemian, Denver – Siemian is the current favorite to start the 2017 season as the Broncos starting quarterback. But with four of the first five games at home that might not be a good thing. Yes, he was 5-2 at home but for fantasy owners he threw just seven touchdown passes in seven games (six INTs). On the road he averaged just 10 ypg less than at home, but threw 11 touchdown passes versus four interceptions. With 2016 No. 1 draft choice Paxton Lynch fighting Siemian for the starting role, you would definitely need a solid second QB on your roster.

Jameis Winston, Tampa Bay – Winston threw for more yards, more touchdowns, a higher completion percentage and was sacked five fewer times while posting a 5-3 road record last season. 2016 was similar to 2015 when the rookie posted 240.1 passing yards at home with a 9-10 TD-INT ratio and a 56.98 completion percentage vs. 265.1, 13-5 and 59.6 on the road. I guess he doesn't like "home cookin."

Cam Newton, Carolina – Newton followed up his stellar 2015 season with a clunker of a performance in 2016 and fantasy owners paid the steep price for his failure. But even in his season-long struggles with injures and offensive line issues, he managed to play a little bit better on the road than at home. While he threw for the same yards (234 vs. 233.7) he managed just eight touchdown passes in eight home games (eight INTs) while on the road he posted a solid 11-6 ratio. The truth, however, is that if he's healthy (and the league allows him to stay that way by calling flags on all the late hits he takes), he's still an every week starter.

The bottom line for fantasy owners is that while there are a few quarterbacks who are simply "set it and forget it" options, it's probably worth the roster spot and higher draft choice to own two quality quarterbacks and be able to choose the correct situation each Sunday..

---
Steve Schwarz served as the fantasy sports editor of The Sports Network and is the 2014 FSWA Football Writer of the Year.