While many of us expect to make the fantasy playoffs more often than not, it doesn't mean we aren't happy or relieved to get there. And for any owner who has been there more than a time or two, this time of year can be as stressful for those of us in high-stakes leagues as it can be enjoyable.

With that said, I felt it would be helpful to take a wide-eyed view of what has happened up to this point. Perhaps as much is anything, owners want to know what they can count on from players in the fantasy postseason. To that end, what you see below should give you a pretty fair idea of where each relevant player has been and, maybe more importantly, where he could be headed.

I'd like to say I used some foolproof set of criteria in order to trim the field down to 228 players, but in the end, I decided to go with a simple qualification: Was he relevant in fantasy at some point during the season or is he about to be? I especially applied this to receiver and tight end as time started getting away from me.

In the four charts below, I replaced each player's fantasy score for the week and with his positional ranking. (Ties were included to give each player the most benefit of doubt possible. In other words, there may be a three-way tie for 57th place in Week 6 at receiver.) In all, I did this for 228 players. If this kind of thing seems as though it might require a lot of time, you'd be right. But I wouldn't do it if I didn't think if wasn't helpful.

To further benefit you, I calculated how many times each player finished inside the top 12 at their position (QB1, RB1, WR1, TE1), between 13 and 24 (QB2, RB2, WR2, TE2), 25 and 36 (RB3, WR3) and 37+ (at running back and receiver only). At quarterback and tight end, I stopped at 25+ due to the starting lineup requirements in most leagues. "Empty" boxes are games missed due to byes/injuries or because a player did not receive a target/attempt in that week.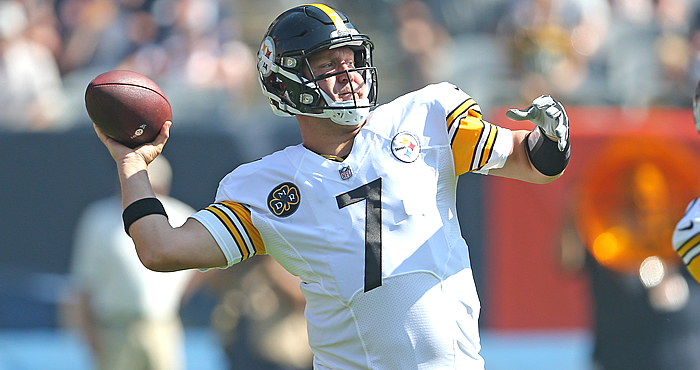 Ben Roethlisberger, Smith, Brady, Wilson, Rivers and Carson Wentz have the most QB1 finishes through 13 weeks.


Scoring System: PPR, 6 points for all TDs, 1 Pt for 25 yds passing



* Andy Dalton has been his usual self, turning in QB1 performances five times and QB2 efforts or worse seven times. Then again, he's been a QB1 in three straight weeks heading into Week 14 and thrown for multiple touchdowns in six of his last seven games. His only abysmal games came in the first two weeks of the season before the firing of former OC Ken Zampese and in Week 9 against the Jaguars, who have made almost every quarterback look bad.

* Ben Roethlisberger and "consistency" are not words used together very often, but somehow Big Ben has been a QB1 in each of his last six games - albeit on the back end of that three times. That's quite the step up from his previous four outings, during which he finished 20th or worse each time. Either way, in what has been a less than impressive year for Roethlisberger, he has been a QB1 two out of every three weeks and managed to stay healthy all season long.

* Case Keenum showed flashes of being a capable quarterback - mostly for a short stint early in his career for Houston - so what he has done this season shouldn't be as surprising as some believe it is. He has turned in five straight QB1 efforts, but owners should not confuse that with the notion he has ascended into QB1 territory. While he deserves a ton of credit for the strides he has taken this season, his supporting cast is about as good as it gets in the NFC. If you're riding with a struggling quarterback such as Dak Prescott, then I would not hesitate to start Keenum. I'm just not sure how much I would trust him this week in Carolina or against the Cincinnati Bengals next week. For what it is worth, I certainly don't view as a player who has "turned the corner" and still view him as a backup quarterback in the league who would get exposed on a less-talented offense.

* Even the most elite of quarterbacks is going to have a QB2 or worse week every so often (See: Tom Brady, Week 13). However, it's hard to beat what Carson Wentz is done to this point of the season, finishing 16th or better in all but one game and as a QB1 eight times. Somewhat amazingly, two of his three QB2 finishes have come in the last three games, although much of that can be attributed to game flow, lack of volume and matchup.

* Somewhat amazingly, Drew Brees has been a QB1 five times in 2017. He obviously isn't delivering the elite numbers we have become accustomed to due to the success of Mark Ingram and Alvin Kamara. Still, it's hard to call any quarterback with a 17:5 touchdown-to-interception ratio and a 71.6 completion percentage a disappointment. He's QB12 at the moment and seems like a good bet to overtake players such as Prescott, Josh McCown and Jared Goff in total fantasy points over the final four contests.

* In case owners need a reminder of how good Deshaun Watson was (especially in comparison to Tom Savage), Savage has yet to place higher than 15th in any week and has been 25th or lower four times. Watson was 26th in Week 1 - when he took over for Savage at halftime - and finished no lower than 15th after that. He ended his rookie season with four top-three performances.

* Green Bay has a dilemma on their hands. Does HC Mike McCarthy buy into the "hot hand" or does he go with what makes the most sense? Although most of us know by now scoring touchdowns is more about opportunity than it is about possessing a "scoring talent," McCarthy and fantasy owners alike are going to have a hard time getting Jones' 20-yard overtime TD run last week out of their minds. ESPN's Rob Demovsky said before last week's game the job is Jones' when he returns. Does the fact that Williams topped four yards per carry (min. three attempts) for the first time in his career change that? Jones was a top-four back in two of his four heavy-workload games before getting hurt. Then again, Williams has been a top-10 back in each of the last two contests. If McCarthy decides he is in favor of efficiency, anyone with the foresight to pick up Jones off waivers (the first or second time) might have landed him/herself a potential league-winner.

*There's not much I can say about Kamara that hasn't already been said. He's been the overall RB1 in fantasy three of the last five weeks and finished inside the top 10 in each of his last seven outings. Touchdown regression is coming, but it is pretty clear this is a train owners need to ride as long as possible.

* The Panthers have lived up to their end of the bargain and then some when it comes to using Christian McCaffrey in the passing game. The fact he is third on the team in rushing attempts (82) and has carried the ball more than eight times only once since Week 1 is laughable. With that said, McCaffrey is posted three RB1 and five RB2 efforts over his last eight games despite being used in a pre-2017 Danny Woodhead-like fashion.

* The problem with running-back-by-committee in NFL offenses is when the coach/play-caller stubbornly sticks with it despite statistical evidence to suggest maybe that day isn't the day to do so. Consider Devonta Freeman, who has averaged at least six yards per carry three times during his six-game scoreless streak. Further consider he is catching an average of two passes in 2017 after posting 3.5 receptions per game last season. After two RB1 and two RB2 performances before the team's Week 5 bye, Freeman has only two RB2-worthy efforts since. That needs to change if the Falcons have any desire to make another Super Bowl run. It wasn't long ago Atlanta was using Freeman a lot like the Saints are currently using Kamara. A number of owners point to how good Tevin Coleman was in Freeman's absence, but he averaged only 3.8 yards per carry in the two-plus games he had the backfield mostly to himself. The only thing Coleman did "well" was find the end zone four times.

* Instead of coming out the Bears' Week 9 like a man possessed, Jordan Howard has been the RB48 or worse in three of his last four games. It's not as if Tarik Cohen has been much better or more active. Lack of volume is one main reason why, as Howard has topped out at 15 carries since the bye after going over that mark six times in the first eight weeks. He gashed the one run defense he should have (Detroit) but hasn't sniffed four yards per carry in any of the other three contests. Cincinnati should be able to contain him this week, but it is clear his situation is not what it was in September and October.

* Throw out his RB46 finish in Week 5 against Seattle and it's no wonder why Todd Gurley reigns supreme at the running back position this season. He was no worse than the RB6 in his first four weeks and has been posted top-12 numbers nine times to go along with two efforts in the 13-24 range. It's not going to be easy for him to finish strong with Philadelphia, Seattle and Tennessee remaining on the schedule, but he is such a central part of the Rams' offense - with at least 20 touches in all but two games thus far - that he'll be a RB2 for owners even if he doesn't find the end zone more than once the rest of the way.


* With so many good receivers and the position so volatile to begin with given the lack of opportunities relative to the running back position, even a player like Antonio Brown will find himself outside WR3 range from time to time. With that said, it's only happened twice and he has more than made up for it with eight finishes inside the top 12. In my roughly 20 years of playing fantasy football, I'm not sure I can recall more of a "sure thing" at the position.

* Don't look now, but Dede Westbrook is tied with Davante Adams, Jamison Crowder and Adam Thielen for 14th in targets (25) since he was activated three weeks ago. With the Jaguars' running game not nearly clicking like it was early in the season, the need for the receivers to step up has increased and they have mostly obliged. Marqise Lee has taken something of a back seat over that time due to back-to-back weeks of facing Jason McCourty and Patrick Peterson, but Westbrook still had nine targets last week even though Lee got back on track. The rookie's first touchdown figures to be coming soon and it goes without saying if he shows well against Seattle in Week 14, he's a high-upside WR3 at worst in Weeks 15 and 16 against Houston and San Francisco, respectively.

* Devin Funchess has been on some kind of run in four games since the Kelvin Benjamin trade, finishing no worse than WR23 and netting three top-16 results. In addition to the targets left behind by KB, there's no question Funchess has benefited (fantasy-wise) from the absence of Greg Olsen as well and the season-ending injury of Curtis Samuel. Funchess figures to have his hands full in Week 14 with Xavier Rhodes, but Green Bay and Tampa Bay do not figure to provide the same resistance in Weeks 15 and 16, respectively.

* No receiver continues to make a bigger mockery of PPR scoring than Jarvis Landry, who has topped 10 yards per catch only three times and is averaging only 8.7 YPC this season. With that said, he's on pace for a second 100-catch season in three years and has already set a career high with six receiving touchdowns. Although he had one top-10 finish over his first four games, Landry's season didn't really start taking off until DeVante Parker got hurt in Week 5. From that point on, the LSU product hasn't finished outside the top 36 in any week. While he probably won't be the reason why owners win their league, perhaps no receiver in the league possesses his floor or level of consistency.

* If you know someone who has aged about 10 years over the last two seasons, ask them if they experienced the thrill-ride that is Marvin Jones. Last season, Detroit determined he wasn't a WR1-caliber player after about a month of trying to force the issue and he quickly fell off the fantasy map. This year, the Lions opened the season using him like a complementary receiver and the opposite has happened. Since Week 4, Jones has placed worse than 26th only once and has four top-10 finishes. After burning Xavier Rhodes a couple times on Thanksgiving, it's worth wondering if a lot of us were a year too early on him.

* Robby Anderson is writing a similar story, with the main difference being his emergence taking place at the end of last year instead of the beginning. Anderson was probably riding fantasy benches well into October this year before going on his recent scoring spree. After posting WR2 numbers only once through his first six outings, he hasn't dipped below 21st since.

* Receiver performance obviously depends a great deal on the play of their quarterback, so reading too much into home/road splits can be a fool's errand when it comes to evaluating the position. However, when it comes to Tyreek Hill, we can no longer just pretend like they don't matter. In 13 career games at home, he has totaled 41 receptions for 364 yards and three touchdowns. In 15 career road contests, he has 80 catches for 1,110 yards and nine touchdowns. All four of his blow-up games this season - you guessed it - have come away from Arrowhead Stadium. His best PPR game at home in his brief career was 16.8 points in Week 14 last season versus the Raiders. All four of his aforementioned games this season have topped that number.

* Stefon Diggs has drawn comparisons to Antonio Brown in previous years and I don't think they are unrealistic. For those who may not remember, Brown didn't become "AB" until Year 4. Diggs' problem has been staying healthy through his first three seasons. We saw a glimpse of his AB-like talent in the first three weeks and his owners were rewarded with two top-two finishes. He landed on the injury report the following week and has seemingly taken a back seat to the running game, Adam Thielen and, on occasion, Kyle Rudolph. Since those first three weeks, Diggs has only played at a WR2 level twice and a WR4 or worse every other time. While his redraft owners are unlikely to reap the benefits of his talent again this year, he is a player owners should target again next season. When things finally fall into place for him, he is going to be a whole lot of fun to own in fantasy leagues.


* There's no telling how much different the narrative of Austin Seferian-Jenkins' season would be if weren't for the two (or up to four, depending on who you ask) touchdowns he's had taken away from him. Four touchdowns - and not including any of the yards he lost due to overturns or penalties - would have him sitting in 11th place in total PPR points - right behind Jason Witten - despite the fact he missed the first two games of the season. Making matters even more maddening for his owners, his targets have become very hard to predict and he is averaging 7.5 YPC despite being more of a downfield target. His last two fantasy efforts make him very hard to trust in the fantasy playoffs this week, but a matchup against the Broncos this week may be just the one to use him. Prior to his downturn over the last two weeks, ASJ finished no worse than 14th in five of his previous six outings, which is obviously pretty solid consistency at the tight end position.

* Owners don't need my encouragement to start Jimmy Graham, but allow me to take a moment to point out he has performed at a TE1 level in 10 straight games. Even considering the lower standards we have for tight ends, that streak is amazing.

* Talking about the lower standards that exist at tight end, Ricky Seals-Jones caught two passes for 44 yards last week and was the TE20. In the previous two weeks in much better matchups for his position, he was the TE1 and TE5. The most relevant comparison I can make regarding the advantage Seals-Jones could offer the final three weeks of the fantasy season is Marques Colston in his rookie season. Mind you, I'm not comparing the two in terms of playing style or talent, but rather the fact some leagues allowed Colston to be used as a tight end. Seals-Jones is in a similar spot, albeit a bigger player with a less talented quarterback. With that said, if Arizona continues to use him in the same way it has to this point, he has the talent and schedule to join the legions of players who came out of nowhere late in the season to help countless owners win their leagues.

* It's fair to wonder if Zach Ertz's high level of usage over the first three months of the season is starting to catch up to him. Not including his Week 13 concussion, which could happen to any player at any time, he hasn't quite looked the same since suffering the hamstring injury the Eagles were hoping they could get past by resting him a week before the team's Week 10 bye. Nevertheless, he could (and should) finish out strong if he can return next week - assuming he sits out this week - against the Giants and Raiders over the final two weeks of the fantasy season. This also gives me a chance to plug Trey Burton, who is arguably the best backup tight end in football and probably would be a top-15 fantasy option at worst if Ertz ever missed significant time.
---
Doug Orth has written for FF Today since 2006 and been featured in USA Today's Fantasy Football Preview magazine since 2010. He hosted USA Today's hour-long, pre-kickoff fantasy football internet chat every Sunday in 2012-13 and appears as a guest analyst on a number of national sports radio shows, including Sirius XM's "Fantasy Drive". Doug is also a member of the Fantasy Sports Writers Association.