Dynasty League Prospects
8/7/10
This space will be a semi-regular feature at FF Today and will look to explore, speculate, and keep people interested in up and comers in the NFL who may be or may not be well known in dynasty league circles. I'm not guaranteeing anyone to become the next star, but merely helping the reader to keep abreast of developments that could affect your dynasty league rosters this season and beyond and perhaps even help you discover unknowns who could become known quantities down the road.
---
The Passers
When does a third string QB that sits behind two former No.1 overall picks have dynasty value? The answer is when those two No. 1 overall picks have been career underachievers – to put it nicely. Alex Smith showed some signs of life last season, but that was only after OC Jimmy Raye installed a spread offense that featured Smith lining up almost exclusively in the shotgun position. Will a head coach like Mike Singletary that wants to build around a strong defense and a heavy run offense wish to continue the heavy use of that scheme? It doesn't seem likely. David Carr also looked decent last season in limited duty for the New York Giants, however at this point in his career the "journeyman" label suits him quite well. Nate Davis is an interesting stash in deep dynasty leagues. He was a prolific college passer at Ball State but dropped in the draft due to a perceived lack of intelligence, which was in actuality a learning disorder that may slow him down a little when learning the playbook but has little effect once he hits the field, and questionable mechanics. His release point may look a little awkward but its very effective and his arm strength is top notch. His athleticism also allows him to make plays with his legs that would help behind what has been a suspect offensive line in San Fran - although the Niners did add two young first round o-linemen during the 2010 draft so pass protection may not be as big an issue as it has been in the past. Former NFL Scout Dave Razzano compared Davis favorably to current NY Jets starter Mark Sanchez and called him "a heck of a quarterback". If the Niners have a poor start to the season, the Smith experiment will surely end and the door may be open for Davis.
The Vikings drafted UAB QB Joe Webb with the intention of converting him to WR due to his athletic ability. A funny thing happened during OTAs, however, when he started showing off his arm and "forced" the Vikings coaching staff to let him start taking snaps with the QBs. He's now in line to make the team as the third string QB and could develop into the QB of he future. Tavaris Jackson has not shown much progress in his decision making and has been prone to injuries and Sage Rosenfels is a mistake prone journeyman who may not even make the team if Brett Favre returns. At UAB Webb passed for over 2,000 yards and 21 TDs and also ran for over 1,000 yards. He has excellent size and arm strength and could be everything the Vikings thought they were getting in Jackson. Obviously in most leagues its going to be tough to carry a third string QB on your roster – but perhaps a waiver pickup at seasons end may be in order for those teams no longer in the playoff chase and are instead planning ahead to 2011.

The Runners
Knowshon Moreno and Correll Buckhalter were both carted off the field during the first drills of training camp in Denver this week. Moreno's injury is more significant and there have been conflicting reports on just how serious it is. It has been described as major as a torn hamstring and as minor as a strained hamstring (which is also technically a small tear). Nevertheless he is expected to miss a minimum of 3-4 weeks, but a hamstring injury is the type that lingers during the course of a season. Moreno's injury just may uncover a hidden gem for those paying attention. Sure the team just signed LenDale White (and in the process released former Chief and Louisville tailback Kolby Smith), but White didn't last long at all in OTAs with Seattle after a draft day trade brought him over from Tennessee due to his poor work ethic. White is also facing a 4 game suspension, so if Moreno does miss time into the start of the regular season he'll be of no use to the Broncos anyway. If you want to reach deep, keep an eye on two interesting prospects in Bronco camp now, Toney Baker and Lance Ball, who have shown enough so far at least to make the veteran Smith expendable. Baker is a second year runner out of NC State and has been drawing some raves in camp thus far. Baker is a big back (5-9 1/2, 234) that ran a respectable 4.59 at the combine and was one of the top RB prospects coming out of high school. However, injuries marred his college career at NC State. Lance Ball led the Maryland Terrapins in rushing as a sophomore and junior, but has bounced around the NFL since going undrafted in 2009. He has spent time on the practice squads of St. Louis and Indianapolis during the last two seasons so he has garnered some interest amongst NFL teams. Both are real long shots for fantasy value of course – but aren't bad stashes in leagues with deep rosters in order to see what they show this preseason.

Javon Ringer isn't exactly unknown to dynasty owners – but in those leagues that have many "what have you done for me lately type owners" he may be available rather cheaply. He sat behind Chris Johnson and LenDale White last season as a rookie, but Ringer is not without talent, or the ability to carry a heavy load. At Michigan State, he had two years with over 1,700 total yards. At the college level, he reminded me of a Curtis Martin type - not a guy that is going to blow you away while watching him run, but a guy that gets the job done with guile, determination and doing all the little things correctly. Ringer got a good amount of reps in OTAs when Johnson held out and is clearly the next in line should Johnson find himself sidelined, despite the presence of new fantasy darling LaGarrette Blount the undrafted rookie that owners just grabbed in dynasty rookie drafts. Johnson carried the ball 358 times and added 50 receptions last season and some studies show that number of touches as a "death-knell" for a running back the following season. I'm not one that buys into the "370 touch" theory, but I will buy into the fact that the Titans will need a back to spell Johnson a little more this season in order to keep him healthy and fresh down the stretch.

The Bears selected BYU running back Harvey Unga in the 2010 Supplemental Draft (which will cost them a 2011 seventh-round pick) and that should at least put him on your radar. Unga is BYU's all-time leading rusher with 3,455 yards on 696 carries. He also caught 102 passes for 1,085 yards over four seasons and had 45 total touchdowns. Unga isn't very fast, but he is a hard powerful runner with size (237 lbs.), and therefore the Bears are believed to be considering Unga as both a running back and as a fullback. If he ends up being the starting fullback he may develop into a decent bye week filler in ppr leagues, due to his soft hands and his nose for the end-zone. He also comes with plenty of upside should injury issues start hitting the Bears other RBs. He'll only cost a waiver claim and a roster spot in most leagues at this point, so consider adding him to your deep bench and see what happens in training camp.

Lions FB Jerome Felton finished 2009 with only 15 carries for 46 yards and 13 catches for 133 yards, however 12 of his 28 touches were good for first downs so he did contribute more than the raw stats would have one think. The talk this offseason is that Felton will move to HB and could play a complimentary role as the power rusher to rookie Jahvid Best's role as the speed back. At 246 pounds, Felton is also a candidate to see work in goal line packages. Kevin Smith has recovered quicker than was expected from last season's devastating knee injury and he has been practicing in camp so far, but since he isn't known for his power running, his role could be diminished to merely backing up Best, leaving Felton as the better fantasy football option. While I expect Best to be the top rookie back this season, he has a long history of injuries at the collegiate level including a major concussion that caused him to miss 7 games last season. Should something happen to Best, Felton would then be even more involved in the Detroit offense. Keep an eye on him this preseason and stash him if you can.
The Pass Catchers
Buffalo Bills wide receiver Steve Johnson isn't yet a household name and may never be, but it's very likely he'll be starting opposite Lee Evans in Buffalo this season. The ex-Kentucky Wildcat has outplayed the higher draft pick, James Hardy, since the outset and has impressed in OTAs this offseason. Johnson is a big receiver at 6'2", 210 lbs., and knows how to use his body to shield off defenders - something Hardy has failed to master. He's not a great route runner yet, but has good on field speed and attacks the ball in the air. Yes, the quarterback mess in Buffalo could limit his upside, but things may change under a new regime in Buffalo and Edwards has at least shown flashes in the past.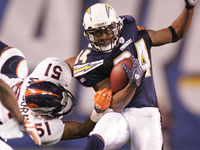 Opportunity is what Buster needs.
Former first round pick Craig "Buster" Davis has been a disappointment since entering the league, but will get a real opportunity should Vincent Jackson indeed hold out for most of the season. By all reports, Davis has been an early star during OTAs and training camp. Davis should at least get work in three-wide sets, but could still beat out Legedu Naanee for a starting gig. While others have either forgotten his name or still think "bust" when they hear it, he's a nice player to take a chance on. The waiver wire isn't exactly littered with WRs with 4.37 speed after all.

Dynasty owners are not always as patient as they should be, so perhaps its time to send a note to those that roster Brian Robiskie and see if you can grab him on the cheap. Robiskie was a big disappointment last year, as given his game and the fact that his father was a well respected long time position coach he was considered one of the more NFL ready receivers in last year's class. From all accounts he has impressed in OTAs and camp thus far and could be the go to guy in Cleveland now that there's a new QB in town. Robiskie has nice size, dependable hands and is a good route runner. Delhomme famously locks in on his No. 1 target so if you see a connection between Jake and Brian in the preseason you may want to spice up your offer a little if your lowball offer was rejected. My gut tells me that Delhomme bounces back a little this year and the Cleveland team surprises in a tough AFC North. Robiskie just could be a solid long term possession WR and that is always a valuable piece of a dynasty roster – especially in ppr leagues.
TE Marquez Branson has generated quite a buzz in Broncos camp so far, even being compared to Antonio Gates due to his size and explosiveness. He spent last season on Denver's practice squad, but Denver now has a void at the pass catching TE position after the departure of Tony Sheffler. HC Josh McDaniels is expecting big things from the 6'3", 248 lb. TE who played college ball at Central Arkansas and caught 82 passes for 1,236 yards and 18 TDs in two seasons there. Veteran Daniel Graham is mostly used as a blocker and QB Kyle Orton loves his check downs, which means Branson could be a real sleeper in 2010 and beyond that will come at a very low cost.