Dynasty League Updates

12/20/07



This space will be a semi-regular feature at FF Today and will look to explore, speculate, and keep people interested in up and comers in the NFL who may be or may not be well known in dynasty league circles. I'm not guaranteeing anyone to become the next star, but merely helping the reader to keep abreast of developments that could affect your dynasty league rosters this season and beyond and perhaps even help you discover unknowns who could become known quantities down the road.

With the playoffs underway in almost every dynasty league, the waiver wires are almost certainly closed in your league, so this week's column will take a different approach and list some players that in my opinion would be good players to target this off-season. These are all players that are a little "under the radar" or have fallen out of satisfaction in the fantasy world and therefore should come cheaply - via trade or in the late rounds of start-up dynasty leagues. These players could have an unexpected impact next year and should therefore be targeted. We'll call this a "greatest hits" package, if you will, as most of these players have been featured in previous installments of this series. They are brought up once again as "hidden gems" for 2008 and beyond that you should consider adding to your team at the right price.

The Passers

David Garrard: Garrard hasn't been the stat sheet stud that guys like Manning, Brady and Romo were this season but he has been the most efficient QB so far this season. In eleven starts he has thrown 16 TDs and only 2 interceptions. Fred Taylor will be 32 next season and Maurice Jones-Drew is a great pass catching back, so Jacksonville is likely to open up their offense a little more next season. Reggie Williams is looking like he's finally breaking out and has been a solid deep threat while Dennis Northcutt, Marcedes Lewis and Ernest Wilford are solid mid-range pass catchers. As a bonus, Garrad is also a capable rusher who will get yards on the ground that will help make him a startable fantasy QB going forward.
Tarvaris Jackson: The second year QB is quietly starting to look like the NFL QB (last Monday Night notwithstanding) that Brad Childress thought he could be when he "reached" for him in the 2006 NFL draft. Over the prior three week period he threw for nearly 500 yards and 4 TDs while also rushing for 71 yards. He's still raw, but in his favor is the fact that he plays behind one of the best o-lines in the NFL and is supported by a top running game. Sidney Rice has emerged as a dangerous pass target the second half of the season and Childress accomplished more with less when a young Dononvan McNabb was throwing to guys like Charles Johnson (WR, DE), Torrence Small and Todd Pinkston early in his career.
Donovan McNabb: Speaking of McNabb, a full year to recover from his ACL injury and perhaps a fresh start outside of Philly should be all the former Orangeman needs to return to elite status. People tend to forget just how good McNabb was when healthy over the last several seasons. In the past McNabb relied on his ability to scramble out of the pocket when pressured and make throws on the run and his recovering knee just did not allow him to do that well in 2007. If he is kicked to the curb in Philly he'll also be motivated to show the good people of the City of Brotherly Love just what they had in him and failed to appreciate. At 31 years of age, he still is young enough to steward your fantasy team for a few more seasons.
Kellen Clemens: Clemens has not wowed anyone with his stats so far in 2007, but he has looked surprisingly poised in leading the Jets to some big comebacks and near comebacks despite his offense not being at full strength due to injuries to Laveraneous Coles and Jerricho Cotchery and an inexperienced o-line. When he was allowed to by the coaching staff, Clemens showed the strong arm that Pennington lacked and delivered the ball accurately. The Jets have better than average skill players in Thomas Jones, Leon Washington, Laveraneous Coles, Jerricho Cotchery, Chris Baker and Brad Smith – and don't forget the Jets could very well be in position to add Darren McFadden if they choose. If the young o-line develops into a stable unit, Clemens could be a surprise top-10 QB in 2008 and cement a place there.


The Runners
Darius Walker: He finally got his chance with the Texans when Ron Dayne went down in Week14 and totaled 46 yards rushing and an additional 35 yards on 6 receptions against a tough Tampa Bay defense. Ahman Green's short tenure in Houston will surely come to an end this off-season and my guess is that the coaching staff would prefer for Ron Dayne to be nothing more than solid backup if he is even brought back in 2008. Walker has nice pass catching skills and should be a solid third down back even if the Texans bring in another veteran or draft pick to handle the load, and could earn the starting role if he impresses down the stretch. Houston's zone blocking scheme has allowed a string of uninspiring backs such as Wali Lundy, Samkon Gado, Chris Taylor and Ron Dayne to be fairly productive during the past two seasons so the former Notre Dame star could have a productive season if given the chance in 2008.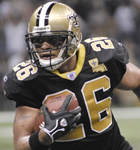 Deuce McAllister: His age (29) and injury (ACL tear) will make him an afterthought in a lot of dynasty leagues, but Deuce should be a nice cheap pick-up that can give you solid production for the next two seasons. McAllister followed up his 2005 ACL tear with 1,255 total yards and 10 TDs in 2006 and his recent injury occurred early enough in 2007 that he should be ready for camp in 2008. Reggie Bush didn't exactly seize his opportunity to be a featured back after Deuce went down so McAllister and Bush should likely go back to their respective roles next season in New Orleans. Earlier this season when the Saints were struggling, Deuce looked like their best offensive weapon, so they may ride him heavily in 2008 making him a solid flex player for his fantasy owners.
LaMont Jordan: After three weeks Jordan was leading the NFL in rushing yards, then a back injury - and possibly something behind the scenes – caused him to lose favor in Lane Kiffin's Raider offense. His carries then became limited the rest of the season causing him to put up subpart numbers on the season. He will almost assuredly be let go this off-season and if he lands in the right spot he could be a force once again. Jordan has an explosive burst for a back his size and has always been a good receiver out of the backfield. There are many teams that could use his services in 2008, and perhaps your dynasty team can as well.
Michael Bush: Speaking of the Raiders, Bush spent his entire 2008 season on the PUP list for them and that could be a good thing for your chances of landing him cheaply. He has yet to show what he can do at the next level, but my guess is quite a lot. He is similar in running style to Lamont Jordan so he should be able to find success behind the Raiders' young improving o-line and he has had more than a full season to recover from a serious broken leg, so his health should not be an issue next year. It's a pretty safe bet he'll be Oakland's starting back next season so acquire him if you can before he becomes unattainable in dynasty leagues.

The Pass Catchers
Bryant Johnson: Former first round pick Bryant Johnson has long toiled in the shadows of Anquan Boldin and Larry Fitzgerald in the desert sun, but will be a FA following the 2007 season. Johnson has put up some nice numbers during times where the aforementioned other WRs have missed time and could be a nice piece of the puzzle for a team lacking a breakaway threat at wide receiver. He could be a nice guy to stash away now for big production in 2008 if he lands in the right situation.
Roydell Williams: Williams has looked like the best of the mediocre wide receivers in Tennessee this season and the unfair venom displayed towards Vince Young will make all Titan's WRs poison in many owners' minds. Don't look now but Young is starting to come around and has put up some decent passing yardage totals over the last couple of weeks. Williams is a big target that finds a seam in the defense and can gain yardage after the catch. Next year he should be a big weapon for Young and the Titans and is capable of producing a 1,000 yard, 8 TD season in that offense.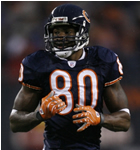 Bernard Berrian: Berrian has nice hands, tremendous body control and deep speed, all of which should make him a star in this league. The problem though has been the extremely poor QBs the Chicago Bears have thrown out there this season. Why can Berrian bounce back in 2008? He is a free agent and will likely choose to sign with a team with a good quarter back situation to play for in 2008. Should the Bears choose to re-sign the young wide-out in may not be gloom and doom, as they are very likely to address their QB position this off-season. He has played well this season, but his numbers are relatively quiet which may allow an astute owner to snatch him up at a discount.
Chris Chambers: The 5'11" wide receiver that plays much bigger than his size has been off the fantasy map since being traded to the Chargers earlier this season. The problem has been learning the Norv Turner system and the fact that he joined the best RB and TE in the league when he moved west therefore limiting his opportunities. By next year though Chambers should be a bigger part of the San Diego offense with a full training camp to get acclimated with Philip Rivers and to have plays designed to take advantage of his abilities - Chambers has great leaping ability and enough speed to get behind most corner backs he will face. He should return to being a decent #2 WR or a great #3 in 2008 even with LT2 and Gates around.