Last year at this time I pulled together an article called Drafting From The Top which outlined how a typical fantasy football league draft was expected to play out, and my suggestions on how to approach such a draft working from one of the top 5 picks.

It was intended as my overall guide for draft day. The, "I'm hard pressed to do all the steps in the FF Today Draft Plan, so I'll read this instead" draft plan summary. It went into great detail about what positions to attack when, what players you can expect to fall to you in each round, and how to pull the most value out of your draft so you have a killer team to kick off the season.

Reviewing that article a year later, there were some hits and misses with particular players, as there are every year. Overall though, the concepts were rock solid, in my humble opinion. Last year I somehow managed to pull a top 5 pick in four redraft leagues. Regrettably, I decided to deviate from the plan in one of those leagues, just to see how it would work out. While not completely responsible for the poor end-of-year result (injuries!), that was by far my worst league finish last year. The other three resulted in three playoff appearances, two championships, and a 1st, 1st and 4th in regular season points. Not bad.

So, it would seem appropriate I update this article for the 2005 season, and here we are. Now, I have struggled with it more this year than last year because of a certain 49-TD-throwing-phenom-QB who is still only 29 years old with all his main weapons returning. Last year, draft a stud RB in the 1st round and don't look back was the advice. Easy. But we'll get to that in a minute. First, the ground rules, and then we'll start the draft timer.

Assumptions

The focus here is on drafting from spots 1-5.

Our guideline is for a re-draft league with 12 teams and serpentine draft style (alternating back-and-forth order of picks each round). Scoring is a typical performance system with players earning 1 point per 20 yards passing and 4 points per passing TD; 1 per 10 yards rushing or receiving and 6 points per rushing or receiving TD. Starters are 1 QB, 2 RB, 3 WR, 1 TE, 1 K and 1 DEF/ST. Comments will be included for slightly different scoring systems and lineup requirements.

Now, the biggest decision on draft day…

Round 1

Stud RB To Anchor the Team

If not for Peyton Manning, I would just re-write this whole section from last year and not think twice about it (other than some player name changes). In fact, at 4 points per passing TD I am just going to say the same thing as last year about the RB position first, and then we'll discuss Manning. Okay, you got a top 5 pick? Draft a stud RB. The simple, proven first step to the championship trophy.
Priest Holmes

LaDainian Tomlinson

Shaun Alexander
As shown by the Average Draft Position ("ADP") data, most people are passing on Priest Holmes at the first overall pick. Tomlinson is getting the nod instead, and many have Alexander, Edgerrin James and others ahead of Holmes.
If you are risk averse, by all means pass on Holmes. No one will ever claim you will win your league with the first pick, but you can lose it. However, if you want to be an aggressive owner. If you believe that injuries cannot be predicted, which has been proven on more than one occasion. If you want the absolute most potential bang for your buck (i.e. top pick), Holmes has to be your #1 consideration.
Fifteen TD in 8 games. Say that out loud: "15 TD in 8 games". Twenty-seven TD in 16 games in 2003. I hope I manage a top 5 pick in a draft this year and Holmes is sitting there for me. I'm not saying there isn't risk with Holmes, or even extra cost if you want or need to burn a relatively high pick on backup Larry Johnson, but I can't pass on a guy capable of doubling the TD production of anyone else on the board.
Tomlinson, I love this guy too. Alexander is money in Seattle.
Even though this is a top 5 pick strategy, after these 3, the RB choices get slightly more dicey. Time to do some research, and for you to ultimately decide who you like the best.
Edgerrin James

Willis McGahee

Deuce McAllister

Tiki Barber
James is in a contract year, and in the most high powered offense in football. Will he score enough? McGahee looks like the next coming after notching 13 TD in only 11 starts, but an inexperienced QB and tough division opponents leave some doubts using this high draft slot on him. McAllister failed to live up to very high expectations last season barely cracking 1,000 yards on the ground, but an ankle injury is mostly to blame for that. Barber went way above and beyond his expectations but wildly unpredictable TD opportunities will ultimately decide his outcome.
I've got them in the order I would take them. With a top 3 pick you are absolutely set. With a 4th or 5th pick you are not looking too shabby either.
Peyton Manning
The section you've been waiting to read and the section I've been dreading to write. What to do about Peyton Manning? Do I take the simple route, and just say take a stud RB, let someone else draft Manning, and be done with it? I'd like to say that but I can't. The fact is I can make a strong argument for taking Manning in the 1st round. Here is what I wrote about Manning in my Dissecting a Draft article from a few weeks ago:
Fantasy football players who focus only on the numbers and history will tell you Peyton Manning had a once in a lifetime season last year, and he is a horrible pick this year. Their reasoning? Because it has never been done before. Well, here is what I know:

Peyton Manning is 29 years old; he is in his prime. His talent is unquestioned. Manning has the desire, work ethic and attitude to continue to IMPROVE his game. Improve? I'm not saying he is going to go out and throw 49 TD again, or 50 or 60, but from what you know of Manning do you think he is satisfied with his season last year? Do you think he is one to pat himself on the back and say, good job, maybe I'll take this summer off? Not this guy. Not based on what we've seen of him in his career. He knows his job is to score points. He can only control the offensive side of the ball and he figures the best way for him to help his team to win is to score as many points as possible. That is what he works continuously on, and that is what he goes out and does. In terms of supporting cast, Marcus Pollard is gone from a year ago. Overall, not much has changed for Manning so I'm not very quick to discount what he did last year as a once in a lifetime thing.
Without getting into specific projections, I think it is fair to say that I am higher on Manning than most fantasy football pundits. The big question though is, do I take him as a top 5 pick under our typical league setup? No.
At 4 points per TD, the value isn't there to land him in the top 5. Under this scoring Manning wasn't even the #1 QB last year as he failed to outscore Daunte Culpepper. The differential in scoring passing versus rushing TD, and the rushing yards, diminished Manning's value. Plugging the straight 2004 stats into the Cheatsheet Compiler to calculate a retrospective overall ranking, I have Manning coming in at #8 overall, behind 6 RB and Culpepper.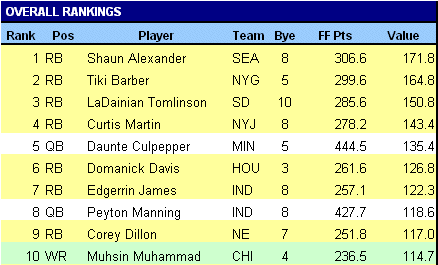 Remember everything about the draft has to do with tradeoffs. If you take Manning here, then you are set at QB, but notably weaker at RB and WR. If you take RB here, then you won't get Manning but you'll still have plenty of opportunity to get a decent QB later – often much later. That is ultimately why I suggest passing on Manning under the league criteria defined for this article.
However, at 6 points per TD if we're expecting another remarkable year, then Manning is creating more separation in fantasy points between him and the rest of the field. Now we have a stronger case for drafting him in the top 5.
Some other things to consider are other scoring criteria, for not only QB but also RB and WR to judge what positions hold the most value, and how much separation is created by the top players at each position, versus average players (i.e. easy to acquire replacement players) at those positions. The number of starters required at QB, RB, WR is a major factor, including what positions are included in the offensive flex position, if applicable. The more RB and WR required relative to QB starters will lower the value of all QB, which knocks Manning out of top 5 consideration. If your league requires 2 QB starters, or includes QB as a flex position option, keeping the number of RB and WR starters in the normal 4-6 range, then all of a sudden Manning is getting strong consideration as the #1 overall pick. Assuming no wild changes in the scoring system, here is the "Cosmo" survey on when to pull, or pull back, the trigger on drafting Manning early this season:
Does your league start more than 1 QB, including the offensive flex starter(s)?

(4 points)




Does your league start 5 or fewer RB + WR , including the offensive flex starter(s)?

(2 points)




Does your league score the same points for passing TD as rushing and receiving TD?

(2 point)




Does your league favor QB passing yds more than normal performance leagues (EX. 1 pt per 15 yds passing, 1 pt for 10 yds rushing/receiving)?

(2 points)




Does your league score negative points for interceptions thrown?

(1 point)




Does your league give bonus points for long distance TD scored?

(1 point)




Does your league have less than 10 teams, or more than 14 teams?

(1 point)




Do the other owners in your league historically allow lesser known but quality RB + WR to "slip" further than they would in experienced leagues (i.e. Kevin Jones falling to the late 2nd or early 3rd round; LaMont Jordan to the 4th round)?

(2 points)
11-15 points = Potential #1 overall pick.
7-10 points = Some consideration for Manning at the top of the draft.
3-6 points = He'd better crack 50 TD if you're going to spend a 1st round pick on him.
0-2 points = Someone else please draft this guy in the 1st.
While I'm having some fun here with this pseudo-survey, the point is I'm not against drafting Manning in the 1st round, but it has to be under the right circumstances of your league so you are getting proper value for your high draft pick. Otherwise, it is going to be an uphill battle the rest of the way.
Stud WR
Even less that Manning, it would be a very rare circumstance to recommend taking a WR with a top 5 draft pick. While the RB pool seems to be deeper than it has in years, and WR, in my estimation, is a little less exciting beyond the top 12 or so guys, you are still better off with RB for your first pick.
It is true the very top WR, which is Randy Moss in my book, will not get back to you in the 2nd round, but there is a good chance one of the other top tier WR will be available: Chad Johnson, Terrell Owens, Marvin Harrison or Torry Holt. All have very similar expectations. All are a clear head above their peers at the WR position. Don't pass on a stud RB when you can still get a stud WR in the 2nd. If you take a stud WR here then I can almost guarantee you will not be able to draft a stud RB in the 2nd.
If by chance none of those WR are available on the comeback, then all the better. You'll have some better second RB choices to pick from and pair with your first pick.

Round 2

After a seemingly endless wait, it is finally back to your turn in the 2nd round with a 3rd round pick not far behind this one. A stud RB is ready to carry your team, or Peyton Manning if your league setup called for it, and that player is looking for his first teammate. Here is who was likely taken since the early 1st round:
Already Gone:
QBs
RBs
WRs
Peyton Manning
Priest Holmes
Randy Moss
LaDainian Tomlinson
Shaun Alexander
Edgerrin James
Willis McGahee
Deuce McAllister
Tiki Barber
Clinton Portis
Domanick Davis
Julius Jones
Kevin Jones
Corey Dillon
Jamal Lewis
Unless you are in a rather inexperienced league with casual NFL fans, where Kevin and Julius Jones are unknown commodities, or perhaps where no one wants to touch Tiki "The Rodney Dangerfield of RBs" Barber, we can be pretty sure these guys will be gone. That is 15 players. Problem is you are drafting in the #20 to #24 spots, so there will be at least 4 more off the board before your next pick.
Ahman Green

Rudi Johnson

Brian Westbrook

Steven Jackson

Chad Johnson

Terrell Owens

Daunte Culpepper
If you drafted in the 5th spot overall, 3 of these players will be available to choose from. If you drafted 1st overall, there is still 1 more to go before your back-to-back picks. Lets run through the options by position…
Double Up at RB
There are some good choices here so I'm not going to too strongly advocate one position over another, but I will say this: if you pass on a RB here, then you want to be somewhat certain you will have the option to take a strong caliber RB with your 3rd round pick. The quality RB tier is going to have the bottom fall out of it pretty soon, and by the time your 4th and 5th round picks get back to you, especially in a RB hungry league (aren't they all these days?), you just might be wondering if Duce Staley's knees can hold up, or how exactly carries will be split in Cleveland.
So, that said even if you drafted RB in the 1st round it is rarely a bad thing to go back to RB in the 2nd round. If you drafted Peyton Manning in the 1st round, then RB should be a very high priority at this point. The choices are:
Brian Westbrook

Steven Jackson

LaMont Jordan

Curtis Martin

Tatum Bell
After this group, there are certainly guys I still like at RB, such as Warrick Dunn, DeShaun Foster and the highly touted rookie RB, but they do carry more risk, so I see a noticeable drop off after Bell. Some would consider Bell very high risk as well, but personally I am still not buying the Mike Anderson talk (yet). Bell's very high potential upside counter-balances his greater risk to warrant him being in the above group before the drop-off.
There could be a few differences in the available players due to the league scoring system. For example I would expect Westbrook to go higher in point per reception leagues. Overall though, these are some decent RB to pencil in as, in most cases, your #2 RB. However, I do have some trouble ranking them because they all have a very similar risk versus reward tradeoff. I've got them all in the same tier on my ranking sheet. That is the reason I said above, if you can get one with your 3rd round pick, take this pick in a different direction, which leads me to…
Stud WR
I really like the idea of securing a stud WR this season. I've held to this in the past but given the available depth at RB, and less exciting WR prospects in the 12-30 range of WR (in my opinion), it is even more pronounced this year. Whether a stud WR will still be available in the late 2nd round though is a question mark. It will depend on your league. If they are RB hungry, you could very well have the option to draft one or more of:
Chad Johnson

Terrell Owens (barring how the "As the Eagles Turn" soap opera works itself out)

Marvin Harrison

Torry Holt
There really is more variation in these top 2-3 rounds this season then I have seen in recent years. You may scoff at the idea of these players being available in the late 2nd. I did in fact take Chad Johnson, the second WR off the board, in the 2nd round of an ongoing draft, but that was the 2.01 pick. I immediately heard groans from a couple owners that they were targeting him soon after my pick (I love it when they groan).
On the other hand, as shown in my Dissecting a Draft article, Owens went 2.09, Harrison 3.01 and Johnson 3.03. That is a pretty wide swing in where to expect players to go. It really will depend on the makeup of your league and the other owner tendencies.
The thing to learn from this, especially with a 3rd-round pick quickly to follow, is to not just look at your 2nd-round pick in isolation. Consider the pair of picks together – 2nd and 3rd round picks – to assess what players are most likely to be available. This will help you get the most value out of these important selections.
As for comments on the WR in this list, from a pure fantasy perspective I don't necessarily have Chad Johnson projected higher than Terrell Owens. If push came to shove I would have to wager Owens will score more TD than Johnson. But, I did draft Johnson before Owens because they were closely projected, both falling into the same tier, and it essentially boiled down to me liking Johnson's character better than Owens. Hey, this is fantasy football. I can have some fun can't I? And Johnson's on-field antics are a lot more fun than watching Owens' off-field antics*.
* Note all these references to Owens, and McNabb later on, were written prior to his blow up with Andy Reid and exile from training camp. Darn to myself for not getting this published sooner.
Harrison and Holt are a notch below my big 3 WR, but I still certainly respect what they bring to the table in terms of consistent top production.
QB
If you drafted Manning in the 1st, skip right by this and all other paragraphs titled "QB" until round 10 or so. First to draft a starting QB equals last to draft a backup QB. If you drafted a RB though, then you could be in line for a QB here, I guess. It wouldn't be my preferred option, but lets look at it anyway. There is really only 1 QB to consider here, after Manning is already off the board.
Someone likely will take Culpepper in the 2nd round of your draft. I actually did that last year in one league and he served me very well. This year, I suggest passing on him. While I had my own suspicions to start with, The Gut Check went above and beyond convincing me Moss' departure will result in Culpepper being a poor value choice for a round 2 selection.
Stud TE?
Uh, no.

Round 3

At this point most of you are sitting RB-RB, or RB-WR. Some are QB-RB or QB-WR. Continuing the discussion above, if you went RB in the 2nd then you will lean WR here. If you went WR in the 2nd then you will lean RB here. Of course it ultimately depends who is available...
RB
3rd-Round RB Options?
Already Gone
Options?
Priest Holmes
LaMont Jordan
LaDainian Tomlinson
Curtis Martin
Shaun Alexander
Tatum Bell
Edgerrin James
J.J. Arrington
Willis McGahee
Cadillac Williams
Deuce McAllister
Ronnie Brown
Tiki Barber
Cedric Benson
Clinton Portis
Domanick Davis
Julius Jones
Kevin Jones
Corey Dillon
Jamal Lewis
Ahman Green
Rudi Johnson
Brian Westbrook
Steven Jackson
If you are taking a RB here, hopefully one of the above (highlighed in yellow) – Jordan, Martin, Bell – are still available. Of course it would come as no surprise if one or more of those rookie RB has a great season vaulting him into 1st round consideration a year from now. In fact, I expect about as much. The only problem is picking the right one. If you are confident you can do that, then by all means do it now. Although it is a little early to consider them at the top of the 3rd round relative to their ADP of early to mid-4th, these players are unlikely to make it back to you after the long turn to your 4th round pick.
Even if you went RB-RB in the 1st and 2nd rounds, taking a third RB here is not completely out of the question, but it is more fitting for leagues that have a lot of trading, and for owners who have some deep WR prospects they are confident in taking later. Otherwise, WR will be a tough position to fill later needing 3 quality starters.
WR
From my experience, many fantasy owners get a little too caught up in drafting RB, RB, RB at the expense of the WR position. If you have to start 3 WR, then you need to have a quality, consistent WR corps to be the difference between one of the strongest teams in your league week-to-week, and an up-and-down team on the bubble to make your fantasy playoffs. This is even more the case in leagues which award 1 point per reception.
Still, most drafting in the top 5 likely are RB-RB through 2 rounds, because there is more of a threat that the RB we like all get drafted before this 3rd round pick, than the WR already mentioned above. Even after those top 5 WR though, there are still a good handful of options. And you'll be inclined to take a WR here, because this entire group might be taken before your 4th round pick and then you could end up with guys like Drew Bennett and Laveranues Coles as your #1 WR. Good players, but guys I'm not confident in as my #1 WR.
3rd-Round WR Options?
Already Gone
Options?
Randy Moss
Javon Walker
Chad Johnson
Joe Horn
Terrell Owens
Reggie Wayne
Torry Holt
Michael Clayton
Marvin Harrison
Roy Williams
Andre Johnson
Darrell Jackson
Hines Ward
Nate Burleson
Steve Smith
The top group under "Options?", highlighted in yellow, I think definitely is gone before your next pick, and most if not all of the second group. Although it is more difficult between picks on the long turn than the short turn, always try to think ahead to your next picks. Getting good at judging who should be available next time will make the current pick decisions much easier.
Of the WR listed, I more or less like them in this order, with a drop-off after Wayne and before Clayton.
QB
Donovan McNabb could be a consideration here if available. If I am drafting more towards the middle of the round (5 spot), I took a WR in the 2nd round and my top RB tier has run dry, then I just might pull the trigger on McNabb and fill my second RB in the next round.
Traditionally, that wouldn't be my preference though, and in my case I would only consider McNabb because I have him ranked as the #2 QB on my board. If you have someone else ranked that high (assuming both Manning and Culpepper are gone by now), then you can probably let him slide by this round. Or if you don't have a lot of separation between the next group of QB in your rankings, then you really don't need to consider a QB here.
Stud TE
This was one of my major "misses" last year in this article, saying I would pass on Tony Gonzalez in the 3rd round in every league last year. I did stick to that, but Tony G. certainly proved to be worth that draft position, especially in point per reception leagues. It didn't hurt me passing on him though, as a certain former basketball player turned stud TE, Antonio Gates, came at much better value.
This year, the decision for your 3rd round pick is not isolated to Gonzalez, as Gates, keeping an eye on his contract holdout, has vaulted himself into Tier 1. You can be sure when the first of these two players goes in your draft, the next one will be soon to follow.
The question is, should you take one of them? There isn't a firm right or wrong answer on this. It is all about tradeoffs. If I already had 2 RB, and all my preferred WR were gone (the first 5, plus Walker, Horn and Wayne), then yes, I might give strong consideration to taking one of them here in the 3rd round, with hopes of one of my next group of WR coming back to me in the 4th round. In leagues which give a point per reception I'd be even more inclined to grab one of these two guys who give you a clear advantage over your opponent at one position most every week.
A reason I wouldn't take one of them here though, is because from a value perspective, they haven't got a very high ceiling to hit from which to justify the 3rd round pick. Gates nearly doubled the TD total of every other TE last year. Can he possibly duplicate it? Gonzalez caught over 100 passes for more than 1,200 yards. That is insane production for a TE. To expect a repeat performance from either one is tough to swallow.
But the important thing is for them to be worthy of a 3rd round pick, they need to produce at that rate or better, in part because the quality of the TE position is improving, creating less separation between the top TE and the later ranked TE. Less separation means less of an advantage to you having one of these guys in your lineup.
So back to tradeoffs. There are a number of other TE with a lot of upside that can be had much later in the draft. Which would you rather have: say, Gates in the 3rd round with 2nd round upside, or Jason Witten in the 5th, Jeremy Shockey in the 6th or Dallas Clark in the 8th with 3rd to 4th round upside? Even later, players like Chris Cooley, Jermaine Wiggins and Ben Watson are still being drafted as backups in some leagues. While I find it unlikely any of these guys will match Gonzo or Gates in scoring, they might get half way there, and half the scoring at less than one-quarter of the cost (a 12th plus round pick versus a 3rd round pick) might be the better avenue to pursue.

Rounds 4 and 5

After the 4th and 5th round pick we want to have at least 2 RB and quite possibly 3 if you've passed on a QB and a top TE. It would be difficult to get through 5 rounds without at least 1 WR, so let's not go completely nuts at RB taking 4 of them if you only start 2. That will leave you on an uphill climb filling in the rest of your starters with decent quality players.
First step in round 4 is to see who from the first 3 rounds discussed above slipped through the cracks. Is LaMont Jordan still here? Is Darrell Jackson? Gonzalez or Gates? This is where you really add value to your lineup by adding someone in the 4th who could (should) have easily been selected earlier. Now let's look at the next group of available players at each position.
RB
Many people still have the mindset they must draft all their starters first and then worry about the backups. Given the higher likelihood of injuries to RB, especially drafting early with a few weeks of preseason games ahead of us, I'm becoming more comfortable with the idea of drafting 3 RB (2 guys I can count on and a high upside starter, not necessarily drafted in that order) before getting my third starting WR, starting TE or starting QB.
We all know how important RB is to having a successful fantasy football team, so I won't rehash that. Instead I will focus on the idea that the fantasy football season, although it seems to fly by at times, is a slow and steady race to your championship trophy, not a quick sprint.
Has anyone ever used just the players they drafted as projected starters and not the backups and/or waiver wire? I sure haven't. So don't get in the mindset the first guys drafted are your starters and if they fail the season is done. Ha! Far from it. Build the best whole team roster you can with the idea that all these guys will be contributors. I feel I will NEED at least 3 productive RB over the course of the season to be successful in a start 2 RB league. So why pass on a quality guy when the value is there and just because I already have 2 on the roster? Here is the next group of RB beyond those mentioned previously:
DeShaun Foster

Fred Taylor

Warrick Dunn

Lee Suggs

Kevan Barlow

Chris Brown-Travis Henry

Michael Bennett

Duce Staley
All of these guys have some warts in terms of fantasy value. To call most of the fragile is a big understatement, but thinking the glass is half full for a minute, that is where you have the opportunity to pick up a great player that can really be a difference maker for you. And, the advantage you have is you already have 2 RB in your stable that you can more or less count on. If one of these guys doesn't pan out, then you haven't put yourself into too much of a hole.
I really like Foster and Taylor from this group right now. Not only because of the talent they bring to the table – who can possibly question Fred Taylor is, when healthy, one of the most talented RB in the league? – but also because acquiring their insurance backup is not as expensive as some of the others. Lee Suggs it would be nice to backup with Reuben Droughns, but the draft pick to get Droughns might really cost you a quality receiver. Chris Brown and Travis Henry would seem to be very difficult to pair up unless you are using near back-to-back picks. Duce Staley may have very well fallen below Jerome Bettis in some drafts given his recent knee troubles.
I would suggest backing up Foster with rookie Eric Shelton. Behind Fred Taylor it is so unclear who might emerge if given the opportunity, I'm not sure it is even worth it to draft LaBrandon Toefield or rookie Alvin Pearman, except late in deep leagues where you have the roster room to stash them away.
Going into your 4th round pick, remember most owners like to fill in their starters first. If the owners on the short turn already have 2 RB through 3 picks, and they probably do, then there is a better than good chance they will pass on RB here and in the 5th round, in which case you don't go RB with your 4th but wait until your 5th pick. A neat thing is to go back to prior year draft results from your league and check the draft tendencies of each owner for things like this. You may recognize more consistent trends than you thought possible.
WR
The 3rd, 4th and 5th rounds of most drafts are dominated by WR as people are scrambling to fill their 3 starter spots. Another reason I don't like going QB before now is because I like to get one quality WR I can more or less count on to produce before the runs on WR get going and I end up with an unreliable #1 WR.
The more unreliable players you have in your lineup, the tougher the start-bench decisions will be every week. WR is traditionally one of the toughest positions to pick for your starting lineup, due to their inconsistency, so if I already have a Chad Johnson or a Marvin Harrison locked into my #1 WR spot as an automatic starter every week, then that results in a lot less stress, and a lot fewer opportunities to make a start-bench mistake costing you wins.
So, preferably, these will be your #2 WR options at this spot:
4th-5th Round WR Options?
Already Gone
Options?
Randy Moss
Hines Ward
Chad Johnson
Nate Burleson
Terrell Owens
Steve Smith
Torry Holt
Jimmy Smith
Marvin Harrison
Larry Fitzgerald
Javon Walker
Anquan Boldin
Joe Horn
Drew Bennett
Reggie Wayne
Laveranues Coles
Andre Johnson
Donald Driver
Darrell Jackson
Jerry Porter
Michael Clayton
Roy Williams
Between the RB and WR listed, you can see there is a fair bit of choice here for a late 4th round and an early 5th round pick. Last year the available RB expected to be here was a very short list, and the available WR pretty similar in size. This year the RB list has grown because, as mentioned early in the article, RB depth is looking very good heading into the 2005 season. That, and because a number of the RB listed in the last section do carry the injury bug risk, you might be better off taking your choice of WR first, in the 4th round, and letting a few of those RB fall to your 5th round selection.
QB
Or, you could turn your attention to QB. This is not something I would recommend but I would be remiss if I didn't mention it as an option. Unless someone grabbed a QB in the late 3rd or early 4th, causing one or two other owners to jump on the QB bandwagon early too, the QB expected to be available for you are:
Marc Bulger

Michael Vick

Trent Green
All quality QB, sure, but at this point you'll still be in the top half of teams in your league to draft a QB. If I've committed to wait on my QB after passing on Manning, Culpepper and McNabb earlier, then I might as well stick to my guns and drop down even further to get a Brett Favre, Tom Brady or others.
We are in or getting very close to the point where a lot of these QB are very similar in projected point production, so while Bulger is typically ranked the highest of the QB available that we're discussing, we don't get the best value out of the position drafting him here. The earlier you draft a QB, invariably you'll be saying later, "wow, that guy got great value at QB", referring to the owner in your league who was the last to pick his starter.
TE
Presumably Tony Gonzalez and Antonio Gates are gone by now. The next best set of consensus TE are Jason Witten, Jeremy Shockey, Alge Crumpler and Todd Heap. If you are committed to getting one of these guys, then you might have to take one here in the 5th round. You won't be getting great value for them though, as ADP data indicates the earliest on average any of them is being drafted is early 6th round. Your next pick is going to be late 6th round. They might be gone before your next selection. My take is this:
If you feel Witten is in going to be as right on par with Gonzalez and Gates, then draft him in the 5th unless you are sure he will come back to you. In most leagues, that would be a pretty risky assumption. Don't mess around and just take him.
If you feel this group of 4 are all pretty similar, then I would be inclined to pass on TE in the 5th, and see if any of the 4 make it back to you. Since there are 4 of them there is a good chance it will happen. If it doesn't then you can go into the next group of top available TE, and grab someone like Dallas Clark who has some decent upside.
The more I think about it, the more I like Alge Crumpler to have a strong year at TE and really pay off his draft pick cost. The Falcons appear like they are going to be starting some very green receivers on the outside this season, and even if they don't Peerless Price and Dez White are not scaring anyone. Even though Michael Vick's passing prowess leaves a lot to be desired, Crumpler could be in position for a noticeably better than expected season statistically. I do like Shockey's prospects as well in his second year working with Eli Manning, and Dallas Clark on the other end of Eli's older brother's passes.

Next Up: Rounds 6-10