Get Me Through the Draft




8/6/07



Every draft is unique in that it has its own surprises, mishaps, value picks, double-picks, and name mispronunciations. Also, in every draft, there are certain trends that go down, creating and diminishing value on different sections of your draft board. Sometimes it's best to completely ignore the Fantasy dud who starts Round 2 by taking Drew Brees. The same goes for your high school buddy who kicked 42 extra points in a row for your varsity football team – he's bound to pick a kicker before he has a #3 wide receiver, but that doesn't mean you should hop on his brakeless radio-flyer wagon-ride into the fantasy doldrums.

However, on the other side of the canyon, it's never too early to pick your backup running back – even if he comes in round 3. The bottom line is, there will always be an instance that should make you think twice about your pre-draft rankings. I'm here to let you know when you should follow your gut, and when you should toss plan-A aside and step on the gas with plan-B. Below, I will discuss 5 trends that will show up on draft day – and advise which way to go when those trends appear.

1. Grab A TE – They're Almost Gone!

There's a reason Antonio Gates was picked first amongst the TEs – he's the best in the league by far (though he's still drafted too high). However, the run of tight ends leaving the draft board within a couple rounds of Gates have no right getting picked as high as they do. I was recently in a draft where Gate's was picked with the 12th selection in Round 3. In the next round alone, Jeremy Shockey, Vernon Davis, Todd Heap, and Kellen Winslow came off the board – ahead of guys like Donovan McNabb, Braylon Edwards, Donald Driver, Ladell Betts, Mark Clayton, Phillip Rivers, Jerricho Cotchery, Reggie Brown, and Darrell Jackson (among many other players more deserving than those 5 TEs).

I would never suggest following the run of TEs, unless they match the projections on your draft board. Especially this year – the TE's are as deep as ever before. There are 10-15 pass- catching TEs I wouldn't mind starting, and that includes late-round additions like Marcus Pollard, Jeremy Stevens, Dallas Clark, Ben Watson, Randy McMichael, Jason Witten, or Heath Miller. TEs are like a crappy version of a quarterback. Most leagues only start 12, and after a couple of the top guys, they all score around the same amount of points. But unlike quarterbacks, they don't score a lot of points. The best TE in the game, Antonio Gates, scored just under 9 points per game in 2006. That compares to the 24th ranked wide receiver (Santana Moss) and the 35th ranked quarterback (Charlie Frye). Even the best TEs score minimal fantasy points.

That leaves you with two choices when the TE Trend-Bus drives by in Round 4 and 5, you can either jump on and overpay for a TE, wait it out and pick a couple starting WRs that will help you win a championship, or be that guy who takes the Chicago Bears defense. His story is spelled out below.

2. I Hear Defenses Win Championships:

This is where you're wrong – defense wins championships, defenses don't. Yes, Cornell grad, there is a difference. See, in the NFL, defense wins championships. If you can stop the other team, more often than not, you will win the game. In Fantasy Football there is no such thing as defense. There are defenses, and like WRs, QBs, and RBs, in this league, defenses score points they don't prevent them. They don't stop anyone from doing anything. The Ravens could score 30 fantasy points, but that won't keep LT from putting up 36 against the Chiefs. You get me?
Mike Ditka doesn't win fantasy leagues because he takes his vaunted Bears (not even the best defense last year) in Round 5. Ditka does it every year before he picks a back-up receiver, running back, or quarterback. My favorite draft day partner makes the plunge into the defensive forefront. The problem is, this guy only begins the trend that is about to sweep your draft. The Top 4 or 5 defenses will be taken in the next few rounds. Stay out of that trend gutter.
I won a league last year rotating defenses using my league's waiver wire based on the best match-up on any given Sunday. You may never get your hands on a Top 5 defense, but your own defense's (defense of the week that is…) performance might very well be better than anyone else's week to week. The Titans, Packers, Raiders, and Cardinals hung out on waiver wires all year long in 2006, and each team had huge weeks that took me to the Championship.
Get your stud position players when your league's donkeys are going Ditka's route and ignore Mike's attempt to litter the draft with his early evacuation. Although he's doing an admirable job of taking the player's association to task about their approach to help retired players, remember this guy is hawking erection medication. If you go Ditka's route with a defense, your starting roster might need a prescription because it's going to look flaccid.
3. Back To Stacking Backs – 3rd Stringers In Round 3:
In this case, be the guy who starts this trend. Chances are, if you make the right move at the right time "You'll be mine," err… I mean you'll get your 3rd string running back before a couple teams get their 2nd stringer. That's a move worth making. Be bold, start the trend.
They may make fun of you now – "Haha… He's stacking backs, we're three rounds deep and that's all he has. You can only start 2 you know." But they won't be making fun of you later when you have 3 options every week while they are stuck starting Ahman Green and DeShaun Foster. Yes, it's a magical thing, really – if you take three backs before other owners take two, you will limit their options at the position, and they will have to start 3rd stringers.
I hear you saying, "But what about getting good receivers?" Don't worry there are plenty of those. Receivers are known for their depth and new breakout players emerge year after year. In every draft there will be 3 or 4 WRs selected in the bottom 7 rounds that breakout and become Top 20 receivers. The bottom line is, there are always WR options on the waiver wire while running backs are a rarity.
Be a trend starter, it is always best to start a trend rather than follow one. In this case, its good to start, follow, anything to get multiple solid running back options.
4. QB Drought – 12 Teams And Only 32 Starters:
Whatever will you do with numbers like that? If every team picks 3 quarterbacks, you won't get two starters… Oh, no!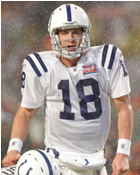 There are two types of quarterback trends that you don't want to be a part of.
The AP Trend:

The after Peyton trend. This trend initiates a string of 4 or 5 quarterbacks that starts as soon as someone picks the 2nd quarterback off the board. AP is a bad time to grab a quarterback. Usually, about 10 picks after Manning, Drew Brees, Carson Palmer, or Tom Brady gets selected. And then, just like your first time, the floodgates open. Drew, Carson, Brady, Bulger, and Donovan McNabb get plucked as scared owners start to worry that they will be stuck with Seneca Wallace and Chris Simms. They just can't pick them faster – exhaling with sweat on their brows when they get one of the elites.

Hey buddy, calm down, there are 30 starting quarterbacks in the NFL (I'm not including the Vikings, and Browns – as whoever starts there is really a backup in a bad situation). Thirty – that means there's enough for your 10-team league to each have three. That won't happen, but the bottom line is, there are plenty to go around. Wait it out – I promise, you'll be happy about it later.

The Middle Vanilla Trend (not to be confused with Milli Vanilli):

These quarterbacks posing as top fantasy producers might as well be linked with the lip-syncing duo. After the initial rush of quarterbacks ranked 2-6, the next tier begins with either some young and over-hyped guy, or a guy getting love from fantasy magazines everywhere. Vince Young has been that guy lately. After Vince, things get crazy and a run of the young QBs and middle of the road veterans begins. In the blink of an eye, Leinart and Cutler will be gone, then Eli Manning, maybe Tony Romo, and in some extreme cases, Matt Schaub. Well, thank you very much trendy Middle Vanilla, but I'll happily grab Hines Ward, Santana Moss, Braylon Edwards, or Reggie Brown while you jump on the average quarterback bandwagon.
The philosophy is simple, unless you get a great deal on one of the top guys (Palmer, Brady, Manning, McNabb, Brees, or Bulger) don't do your self a disservice by picking them. And unless one of the Middle Vanilla guys tumbles down to the later half of the draft, just wait it out and take the best guy after the rush is over. You'll still easily get a couple starter worthy guys like Jake Delhomme, Ben Roethlisberger, Phillip Rivers (if you're lucky), Jason Campbell, JP Losman, Alex Smith, Chad Pennington, or Rex Grossman. Yes, or Rex Grossman. The thing is, after the first 5 or 6 guys, the rest of the guys are too even to pass up on quality RBs and WRs.
5. When To Trend; Don't Shed A Tier:

Tiers are the best way to make sure you know when to follow trends and more importantly, when to leave them the hell alone. All of the trends I listed above could be altered based on who's left on certain tiers of your draft board. For quarterbacks, there are 3 tiers, Top 5 or 6, the middle 20, and the last group you want nothing to do with. So, if you're getting toward the middle of your draft, and one of the Top 6 is there for the taking, grab McNabb or Bulger, sure. If the middle run is over, you have quality backups all around, don't feel hesitant to take the top rated guy on your list. And if all the quarterbacks are going off the board, don't be stuck with the guys in the bottom tier.
Sometimes, you have to assess the way the draft is panning out, and if there are 15 quarterbacks off the board in Round 7, you better reach out and grab #16… That's just what makes the most sense – remember value can always change. That's why a great Fantasy Football list won't guarantee you a playoff spot in your league. Because just like that, a couple moves can alter the lay of your rankings.
Tiers should also be made for running backs and wide receivers – WRs come in 4 groups, (Studs, #2s, Possible Starters, and Blah) and in your draft you should try to get at least 3 of the first two groups, and as many of the possible starters as you can. Blah doesn't mean they're bad, and Possible Starters doesn't mean they're good. Blah means they will never be an option you rely on to be a quality scorer. They might outscore some of the 3rd tier players, but the 3rd tier players are those that have enough upside to become starters. Blah will never be a starter.
The same can be said for running backs.
Go in and make tiers, or copy down the lists at FFToday, because tiers help a drafter more than a Top 200 ranking list. Drafts are always different, that's what makes them great, but don't expect to get the 36th-ranked guy on your list with the 36th pick. Use draft gumption and understanding to chose when its best to follow the trends – and don't be afraid to be a trend starter – often times those who take the biggest chances get the most reward.
Bryan Weimer, AKA—Lucky Lester—is the owner of LuckyLester.com, a sports site devoted to everything football from NFL picks and team previews to the hard facts and your fantasy reality.