Mishaps Gone Wild




7/12/07



Every year it happens. A couple guys in every league leave themselves with no shot to succeed on draft day and it's painfully apparent from the moment you look at their rosters. You know them as the two or three owners that you'll never have to worry about. Here's a little word of advice, don't be that guy.

There are many ways for your season to go awry on draft day. Some are more devastating than others, but all will unmistakably stick you in a hole from which escape will be difficult. Regardless of how many pre-draft pep talks or words of advice I deliver—including using past drafts to highlight the path to certain failure—it never fails that some will never learn.

To make sure this season you're not one of those guys, I'm going to show how most of these losers fail on such an astounding scale. If you decide to follow my Top 9 Ways to Become the Object of Bad Jokes on Fantasy Message Boards Everywhere, you will lose plenty of games. If you follow this roadmap your friends will mock you from start to finish, only slowing down when they feel you're about to crack, or when your girlfriend leaves you because you spent so much time on the computer wondering where it all went wrong.

Take these no-nos and use them to your advantage as the fantasy season draws near. Avoiding these bad moves won't guarantee you a title or even a playoff spot, but you won't be a laughingstock, either. And when you see a real man of genius pull off a couple of these during your draft, tell them there's a sports writer out there who loves his rebel yell.

#1—Ignore The Running Back Position
Hello Mr. Nick Noback! Fantasy football doesn't have its own version of the Run and Shoot. I know, Warren Moon put up sweet numbers back when the Oilers ran Houston, but that doesn't make the dumbest draft strategy of all time pay off. Four wideouts may look cool – it is not.

Think back on your last couple of drafts, you know this Mr. Noback all too well. Every year he comes in talking about how he's "going to be different this year," and how he's "taking 5 running backs to start the draft," just to assure he doesn't have the same problem as last year. Right… If by "5 straight running backs," he means Peyton Manning, Torry Holt, Terrell Owens, Darrell Jackson, and Reggie Brown—then yeah, he's a changed man. Maybe he and Pac Man "Yes, Mr. Goddell I'm avoiding all Gentleman's Clubs in the future " Jones have the same problem.

You figure after struggling to find two starting backs for each of the last 3 seasons, he'd go Stud RB, but Mr. Noback doesn't learn. Mr. Noback loves the idea of having Peyton Manning and the two best WRs on his draft board. Mr. Noback's strategy never, ever pays off. If your first running back taken comes off the board in the 4th round, you will lose your league.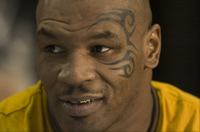 Ignoring the running back position is like… Well, it's like an NFL team that always trades their draft picks for aging veterans – and how have the Redskins done lately? Mr. Noback will end up with Ladell Betts and Jerious Norwood starting for his team. Maybe he'll even get lucky and both those guys end up getting 20 carries per game at some point during the season. By then it will be too late for Noback, he's already mailed it in.
There's a reason that an average of 16 RBs get selected in the first 2 rounds of fantasy drafts everywhere. Don't believe for a second that you're going to try something tricky and be different. This tactic is not "good different", this tactic is "Mike Tyson – tattoo on the side of your face" different.
#2—Picking a Quarterback at The Top of The Draft
Yay! You got him. Peyton Manning, the best fantasy quarterback of all time! He's yours! Get off your high-horse you moron, you're going to lose. You may have Peyton, but unless you got one hell of a steal, or just flat out picked the rest of your draft like you were Nostradamus, you will be lucky to stumble into the playoffs at all. Good use of the 7th overall pick in your draft… Numskull.
But it doesn't end with one fool selecting Peyton in the 1st or 2nd round. The next two or three QBs will be reached for as well, it's almost always the case. There are so many downsides to taking a QB early that I don't even know where to start. But since value is what fantasy is all about, lets begin there.

I've never seen a situation where Peyton's selection—after his second season—was a good value. His point production puts him into the 1st round year after year, but there is no worse a place to take your starting quarterback than in Round 1. In your league, there will be 10-12 quarterbacks starting every week. Compare that to receivers (at least 20-24) and running backs (at least 20-24) and you have yourself a shot of vodka and value. Do the math, at the very least, WRs and RBs are twice as valuable as quarterbacks.
Quarterbacks score lots of points, but the difference between Drew Brees and Jon Kitna is 3 whole fantasy points a game. Does that point differential justify taking Drew 6 or 7 rounds ahead of Jon? No sir. Let's say Drew goes in the 3rd and Jon goes in the 6th (which is high for him) – and then let's say Brandon Jacobs goes in the 3rd round and Deshaun Foster goes in the 6th. Where is the bigger point differential? It's not with the QBs—that's why you take a RB or WR in the 2nd and 3rd rounds, and a QB late.
#3—Ignoring Your League's Scoring Format
If you've seen it once, you've seen it a million times. The guy who starts bitching in Week 3, and never stops about how "This league's scoring set-up is way different from my other league—Waaaahhhh!!!" My good God! Do you walk into your new desk job thinking everything's going to be just like that month you spent at Burger King in high school? Do you go fishing for Tuna with a Trout-pole? Yeah, they're both fishing, but they ain't the same, bub – so put away your Powerbait.
There's no reason to go into the season blind. Many settings can change a draft strategy: starting roster differentials; touchdown totals for different positions; points per reception; point options for defenses; and touchdown vs. yardage leagues among them. All the rules should be laid out for you prior to draft day, or at least before you start making picks. Don't walk in blind – your research will pay dividends, I promise.

As a little example, let's explore QBs getting 6 points (instead of 4) for throwing a TD, and WRs and RBs getting a point per reception (PPR). Just look at the numbers for QBs if you add 2 extra points for every TD thrown. Peyton Manning moves ahead of Steven Jackson and LJ, while Drew Brees, Mike Vick and Cason Palmer all jump ahead of Frank Gore, Willie Parker, and Brian Westbrook. If your QB gets 6 per TD, make sure you up QBs as a group – but as I said above, never overpay for that position. Just realize, that format adds value to QBs.
For a PPR league, all your receivers get a value boost. In my PPR league 15 of the top 30 offensive players were WRs. In my league that doesn't have PPR only 5 got on that list, and all were in the bottom half. Six receivers made the Top 15 in my PPR league. Those are just two examples—and the numbers definitely don't lie. Trust me, it's worth the time it takes to look.
#4—Reaching To Fill Out Your Starting Lineup
If you are looking for an easy road to mediocrity, fill out your lineup one by one until you've got all 8 or 9 of your starters at each position. Saying to your league in round 9 or 10, "YES! I've got all my starters, go ahead and pick the rest of my guys for me, I have to head home to watch Desperate Housewives, I can't miss an episode. Later Gators!" is a "T.J. WhoseYourMomma," moment if there is one.
First of all, if you draft like that, your depth will almost certainly suck. Running backs are always off the board early, bottom half receivers are a dime a dozen, and you can come away with two solid quarterback options late if you pick right. Defenses can be had at the end of your draft, and unless your draft specifies that you have to fill out your roster completely, you could always just pick up a kicker before the season begins. Why? Because undrafted guys like Robbie Gould finish atop the rankings every year.
The bottom line is you have plenty of time to get a quality, starting lineup. There's no need to reach in rounds 5-9 to get every position. There will always be a situation were you reached for the players you got, and everyone knows that is a poor way to draft. And lastly, never even think about saying "Later Gators!" in any circumstance – karma will hunt you down land dismantle the fantasy team you drafted with the precision of FBI agents pulling up to your house (whether you live in it, or not) with a backhoe to do some landscaping of your backyard.
#5—Team Builder Via Bye Week Perfection
You just passed on Anquan Boldin in Round 4, Brandon Jacobs at the beginning of Round 5, and even though you thought Phillip Rivers was an unbelievable value in the 10th, you passed on him too. Now your team isn't as good as it could be, but at least you have a perfect roster without any like bye weeks. Nice work, Munson, you did really good, little guy. You got all the colors in the lines and everything. Now go get yourself a cookie to go with that .500 record that's never going to get you anywhere…

Why do people insist on taking lesser players for the perfect puzzle of bye weeks? Every single year my team benefits from a couple donkeys that zig-zag through their fantasy drafts making sure not to double jinx any of their guys' bye weeks. And while it makes me a happy little camper, "Bye Week Team Builder Guy" loses his marbles by Week 10 when he starts realizing that nobody has bye weeks anymore and his team just isn't as good as everyone else's anyway. I'm not going into any more detail with this one. If you have two guys that have very similar value, take the guy whose bye week fits, but never ignore a player because his bye week doesn't match up. That's just plain dumb.
#6—Self-Crippling Trades
You targeted your man, Travis Henry, in Round 2. You were sure that you were going to get him, so you did the smart thing and took Larry Johnson with the 6th pick because his value was too good to pass up. Everything is going well. You're not doing anything wrong…yet.
Right before your next pick, your best buddy Robin Hood, steals Henry right in front of your eyes. Those marbles in your head start rattling and next thing you know, you lose them in the blink of sleep-deprived eye. You show all your cards and tell your buddy, "I love Henry! He's my guy. I'll do anything to get him on my squad."
Nice work, Sherlock. What you really just said was, "Hey Robin, how can I help you win a fantasy title? Do you think I could trade you this LJ guy for Henry? Will that help you at all? Do you want anything else? I'll pay your league fee, too. Want the last piece of pizza? My wife's free this Saturday night."
Do the rest of your league owners a favor and don't hand anyone the title—or your wife for that matter. Better yet, don't act like your life is over. There's still a chance you could get the guy you coveted. You don't have to give up your 1st pick. Take the next highest-rated back on your list. And later, when the sweat has stopped pouring from your head and you are no longer devouring jalapeno chips with anger in your eyes, offer your 2nd back and a player that could help him where his roster needs a boost. Otherwise, these impulsive trades will change the way you walk.
#7—Popularity Wins Paper Championships
I love Chad Johnson just as much as the next guy, but that doesn't mean I'm reaching for the extremely talkative Bengal receiver. The same goes for Manning, Tom Brady, Mike Vick (before he turned Pluto on Goofy), Larry Fitzgerald, Vince Young, or any number of guys that leave draft boards early because everyone loves them. I'm not saying you should ignore the games best players. I'm just saying you should look at their numbers, consistency, schedules, offensive situations, and scoring history without thinking about how many soup commercials they were in last season or how their "bling" looked at the Red-Carpet opening for Ocean's 13.

I have a couple examples to show you, just in case you think I'm crazy. Vince Young has been getting drafted somewhere in the 5-6 Round range in certain mock drafts. Do I love Vince's game? Hell yes. In fact, I was a huge fan throughout his college career, and even claimed that he would be a great football player in the NFL. I still think he will, but the chances of him being a fantasy force this season are not very good. Getting selected over guys like Tom Brady, Phillip Rivers, Matt Hasselbeck, Donovan McNabb and other consistent veterans is just crazy.
Vince is a winner, but he's going to have a tough time catching the league by surprise like he did last year. He's going to have an even tougher time tossing the rock to #3 wide outs all year long. He's a solid fantasy player, but he'll go higher than he should because of his Rookie of the Year campaign and his last-second heroics that have built his persona.
Another example is Reggie Bush. Amazing talent? Yes. Fantasy starter? You betcha. Should he be picked ahead of Rudi Johnson, Willie Parker, Joseph Addai, Shaun Alexander, or Brian Westbrook? No way. Bush may breakout with amazing stats in his second season, but I'm willing to bet 6-7 running backs picked behind him score more fantasy points than he does. But he's Reggie. And thus he'll go higher than his point totals will insist. Your team will look nice on paper, but that's about it. Remember, even Mr. Bush took Larry Johnson in his fantasy draft – don't make the same mistake Reggie's buddy did.
#8—Hometown Heroes
Let me guess; You live in Seattle, and every year there are three guys that go all out trying to make sure they get their hands on Matt Hasselbeck, Shaun Alexander, Darrell Jackson, Josh Brown, and the Hawks defense. How many years have those guys taken home the hardware? Precisely. So why do guys continue to put all their eggs in the hometown basket? Because they're fans and good old-fashioned football fans that think first about "their" team, second about "their" team, and fantasy pops up last. Well, that's really loyal and all, and you should applaud their commitment to the cause. Then, quietly if you choose, take the title, their money, and buy some chips and beer before the Hawks big playoff game against Dallas.
Fantasy sports and being a fan of a team are two very different things. Being a great fan may give you deeper insight than the average fantasy owner. Use that knowledge if you have it, but don't feel obligated to compete with those guys on a Seahawk pride test--not in fantasy football, anyway. There will be plenty of time to root for the Hawks best players when they get into the playoffs. This will happen well after your own fantasy playoffs are through, and your fantasy team of Frank Gore, Torry Holt, Anquan Boldin, Larry Fitzgerald, Steven Jackson, and the rest of the NFC West help you take home the title.
#9—Sleeper Hold On Your Roster
Don't let the "Sleeper" article in every fantasy football magazine confuse you. They are called "sleepers" for a reason. Sleeper is often confused with the term "fantasy stud" but rarely do those terms meet up at years' end. If you look at your roster and see you've drafted 7 of the 10 "Biggest Sleepers," you are in for a long season, Mr. Fantasy Magazine Junky. I know, I know, it'll be something you brag about initially, gloating, "Look guys, even the magazine's say my team is bad-ass!" How fast the reversal will come, my friend.
Think about a couple things for me. How many years in a row was Chris Perry on the sleeper list? How about Matt Jones and Reggie Williams? Even guys like Corey Bradford, Kelly Holcomb, Derrick Blaylock, David Carr and Nate Burleson saw their names dangled on sleeper lists prior to last season. Sounds like a pretty solid team make-up for a Fantasy Title, no?
You can pluck winners from this list; Javon Walker, Frank Gore, and Reggie Brown made the most of their sleeper status from a season ago. But then again, none of those guys were huge surprises to succeed. Don't be a fool use the right tool! When you read the article titled, "Sleepers," don't log it away next to the article titled, "Top 100 Players," and certainly don't mix the two. There's a reason those two articles have different authors and never use the same page space – they are different. Like everyone else, I love some of this year's sleeper candidates, but that doesn't mean I'm filling my roster with the lot. Take a couple, and if the values right, consider a 3rd – but don't allow sleepers to put a Sleeper Hold on your fantasy chances.
Follow any of these 9 steps and you will essentially be filling out your league's application for "worst fantasy owner around". I promise you the pay is bad, the pain stings deep, and the constant nagging from friends is only salt in the wound.
Bryan Weimer, AKA—Lucky Lester—is the owner of LuckyLester.com, a sports site devoted to everything football from NFL picks and team previews to the hard facts and your fantasy reality.