Bye Weeks: N/A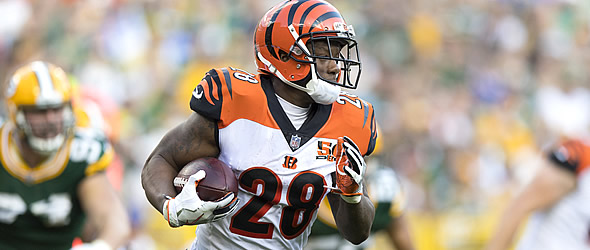 Perhaps a banged up defensive front can aid the stuggling Joe Mixon and Bengals running game.
Grab a Helmet

Joe Mixon vs CLE: Mixon must see Bengals jerseys in his nightmares, because for most of the season thatís all he sees when he runs the ball. Constantly hit at or behind the line of scrimmage, Mixon has struggled to a Jeremy Hill-like 2.9 yards per carry average. So it doesnít seem to make sense that Mixon is worth a start this week against a Cleveland defense that had been stout against the run. Well it just so happens that the Browns lost two of their best run stuffing defensive lineman last week, so itís no coincidence that Leonard Fournette was able to break through for the first 100-yard rushing day against the Browns. Game script should favor Cleveland, allowing Mixon plenty of chances. Heís flashed game breaking ability, and Iím staying true to this columnís title and calling a shot (big play) for Mixon this week. His 22 touches last week are workhorse numbers, so stay patient, as this could be the week low end RB1 numbers arrive.
Alfred Morris vs LAC (Thu): Lost in the black hole that has become the Cowboys season is the play of Alfred Morris in the last two games. Morris has carried the ball 28 times for 144 yards in the last two replacing Ezekiel Elliott. Those numbers might pale in comparison to his teammate, but they are solid numbers considering Dallas got blown out in those contests. It looks like Tyron Smith could be back Thursday night, and I look for Dallas to lean on the run game to slow down the Charger pass rush and keep their explosive offense off the field. The Chargers have also been gashed in the run game several times this year. While Morris gives you nothing in the pass game making him largely touchdown dependent, I think he cashes in for a score and 80+ yards, giving him strong RB2 numbers.

Latavius Murray @ DET (Thu): After an uninspiring six-game start to the season, Murray has earned his significant free agent cash, as heís scored 12+ fantasy points in three of the last four games. The Vikings leaned heavily on him last week in a win against the Rams and it payed off, as Murray easily had his best game of the season. Finally looking fully healthy after missing all of the off-season, Murray should be able to exploit a Detroit run defense that has been incredibly leaky the last two weeks. Minnesota has a defense that will keep games close, and a conservative offense able to sustain long drives, so Murray should be a lock for 15+ touches this week. I think he returns RB2 value with upside for more.
Grab Some Pine

Jamaal Williams @ PIT: I was really high on the potential of Williams in this offense when I did the offseason outlook for the Packers. Admittedly that was well before Rodgers went down, the offensive line imploded, and Brett Hundley looked more like Todd Hundley (props to you if you get the reference to the former Mets catcher!). On the bright side, Williams has been fed the ball to the tune of 43 touches in his last two starts, but with the near return of Ty Montgomery and the poor match-up against the Steelers-D, Iím not exactly rushing out to start the former BYU star.

Adrian Peterson vs JAX: In his last seven starts with at least 10 carries, Peterson has averaged less than 2.0 yards-per-carry in five of them. In his five games with the Cardinals, Peterson has either been exceedingly good, or downright dreadful. With such swings of inconsistency itís incredibly hard to trust the future Hall of Famer down the stretch of the fantasy season. Heís still not catching passes, heís playing with a journeyman quarterback behind a poor offensive line, and simply doesnít have the gas left in the tank to create big plays on his own. Iím sure heíll go for 150 yards and two touchdowns this week just to spite me, but Iíd have to be in a desperate situation to trust Peterson as anything more than a desperate FLEX this week.

Doug Martin @ ATL: Despite being the king of offseason fluff pieces, Martin has been a huge disappointment this season. Although he's been fed the ball 39 times in his last two games, he's turned those chances into only 89 listless yards. The Tampa offense has gone off the rails, and Martin's terrible ground numbers (3.1 YPC) are compounded by the fact he's a near zero in the pass game. Game script could get out of hand quickly in this one for Tampa, and if the Bucs have to go into comeback mode early, Martin could be looking at a repeat of the New Orleans game where he finished with a total of 7 yards.

Quarterbacks | Running Backs | Wide Receivers