Candidates After L.T.
7/11/07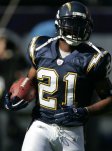 Unfortunately not all of us get to hitch our fantasy wagons to the thoroughbred wearing the blue #21 jersey out in San Diego. Even the most causal fantasy footballer knows that LaDanian Tomlinson should be a titanium lock for the #1 overall pick in 2007, but who is worthy of #2?

Listen folks, the horse is on the verge of being dead and beaten, so I'm going to save you the monotony of yet another Steven Jackson vs. Larry Johnson analysis. The fantasy football world knows the black clouds swirling over LJ, and the questions about Jackson being able to duplicate or improve upon his 2006 numbers, but baring a disaster in training camp, those two will remain the top contenders for the 2nd overall pick until every league has held their draft. For arguments sake, let's say its mid-August with your draft yet to take place. LJ is entrenched in a bitter holdout, and Jackson is expected to miss up to 6 weeks with a torn meniscus he suffered in a preseason showdown against Tomlinson. With the #2 selection much less obvious, which direction do you turn?

Shaun Alexander – RB – Seattle Seahawks
In just one season, fantasy football's king has been demoted to a lowly peasant. Everyone knows the story. Alexander's 2006 season started off slow, and got worse as a foot fracture robbed him of six games. He returned in week 11 and except for one monster game in the snow against the Packers, S.A. posted very mediocre yardage and TD totals. He struggled to average 4.0 yards a carry, and it was clear to anyone that watched Seattle last year they struggled with the timing and coordination of their once-dominant run game. The 'Hawks had a revolving door of ordinary veterans trying to fill the void of the departed all-pro guard Steve Hutchinson and between injuries at wide receiver and quarterback, Seattle's offense was never able to gel into a consistent unit.

If there is any player whose ADP is lurking around the middle portion of round 1 that can stake a claim for the #2 overall selection, it's Alexander. Up until last year, you could pencil him for 1500 yards and 18 touchdowns. He hasn't lost that ability to produce those numbers overnight. The Seattle running game is predicated on timing, and they never found a rhythm last year. They aren't going to be able to push people around the way they did with Hutchinson, so expect them to use this full off-season to adjust their scheme to compensate. Alexander has participated in drills this summer pain-free, so his injury is seemingly a non-issue. It's the first major injury he has suffered in his career, and he might be on the wrong side of 30, but he has enough gas in the tank to return to glory. Look for Seattle and Alexander to play with the toughness and attitude they played with in their Super Bowl season. Don't be surprised if Alexander provides one more monster season before he fades into fantasy football history.

Willie Parker – RB – Pittsburgh Steelers
Did you know that in 2006 Parker joined Tomlinson, Jackson and LJ as the only players in the NFL to rush for 1400+ yards, and score double digit touchdowns, and that he was the only running back to amass two, 200-yard games? Despite these totals, and producing his 2nd-straight solid season as the primary ball carrier, he is getting very little hype entering 2007. He might be small in stature, but he's a proven combination of breakaway ability and power. It might be time to consider him in the elite class of runners.

Although he showed a bizarre tendency to be inconsistent on the road (all four of his sub 50-yard rushing games were away from Heinz Field), Parker is still learning how to run the football at the NFL level, and possesses plenty of upside. Despite changes at head coach and offensive coordinator, Fast Willie's role as the main man in the Pittsburgh backfield remains unchanged. It never seemed like former OC Ken Whisenhunt adjusted the running scheme to Parker's strengths. He tried using Parker like a Jerome Bettis-battering ram, instead of a Porsche, but newly promoted O-coordinator Bruce Arians is familiar with Parker's abilities and has plans to open up the offense. This should present Willie with more opportunities to utilize his exceptional speed and quickness. Expect Parker's role in the passing game to increase as he improves at pass protection, with 50 receptions not out of the realm of possibility (he snagged 31 last year after 18 his first year as a starter). With more chances to catch the ball and an additional year of maturation, expect Parker to approach numbers that could rival the elite backs.

Brian Westbrook – RB – Philadelphia Eagles
Westbrook is fantasy football's annual "What If" player. What if he stayed healthy for 16 games? What if Andy Reid actually ran the ball? What if I had the #2 overall pick and took Brian Westbrook, would I be crazy?

While BW has made defenses look downright foolish from time to time, he simply hasn't been able to put together a full season of work. In 2006 he had several monster games (164 tot. yards and 3 scores vs. S.F. and 214 tot yards and a TD vs. T.B.) and despite not playing in one game due to injury and missing most of two others, he still put up an impressive 1900 total yards and 11 scores.

So will this be the year the Eagles finally unleash Westbrook and give him 25-30 touches a game? All indications are they will. With Marty Morninwheg taking over play calling duties in the 2nd half of last season, Westbrook had all four of his 20-carry games. What happened when he carried the ball 20 or more times? He reached the 100-yard plateau in each, totaling 416 yards (115 yards/game). With McNabb and L.J. Smith on the mend, and Dontè Stallworth flying off to New England, #36 will be called upon to be the primary playmaker for Philadelphia. If his body is up to the task, watch his stats soar like an eagle.

Make no mistake about it, if I possessed the #2 overall pick today I would draft Steven Jackson and not blink an eye. His combination of youth, health, talent and role on a potent offense is just too much to pass up. But if your draft is held later in the summer and Jackson goes down the in preseason, who can you rely on to anchor your fantasy roster? I'm excited by Westbrook's ability to make the big play both on the ground and through the air. Last year he also demonstrated a willingness and capability to get the tough yards when necessary. If I have to play the cruel hand that's dealt to me, I'm banking on this finally being the year Westbrook stays healthy for 16 games, and gets force-fed the ball, resulting in a truly elite fantasy season that makes him worthy of the 2nd overall selection.