Highlighting a few key risers and fallers, the Dynasty Dashboard assists in keeping you on top of player valuation changes as they are developing. Further, a deep sleeper or largely overlooked player worthy of consideration for a spot on your roster will also be identified each week. --Keep an eye on the dashboard and drive your team toward dynasty league success.



Accelerating



Julio Jones - Iím not one that gets too carried away with preseason performances and statistics. A small sample size of starters playing against starters coupled with typically vanilla play calling makes it difficult to glean all too much from any preseason numbers. However, it does appear that the Atlanta offense will be opened up a bit more this season and that Jonesí role will likely grow. With the receiving pie potentially increasing in size going forward, and with Roddy White and Tony Gonzalez getting a bit older, Julio Jones seems positioned to secure an increasingly larger slice of the pie.

Jones has all of the measurables, talent, work ethic, quality QB play and potentially favorable offensive system that you look for from an elite fantasy WR. It is hard to find any reasons to be apprehensive about the second-year receiver. While Calvin Johnson is the clear stand-alone player in the top tier of dynasty WRs, Jones may soon find himself in the second spot on the list, if he isnít already. His recent rise up rankings boards hasnít been meteoric, as he was already highly-regarded, but Jones is starting to leapfrog some very good players in recent weeks.

Eric Decker - With Tim Tebow behind center for the Broncos for a good chunk of 2011, Deckerís upside was definitely limited. The ground-and-pound approach appeared to have helped the Broncos win games, but it was not beneficial to the former Golden Gopherís production. The acquisition of Peyton Manning this offseason immediately made all of the receivers in Denver more attractive to fantasy owners. Demaryius Thomas probably trended upward the most significantly after Manning came to town, but a rising tide lifts all boats.

Decker has the physical attributes and skill set to be an effective possession receiver, yet he is also capable of big plays. With Decker clicking reasonably well with Manning in the preseason, the third-year WRís stock appears to be rising once again, closing some of the gap on his counterpart in Denver (Thomas). While it is impossible to know which player in this WR duo will be the better long-term producer, it isnít far-fetched to think that Decker could carve out a very valuable role for the next few years. Physically, Thomas has the advantage, but Deckerís game is more refined at this point in their careers.



Downshifting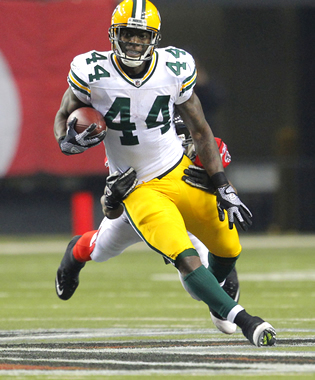 James Starks: How quckly your fantasy value can fall.

James Starks - As a little-known rookie, Starks was able to jump in at RB toward the tail end of Green Bayís Superbowl run and perform admirably. He wasnít making dazzling plays, but he did the little things he was asked to do and found a way to pick up tough yards. Starks had some nice momentum entering the 2011 season, and while he outplayed Ryan Grant in many regards, he didnít emerge as an impact RB in fantasy football. With Grant no longer in the plans for the Packers in 2012, it looked as though Starks would get a legitimate chance to prove himself as the teamís clear-cut, primary ball-carrier.

Unfortunately for Starks and his owners, nagging injuries and his less-than-stellar play opened the door for other options, and in stepped Cedric Benson. The Green Bay backfield is now a mess and it is hard to see any of the current group having significant dynasty value at this point. While Starks had some potential as a RB3-type option a couple of months ago, he seemingly no longer offers nearly that much to his owners. His value hasnít plummeted to zero at this juncture, but with Benson now in town and Alex Green vying for playing time as well, Starks has much less appeal.

Jacoby Ford - As a 4th round pick out of Clemson in 2010, the expectations werenít necessarily high for Jacoby Ford right out of the gate. He began his rookie season slowly, but during the second half of the year he started to make some big plays. In his final 8 games of the year he posted 433 receiving yards with 2 receiving TDs. On top of that, he also had two TDs returning kicks during that stretch. Ford proved to be a playmaker as a rookie and his future with the Raiders was looking awfully bright.

Sadly, Fordís second season in the league was a disappointment. Multiple injuries caused him to miss significant action, and when he was on the field in 2011, he wasnít quite as effective as he had been previously. While he may have been the leading option to emerge as the primary threat at WR in Oakland last year, he now is likely behind Darrius Heyward-Bey and Denarius Moore in the pecking order. Further, the addition of Juron Criner could also cut into Fordís long-term opportunity to produce for the team. Making matters even worse, Ford is currently fighting a foot injury. He should still see plenty of looks at WR, but it is hard to get too excited about him at this point.



Stash in the Glove Box



Lance Kendricks - Last year, Lance Kendricks, a rookie TE from Wisconsin, generated a lot preseason buzz in dynasty circles. The St. Louis air-attack, led by Sam Bradford, hoped to build on a solid 2010 and take 2011 to the next level. Kendricks was expected to be very involved in this process. Unfortunately, it didn't go well on either front. The Rams finished the season 30th in total passing yardage and Kendricks only posted 28 catches for 352 yards and 0 TDs while suffering from a case of the dropsies. The entire Rams passing game was a disappointment in 2011.

Despite the bitter taste Kendricks may have left in the mouths of some dynasty owners last season, I believe that his upside still warrants keeping a close eye on him or potentially acquiring him in your league. Frankly, his perceived value is so low right now that you can probably add him to your roster for peanuts. Kendricks' high ceiling and low cost makes him a great player to stash toward the end of your bench to see what happens with him. The Rams are full of young, unproven receivers and Kendricks has a great opportunity to emerge from the pack as one of his QB's favorite targets. Having a full offseason to work with the new coaching staff and Bradford might really help the second-year TE.