In dynasty leagues, it is critical to keep in touch with the value changes that players experience. Whether those moves in value are real or perceived, a savvy owner remains well aware of the changing tide in order to capitalize on the opportunities that develop. Tracking shifts in player value carefully and making roster adjustments accordingly are key components to your team's long-term success. Consistent contenders in dynasty leagues don't separate from the pack merely by chance or simply by getting "lucky" on a few rookie draft picks. These are the owners that put in the work and find ways to improve their team all year round.

Below, I provide in-depth analysis on two players that have recently experienced a real or perceived value change in dynasty formats. Soak it in, give it some real consideration, and if it rings true for you, use this information to help improve your team.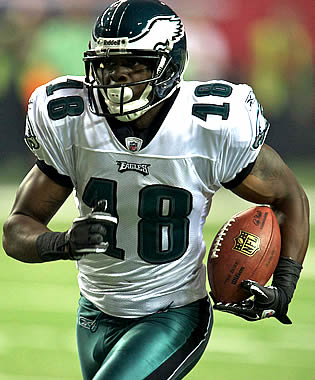 The lack of a major breakout season is the only thing that has kept Maclin's stock from spiking.
Jeremy Maclin - Last season was a bit of a rollercoaster for Maclin. During the summer, he battled a mysterious illness that resulted in an overall lack of energy as well as 15 pounds of weight loss. This ordeal caused him to miss the majority of preseason activities and had some questioning if he'd be ready for the start of the 2011 season. While he did play during Week 1 in 2011, he had a quiet game, posting only 1 catch for 20 yards. However, starting in Week 2, Maclin had an impressive run for several games. Unfortunately, hamstring and shoulder injuries eventually caught up with him and tarnished what was shaping up to be a very nice season for the former first round pick.

Despite the cumulative effect of his various health issues last year, which led to three missed games, Maclin still ended up with 859 receiving yards and 5 TDs. While his numbers weren't at the level that many expected, on a per-game basis, they were still solid. If things come together for him this year, he could emerge as a legitimate top 10-15 fantasy WR. A good case can be made in dynasty leagues as to why one should be bullish on this Eagles WR.


Age: Maclin turned 24 years old in May and still has not reached his prime. He still has plenty of good football left in the tank.


Offensive system: The Eagles post some nice receiving numbers in Andy Reid's system. Philadelphia ranked 9th in passing yardage for the 2010 season and the 2011 season.


Health: As already discussed, Maclin was not at 100% last year. If he can stay healthier going forward, it would not surprise me to see his production per game increase moderately. If this is coupled with him playing all 16 games, then his overall numbers should easily put in the top 15 at the WR position.


Camp: Maclin reportedly looked great at OTAs. He has added a little bit of weight and strength with the hope that it will help him avoid some of the nagging injuries that have previously hindered him.


Even though there are good reasons to be high on Maclin, there are a few concerns as well.


The Eagles offense has several high-quality, young options in the passing game. DeSean Jackson and Jeremy Maclin are WRs 1A and 1B on the team, but Brad Celek and LeSean McCoy each see a significant volume of targets as well.


If injuries keep Michael Vick off of the field too much, Maclin's numbers could be negatively impacted. When Vick is on top of his game, he has proven he can be scary-good in this system. Replacing him would be difficult and quite possibly detrimental to Maclin's production.


If Andy Reid ever moves on as Head Coach, the offensive system could be scrapped and replaced with something less friendly to receivers. Reid's departure wouldn't necessarily be a negative, but it would more likely be a negative than a positive.


While the first concern highlighted above has merit, the receiving pie in Philadelphia should be big enough for both Jackson and Maclin to put up solid numbers, even with the roles of Celek and McCoy. Further, there is the possibility that Maclin pulls away as the clear top target in the air attack. The other two concerns detailed are pretty big ifs and aren't things that factor too heavily into my valuation of Maclin. No one knows what the future holds on those fronts.

Overall, I believe Maclin is a suitable WR2 for most dynasty teams and a great WR3. He offers low-end WR1 upside and a relatively high floor, making him a safe investment. The lack of a major breakout season is the only thing that has kept his stock from spiking, and this very well could change in 2012. His value may have slipped modestly in the eyes of some last season, but with the positive buzz he has gotten lately, any downward trend has likely been reversed.

If you're looking to acquire Maclin in your league, he won't be easy to pry away from his current owner, but I definitely recommend trying. He is a quality asset to have on your team. If he's already on your roster, I wouldn't consider moving him for anything less than high-end WR2 pricing. His combination of talent, youth and situation makes him too valuable to ship away for anything below that rate.

Denarius Moore - When you examine the Oakland Raiders WR position, you quickly see that there are some talented, young players in the group, with speed to spare. Jacoby Ford showed flashes in 2010 and was unfortunately slowed by injury for much of 2011. Darrius Heyward-Bey finally put the pieces together and had a very nice 2011 season. Denarius Moore surprised many when he burst on to the scene last year. And with the addition of Juron Criner in the 2012 draft, the Raiders possibly now have a formidable foursome of youthful playmakers at WR.

Currently, it is looking like Ford will be the slot receiver, with Heyward-Bey and Moore starting on the outside. All three of these players are talented and likely to contribute significantly in coming seasons. However, only one or possibly two of them will emerge as an impact player. A case can probably be made for any of them as a potential breakout WR, but Moore is the guy from this group that I believe has the highest likelihood of developing into a perennial 1,000-yard receiver.

There are many reasons to be excited about Moore.


He is only 23 years old. Moore has not yet peaked physically and still has many quality years ahead of him. Plus, having a full offseason to work with Carson Palmer and the rest of the team should be beneficial to the second-year receiver.


The top WR spot is wide open in Oakland. There are no established studs in the receiving game. Heyward-Bey had a productive season last year, but he has not cemented himself as the WR1 on the team. Moore has a real opportunity to seize this role.


Despite missing three games due to injury toward the end of 2011, Moore still posted impressive numbers for a rookie: 618 yards and 5 TDs receiving along with 61 yards and 1 TD rushing.


Oakland's passing offense was impressive with Palmer under center. In the weeks where Palmer started, the Raiders posted the 7th most passing yardage in the NFL. Things will undoubtedly be different with a new OC in Oakland this year, but this core group of players on offense has shown it can put up some impressive numbers through the air.


Moore has very good speed, runs fluid routes and attacks the ball in the air. He has attributes that separate him from some of the other WRs in Oakland. Admittedly, he doesn't have elite size, but he isn't a small WR.


Palmer has publicly raved about this young man. Further, Greg Cosell from NFL Films compared his skill set to that of Mike Wallace and Matt Williamson from ESPN's Scout's Inc. compared him to Greg Jennings.


Two possible cases against Moore might look like this:


He doesn't have the skill set necessary to produce consistently at the NFL-level and his fantasy value is limited if he is unable do more than break an occasional big play. He showed flashes in 2011, but was a non-factor far too often during the season. In six of the thirteen games he played, he failed to log even 20 receiving yards.


One or two of the other young WRs on the team will substantially outshine Moore and relegate him to a largely insignificant role in the Oakland passing attack. He has some ability, but isn't at the same level as other Raider receivers.


While I concede that Moore was inconsistent in 2011, it was still an impressive rookie campaign for a guy that seemingly came out of nowhere in a year where preseason activities were limited due to the lockout. And although some of his cohorts in the receiving group are clearly talented players, as detailed previously, I see Moore's skill set as a separating factor in Oakland. He brings more to the table than speed alone. Ultimately, I think he has the potential to be a difference maker for fantasy teams, and difference makers aren't easy to find.

The asking price for Moore has increased markedly since last summer, but I believe that the upside he offers still makes him a favorable target even at today's cost. If you don't believe in his talent or like his situation in Oakland, then he clearly isn't someone you should have on your radar. He's too expensive to make sense in that scenario. However, for the remaining team owners that don't already have Moore on their roster, I recommend floating out some legitimate offers for him, and sooner rather than later. A big game or two early this season could send his price skyrocketing.