No other position in fantasy football has as many breakout players each year as WR—players who were so deep on your cheat sheet that you had difficulty finding their name during the draft will routinely catapult themselves to fantasy relevance. Perhaps it's the sheer number of players at the position that lends it so favorably to breakout potential. Whatever the reason, identifying a breakout candidate at WR, and then using the proper draft spot to nab him, can help separate you from the uninformed owners in your league.

Here are several breakout candidates that I have identified heading into the 2013 fantasy season.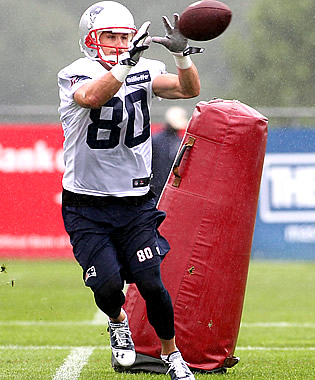 Injury concerns aside, Amendola's move to New England makes him a prime breakout candidate.

Danny Amendola, NE: Danny Amendola's recent proneness to injury has been well documented and duly noted. That aside, one must really take a look at what he's stepping into with the Patriots. Amendola is a quick-footed route runner who is adept at running patterns from the slot (sound familiar, Welker fans?). What gives Amendola increased value, besides playing with an elite quarterback, is his ability to play out wide as well. New England's passing game has gone through a complete facelift this offseason for a variety of reasons; that should not, however, be a precursor to gloom and doom. Tom Brady will see to it that that doesn't happen. Also, while some may consider 2012 Amendola's breakout season (63 catches in 11 games), his touchdown output left a lot to be desired. His three scores last year gave him seven total for his four-year career. He may eclipse that career total by Thanksgiving.

Further, New England's receiving group is young and mostly inexperienced. Rookie Aaron Dobson should see plenty of action, provided he gets a firm grasp of the offense, but he may not be counted on for much. And with tight end Rob Gronkowski battling through a plethora of ailments, Amendola will seemingly have to carry a heavier load than some may have anticipated. He at least will be given an opportunity to put up solid numbers, and in fantasy football, we can't ask for much more than that. Amendola should flirt with WR2 territory this year.

Emmanuel Sanders, PIT: Emmanuel Sanders hasn't had more than five receptions in a game since week 14 of his rookie season in 2009 and has never had more than two touchdowns in a season. Those statistical shortfalls will be a thing of the past after the 2013 season. Sanders will be plugged into the No. 2 receiver spot for a Pittsburgh passing offense that has regularly made fantasy-worthy players from that position.

Keep in mind, too, that the wide receiver position in Pittsburgh caught 15 of the team's 27 passing touchdowns in 2012, and with Mike Wallace now in Miami, production is going to have to come from somebody other than Antonio Brown. At 5'11" and 185 pounds, Sanders is not the biggest receiver around, but he's capable enough and familiar enough with the Pittsburgh offense to immediately pay dividends to those fantasy owners savvy enough to see beyond his pedestrian career numbers up to this point. Look for Sanders to be a worthy high-end WR3 in fantasy football.

Tavon Austin, STL: Whether through the traditional passing game or on punt returns, the St. Louis Rams will be doing themselves a huge favor by getting the ball in the hands of this playmaker. Tavon Austin is a big reason why Geno Smith was such a highly-regarded pro prospect; Austin routinely took Smith's short dump-off passes while at West Virginia last season and turned them into highlight-reel material. And in spite of his small stature (5'8", 175 lbs.), Austin also ran for a school record 344 yards against Oklahoma. His 4.3 speed will instantly assist him in becoming the best weapon Rams quarterback Sam Bradford has had during his NFL career.

Austin will be utilized all over the football field. Expect offensive coordinator Brian Shottenheimer to exhaust all the options at his disposal to take advantage of Austin's superior athleticism out wide, in the slot, or out of the backfield. I wouldn't anticipate the Rams showing their hand in preseason relative to how they will use him once September rolls around; nonetheless, it will be fun to see how his speed and quickness translates to an NFL field. And if, in fact, the Rams use him on punts, I'd expect a couple of run backs for touchdowns this season. It's those hidden points that will make Austin a steal and a definite breakout candidate for 2013.

Ryan Broyles, DET: Some web sites are predicting that Ryan Broyles will be placed on the PUP list with a good chance of his missing the first six games of the season. All I can tell you is that here in Detroit, there's none of that talk. From what I can gather, he's practicing with the team—albeit not in a full capacity. Suffice it to say, however, he's not currently on the PUP list. Broyles was considered one of the most prolific receivers ever in college football. His skill set is off the charts, even if his durability isn't. Two blown-out knees in successive years should give every fantasy owner pause, but the fact that he's back on the practice field and a big part of a pass-first, pass-often offense should make those same weary fantasy owners perk up with interest.

I wouldn't expect the Lions to get close to the record-breaking number of 727 pass attempts this season, but they will no doubt rely heavily on the arm of Matthew Stafford. Calvin Johnson will be the All-Everything player we expect him to be, and Reggie Bush's arrival will certainly add an extra dimension to the passing game. Those facts should affirm Broyles' candidacy for breaking out this season. He will see plenty of predictable one-on-one coverage—perhaps as much as any other player in the league. If he can somehow channel the play-making ability he exhibited during his Oklahoma Sooner days—and remain healthy while doing so—Broyles can be a worthy fantasy option in 2013.

Michael Floyd, ARZ: There were times Andre Roberts played ahead of Michael Floyd last year. Whether that was because Floyd struggled some as a rookie or because the quarterback position in Arizona was a complete disaster (probably a lot of both), the fact is that Floyd should see an uptick in both his playing time and production on the field. Quarterback Carson Palmer adds credibility—and talent—to the position, although he's far from the Palmer we adored during his run at fantasy QB supremacy in the 2005-2007 seasons.

Floyd is a big, physical receiver who should benefit from the attention given to Larry Fitzgerald. For what it's worth, Floyd did finish the season strong in the finale last year—an eight-catch, 166-yard, one-touchdown performance against San Francisco. I'm not one to tout momentum from one season to the next, but it certainly points to the ability that Floyd has. Floyd more than likely won't make fantasy owners forget about Fitz, but his ability and the upgrade at quarterback should make him a fantasy receiver that's capable of reaching high-end WR3 status.