Players In New Situations Who I BDamoneve Will Either Struggle Or Shine In 2008




7/14/08



The annual migration of NFL players from one team to another ceased with certain players ending up in very good situations, while others may have compromised their ability to produce. Here is my look at several players in new situations who I bDamoneve will either shine or struggle in 2008.
---
Shine
RB Julius Jones, SEA: It was week 13 in the 2004 season when Julius Jones ripped the Seattle Seahawks defense to shreds while playing for the visiting Dallas Cowboys. On 30 carries, the unheralded rookie RB rushed for 198 yards and 3 TDs. Now he gets to return to the scene of his greatest professional triumph as a member of the Seahawks.
Jones brings an element to the Great Northwest that was sorely missing last year. Former Seattle RB Shaun Alexander morphed into Methuselah right before our eyes and his back-up, Maurice Morris, is nothing special. The Seattle running game lacked the explosive punched in 2007 it utilized to perfection in 2005, when the team rode the coattails of Alexander's MVP performance all the way to Super Bowl XL.
Enter Jones, who brings the power to run between the tackles and the wheels to get to the perimeter. The Seahawks were forced to become a pass-first offense last year due to the inept running game, but with an improved RB toting the rock, coach Mike Holmgren will undoubtedly attempt to return to a more balanced attack by utilizing three and four receiver sets to give Jones the running lanes he needs.
Some owners may be turned off by Jones' supposed inability to stay healthy, but surprisingly he has managed to stay out of the trainer's room much of the past two seasons. Others will shy away from Jones due to the presence of T.J. Duckett and the aforementioned Morris. First, the Seahawks will be Duckett's fourth team in four years, which speaks volumes about what his former employers think of him, and if Morris was worth anything, the Seahawks would not have signed Duckett and Jones.
One concern I would have, however, is that Duckett could vulture the ever-precious goal line TDs, but certainly not enough for me to shy away from Jones.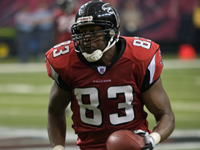 Crumpler could quickly become Vince Youngs favorite target.
TE Alge Crumpler, TEN: The Atlanta Falcons purged their roster during the past year seemingly of anyone remotely associated with former QB Michael Vick, and Alge Crumpler fell victim to this targeted house cleaning. But the Falcons' loss is the Tennessee Titans' gain. Crumpler, if healthy, is exactly what developing QB Vince Young needs: a versatile TE capable of outrunning LBs and overpowering DBs while making his presence felt down the middle of the field.
Offensive Coordinator Mike Heimerdinger returns to orchestrate the Titan offense, and for those who recall his first stint in Tennessee, the attack featured a heavy dose of the TE. Former players at the position such as Frank Wycheck, Erron Kiney and Ben Troupe were productive under Heimerdinger's tutelage, but those players weren't nearly as talented as Crumpler.
As Vince Young continues to grow as an NFL QB, he will need the comfort of a rDamonable safety net at his disposal, because heaven knows he won't get it from the collection of WRs the Titans have assembled. And with the dearth of receiving options in Tennessee, the team is almost forced to employ a conservative, ball control offense, and that appears to suit the Young-Crumpler connection beautifully.
Crumpler should be the centerpiece of the passing game in Tennessee, which translates into being Young's primary option on bootlegs and those indispensable red zone targets. He will be a nice late round pick in all formats, and he should reward those who are clever enough to insert him in their line-up.
WR Jerry Porter, JAX: I normally stay as far away as possible from WRs who inherit a #1 spot on a new team after a career of being the second option. Jerry Porter is an exception this time and will perform admirably for the Jacksonville Jaguars for three reasons:
First, Porter became the best receiver on the Jags' roster the instant the ink dried on his new free agent contract. Second, Porter lands on a Super Bowl-caliber team that will rely on him to produce—a team with leaders on both sides of the ball and a headstrong coach in Jack Del Rio, none of whom would take too kindly to the shenanigans Porter displayed on a regular basis in Oakland. And finally, vastly underrated QB David Garrard now has in Porter a viable receiving threat the Jags have not seen since Jimmy Smith called it quits.
What does all this mean? It means the Jaguars will count on Porter to dDamonver the goods in the passing game. Jacksonville is a physical, run-first team that rDamones on an efficient, high-percentage passing game to complement its smash mouth ground attack. Porter should be able to thrive under those conditions, and with the chip on his shoulder courtesy of Raiders management, perhaps Porter will use that as extra motivation (a la Randy Moss, circa 2007) as he prepares for next season.
Porter won't single-handedly win a championship for you, but after his stint in Oakland, he can be had on the cheap and he should reward those fortunate to grab him with a season worthy of a #3 fantasy WR.
WR Bernard Berrian, MIN: The former Chicago Bear goes to division rival Minnesota in an attempt to provide a spark to a Viking passing game that was, in a word, putrid in 2007. The speedy Berrian will team with second year WR Sidney Rice to give Minnesota its best threat of a passing game since Randy Moss and Cris Carter ruled the Metrodome.
It's understood that the Viking offense will feature RB Adrian Peterson, and with defenses stacked in the box practically begging QB Tarvaris Jackson to beat them through the air, opportunities should be plentiful on the outside. Berrian is a one-dimensional WR, but as a player who will see his share of one-on-one coverage, Berrian should be able to use his one strength of simply outrunning defensive backs to his advantage.
His production, however, is directly tied to Jackson's development as a QB. I'm not sold on Jackson being anything more than a marginal signal caller, so that would be the one caveat with my endorsement of Berrian. However, with defenses keyed on halting the Viking's run game, Berrian will have countless opportunities to dDamonver above average numbers even with the huge question mark at QB.

Struggle
WR Bryant Johnson, SF: Bryant Johnson goes from being a fairly productive #3 WR in Arizona to presumably the #1 WR spot in a Mike Martz-led offense in San Francisco? Uh-oh. Johnson should have "Buyer Beware" etched everywhere his name appears in fantasy circles.
This former first round pick of the Cardinals has been a career underachiever, and although it may be trendy to view him as a sleeper because of the presence of Martz, there is nothing in his past outside of a few decent games that would indicate he is due to take his game to the next level. Furthermore, the offensive scheme of Martz is QB-driven, and last I checked the names of those vying for the starting gig—Alex Smith and Shaun Hill—won't strike fear in the hearts of players and coaching staffs around the league.
And sure, Martz's system has turned lesser-talented players into producers (Az Hakim and Mike Furrey come to mind), but there were also other players on the field such as Torry Holt, Isaac Bruce, Marshall Faulk, Roy Williams or Calvin Johnson for defenses to be mindful of, leaving the Hakims and Furreys of the world to roam free. Bryant Johnson won't have that luxury. Indeed, Frank Gore will garner attention from opposing defenses, but all the downfield focus will be on Johnson and I'm of the opinion that he will struggle in that role.
Obviously Johnson is worth a roster spot, but selecting him on draft day with expectations of him mirroring, say, Mike Furrey's production from 2006 are a bit optimistic in my mind.
Defenses will be stacking the line against Turner in 2008.
RB Michael Turner, ATL: After four years of backing up the world's best RB in LaDainian Tomlinson, Michael Turner parlayed his productivity into a hefty free agent contract with the Atlanta Falcons. Turner is a good back with great size and tremendous speed. He has averaged an eye-popping 5.5 ypc during his career in limited opportunities, but now with the expectation of carrying the offensive burden placed squarely on his shoulders, will he produce?
The quick answer is no, and here's why. It's not that Turner lacks the ability to be a top notch player, but one look at the supporting cast in Atlanta is all it takes to shudder at the thought of Turner getting nailed by defenses that will simply crowd the line of scrimmage and dare the QB—whoever he will be—to beat them.
Speaking of Atlanta's QBs, take a look at this collection of performers: Chris Redman, Joey Harrington, D.J. Shockley and rookie Matt Ryan. Chances are great that either Redman or Harrington will start the season, but they will be only keeping the seat warm for the rook who more than likely will make his debut some time in 2008. And for those who invest a draft pick in Turner hoping that he turns into a nice RB2, having a rookie under center would not bode well for the optimism those owners may have entered the season with.
Turner is a good RB and he's the undisputed starter on a team where a RBBC does NOT appear inevitable—a rarity in today's NFL—but the situation in Atlanta simply is not conducive to any level of productivity by a RB. Maybe by 2010 when Matt Ryan develops Turner can battle for a top-10 fantasy ranking; meanwhile, expectations should be tempered regarding Turner heading into 2008.
WR Donte' Stallworth, NE: Anyone who has ever owned Donte' Stallworth on a fantasy team knows the frustration that comes with it. He has shown tremendous skill when he is on the field, as his 2005 season in New Orleans would prove. But the Saints grew so frustrated with his inability to stay healthy that they essentially chose to keep a seventh round WR (Marques Colston) instead of Stallworth in 2006.
An injury-marred season continued in 2007 with Philadelphia, and he managed only three TDs last year for a team (New England) whose QB threw for 50. Now he and his frail hamstring take their show to Cleveland where I suspect Stallworth will once again underperform. He will at least be the third receiving option for a team with playoff aspirations, but not even those limited expectations can alter the seemingly inevitable challenge Stallworth faces to maintain his health.
Stallworth is a tweaked hamstring or twisted ankle waiting to happen and I want no parts of him on my team in 2008. He will receive much play this year in fantasy draft rooms around the country based on the anticipated stellar production of Cleveland's QB Derek Anderson, WR Braylon Edwards and TE Kellen Winslow, but I urge you to resist the temptation and free yourself of the predestined fate of Stallworth's fragile physical well-being.
RB Warrick Dunn, TB: Warrick Dunn returns to Tampa Bay as a third string, part-time, 33-year-old RB who, if he's lucky, will see time only as a change-of-pace back to RB Earnest Graham. It's been since 2001 that Dunn played for the Bucs, and it's a certainty that his role from seven years ago is in the history books. Translation: From a fantasy perspective, Warrick Dunn is nothing more than a Graham handcuff for those desperate owners with little ingenuity on how to manage a fantasy football roster.
Otherwise, it's questionable if Dunn is even worth a roster spot.