Everyone knows to start Peyton Manning every week, regardless of the match-up. But not all decisions are as easy at that one. So to help you decide who you should start and who you should bench I have identified the players at the QB, RB and WR positions that should excel this week and should be started, as well as the players who will struggle this week and should be benched.

Let's start with the QB position. You shouldn't have to be told, but just in case... always, always start the following players: Peyton Manning, Tom Brady, Drew Brees, Aaron Rodgers, Matt Schaub, Tony Romo and Philip Rivers. Now onto the question marks…

Quarterbacks
Start 'Em:
Quarterbacks Worthy of Starting Week 1


I don't care how many defensive changes the Giants made this past off-season, until I see them perform above the level of worst secondary in the NFL I'm going to play their opposing QB. Moore is desperate to show he deservers being the Carolina starter and that the Jake Delhomme era is gone for good; what better way to do that than by facing a defense tied for second in passing TDs allowed and third in points allowed.


Kurt Warner is retired and Matt Leinart is now backing up Matt Schaub in Houston, leaving Anderson by his lonesome to pick apart a defense that last year gave up the second most yards per game and gave up the eight most total points per game. Bradford may be the second coming, but he's still a rookie, meaning there should be a few turnovers for Anderson to get extra reps from.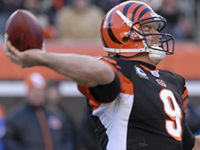 Palmer's got weapons.


Nobody gave up more passing TDs, passing yards or total points than the Lions did last year. The Lions were also the only team to allow opposing QBs to have a QB rating of over 100 (107)! Even though Cutler may still have INT problems to iron out he should be able to lead some nice drives and produce some decent FPts for you this week.


The Patriots have a solid defense so this is no knock against them but I expect Palmer to have a big year this year. With T.O. and Ochocinco available for him downfield there should be a number of opportunities for Palmer to connect deep and put up some impressive stats to open the season.


Bench 'Em:
Quarterbacks Who Will Under Perform Relative To Their Draft Position And Recent Hype


Last year was a great year for Favre and the Vikings but this year is a different story. Look for the Saints to attack Favre on every play and cause havoc all day long. Favre is missing his favorite weapon (Sidney Rice) and is still bothered by his ankle injury. Don't be surprised to see a couple of turnovers, a bunch of sacks, and an overall poor performance from the future Hall-of-Famer.


Dixon gets the start over veteran Charlie Batch for the Steelers in week 1, but despite it being a home game, and despite the Falcons giving up the fifth most passing yards per game in the league last year, Dixon is not an option worth considering. This could be ugly.


With the recent signing of all-world DB Darrelle Revis, the Jets potent defense keeps its core intact. Flacco has new weapons to throw to this year with Anquan Boldin and the recently signed T.J. Houshmandzadeh, but he is likely to struggle against last year's top-rated defense. In 2010 the Jets gave up the least passing yards, TDs, points per game, average yds per pass play, and had the best opponent QB rating in the league. This is not the time to have faith in Flacco.


Clearly this will be a defensive battle for both the Ravens and the Jets. The second-year QB will undoubtedly improve over last year but it won't be evident in the first game of 2010. The Ravens defense, even without Ed Reed, is very impressive and should cause misery for Sanchez all night long.

Running Backs